SafetyWing is a fairly new player in the Travel Insurance market, and many part time travelers may not have even heard of them. Ask any Nomad, or long term traveler though, and they will reply with a smile. That's because they not only KNOW about SafetyWing, many of them have used them and trusted them for some time now. And with good reason.
This article may contain affiliate links. If you click on those links and make a purchase, at no extra cost to you I will get a small commission. This will go a long way toward keeping this website running. As always, thank you for your support! Click HERE for more information.
When it comes to traveling, the one thing that no one really wants to think about is Insurance. It's an expense that seems almost unnecessary. No one likes to pay money for something that they don't see any benefit from, after all. That is right up until something happens and they need it!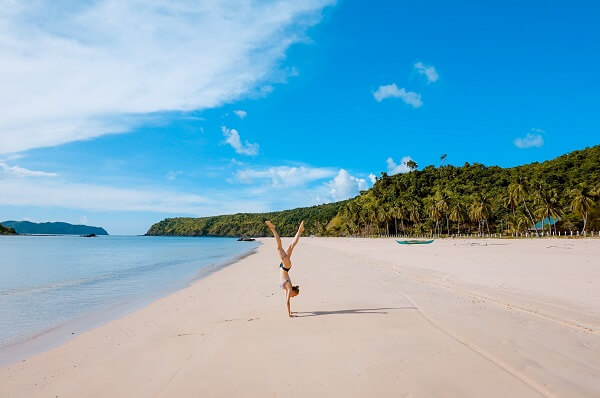 Nomads know this. Long term travelers know this. I know this.
Once you have been on the road for a decent period of time, you come to realize that there are so many things that can go wrong. When they do, you really want someone you can trust that you can turn to. For me, that's where SafetyWing comes in.

NOTE: This is a guide only. I have used SafetyWing, as I have used other Travel and Medical Insurances. I highly recommend SafetyWing, however if you have any questions in relation to anything covered in this guide, go directly to SafetyWing and make sure for yourself. Things can change, and sometimes I might not get advised (hard to believe, I know!).
Table of Contents
What is Travel Medical Insurance?
There are generally two types of Insurance that most people will be covered for.
Firstly, there is your basic Travel Insurance. We are all familiar with it, and it is generally bought by those going away on holiday. Some even know it as "holiday insurance", for that reason. It covers all the things that may go wrong whilst on your typical vacation. Lost baggage, canceled flights, delays and theft. Most travel insurance will also cover your basic emergency medical treatment.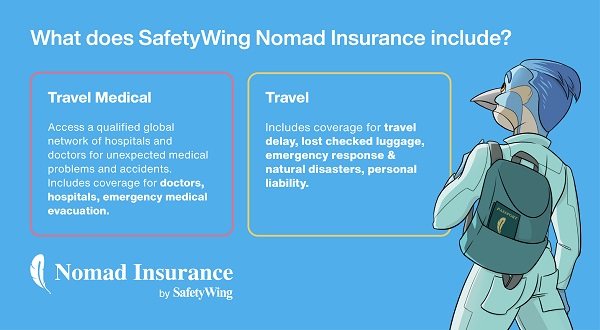 Secondly, there is Medical Insurance. We are all aware of what that means, as we have all, at some stage, had a Medical Insurance policy in our home countries. Basically they cover most medical expenses, not just limited to Emergencies. Things such as ambulance travel, surgery, hospital stays and doctors bills are all covered by this insurance.
The problem for Nomads, or long term travelers has always been the fact that they are spending so much time abroad. Normal Travel Insurance never really covered them properly, and was usually time limited. And Medical Insurance generally only covered them when in their home country.
That is where SafetyWing stepped in.
They created Travel Medical Insurance, that covered everything a traveler would need from Travel Insurance, as well as providing medical coverage. Travel Medical Insurance was born, and Nomads all around the world have been signing up ever since!

Is Travel Medical Insurance Worth it?
In a word, yes!
Especially when you take into account all aspects of the insurance that SafetyWing provide.
Everyone has heard stories about lost luggage, or cancelled flights. They are everywhere these days, especially since travel resumed after the pandemic. Flight delays are becoming the norm rather than the exception, and lost luggage is driving travelers and airport staff nuts in Europe. Especially in the bigger airports where you wouldn't expect these things to happen.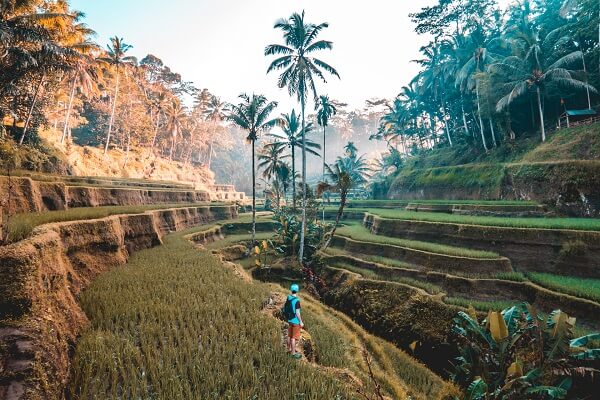 I had friends come to Bali from the Netherlands only recently. They spent 2 weeks here, and never once laid eyes on their luggage. The last they saw of it was somewhere in Germany, where they had to change flights due to, you guessed it, airport chaos. If it wasn't for their insurance, they would have been wearing the same clothes for their entire stay. This is just one example of many.
Then, there is the medical aspect of Travel Medical Insurance.
Only a few weeks ago I was at a very popular beach in Bali. It is one of the best point breaks around, and surfers from all over the world flock there by the dozens. On this day, there must have been over a hundred surfers in the water. With that many people, accidents are almost bound to happen.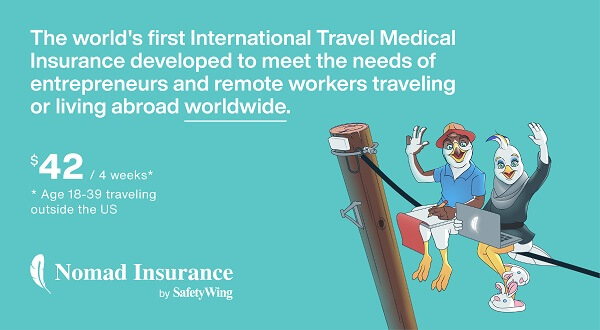 And that's what people, travelers, tend to forget. Accidents HAPPEN. Whether it be riding a scooter down a quiet back lane in Bali, hiking up a well trodden trail in Switzerland, or just walking home from dinner down an icy footpath in London. You can't predict them.
On this occasion, at the beach in Bali, a young surfer was knocked unconscious in the water. His friends pulled him out, but technically by that time he had drowned. Blood was flowing from his nose, and it took over 5 minutes to get him into shore. Everyone feared the worst.
As it happened, everything turned out ok. He was piled into an ambulance and taken to hospital where they basically had to spend a week draining water out of his lungs and monitoring him. A lot of luck was involved along the way, and it COULD have been a lot worse, especially if a vacationing paramedic had not happened to be strolling along the beach at the exact same time as the accident happened.
If not for his Travel Medical Insurance, this young guy would have been up for some costly bills. Not something that he would have thought about that morning when he woke up for an early surf. Something that he had done thousands of times before.
Accidents happen.
So no matter what you are planning to do on your vacation, or where you are planning to go, Travel Medical Insurance is a must! I know it is for me. SafetyWing are the perfect solution for long term travelers and nomads, but normal holiday makers are now using them as well, due to the amazing benefits that they offer.

About SafetyWing
So who are SafetyWing?
SafetyWing is a Norwegian startup that are based in California. They started business in 2018, and have been growing rapidly every since. Now, they are one of the most trusted brands when it comes to Travel medical Insurance.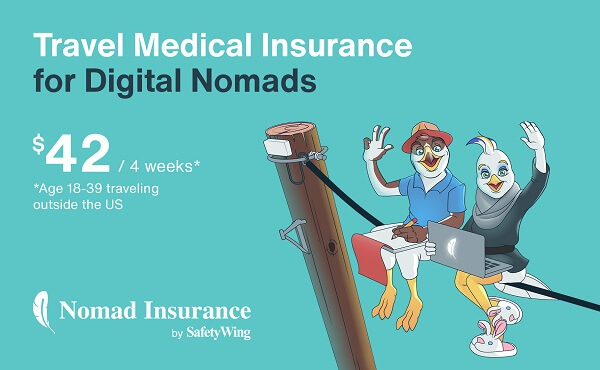 SafetyWing was originally created for Nomads and Long Term Travelers, but is an excellent Insurance solution for anyone traveling for longer than the "usual" vacation. Especially if you are unsure when you are returning. This is something that you can't get from your usual insurance company, as policies generally have a set start and end date. The creators of SafetyWing are Nomads themselves, and wanted to create a Travel Medical Insurance that would suit the needs of other Nomads. So that is what they did.
There are many benefits to insuring through SafetyWing. Things such as:
You can buy it when you are already traveling – no need to be in your home country.
You can sign up even if you have no idea when you are returning.
Payments are a "subscription model" that charges you every 4 weeks.
You can cancel any time you like.
Coverage is worldwide.
Fee structure is transparent – you know what you are going to be charged before signing up.
Many adventure activities are covered, as well as riding a scooter. See more below.
Covid-19 is covered!

What does SafetyWing Cost?
One of the great things about SafetyWing is that it costs significantly less than most other insurance quotes that you might get. Plus, and the real bonus in my opinion, is that you pay monthly! No more having to pony up for hundreds of dollars before your trip starts! For someone that is traveling long term and making money on the road, this is invaluable.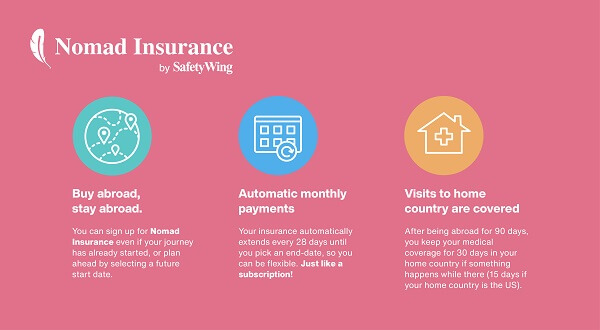 So what does SafetyWing cost?
The costs for SafetyWing are very transparent. They won't alter, except for two factors. Your age, and whether or not you want coverage in the U.S. Check the info below:
10 – 39 years old – $42 USD (per 4 weeks)
40 – 49 years old – $68.04 USD (per 4 weeks)
50 – 59 years old – $106.68 USD (per 4 weeks)
60 – 69 years old – $144.76 USD (per 4 weeks)
The price will go up if you are planning on traveling within the United States. So your trip to Paris will be a lot easier on the wallet than your trip to Vegas. Here are the prices if you add the U.S. to your itinerary.
10 – 39 years old – $76.72 USD (per 4 weeks)
40 – 49 years old – $126.56 USD (per 4 weeks)
50 – 59 years old – $208.04 USD (per 4 weeks)
60 – 69 years old – $284.20 USD (per 4 weeks)
Just remember that these prices are in USD. Do a simple currency conversion to get an accurate price in your own home currency.

What is Covered?
SafetyWing has a great range of things that are covered. To make it even easier, they make it easy to read and understand. Personally I can't stand reading insurance policies, trolling through the fine print trying to find out if riding a camel in Egypt is going to be covered or not. With SafetyWing, it is easy to find out and understand.
So what sort of expenses and activities are covered by SafetyWing? Here is a quick list with some of the highlights. Note that this is not ALL that is covered. Check their website if you want further details.
Riding a scooter
Skiing/snowboarding
Surfing
Water Skiing
Zip Lining
Camel Riding
Bungee Jumping
Kayaking
Horse Riding
Snorkeling
Windsurfing
Emergency Medical Evacuation
Scuba Diving (if certified)
Sailing
Hiking (to 4500m)
Emergency Dental
Medical Expenses
Lost Luggage
Travel Delay
Trip interruption
Hospital Room
Emergency Medical Expenses
What is NOT Covered?
There are many activities, especially extreme sports, that are not covered. There are also some that are only covered to a certain limit. A good example is hiking, where you are only covered up to 4500 meters. So if you are planning on tacking any 8000 meter peaks, then you best look for coverage elsewhere! For the majority of travelers though, myself included, SafetyWing covers everything I will ever need and more.
So let's just take a quick look at some of the things that are NOT covered by SafetyWing. Once again, remember that if you have any questions, or are planning on undertaking something not on this list, go to the SafetyWing site and check for yourself or ask them. This list is a guide ONLY.
Pre existing Conditions
Cancer Treatment
Base Jumping
Parasailing
White Water Rafting
Racing
Kite Surfing
ATV
Hiking (above 4500m)
Something interesting that any travelers to South East Asia in particular should take note of, is that White Water Rafting and ATV are NOT covered. These are both very popular activities in Bali in particular, so if you are planning on participating in these activities, be aware that your policy will not cover any accidents that could occur.
It is also worth noting that although SafetyWing coverage is worldwide, they do NOT offer coverage for Cuba, North Korea or Iran.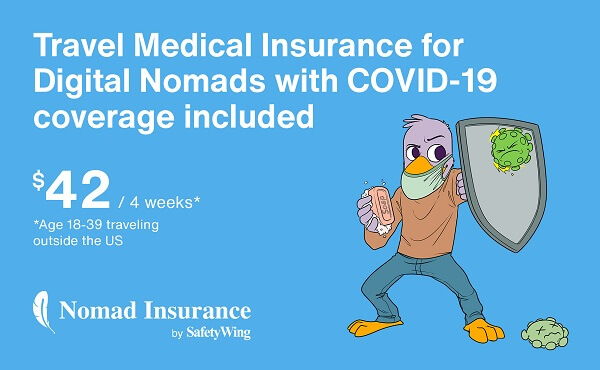 SafetyWing FAQ's
As with everything, there are always questions. Most of these you will find on the SafetyWing website, but I have decided to post some of them on this article as well. Here are the most common FAQ's:
Where can I travel with SafetyWing?
You can travel anywhere in the world outside of your home country, except for Cuba, Iran and North Korea.
Can I buy SafetyWing whilst already traveling?
Yes, you can buy SafetyWing Insurance when you are already on the road. You don't have to be in your home country.
Can I cancel at any time?
Yes, you can cancel whenever you no longer need the insurance any more. Your policy will terminate at the end of your current financial period.
Can I get Insurance for a travel companion or children?
Yes. When you sign up you will have the option to also buy insurance for a family member or friend. With each paying adult, one child is also included at no extra cost, providing the child is older than 14 days and younger than 10 years.
Is Covid-19 covered?
Yes it is, for all treatment and tests that are required.
How long is coverage good for?
Coverage lasts 364 days and renews every 4 weeks like a subscription. You will be advised before it renews, as a reminder. At the end of 364 days you will have to take out new coverage if you still require it.
Am I covered for scooter accidents?
This is a big question for those going to South East Asia. Yes, you are covered for your own medical expenses, as long as you are properly licensed, are wearing a helmet, are following the law, and not under the influence of alcohol or drugs at the time.
For any other FAQ's, head to the SafetyWing Website where there is a more extensive list for you.
Summary
I highly recommend SafetyWing to any travelers, in particular those planning to be away long term. The pricing is great, and paying month by month makes it so easy. They cover a decent range of activities that will suit 90 percent of travelers, and the combination of Travel Insurance and Medical Insurance just makes sense!