Welcome to my Guide to Yogyakarta!
Yogyakarta is a place that not many from outside Indonesia have even heard of. For those that have visited, though, it is a place that they will never forget. It is a place that we will keep telling our friends back home that they "HAVE to visit". Yet we will always get those blank stares, and the inevitable reply. "Where?"
Because it is a fact that many visitors to Indonesian shores have only ever heard of Bali. Some may know about Jakarta, and even fewer may have heard about such places as Bromo, Ijen, or even Krakatoa. But Yogyakarta? Most likely not.
This article may contain affiliate links. If you click on those links and make a purchase, at no extra cost to you I will get a small commission. This will go a long way toward keeping this website running. As always, thank you for your support! Click HERE for more information.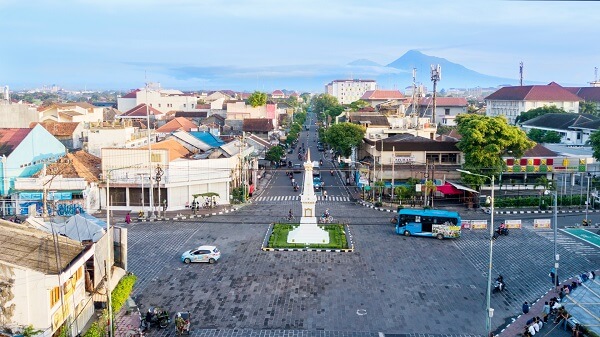 This is a shame, because Yogyakarta (Jogja) is a beautiful place, with some of the most amazing sights in Indonesia. It has history, culture, and friendliness all wrapped into one. So next time you visit Indonesia, make sure to put aside a few days to check out Jogja as well. This Guide to Yogyakarta will show you exactly what there is to do, where to stay and how to get there. Hopefully, by the end, ALL of your questions will have been answered!
Table of Contents
Where is Yogyakarta?
Yogyakarta lies in Central Java, not too far from the southern shoreline. It actually has its very own region, called the Special Region of Yogyakarta. It is approximately 420 kilometers from Jakarta as the crow flies, or 540 Kilometers from Denpasar in Bali.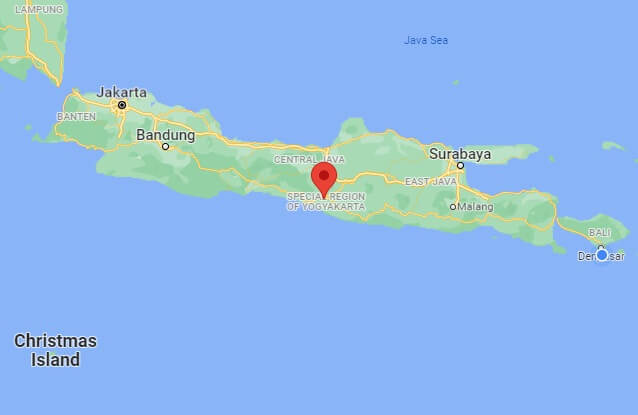 How to get to Yogyakarta
There are plenty of ways to get to Yogyakarta. The most common, of course, is flying. Planes come and go regularly throughout the day, and you can easily catch flights from both Jakarta and Bali. Both flights will only see you in the air for just over an hour.
Flying is not the only way to go, however, and in this guide to Yogyakarta I want to show you a couple of better options!
Those on a budget can save a few dollars by taking their time. From Jakarta, I recommend catching the train. I really enjoyed my trip last time from Jakarta to Jogja by train. It takes just over 8 hours, is very comfortable, and the trains offer some really good facilities. Check out THIS article that I wrote about it for more information.
If you are coming from Bali, then my recommendation is the good old fashioned bus. Except for one catch. There doesn't have to be anything old fashioned about it! Last time I traveled from Yogyakarta to Bali, I booked a seat on the Tami Jaya Suite Class bus. It took about 16 hours, (overnight), but it was SO comfortable! In the suite class you have your own cubicle, just like in first class on a plane. The leather seats fully recline to nearly flat, with your own tv (if you have movies on flash drive) charging ports, and a curtain for privacy. Definetely the best way to travel, for a lot cheaper than an airfare!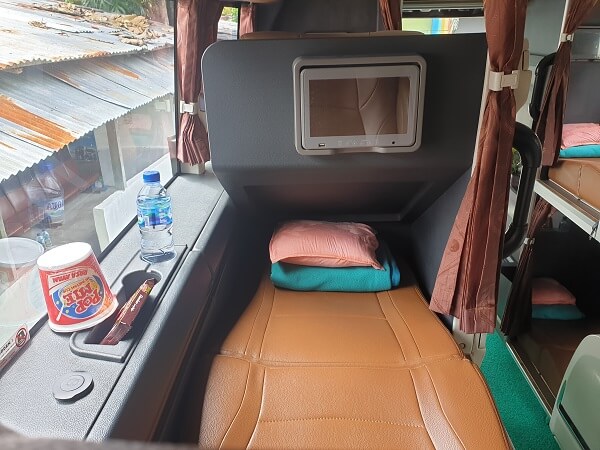 If you are driving, then all roads lead to Yogyakarta! Just set your gps, and make sure you have a topped up toll card, because using the tolls is the easiest way to get around Java.
About Yogyakarta
Yogyakarta, along with its twin city of Solo, are considered the cradle of civilization in Java. From as early as the 8th and 9th centuries, Yogyakarta has been a seat of power that saw the construction of such amazing temples as Borobudur and Prambanan in the region. Later, it held an integral role as a part of the powerful Mataram Kingdom in the 16th and 17th centuries.
This was finally brought to an end by the Dutch, and their wily tactics that saw Yogyakarta split away from Solo. Yogyakarta was then granted Special Region Status in 1950. To this day, Yogyakarta is the only Indonesian City still ruled by a Monarchy.
Yogyakarta is also known as Jogjakarta, and is most often simply referred to fondly as Jogja. It is commonly considered the heart of culture and the arts in Java, if not the entire country of Indonesia. Visitors to the city can wander through temples that are over a thousand years old, or watch as ancient traditions are still enacted by Jogja locals. The arts are still created and recreated every day in Jogja, and it is no wonder that it still rivals bigger and more famous international Indonesian destinations for the tourist dollar.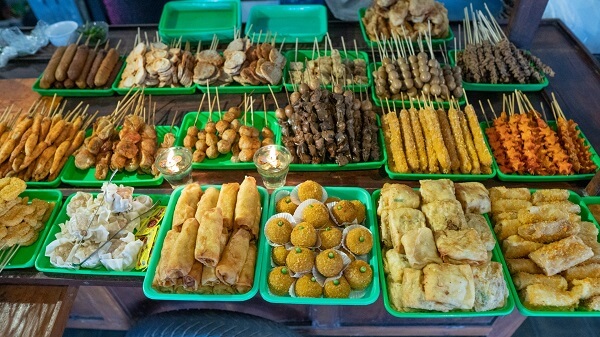 One thing to note about Jogja, is that essentially, it is a student town. The city is famous throughout Indonesia for having some state of the art Universities, and the student population really keeps the heart of the city beating. For this reason, you will see young people everywhere. It's NOT your imagination.
Things to do in Yogyakarta
On my very first visit to Yogyakarta, I really didn't know what to expect. I had heard about Borobudur, and people had told me how wonderful the Jogja street food was. The only other thing I had been told is that Jogja is cheaper than Bali. Honestly, I didn't believe them, because Bali is SO cheap!
Guess what? They were right. Plus, I found so many other amazing reasons to fall in love with Jogja. On my second visit to the city, I spent an entire month there. I traveled, and I blogged. I did day trips, and I blogged. Because if there is one thing that I have learnt about Jogja, it's that just when you think you have seen it all, something else will pop up. Suddenly you are discovering a new wonder that you never knew existed.
In this guide to Yogyakarta, I am going to try and cover some of the most popular things that you can do in and around the city. I have also thrown in some lesser known things that are personal favorites. So, let's dive in!
Borobudur
Borobudur is the largest Buddhist Temple in the world. Even though, officially, it is not listed as one of the Seven Wonders of the World, in many more recent lists it actually is. The reason for this is that it simply wasn't constructed in the ancient days that the original list was made. It was added into the lists afterward.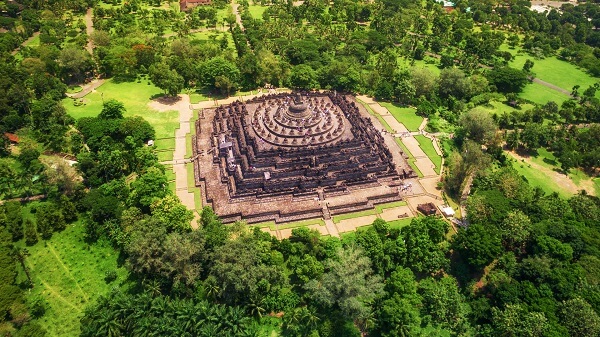 The Temple of Borobudur is amazing. There is no other way to describe how incredible it is. There is no wonder that tens of thousands of people visit from all over the world every year. Any Guide to Yogyakarta HAS to put it front and center, and this one is no different!
Technically, it is not in Yogyakarta. To get there involves a 2 hour trip from the city, but it is worth it. The most hardy visitors will arise at 3am for the trip, hoping to catch the sunrise. There are plenty of tours that will help you out with this, and I will add one to the list later in this article.
Many visitors to Jogja ONLY come to see Borobudur. While this is understandable, there are many more amazing places that they are missing out on. Next up in my guide to Yogyakarta, you will read about one that totally blew me away!
Candi Prambanan
Yes, this place blew my socks off!
Candi Prambanan is something else. If you visit Borobudur and Candi Prambanan in one day, which is possible on a tour, then be ready for a BIG day.
This temple is over a thousand years old, and consists of many, many temples that make up the entire temple complex. This is in contrast to Borobudur that is only one temple. Prambanan, however, is a Hindu Temple, while Borobudur is Buddhist.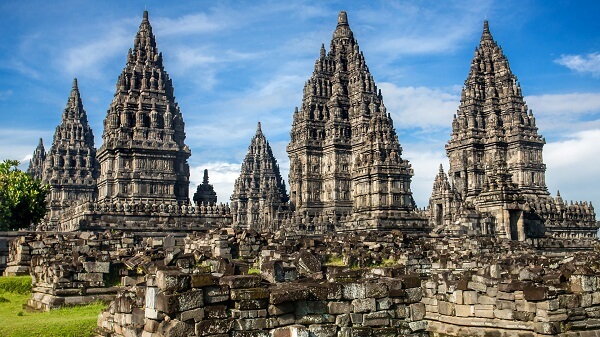 Most of the temples of Prambanan were destroyed by a series of earthquakes hundreds of years ago. Archeologists have painstakingly been reconstructing them piece by piece from the resulting rubble. Fortunately, the original builders knew what they were doing, and each block is carved to fit perfectly into its place. Basically, it is the world's biggest jigsaw puzzle.
It takes many years to put together just one temple, and the entire reconstruction is estimated to take 200 years. The main temples have already been completed, though, including the central temple that stands at an imposing 47 meters tall! You can check out my FULL GUIDE to Prambanan HERE.
My one tip for Candi Prambanan is to get a guide. The temple complex is huge, and there are places that the guide took us that we wouldn't have found ourselves. Plus, they know all the best photo angles according to what time of day you are there. They are worth the money!
Ratu Boko
When you enter Candi Prambanan, you will have the option to include entry to the nearby Ratu Boko as a part of your ticket price. TAKE THIS OPTION!
Ratu Boko is an amazing complex on a hill a few kilometers away from Candi Prambanan. There is a courtesy bus that can take you there, or like us, you can just make your own way.
Ratu Boko is not actually a temple, but a small Kraton, or palace. The entire place is really just ruins now, but I had a great time wandering around the peaceful hilltop. There are ancient bathing pools that were used by the princess and other women, a cave, and an ancient stone archway or doors that appear to lead nowhere that are amazing for photos.
Ratu Boko is one of the most peaceful places that I have been to in Indonesia. It is hard to describe how I felt wandering around there, except to say that I felt at home. It is one place I would really like to return to when I go back to Yogyakarta.
Guide to Yogyakarta tip: If you can, stay for the sunset at Ratu Boko. They are amazing!
Other Temples
If you are not already all "templed out" then there are plenty of other temples around the area to check out. In this Guide to Yogyakarta, I will just mention a couple of my favorites.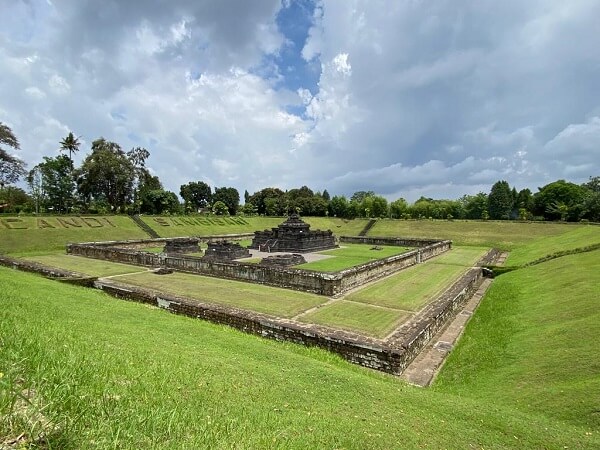 First, there is Candi Sambisari. This little gem is hiding not too far from Candi Prambanan. It is a single temple that seems to be sitting well below ground level, with wonderful green hillsides surrounding it. This temple was not always below ground, however. It was discovered by a farmer digging in his fields one day when his hoe hit rock. The temple, it seems, had been covered over by an ancient eruption, and duly forgotten about for hundreds of years!
Second, we have Candi Ijo. This is also not too far from Prambanan, but closer to Ratu Boko. Unlike Sambisari, Candi Ijo is on top of a hill and commands amazing views of Jogja and the surrounding countryside. The views themselves are worth the visit, but the temple is also amazing in its own right.
Malioboro Street
Malioboro Street, or Jalan Malioboro, is basically the Main Street of Jogja. Usually, I will opt to choose my accommodation close to Malioboro, as you will find yourself in and around this area a lot. Especially at night time.
Malioboro Street starts at Nol Kilometer, or "Zero" Kilometer. If this doesn't tell you that everything in Jogja starts at Malioboro, then nothing will!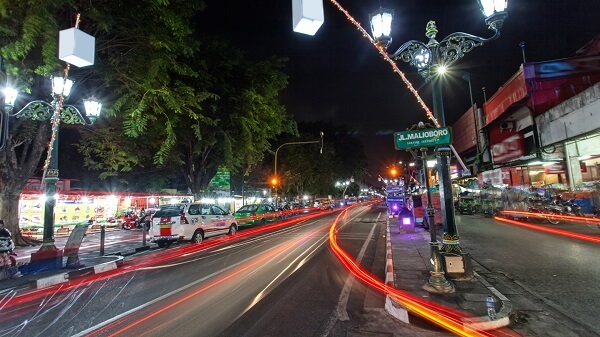 The best way to see Malioboro is simply to walk. It is 2.5 kilometers long, and a walk will take you a while. The entire street is lined with market stalls, eateries, and food carts. There is a large mall mid way, and countless Becak and Andongs running up and down the street ferrying tourists and locals along.
On my last stay in Jogja, I spent an entire month living just a block away from Malioboro Street, and I cannot think of a day that I did not visit it at least once. It is such an icon, that even if you have nothing that you want to do, you can just sit at Nol Kilometer and watch the world go by. Hundreds of others will be sitting with you, trust me!
Taman Sari
Taman Sari Water Castle is the ancient bathing pools of the Sultans of Yogyakarta. It has a rich history, and lies in the very middle of the city. This is a place that I love, and have been to every time I return to Jogja.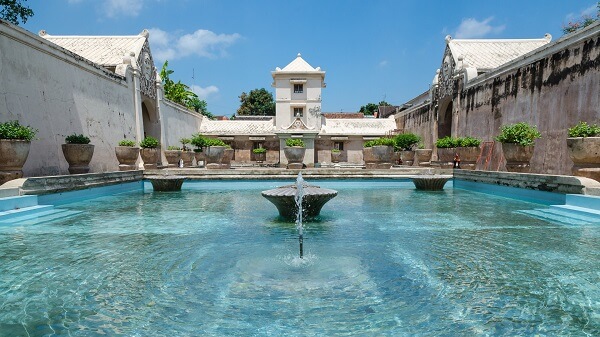 The ancient walls of Taman Sari still stand, and the inner sanctum of bathing pools, orchard and even the underground mosque are still present at Taman Sari. The entrance fee will include a guided tour, and you will get lost in wonder as they explain to you all about the Sultan, and the traditions that once made Taman Sari an integral part of the Sultan's life.
Much of Taman Sari has been taken over by the local villagers these days. They have moved into the complex and call it home. This just adds to the character, and many artists display colorful murals, and chic coffee shops and stores surround the area. A day at Taman Sari is definitely something I highly recommend!
I have previously written a full guide to Taman Sari, such is my love of it. Nevertheless, I STILL had to mention it in my Guide to Yogyakarta. It just can't be missed.
The Kraton
This would not be a guide to Yogyakarta without mentioning the Kraton!
The Kraton, or Keraton, is the palace of the Sultan. It is located right in the middle of Jogja, within sight of Nol Kilometer, and just a block away from Taman Sari. It is a fully functional Palace that is still in everyday use by the Sultan and his family.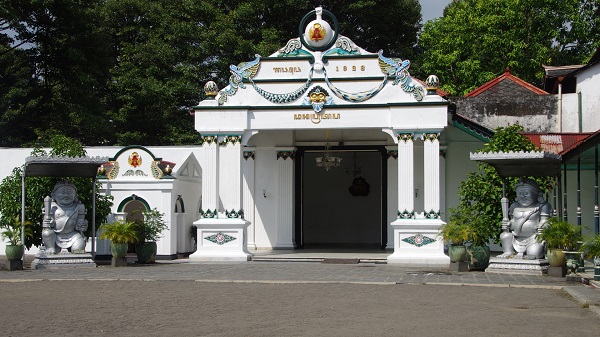 So how could you possibly visit a Palace? Because it is actually also a living and breathing museum. Like Taman Sari, the Kraton entrance fee will come with a Guide. Wander around the buildings inside the palace, learning all about its history, and the incredibly rich story of the Sultanate itself. You will see the traditional Kraton Guards as they go about their daily duties, and get up close and personal with what life is actually like as Indonesian Royalty!
Alkid Yogyakarta
Alun Alun Kidul, or Alkid Yogyakarta, is basically a square park in the central area of Jogja. It is located just behind the Kraton, and is a place surrounded by much superstition and wonder.
The park is basically just a very large square of grass with a road running completely around its perimeter. In the center of the park stand two very tall and ancient trees, each surrounded by its own white fence. This is where the legends and superstition come in.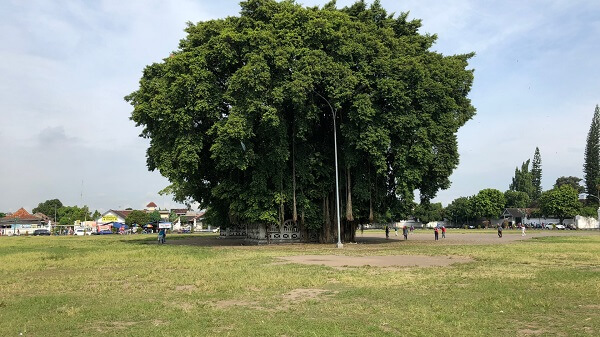 Legend says that if you can walk, blindfolded, from one side of the park to the other and pass BETWEEN the trees, then your wishes will come true.
This legend has turned into a favorite past time for locals and also tourists in Jogja. Come to Alkid at night time, and the place is like a party! There are hundreds of people sitting around on the grass, eating dinner and chatting, while their friends try their luck walking between the trees. The surrounding street is alive with street food carts, and fluorescent pedal powered cars for hire circle the perimeter.
Honestly, I have never seen anything like it!
Sunsets!
Ok, so sunsets are common everywhere. But in Indonesia, nearly every city has an array of wonderful sunset places. The country has some spectacular sunsets, so it only makes sense, doesn't it? In this Guide to Yogyakarta, I will list a few of my favorite and most popular places.
First, HeHa Sky View. This place is on the hills surrounding Jogja, and is one of THE places to be seen. Anyone who is anyone will descend upon this place to watch the sunset. Or ascend, as the case may be. HeHa has a wonderful outlook over the entire city, plus a boardwalk built out to a large restaurant that makes the views even better. There are food carts, viewpoints, and even a stage for a live band.
Next, we have Obelix Hills. Similar to HeHa, Obelix Hills has a restaurant, and plenty of places to see the sunset from. It is set up with some great spots for photos, has a swing, and colored beanbags to sit on. Obelix Hills is on an adjacent set of hills to HeHa, so you have to make the choice of which one to go to!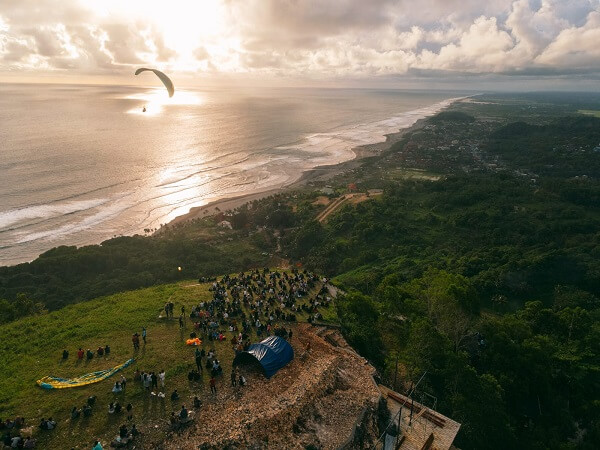 Not too far from Obelix Hills is Ratu Boko, which I already mentioned. The last place I WILL mention in my Guide to Yogyakarta Sunset Spots is a bit more of a drive though.
Bukit Paralayang is down by the beaches to the south of Jogja. It will take a little over half an hour to get there, but is worth the trip. The beach itself is black sand, and not good for swimming. It is iconic for locals though, that get down there on a daily basis to take the Andong along the sand for great sunset photos, or simply spend the afternoon riding atv's, taking the Jeep tours, or sandboarding on the dunes. At dusk, they head up to the Bukit, and hundreds of people will sit together and enjoy the sunset, as Parasailers drift lazily overhead. It is simply a place from another world, and worth the trip to experience!
Daytrips from Yogyakarta
While there is plenty to do in Jogja, some of the most amazing activities will require a daytrip. Now, if you are only in Jogja for a few days, you might only get the chance to do one daytrip. If you are there longer, I would suggest sinking your teeth into a few of them. Being in Jogja for a month, I was spoilt and have done them all. And every one of them I would do again!
So here is the Guide to Yogyakarta list of my favorite daytrips from Jogja.
Pantai Timang Gondola
I actually had this place on my list of things to do in Indonesia, but didn't realize how close it was to Jogja! It is actually a good couple of hours ride to the South East from the city, but definitely one thing that you SHOULD do if you are in Jogja for a while.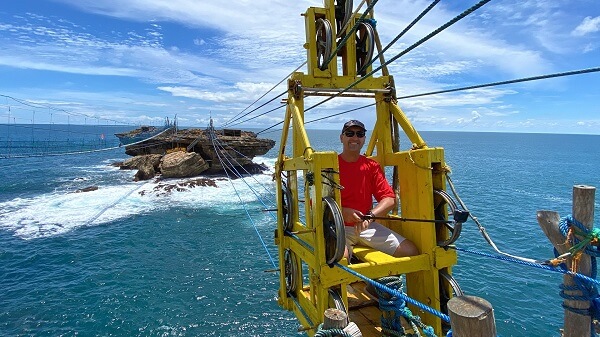 Pantai Timang is a wonderful, very secluded and remote beach. It has traditionally been the haven for local lobster fishermen, and you will still see them there, catching and cooking lobsters. If you want a cheap lobster meal, then this is your place!
The main attraction at Pantai Timang for me is the yellow wooden Gondola. Operated completely manually, it ferries you across to the small nearby island where the lobster fishermen hang out. It is a ride that is totally unique, and an experience I really enjoyed. Check out THIS article for an entire review, including where it is and how to get there.
Gunung Kidul Beaches
Gunung Kigul is a neighboring region, and is actually where Pantai Timang is located as well. Not too far from the Gondola to the North East, you will find the wonderful Gunung Kidul Beaches.
These beaches are really something else. Unlike the beaches that are closer to Jogja, the beaches at Gunung Kidul are beautiful white sands beaches. In my opinion, they are as good as, if not better than the best beaches even in Bali!
It seems strange to be writing a Guide to Yogyakarta, and telling you to go to beaches somewhere else, but that is just how good they are!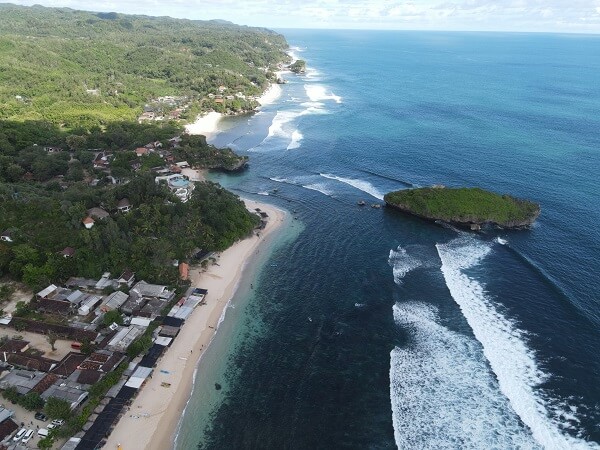 One thing that I loved about the beaches here is how peaceful they are. In Bali, you will find sellers on the beaches, and someone always pushing you to buy something. To get away from that you have to find the most remote beaches with a thousand stairs to climb to gain access.
Here at Gunung Kidul you will find amazing beaches, lined with warungs, and not a person in sight that will try and hassle you. Enjoy your time sunbaking, swimming in crystal clear blue waters, and just have a peaceful and relaxing time!
Gunung Api Purba
Gunung Api Purba, once again, is in Gunung Kidul. It is only about halfway to Pantai Timang though, so your trip will be a lot shorter.
Gunung Api Purba is the name of the main peak of Nglanggeran Ancient Volcano. This incredible location can be found easily, and involves a hike of just over one hour. The views are amazing, and the ancient volcano has left behind some incredible geographic rock formations.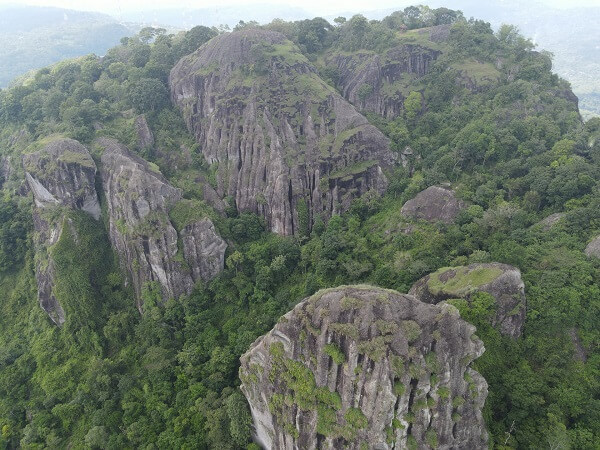 What really made this daytrip a standout for me was the mystic surrounds and superstition of the place. The hike takes you rapidly up an ascent through slot canyons and over rocks that have been there for hundreds of thousands of years. Along the way, you can almost FEEL the history, and at times I felt that we were not alone as we climbed.
Many visitors have the same experiences on this ancient trail, and I won't lie and say that it wasn't a little strange. But then, I am a sucker for a good ancient legend.
Just beware if you plan to climb in the dark for the sunrise. You have been warned!
Check out my FULL review of Gunung Api Purba HERE.
Merapi Daytrip
Merapi Volcano holds the prestigious position of being the most active volcano in the WORLD! You will see this immediately when you lay eyes on it for the first time. It is constantly smoking, and from the Jogja side you can clearly see the top of its crater.
The volcano holds a very distinct and prominent spot in the lives and history of the people of Jogja. As such, there are many that choose to live below it on its very slopes. There are also plenty of activities that revolve around visiting it, and seeing it up close.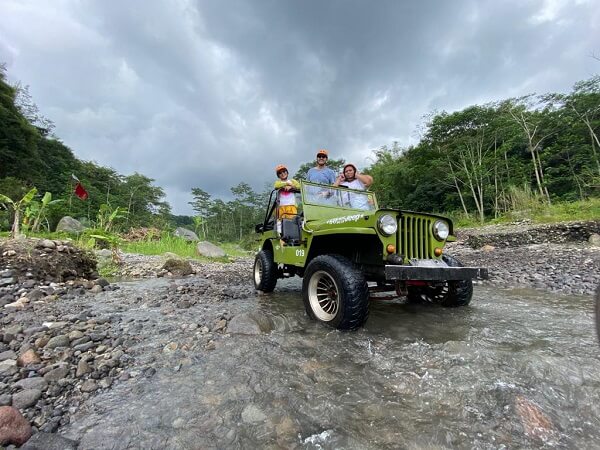 One of the most popular is the Jeep Merapi tour. You can do a day tour, which I will list a bit further below, or you can simply head up the mountain and find a company to try yourself.
The Jeep tours take you to some interesting places around the lower slopes of Merapi. Witness the devastation that an erupting volcano can wreak, and see the results with your own eyes. Driving around on the slopes of an active volcano can be a real eye opener!
Nepal Van Java
This is, without a doubt, one of my favorite places in Java!
Nepal Van Java is a small village located at 1600 meters above sea level on the slopes of Mount Sumbing. An agricultural village, it is surrounded by crops and beautiful fields of green. Its location is unique, and it serves as the base camp for hikers and climbers wishing to tackle the imposing mountain above.
What has made this little town famous in recent years, though, is the beautiful colors they decided to paint their village. It has become one of the most colorful villages in Java, and combined with its amazing location and views, makes for a daytrip that is truly unique.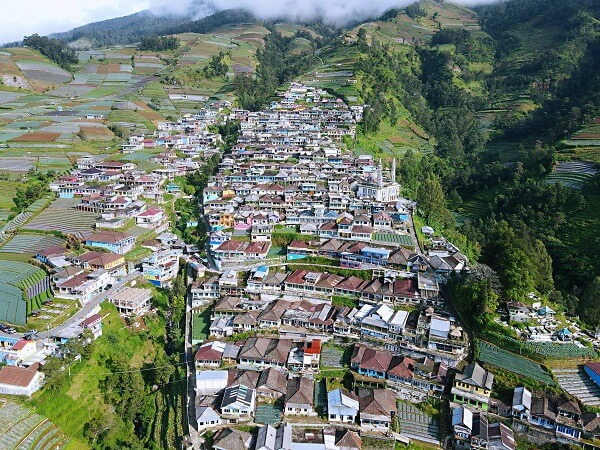 A trip to Nepal Van Java cannot be understated. It exceeded my expectations a hundred fold, and I continue to talk about it to everyone I meet. You can read my full review HERE if you are interested. But let me just say this…
The people of this village are some of the friendliest that I have met in Indonesia. It is a village that seems innocuous, but by the time I left after just a few hours, I was thinking of returning to spend a week there. There is just something about it, beyond the views, the colors, and the incredible location, that just makes you want to stay.
Best Yogyakarta Tours
Next up in my Guide to Yogyakarta, we have tours. I don't regularly put tours into my guides, as I am an advocate for making your own way around. Especially in Bali, where I go everywhere myself on my scooter, and believe anyone can do the same if they want.
From Jogja, however, there are many places to visit that are just easier with a tour. No one really wants to ride a scooter on a 6 hour roundtrip, when someone will drive them, do they? And on a tour, that's exactly what you get.
So here I am going to list my Guide to Yogyakarta best tours you can choose to do from Jogja.
Borobudur Guided Tour
If you are going to be in Jogja, then you just have to see Borobudur. There is simply no question.
As Borobudur is a couple of hours drive or ride from Jogja, taking a tour is a great, relaxing way to experience it. This tour includes pick up at your hotel, and entry tickets. It also means you won't have to fight the horrible traffic that you can get between Jogja and Magelang!
Jomblang Cave and Prambanan Sunset
Jomblang Cave is another place that is a long drive from Jogja, but very recommended to see and experience. It is a huge sinkhole that leads to a really cool cave with stalactites everywhere. The way the sun drifts down through the roof is amazing.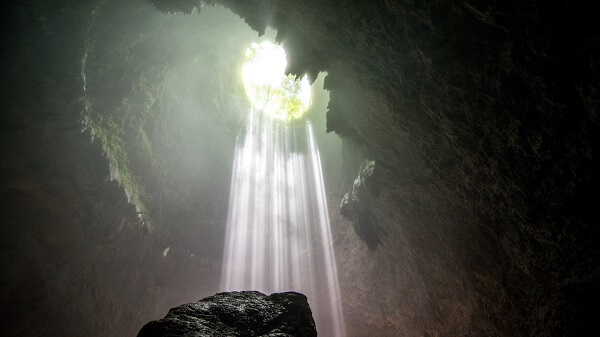 To get into the cave involves hanging by a harness from the end of a rope and being lowered manually down into the sinkhole. Just like Pantai Timang Gondola, it is a unique experience! All gear that you will require is provided.
After the cave, you will be taken to Candi Prambanan to see an amazing sunset from the temple after everyone else has gone home.
Volcano, Jungle Swing and Waterfall
This is a really good option to experience the Jeep tours of Merapi if you don't have your own transport. Get a guided trip around the lower slopes, and visit the museum, as well as a couple of other interesting locations. Most of the trip is on roads, so don't expect too much off road experience.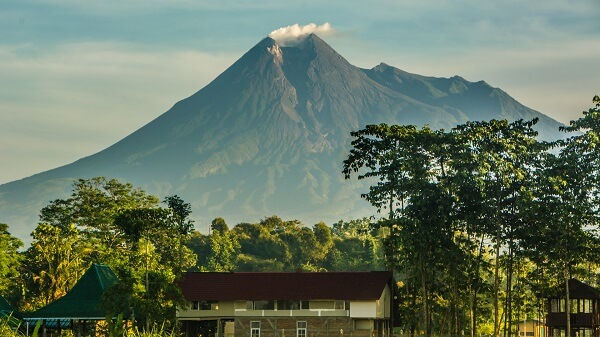 Afterward, go to a nice swing location with views, and then a hidden waterfall, which is a great way to cool off at the end of the day.
My one tip is to get going as early as possible on a trip like this. Particularly in wet season, Merapi can be fully covered by cloud from as early as 10am, so get up at the crack of day and beat the cloud as well as the traffic!
Private Car Charter with Driver
This is not technically a tour, but I have to include in my guide to Yogyakarta simply because I recommend it so much.
When we have been in Jogja, and wanted to do something with a group of friends, this is the way we do it. Basically, you will get a car, or min van if you require, pick you up from your hotel, and take you where ever you want to go. Make your own itinerary, and the driver will follow it. If you have no idea where you want to go, then ask the driver what he recommends. You really can't go wrong!
Where to stay in Yogyakarta
Picking the right place and area to stay in Jogja is critical if you want a good holiday. Personally, I always choose to stay in and around Nol Kilometer. There are two reasons for this.
Firstly, much of what you will be doing is around this area. The Kraton, Tamin Sari, Alkid, Malioboro Street. The list just goes on. From here you can also get to many of the other central areas really easily too.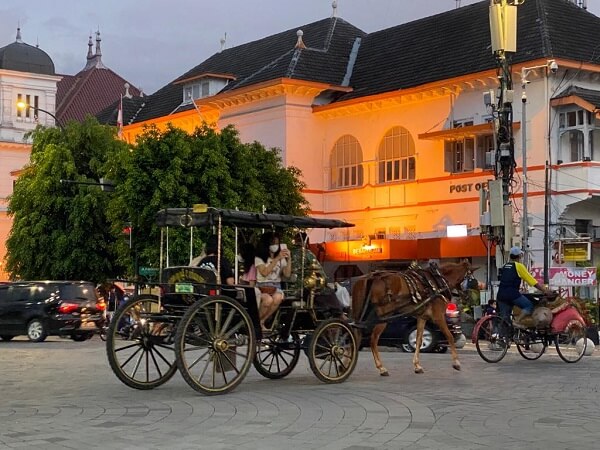 The second reason is that at the end of the day, you are so close to Malioboro Street that it is easy and handy to just go for a stroll. You won't be stuck at your hotel with nothing to do. Everything is right on your doorstep.
So, in this Guide to Yogyakarta, I am going to list a few places in and around Malioboro Street, including the place that is our favorite.
First, the place that we stay. It is called Omah Gerjen 29, and is literally just a block from Malioboro Street. It is a great place to stay with good security, and away from most of the crowd, while still being in nice comfortable walking distance. We pretty much walked everywhere for dinner at night, and found some cute cafes all around us. There is actually a really nice one right across the road!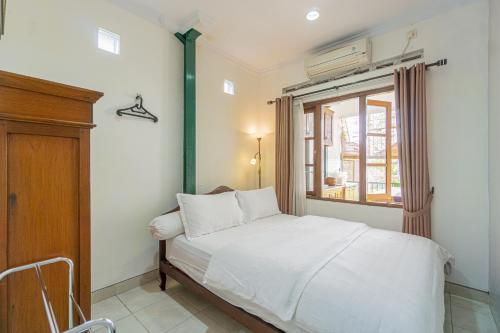 Another place that is a bit more expensive is the Novotel Suites Malioboro. These are really nice, and located almost right on Malioboro Street, just behind the Mall.
For those on a bit more of a budget, there are plenty of really good Hostels in Yogyakarta. The city is very, very popular on the backpackers circuit, and with good reason. Probably one of the very best Hostels is the Good Karma Hostel. Click the button below to check it out.
Getting around in Yogyakarta
One big question that many ask about Yogyakarta is how to get around. It is more crucial than a place like Bali, where most things will be near where you are staying, and you simply take daytrips to go anywhere else.
In Jogja you will only need local transport to get you around to places like Kraton and Taman Sari. Don't worry though, because Jogja has some very unique, traditional and cheap solutions!
In this guide to Yogyakarta, I will only talk about those local options. Everyone knows about taxi's, but I would suggest to stay away from them. You won't see too many of them anyway, as they are not really required. If you want more freedom, then hire a scooter, and if you want to go further afield, hire a car and driver or do a tour.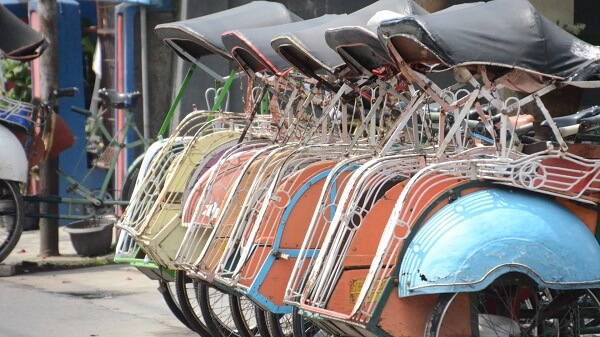 Locally though, try the Becak and Andong. You will find them everywhere in Jogja city, and especially around the central areas. Becak is just like a rickshaw. Some are pedal powered while there are others that have a small motor. Either way it is an easy and cheap way to move around in the inner city.
The other way is the Andong. This is essentially a horse and cart, and once again can be found in the central areas. Many people think they are just a tourist thing, but watch closely and you will see that even the locals use them to move from point A to point B.
Summary
I hope you have enjoyed by Guide to Yogyakarta!
Jogja is an incredible place to visit. Honestly, if you have not heard of it, and want to get away from the maddening crowds and over touristed places like Bali, then you really have to check it out. The history, culture and amazing sights that make Jogja what it is, are truly unique. You will not find them anywhere else!
If you want to read more about Yogyakarta, then click on the link below to see all my reviews and guides about many of the places listed above and more.
DON'T FORGET to leave a comment below. I promise to reply!