Beji Guwang Hidden Canyon, located in the Gianyar Regency of Bali, is an adventure that simply cannot be overstated. At times it can be tough, tricky, exhausting, and just downright fun. The trek that sees you climbing rocks, scaling walls and swimming through a crystal clear mountain stream is one that you will have fond memories of for years to come.
Hidden Canyon is one that was on our list here at Trek Indonesia for some time. We waited through the whole Covid-19 lock down until it reopened, and then were the first visitors back to the canyon in over 4 months. Our expectations were high, or so we thought. As it turned out the experience was even better than we had anticipated, and it has shot to the top of our list to return when conditions vary. More on that later….
This article may contain affiliate links. If you click on those links and make a purchase, at no extra cost to you I will get a small commission. This will go a long way toward keeping this website running. As always, thank you for your support! Click HERE for more information.
Hidden canyon in in the Gianyar Regency, located in the village of Sukawati. Follow the road out of Sanur up the coast for only a few Kilometres to the JL Raya Kettewell turnoff. Hidden Canyon is located only a few minutes up the road. Easy to find with convenient parking, it makes for a perfect day trip from any of the tourist hotspots in South Bali.
If you are heading to Hidden Canyon, you might be picturing beautiful rock walls that have been carved over millions of years as the river has slowly worn it down. If so, then you are exactly right. This is a wonder that has to be experienced to be believed. Make certain to take along your camera and be ready for some spectacular pictures and videos.
Once you have paid your entrance fee you are given a locker where you are advised to leave any valuables. You may be tempted to hold onto these, but be warned, you are going to get very wet, and the chance of losing small items will be high. A good rule of thumb would be not to carry anything with you that you wouldn't carry in a water park back home.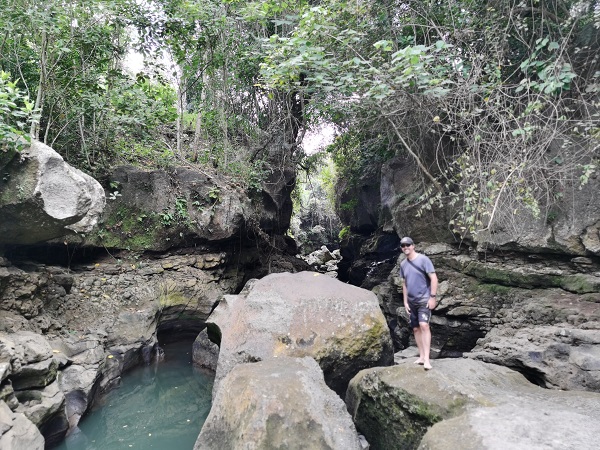 Your guide will take you on a short trek down some stairs to the canyon floor where he will once again check with you for anything you may have forgotten to leave in the locker. He will be carrying a waterproof backpack, so don't feel embarrassed to hand anything over at this point. That's what he has it for!
From here on it is nothing but adventure. Before you know it you will be scaling your way along thin ridges in canyon walls, using ropes to cross over deep flowing water, and swimming through otherwise inaccessible ravines. Oh, don't forget posing for photos and videos at every turn!
Once you have made your way completely through the canyon you will emerge from the other side wide eyed and amazed. You will vow to come back again as soon as possible, and then prepare for the trek back to the starting point. Before you emerge from the canyon you will pass a swing on the end of an extremely long rope where you can linger for a few moments of fun. Then, when you emerge into the daylight once again, the path winds through a multitude of magnificent rice paddies and fields that make for their own beautiful photo opportunities. Don't rush, and enjoy the moment.
There is an entrance cost for Hidden Canyon, and the price of 200k Rupe may put some off. When taken into context of the entrance at similar places around the world, however, we certainly had no problem with it. The value got even better for us as a couple together only costs 300k Rupe. The money goes to the local village and helps them to maintain the path and safety aspects of the canyon. When we arrived there in the direct wake of Covid-19, we were welcomed with open arms because the village was suffering badly along with the rest of Bali, and the tourism was certainly needed.
Give your phone or camera to the guide! They are experienced and are as sure footed as anyone we have ever seen. The amount of phones that have met a watery grave in the canyon is extreme, as tourists opt to hold onto them themselves. Plus, the amount of photos and videos the guide was able to take of us traversing places we could never have taken ourselves was amazing.
If you have reef/aqua shoes, wear them. You can go barefoot, but you will find the shoes invaluable when scaling walls and walking through the water that is laden with small rocks.
Bring a change of clothes. At the end of the day you will be shown to a nice clean bathroom with a hot shower and soap. You will appreciate it!
Tip your guide. He deserves every rupe!
Keep an eye on conditions and the weather. If it is wet season expect a lot of water, and possibly for the Canyon to be closed. The guides are very experienced and will know if it is dangerous.
As mentioned, the closest place to stay in is Sanur. It is not too far away and easiest to find from there. Ubud is also close, and Hidden Canyon can be combined with a trip to Tegenungan Waterfall. For a real treat though, we would recommend Sumampen Waterfall and Uma Anyar Waterfall which are also on the way from Ubud.
Where to book? The best place on the Internet of course! – Agoda
Can I get a tour? Yes you can! Have a look right here – GetYourGuide