Bukit Asah is an amazing headland in East Bali that is often overlooked by visitors to the area. This is probably because of the more popular Virgin Beach, which is situated directly below it. While this is understandable, it is a crime for anyone to miss the glorious views on offer simply because they were not aware it existed. With an outlook that stretches to distant Lombok and Nusa Penida, it is no wonder that locals flock here on the weekends and holidays to take advantage of one of the best camping grounds on the entire island.
Where is Bukit Asah?
Bukit Asah is actually very easy to find. Head toward East Bali via the coast road, go through Candi Dasa, and once you come out of the next mountain pass you will cross a bridge into another village. Here, you will see two signs pointing to Bukit Asah. Take either of them and you will end up in the right spot.
From the main road you will wind up the hill and eventually come to a check point where you will pay your entrance fee of 10k Rupe. Take your time, as if it is a clear day there are some amazing views of Mount Agung from this road.
You will know when you are on the Bukit itself as half a dozen Warungs will spring up on either side of the road. Each of these offer views and swings for photos so you can't really go wrong if you want to stop for refreshments. As nice as it is here, however, the best is still to come.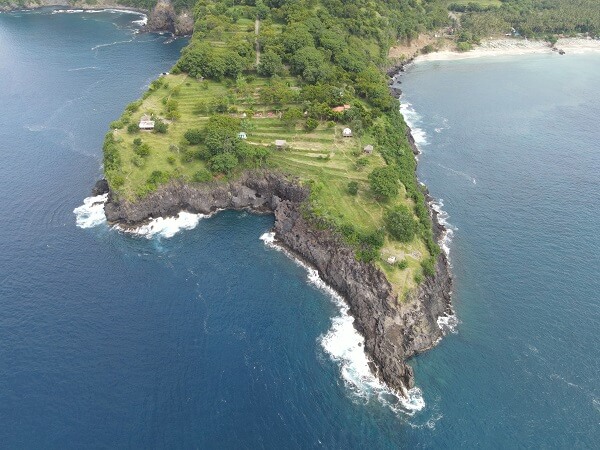 What to expect
Once you are finished at the top of the hill, head a little further along and you will immediately find another road branching off toward the end of the Bukit. This will lead you into the carpark of a camping ground, and here is where the real magic begins.
Take a stroll around the camp ground, and you will find some of the best views on Bukit Asah. Directly down the hill, past the office and toward the point is a large tree and a swing, perfect for a few Instagramable shots. Off in the near distance across the water is Whale Island, and further afield you will see Nusa Penida, and even Lombok if the conditions are good. Turn back around and you will see the idyllic Virgin Beach behind you as well. Bukit Asah was MADE for photographers!
Once you are done here, head across the Bukit and find a small warung tucked away on the opposite side. From here you will get more amazing views, and just above it is a spot that you can see all the way down past Candi Dasa.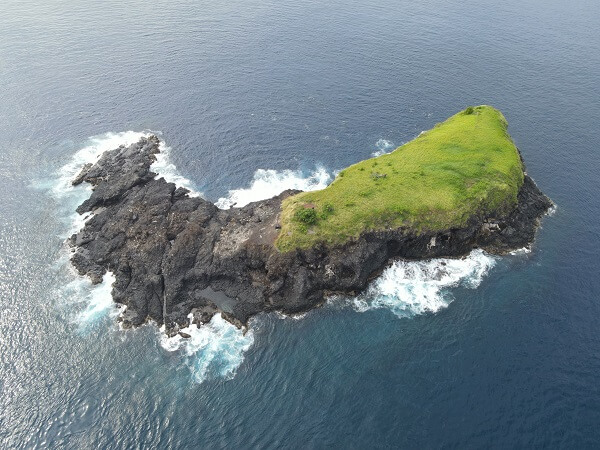 When you are done at Bukit Asah, head further down the road which will continue winding down the hill. Here you will find the southern carpark of Virgin Beach. Since you are so close, there is no point missing it, and it will save you going all the way back out to the main road and following the signs to the other entrance!
Camping at Bukit Asah
As mentioned already, there is a large camping ground on Bukit Asah. They are extremely friendly and will let you wander around and take photos if you like. Just be mindful of those that are staying there.
Having said that, why not stay yourself? Rates at Bukit Asah are very good, and they do everything for you. Tents are powered, and the larger ones come equipped with inner spring mattresses. The largest Dome tent even has small lounge chairs inside!
Most of the main camping sites are on concrete slabs and are very neat. Other sites are strewn across the slopes and are carpeted with lush green grass. There are even proper toilets all the way out here!
Rates for the tents at Bukit Asah start at 150k Rupe a night for a 3 man tent, and go all the way up to 400k rupe for the larger tents. If camping isn't quite your thing, they even have a couple of cabins for the same price as the largest tent.
NOTE: While Bukit Asah is an amazing place in the wet season, it can get very brown and dry in the dry season. This does not affect the awesome views, and we have been there several times in the dry. The camping ground may not be as green, though.
Bukit Asah is one of the most amazing ocean views you will find around Bali. If you are in the area, make sure not to miss it!
DON'T FORGET to leave a comment below. I promise to reply!
This article may contain affiliate links. If you click on those links and make a purchase, at no extra cost to you I will get a small commission. This will go a long way toward keeping this website running. As always, thank you for your support! Click HERE for more information.