Getting around in Bali can be quite daunting for first time visitors. The island can be very busy, with thousands of scooters, cars and trucks crowding the streets. For many, it's not exactly what they might have expected when booking a tropical island holiday. It is for that reason that many people need to find out how to get around in Bali.
The truth is, though, that the majority of this traffic is 90 percent confined to the Southern tourist areas. Once you get away to places like East Bali, or into the mountains, the roads are a lot quieter. Still, you have to get out of your resort if you want to experience what Bali is all about. For that, you will need transport.
Well, I have you covered. Here, I will explain how to get around in Bali. For most, there are really only 3 options that are feasible. Taxi's are fine for moving around the streets near your hotel, running a few blocks down the road for dinner, or going from Legian to Kuta, for example. You would not hire one to travel across the island, however. This is simply because there are a lot cheaper options.
So here are what I consider to be the best options.
This article may contain affiliate links. If you click on those links and make a purchase, at no extra cost to you I will get a small commission. This will go a long way toward keeping this website running. As always, thank you for your support! Click HERE for more information.
How to get around in Bali? Hire a scooter!
Hiring a scooter is easy. Most of the time you can find someone on the side of the road near your resort that will hire one to you. Beware of scammers, though. Also, do your homework and make sure they are reputable. Possibly the only way to be sure of this is through a recommendation from someone who has hired from them before.
To take all the risk out, though, you can hire a trustworthy scooter HERE. They will even deliver it to your door!
Make certain that you have an international driver's licence as well. You should have one if you are going to hire a scooter in Bali.
Now, what if you are not confident enough to ride a scooter in Bali? Then you should look at one of the next options of how to get around in Bali.
One question a lot of tourists ask, is where to get petrol for your scooter in Bali? This one is easy as there are several options. The first and best is a Pertamina. This is the large gas/petrol stations you see around the island. Just pull up, open the tank and they will fill it for you. You then pay the attendant at the pump before riding away. Second option is a Pertamini, which is a small pump on the side of the road, usually in smaller villages. The third option, and a common one for tourists in Kuta or Sanur, is the warungs on the side of the road that sell petrol in Vodka bottles. Each bottle is one liter and once again they do the work for you. NB: The Indonesian word for petrol is Bensin. In small villages you will see this sign a lot.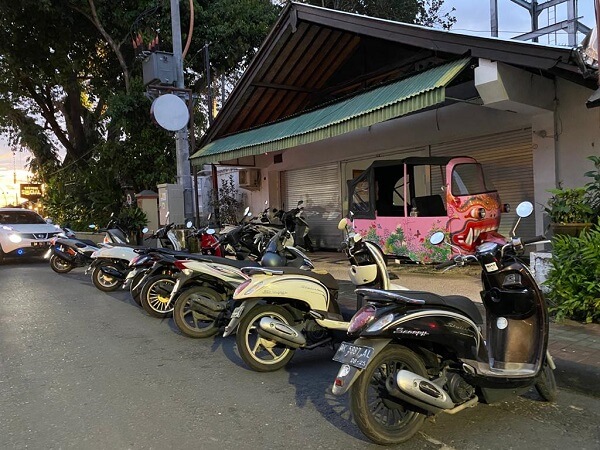 Rent a car with a driver for the day.
This is another one that you can probably do right outside your resort. The only issue with doing this is that you will have to haggle with them about the price. If you are new to Bali, then you are probably going to pay way too much!
The option you have is to rent through this link. They are a trustworthy company, with good air-conditioned cars and drivers that know the island. If you only want to go to a few places and can do it in the space of a single day trip, or a couple of day trips throughout your stay, then this is a very good option. Renting a car with a driver means you can let them know where you want to go, and basically create your own itinerary.
Now, we come to the last option for how to get around in Bali.
Take a guided tour
This one is a no brainer. If you want to go somewhere, then just organize to go on a private tour. You can find all the tours you want, such as this one through "Get your Guide". They have experienced and knowledgeable guides that will take you to virtually anywhere on the island.
The difference between a tour, and just hiring a car and driver, is that on a tour it is a set itinerary, and there will usually be a few inclusions. Stops and destinations are set in advance by the guides themselves. A tour, though, is a great option for people staying in a resort that want to go somewhere, or do something in particular, and just want someone else to do all the legwork for them.
So that's it. The three best options for how to get around in Bali.
Personally, I always recommend scooter. You can go anywhere on the island on a scooter, and often you can get to places you simply cannot get to in a car, such as Lahangan Sweet in East Bali. It is also faster and cheaper than the other options.
Enjoy your Bali holiday!
DON'T FORGET to leave a comment below. I promise to reply!