So you have heard of East Bali, and all of it's wonderful and famous attractions, but you have no idea how to get there or where to go? Well, relax, because I have you covered. I have been all over East Bali and have put together a list of my favorite places to form this 3 day East Bali Itinerary just for you!
Before I get started, let me just say that the very best way to travel around Bali and not miss anything is to do it yourself. This may sound daunting to some, but seriously, you will not see anywhere near as much from the back of a tour bus. Rent a car or scooter and hit the road yourself, if you can. International drivers permits are not hard to get, and once you are out of the southern tourist region of Bali the traffic is a lot lighter.
This article may contain affiliate links. If you click on those links and make a purchase, at no extra cost to you I will get a small commission. This will go a long way toward keeping this website running. As always, thank you for your support! Click HERE for more information.
The other reason I recommend this is so that you can make impromptu stops along the way. If there is one thing I have learned in Bali, it's that no matter where you are going, you WILL find other interesting places you will just WANT to visit. I have seen over 50 waterfalls on this island, and at least a third of them were unplanned visits. I see a sign on the side of the road and follow it.
With this in mind all of my itineraries are made with extra time factored in. See something you like? Stop. Want extra time somewhere you fall in love with? Take it. I do not make itineraries that mean you will be rushing and in a hurry. What's the fun in that?
So without further ado, here is my 3 Day East Bali Itinerary.
East Bali Itinerary Day 1
Hire your scooter or car and hit the road. Ideally you will have done this the night before so you can get an early start. From the Kuta/Legian/Seminyak area, East Bali is about 2 hours drive, so the earlier you get going the better.
Head up the coast past Sanur and along the beachfront toward Candi Dasa. There are plenty of beautiful locations along here so take your time, especially if you got that nice, early start.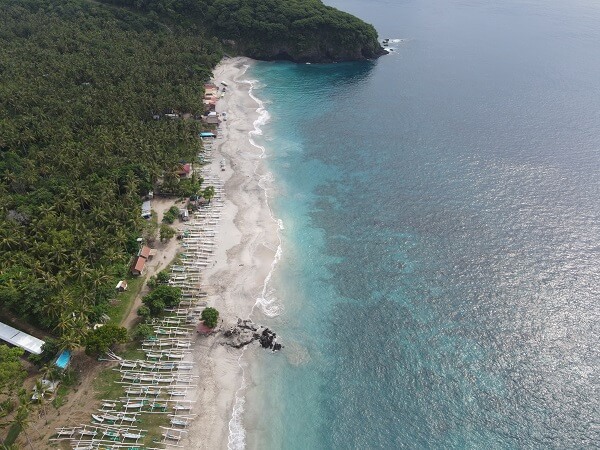 Set your GPS for Bukit Asah. This Bukit is a beautiful headland in Karangasem that is famous for it's views and very popular with campers. Take the first exit you can to get up onto the headland, because the same road will also continue down the hill to your next stop, Virgin Beach.
Here are google locations for Bukit Asah and Virgin Beach.
You will love Virgin Beach. It is the idylic stop for a quick dip and a fresh coconut underneath the palm trees. This beach is unique as a white sand beach amogst all the black sand beaches throughout the rest of the region.
Have lunch here, or if you like head toward your next stop at Tirta Gangga Water Palace. These water gardens are the former Royal Palace, designed and constructed by the King himself. Keen Instagram followers will also recognize this place, as it has become very popular on social media in recent years.
If you have not had Lunch yet, then we could suggest the warung directly across the road from the main entrance to the Water Palace. The food is some of the best Warung food in town!
Find a place to stay, and settle in for the night. There will be an early start in the morning as we continue with Day 2 of our East Bali Itinerary.
If you need suggestions for accommodation, see the bottom of this post for some links we have found for you!
East Bali Itinerary Day 2
How was Day 1? Good? Excellent, because Day 2 will be even better!
Start the day nice and early. Before dawn would be perfect. Set your GPS to take you to Lempuyang Temple, or Heaven's Gate if you follow Social Media.
This is one of the directional Temples of Bali, and sits on one of the hills that overlook the whole Karangasem region. The site has become very famous in recent years for the amazing photos that you can get standing between the gates with Mount Agung in the background. The best time of day for these photos, though, is early in the morning before the cloud moves in, or for sunset, as the cloud moves away and the setting sun behind the mountain is amazing.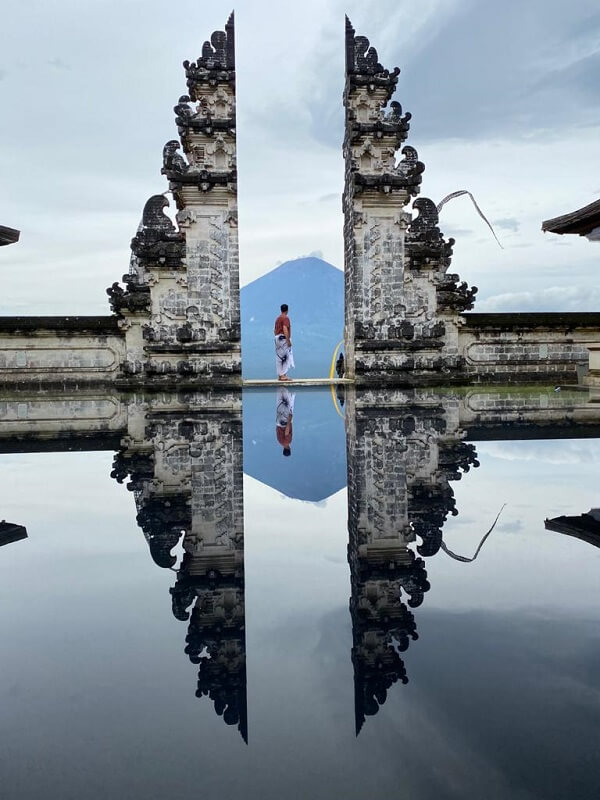 I suggest early morning, though, because the crowd at Heaven's Gate can get big. It is not uncommon to be lined up for over an hour and even longer just to get a photo. Remember, too, that there is much more to see at the Temple than just the Gates themselves. Take time to explore and when you are ready to move on, keep reading below.
Next stop for your East Bali Itinerary will be the Taman Soekasada Ujung Water Palace, also known as Taman Ujung Floating Palace. This is another water palace close to the coast in Karangasem. The pools and gardens are beautiful, and extremely popular in Bali for Pre-Wedding photos. Spend your afternoon wandering around the gardens and checking out the sights. Relax, and make certain to leave a couple of hours before sunset.
After you leave the Floating Palace, we are going to take you to Amed on the Northern coastline. Amed has always been popular among the diving community of Bali due to the wonderful marine life in the area. There are also some world class wreck diving spots along this coastline. If you have the time, do some exploring and find a place to do some late afternoon snorkeling if you like. Otherwise, we are heading to a place called Sunset Point to see one the best sunsets in Bali. Here, the sun sets over Mount Agung, and is worthy of the trip to witness it at least once!
Finally – Day 3
So, Day 3 of our East Bali Itinerary is already here!
Whether you decided to stay the night in Amed or head back to accommodation in Karangasem, this morning is another early one for you. Once you arise, we are heading to a place called Bukit Cinta. Get the cameras ready because there are more photos coming of the imposing Mount Agung again.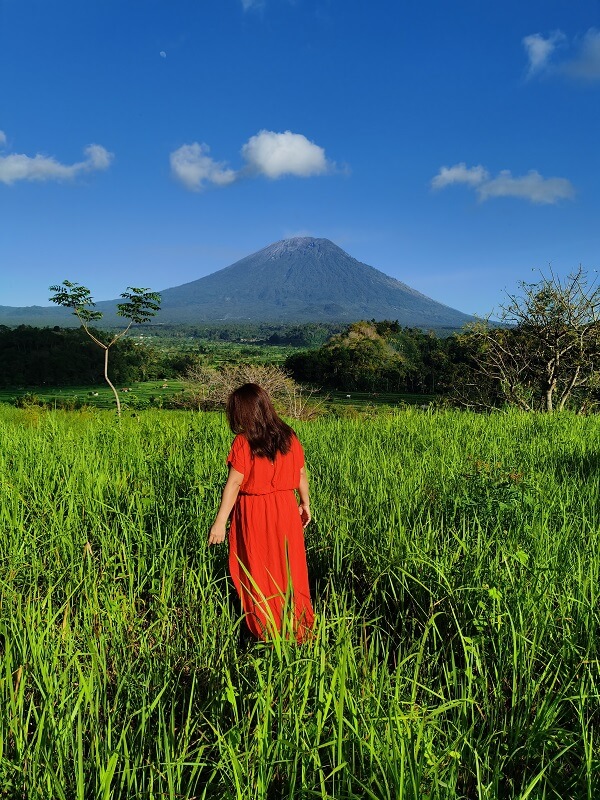 Bukit Cinta is basically a field of grass beside the road. What makes it amazing is the view down across the rice paddies, and Mount Agung in the distance. Coming in the early morning is best, once again so that Agung is clear of cloud, but also because photos are best in the morning light.
Once you are done at Bukit Cinta, take your time, because basically this last day is an easy one. Head off to Candi Dasa and find a nice spot along the waterfront for a well deserved brunch. Then, we have one more surprise for you, this time on the road home.
Set your GPS for this location, which is called Bukit Belong. This small hill is covered in the greenest of long grass, and boasts sweeping views out across the ocean toward Nusa Penida in the distance, as well as all the way down toward Nusa Dua and Kuta in the south. Break out the camera again and enjoy this unique location for as long as you like. It's also a great place for a picnic, so bring some snacks along with you.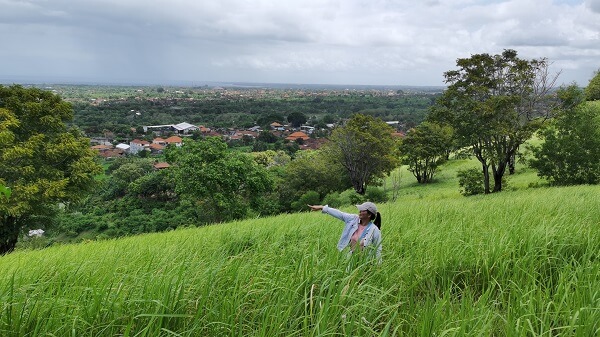 Well, that's it for my 3 Day East Bali Itinerary. After Bukit Belong you can head home, or if you still have time you can stop by in Ubud and check out a couple of the sights up there. There are plenty of waterfalls on offer, and Hidden Canyon is also on the way home if you have a few hours to spare!
One more epic location that I have discovered only recently is Lahangan Sweet. This is one of the best views in East Bali, but is hard to get to unless you are on a scooter and feeling very confident. Give it a go and check it out if you have the time!
Don't forget to follow me for more Bali Itineraries and places to see! As promised, below you will find a list of links for accommodation in the East Bali region.
Cabe Bali – For a really nice place to stay very close to Tirta Gangga. This is also in a great spot to head off early for Heaven's Gate.
Villa Di Bias – if you really want to spoil yourself, this place has great views across rice paddies and is fairly central to everything you will want to do in East Bali.
Jasri Bay Hideaway – for a really great place on the beach. Quiet, and right near the best surf break in the area!
DON'T FORGET to leave a comment below. I promise to reply!