Every first time visitor to Bali will notice one thing as soon as they leave the airport. There are literally scooters everywhere! This is no exaggeration, as the main form of transportation on the island is by scooter. And with SO many scooters cramming the streets in what can only be described as total chaos, the thought of actually riding a scooter in Bali can be very overwhelming. But, it doesn't have to be.
Table of Contents
This article may contain affiliate links. If you click on those links and make a purchase, at no extra cost to you I will get a small commission. This will go a long way toward keeping this website running. As always, thank you for your support! Click HERE for more information.
Here, I am going to provide you with everything you need to know about riding a scooter in Bali. Personally, I had visited Bali over a dozen times as a tourist, renting a scooter on every occasion. Now, I have been on the island for 18 months and own my own scooter, on which I have now toured nearly every inch of the island. Riding a scooter in Bali is not that scary, and can be a lot of fun. IF you follow a few common sense rules, which I will provide for you at the end of this article. Number 9 is particularly true!
How to rent a scooter in Bali
Renting a Scooter is very easy in Bali. You can literally get one from anywhere on the street, especially around the tourist areas. You DO have to be careful, though. Finding a reputable looking place with an office, such as a tour company office, is the safest and easiest way to rent a scooter on the street. Otherwise, just take a walk down nearly any street and you will find lines of scooters advertised for rent. You will have to haggle for price, and you MAY get it a bit cheaper than the other place, but this does not mean you get good quality.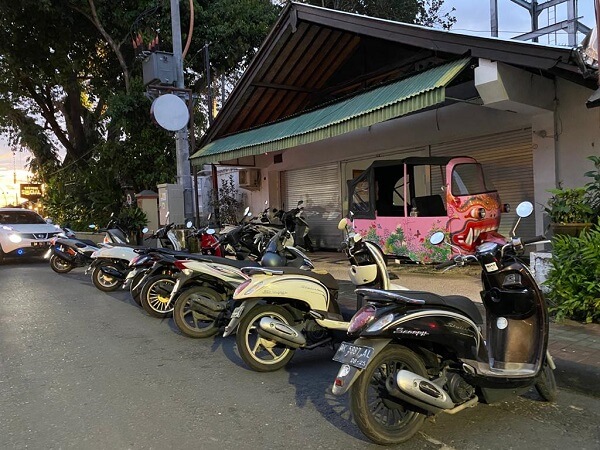 ALWAYS check your scooter before you hire it. Check the brakes, ignition, tyres, and even the sound of the scooter as it idles. Have a look at how much petrol it has, and make sure you know they expect it to be full when you return it. Then, check the overall condition of the bike and even take photos if you feel the need. In short, do everything you would do if you hired a car back home.
Prices of scooters in Bali are fairly cheap. If you are haggling on the street, you could possibly get as low as 50k rupe for a day rental. If you are hiring for longer, you may get it even cheaper. Mostly, you can expect to pay around 70k rupe a day, but this also depends on the type of scooter you hire. The most common scooters such as the Honda Vario will be the easiest and cheapest to hire. If you want to get the stylish Vespa or Scoopy, or more powerful Yamaha Nmax (which I own) then you will pay a bit more. In the end, 70k rupe is just under $5USD so its not going to break the bank if you pay an extra 10k rupe for a good bike.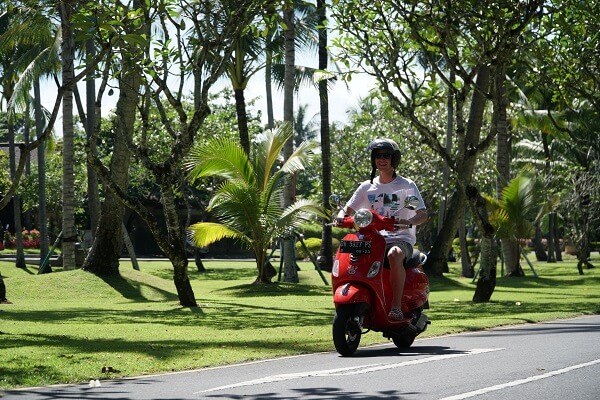 If you are uncertain about hiring, and just want to hit the road riding a scooter in Bali without the hassle, then you can just check out THIS link. Through GetYourGuide you can hire a good reliable scooter, and have it delivered right to your resort. There is no better way to hit the road straight away without wasting time!

What you need to hire a scooter in Bali
To hire a scooter in Bali you will need:
International Driver's Permit
Passport
Identification
Helmet (usually supplied with your scooter)
Travel Insurance
With some of the "street hire" places you can get away with not having International driver's permit. I would NOT advise you do this, however. If you are planning a holiday and are thinking about riding a scooter in Bali, then get your International Driver's Permit before you leave home. If police pull you over and you do not have one, then it could end up very expensive for you.
There is some conjecture at the moment about whether UK issued IDP's are valid in Indonesia. Before obtaining one, (no matter where you are from) check with your local motoring organisation for a list of countries that they are valid. In my experience, having an IDP is a lot safer than NOT having one.
Also, do not try to ride without a helmet. Obviously, there are the safety reasons that I should not have to go into. You DON'T want to end up in hospital in Bali. But, police will also pull you over for not wearing a helmet, and even though many locals do not wear them, YOU have to! It doesn't seem fair, but that will not be a valid argument with the police. Another expensive lesson if you get caught.
When it comes to travel insurance, it is always the best idea to have it. When hiring a scooter in Bali, it is a great idea to be prepared for the worst. Hopefully it's a non issue, as you will already have it when you come to Bali anyway. If you are looking for the best place for insurance, you can't go past SafetyWing. Check them out HERE.
Basically, it comes down to common sense and preparation. Follow the rules, and you will be fine and have a great time riding a scooter in Bali.
Riding a scooter in Bali – Where can you ride?
Basically everywhere!
As I mentioned earlier in the article, scooters are the main form of transport in Bali. Every single road is made with scooters in mind. Indeed, I have actually been on many "roads" in remote parts of Bali that you would NOT get down or through in a vehicle. Scooter is the only access.
I was once going to a waterfall up in Papuan in Central Bali and every single road was inaccessible in the small vehicle we were in. We had to come back on a scooter to get to the waterfall.
One of my favorite places in East Bali, called Lahangan Sweet, is only accessible by scooter or a very good 4wd.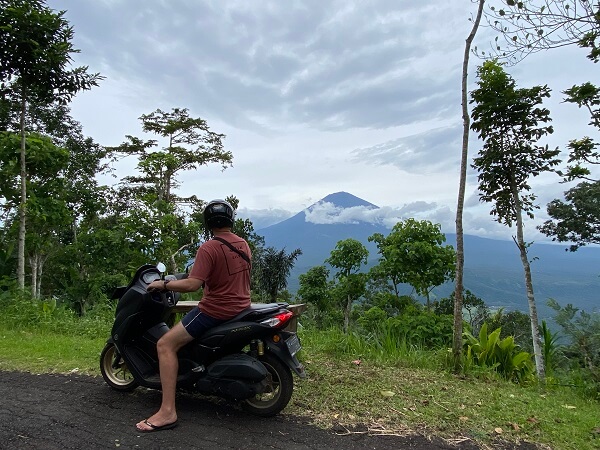 If you visit any Rice Paddies around Bali, take notice of the way that the local workers get out to the furthest fields. They ride their scooters up tracks only just wide enough for one scooter at a time. This island is MADE for scooters. Riding a scooter in Bali is the very best way to see the island, in my opinion.
You can also take your scooter to other islands. It is probably wise to make sure your rental outlet is happy with you doing so, but it is easy to take your scooter on the ferry across to Lombok or in the other direction to Java. This makes is easy and handy to see other places, and such iconic sights as Mount Ijen on Java.
If you aren't confident to ride a scooter, then you can always hire a vehicle with driver. That is just as easy and can be done right HERE.
At this link you can get a driver, air conditioned vehicle and a guide that will take you anywhere you want to go for a whole day. See THIS ARTICLE for more information.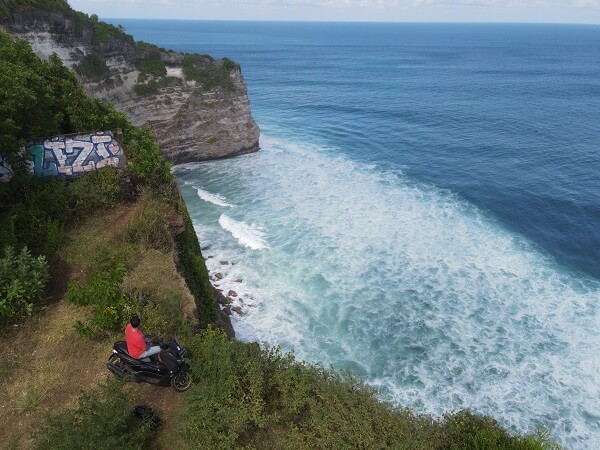 Filling up your Bali scooter
This one is easy, if you know where to look.
There are basically three ways to fill up your Bali Scooter.
At a proper gas station, called Pertamina.
At a small roadside stall called Pertamini.
At many small warungs beside the road where petrol is stored in Vodka bottles.
The first option is the best. On all major roads in Bali you will find regular gas stations. They look like any gas station anywhere in the world, and are called "Pertamina". Simply pull in and follow the other scooters. If not, just pull up to any bowser and someone will assist you. Simply hop off your scooter, open the gas tank and they will do all the work for you. Just say "Full" and they will fill it up for you. Pay the attendant at the bowser and off you go!
The second option is not much different, and can be found in any larger village around the island. It involves a manual type of pump that you pull up to and they fill your scooter up right there. These are just located on the sides of the road or outside some larger warungs.
The last option is very popular in the tourist areas especially, and is available at every second warung along the street. You will see petrol stored in Vodka bottles outside the warung. This usually costs 10k rupe for 1 liter of petrol, and they will generally empty two bottles into your scooter for you.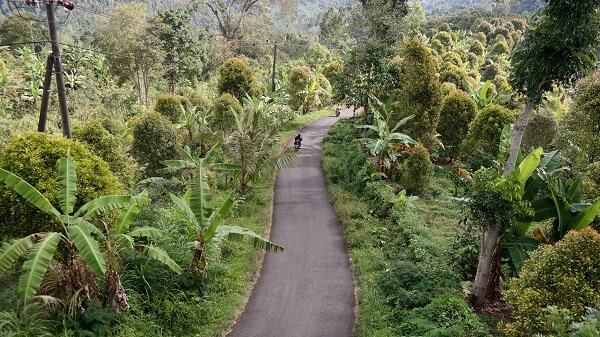 Final Tips!
There are many things you will be told about riding a scooter in Bali, but there are even more things you SHOULD be told that you are NOT. Most of these can be covered under the common sense rule, but many people are not possessed with this unfortunately. Just remember this. As confident and sensible as you are when riding a scooter in Bali, not everyone is the same as you. There are a lot of fools out there (for want of keeping this PG) and you need to keep that in mind.
So here are my final tips for riding a scooter in Bali. If you follow me on Instagram, you might already have read them! Number 9 is one that happens EVERY single day.
1. Literally no one follows road rules in Bali. At least, it seems that way.
2. Locals will ride straight through red lights. DO NOT follow them.
3. You MUST wear a helmet and shirt when riding a scooter in Bali. You WILL get fined if you don't. You MAY get away with it for a while, but don't take the risk.
4. Locals will ride like they either don't care about dying, or just don't believe they will. DO NOT ride like them. Think safety first. The hospitals are full for a reason.
5. If a gap looks too small to fit through, then it is TOO SMALL TO FIT THROUGH!
6. When you decide a gap is too small, I can guarantee a local will then fit through it.
7. No matter how close to the curb you think you are, someone will always fit up your inside. Guaranteed!
8. When riding anywhere in Bali you must have eyes in the back and sides of your head. People will appear from the least likely of places with no notice.
9. Locals WILL pull out of gangs, warungs and literally anywhere without looking. They will also ride the wrong way up the wrong side of the street. Always expect the worst.
10. When I learnt to ride a motorcycle in Australia I was taught to ride as if YOU are invisible, and everyone else is drunk. It's a rule to live by in Bali.
Have you checked out my Instagram yet? If you want to know where I am and all the great places I visit BEFORE they appear on my website, then give me a follow. I post about little known places, tips and hints for visiting, as well as guides and itineraries. Check it out HERE.
For more information on how to get around in Bali, check out the links below about the many options available to you!
Riding a scooter in Bali – Summary
Riding a scooter in Bali is fun, and can be the most scenic way to see the island. There are places at the tops of mountains that I have pulled over on my scooter to enjoy the view, in places you could not pull up in a car. There simply is not a better way to explore.
But, you MUST be sensible. DO NOT follow the cool crowd that try to ride with no helmet, no shirt and probably no license. They are taking enormous risks and it simply is not worth it! Riding a scooter in Bali should be a good experience. Don't make it one you regret.
So get ready to hit the road, and see what this amazing island has to offer!
DON'T FORGET to leave a comment below. I promise to reply!