If there is one place that I loved more than any other in Europe, it was Italy. Every town I visited, and every region I traveled through looked like it had dropped right off a postcard. There is one thing, above all, that I noticed though. The big cities are great, but it is the small, secret towns of Italy where the real magic lies. It is here that you will find the REAL Italy.
Now, in such a small country, one would think that all of these Hidden Gems would be easy to find. With 20 different regions making up the entirety of Italy however, sometimes it is just a case of stumbling across them. And when you do, you stop and wonder HOW you have not heard of these places before.
So in this article, I am going to run over a list of what I believe are some of the very best secret towns in Italy. Some, I have been to myself, and others have been recommended by local friends and other travel bloggers.
I am sure you will find a few places that will just HAVE to go onto your next Wishlist for Italy!
Table of Contents
This article may contain affiliate links. If you click on those links and make a purchase, at no extra cost to you I will get a small commission. This will go a long way toward keeping this website running. As always, thank you for your support! Click HERE for more information.
Visit "Little Venice" at Chioggia, Venice
Chioggia is a small town located on the Adriatic Coastline in the southern part of the Venetian Lagoon. It is often dubbed "Little Venice", and with good reason. Like its more famous cousin, it features canals, waterways, and the same quaint architecture that has made Venice such a tourism mecca. When it comes to secret towns in Italy, however, Chioggia fits the bill perfectly, as it flies completely off the radar of visitors to the area.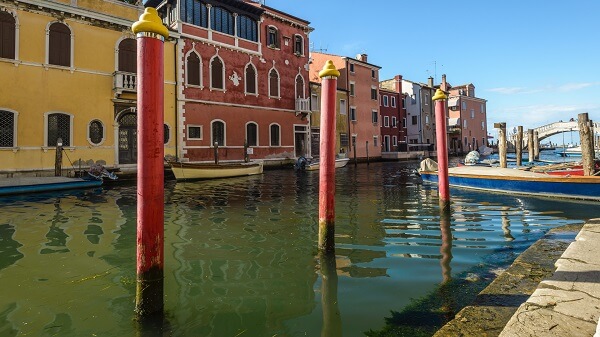 Chioggia is a great place to get away from the crowds of Venice. Located 25km to the south, it is a wonderful little town to base yourself, and do daytrips up to Venice. Boats run regularly to Saint Marks Square directly from Chioggia during the summer. So if you are looking for a way to explore Venice, and save a bit of money, then Chioggia is almost the perfect solution. Cafes, bars, restaurants and accommodation are a lot cheaper in Chioggia.
Chioggia has a lot of its own attractions to explore, chief among them being the beach of Sottomarina. This is well known as the best beach around Venice. Most of the best accommodation can be found along this strip, and it is a great place to beat the heat in summer!
Get Lost in a Fairy Tale in Castelmezzano, Potenza
Castelmezzano is located in Southern Italy, in the region of Basilicata. Along with its twin town of Pietrapertosa, it is neatly perched among the Dolomiti Lucane peaks. The rocky outcrops that surround it give it a real "fairy tale" appearance, and it is a must visit place for the amazing photography effects alone.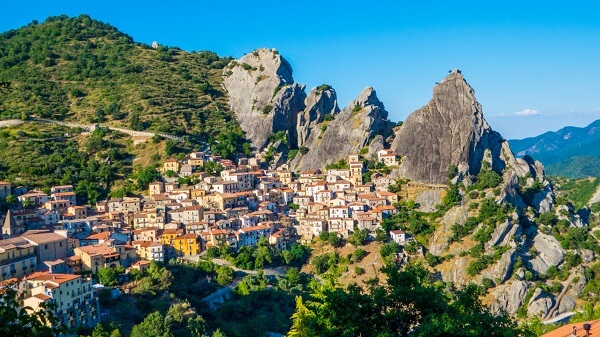 Castelmezzano is steeped in the history of the region, and its origins date back to the 6th century BC. How a town as beautiful as Castelmezzano has held its status as one of the Secret towns of Italy for so long is anyone's guess. Even so, it is still a hidden gem that most tourists to the region tend to miss.
There are plenty of things to do around the area of Castelmezzano. Obviously, the main drawcard is the incredible photos of the town itself, surrounded by those amazing rocky outcrops. Within the town are some beautiful churches and other architecture. On the outskirts you can find some wonderful hiking, Via Ferrata, and even an incredible zip line! Check HERE for more details.
Have twice the fun at Bressanone/Brixen
Why twice the fun?
Because this little gem in the Dolomites of Northern Italy has TWO names. In Italian, it is Bressanone. In German, it is Brixen.
This is because most of the population speaks German, and a lot of them descended from Germany. Even though Bressanone is actually 45 kilometers on the Italian side of the Austrian border.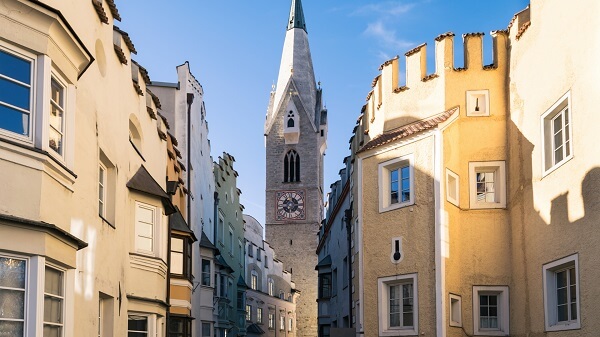 This amazing little town is located in a lush green valley to the north of Bolzano. For hundreds of years it has been a stopover point for travelers that are moving back and forth through the Dolomites from Italy to her northern neighbors. Fast forward to present day, and Bressanone is now a place that travelers actually seek out, and stay for extended periods.
Why?
Because it is the perfect place to base yourself when exploring the mountains. The hiking is amazing. The Skiing is world class. The architecture rivals some of the very best in Italy. Add to that the free public transport, ease of access, and the world class views of the Dolomites, and you have the perfect small town holiday!
Check out my full guide HERE.
Feel at Home in Trento, Tyrol
The town of Trento lies in the Trentino Province, in the northern Italian Region of Tyrol. Nestled at the foot of the Dolomites, it actually holds the status as the third largest town in the Alps. It still remains one of the very secret towns of Italy when it comes to tourism, though. I personally believe it won't stay secret for very much longer!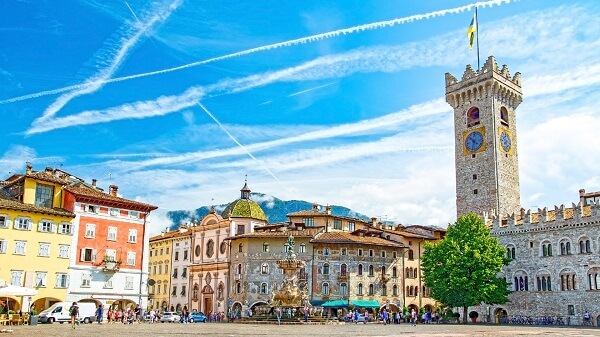 The beauty of Trento comes with the homely, village feel that it gives off. A stroll through the streets gives you the feeling that you have been there before. The sights, the sounds, and the voices of the locals. Everything has that familiarity that usually only comes from a visit to one's hometown. In Trento, you will be made to feel as if you are doing just that. Visiting home.
There is plenty to see and do around Trento, and even if you run out of amazing Piazza's to visit, churches to explore, or Gelato to sample, then don't despair. Trento is the perfect place to sit with a local and chat, even in a different language. Because this town is simply the friendliest place that you will ever visit. And trust me, you WILL come back again!
Discover the Past at Matera, Basilicata
Matera, located in Southern Italy's Basilicata Region, is a Hidden Gem that will not remain so for much longer. The only reason that it has stayed secret for so long, is due to its proximity to so many other, more popular areas and towns of the south. Thanks to the latest James Bond movie, released in late 2021, Matera is now landing on the radar of tourists to the region. So my suggestion is to get along and check out Matera before the crowds arrive.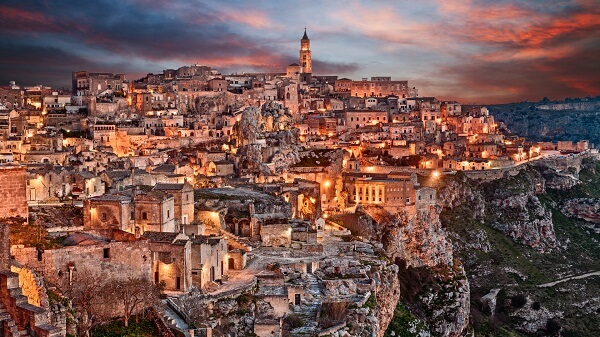 What makes Matera so unique is its amazing history. Matera is the third longest continually inhabited city in the world! For over 9000 years people have called this incredible place home, although much of that was a very sorrowful existence. Up until the 1950's, much of the population resided inside the cave networks that make up much of the town. Despite the homes that were built above them, they lived in hovels, suffering from raging malaria, and living in terrible poverty. The government passed a law to force the population out from their subterranean dwellings and into the houses above.
Now, the city has totally transformed. The caves still exist, but these days are much sought after boutique accommodation. The city is UNESCO Heritage Listed, and in 2019 was rated the top European City of Culture. Quite the turnaround from only 70 years previous!
Take a Stroll at Unique Sirmione, Brescia
Sirmione is located in Northern Italy, in the Province of Brescia, and not too far from the city of Verona. For this reason, it is not EXACTLY a secret. The reason that it makes this list of secret towns of Italy, however, is that it is a very under rated town! It CAN become crowded during summer with the local tourists, but it is very much still off the radar of the international tourist. For now…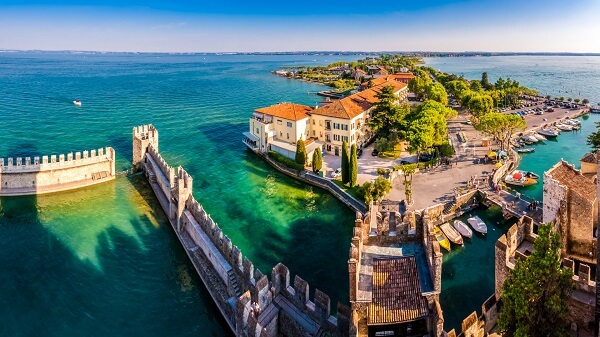 Sirmione is, essentially, a resort town that is nestled nicely on the shores of Lake Garda. It features some wonderful Roman Ruins, a classic Castle, and is framed by beautiful turquoise waters. The main feature, however, is the towns location on a skinny strip of land that pokes way, way out into the lake itself. Nearly every postcard, photo, and Image of Sirmione depicts this, and with good reason. It is simply stunning!
The Incredible Pastels of Burano, Venice
Burano is yet another small town on the Venetian Lagoon. This one is a little closer to Venice, however. It is famous for the wonderful colors of its houses, drawing tourists from Venice, and all over Italy to take photos and wonder at the different palettes and hues. I am a real sucker for a rainbow village, as I was for such features in Indonesia. It is no wonder then that I feel myself so drawn to Burano!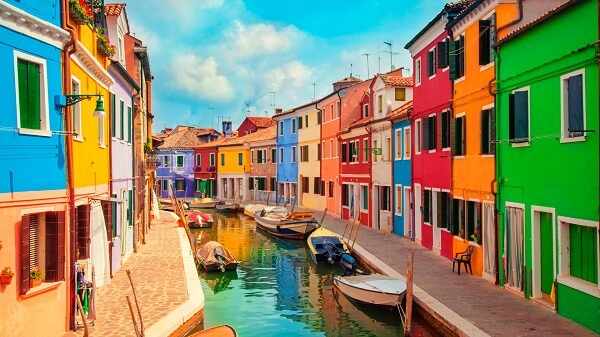 The secret of this small fishing village is definitely out, and every day it draws plenty of visitors from Venice, which is only 40 minutes away. For many, though, this is still a hidden gem and therefore fits nicely in my list of Secret Towns of Italy. Besides, I love it so much that I can't help but talk about it!
So why does a town such as Burano paint its houses in such a myriad of colors? I know in a few places I have been it is simply for the tourism. That doesn't seem to be the case with Burano, however. One school of thought is that it made it easier for the fishermen to find their own house when returning home. Others say it is simply to differentiate one house from another. Either way, it has turned the place into a very popular tourist attraction. Whatever works!
Stop by in "Forgotten" Bergamo, Lombardo
Bergamo is one of those cities that people drive through, or past, without giving it a second glance. It sees hundreds of thousands of visitors moving through the local airport every year, and yet is STILL relatively unknown. This is because most of those visitors transit to more popular places such as Milan and Lake Como. What they are missing out on, however, is a brilliant and beautiful city that flits by without a second glance. Which is a great shame. Because Bergamo really is the hidden gem of the North. It just hides in plain sight!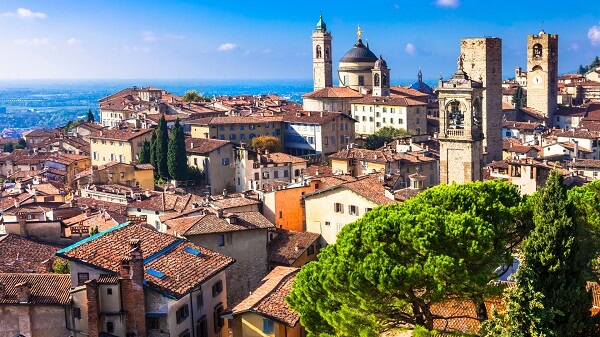 The city of Bergamo is divided into two parts, the upper and lower. The upper part, or old town, is where most of the best places to see are located. Take the funicular up from the lower levels, and spend the day wandering the cobbled streets, visiting quaint shops, and sampling chocolates and cheese from the region. Also take the time to check out the wonderful historic Venetian walls that circle the city. It is a full 6 kilometer loop, but is the best way to get to know the city from up high!
Enjoy The "Quiet" Riviera at Camogli, Genoa
Camogli is a little Hidden Gem located along one of the most popular coastlines in Italy. Technically a part of Genoa, it is the nearby resort town of Portofino that typically gets most of the tourist interest. Camogli, though, is still located on the Italian Riviera, and has plenty of its own natural beauty and attractions.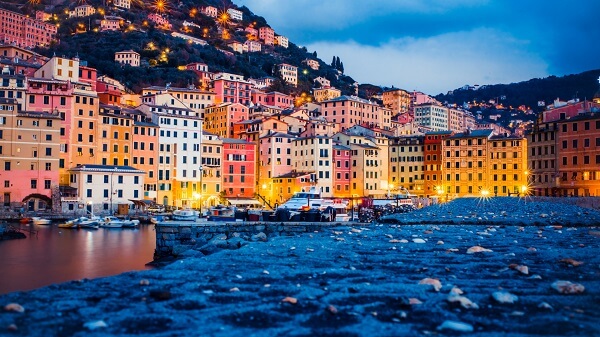 The old town, located along the seaside, is the place to go in Camogli to simply soak up the atmosphere. Stroll along the beach and pass by the colorful buildings as you watch the locals go about their business. Grab a seat in a café, and watch the world go by. If there is one thing about Camogli, it is that this town moves at a lot more sedate and casual pace than the rest of the Riviera.
Camogli is a great place to base yourself if you are wanting to save money. It is also wonderful if you want a break from the bustling tourist crowds of other, more prominent towns nearby. You can still reach those towns for day trips, with easy public transport available. You can even hike to Portofino from Camogli if you like! In fact, hiking is one past time that is very big in Camogli. Hikes range from half an hour to 4 hours long, and feature amazing views of the town, Genoa, and the Portofino Peninsular.
Catch a Cable Car to Monte Lussari
The incredible village of Monte Lussari is one of those places that has real "wow" factor. Located in the Friuli-Venezia Giulia region of Italy, the village sits right at the summit of Mount Lussari. It also holds the unique distinction of having a triple border, sitting almost right on the corner of Italy, Slovenia and Austria.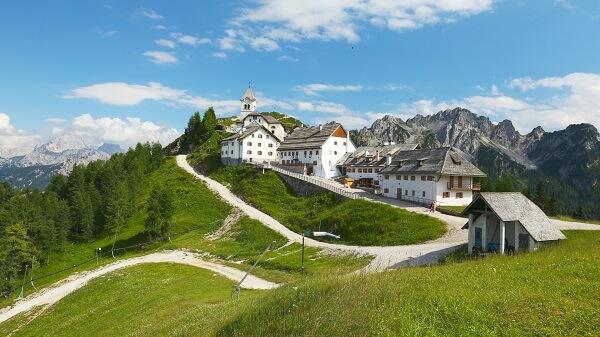 Monte Lussari was first built in the late 14th century. Legend has it that the image of the Virgin Mary was sighted here, and a church was erected, built as a shrine for pilgrims to the sacred site. From there, the village grew as other buildings were constructed to house those that made the pilgrimage.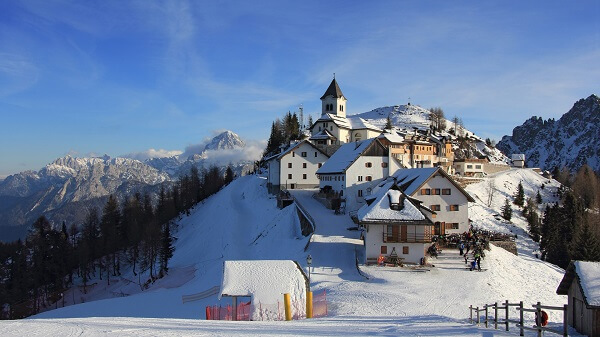 Monte Lussari is popular in winter with those that love to ski. The ski run descent is 32 km long! Away from ski season, there is cable car access for those that wish to visit. The ascent takes 15 minutes from the town of Tarvisio, far below, and features absolutely incredible views! In the village, enjoy the high mountain atmosphere (1789m) and some wonderful cuisine that features each of the neighboring country's delicacies. If you bring your own picnic, then seek out the trail behind the church that will take you to the true summit, and one of the best picnic spots in all of Italy!
Click HERE for my full Summer Guide to Monte Lussari.
Visit the "Ideal Town" of Pienza, Siena
Take one look the incredible town of Pienza, and its outlook across the Tuscan countryside, and you will immediately have memories of the movie Gladiator. This, to me, was the ideal vision of Italy. Tall Cyprus trees lining roads into small towns. Fields of wheat waving in the light breeze that rippled off into the distance. If you have the same thoughts as me, then it is for good reason. Pienza was, in fact, the location of choice for those shots in the movie.
Pienza sits on top of a small hilltop in the Province of Siena. It is the picture of the ideal town, but was not always so. Up until the late 1400's, it was just another village, much like any other village of the region. Its fortunes changed though, when the future Pope Pius II was born in the village. He decided to honor his village by turning it into the "Ideal" town. A cathedral was built, along with Piazza, Papal Residence and the Municipal Palazzo.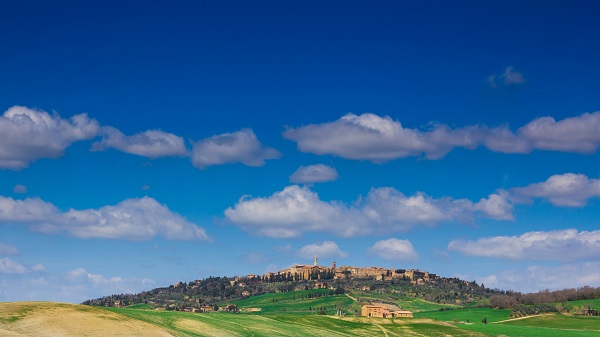 Construction on the "new" town took 3 years to complete, and the end result was an amazing example of architecture that has stood the test of time. The town was renamed Pienza, after the Pope himself, and became a "must see" for anyone who visits the region. Incredibly, despite its popularity, the town never grew to any massive size, and to this day still only has 2000 residents. There were several reasons for this, including the death of the Pope, hence no further construction. Several occupations over the following years and the problem of it being so remote from trading hubs also contributed.
For mine, I am happy for this. Pienza is an amazing place, and much of its character and charm could have been lost if it had grown too much. I love it just as it is.
Take The Ferry to Procida, Naples
Procida is a small island that sits just off the coast of Naples. Now, I already hear you asking HOW an Italian island could possibly be on a list of secret towns of Italy? Well, the answer is simple really.
Like many of the places on this list, Procida has "suffered" in the shadow of larger and more popular locations. Nearby islands such as Capri are a lot more famous, and therefore receive the lion's share of international tourism. Once the secret is out, though, I am certain that Procida will get its fare share as well.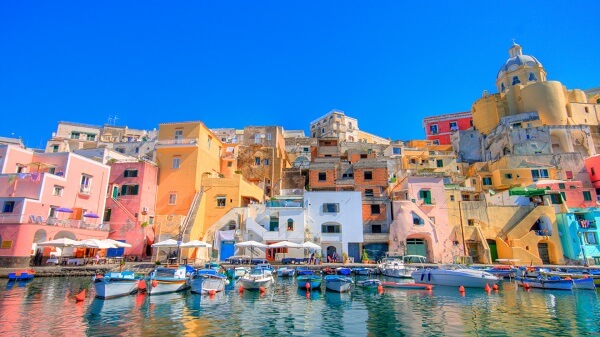 That day may be about to arrive, as Procida Island won the coveted Capital of Culture Award in Italy for 2022.
What makes Procida so attractive? Mostly the fact that it DOESN'T get the tourists that nearby islands get. It is still authentic, quiet and charming. It is a place that the locals try to keep secret. But when those quaint multi colored fishing villages get plastered across Instagram, and tourists find out it is only a short ferry ride from Naples, look out!
Inspect the Trulli in Alberobello, Puglia
Alberobello is not exactly a secret town of Italy, but it is a very unique one.
Any visitor to Puglia will learn about the "Trulli" buildings. It is an iconic building style of the region, and you can find them in many places. The spot where they are most famous, though, is Alberobello.
So, what are the Trulli? Basically, they are a white, conical styled house that are made with no mortar. Built in a sort of a dry wall design, they were invented to be easily dismantled by the township in order to avoid taxes whenever it was inspection time. This is no longer relevant today, of course, but the Trulli still stand.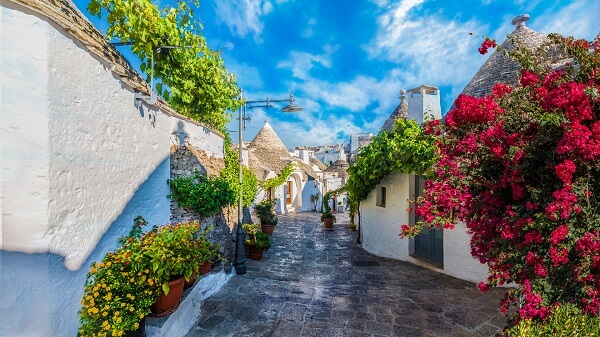 In Alberobello, there are thousands of them. A visit to the town is really only for one reason, and that is to see them. A walking tour will take a couple of hours, and you will share the town with plenty of other tourists. There are so many Trulli in the "Trulli Zone" though, that you will generally have no problems finding your own space.
The town itself is also very pretty. It is clean, and certainly worth a visit if you are interested in something historically significant and truly unique!
Summary
If you are looking for Secret Towns of Italy, then I truly hope you have found some amongst my list. Any list of hidden gems in this wonderful country could NEVER be exhaustive, so keep an eye out for more lists to come! For now, I am already looking toward my next trip, and finding more gems to seek out.
Maybe I will see you there!
DON'T FORGET to leave a comment below. I promise to reply!