So you want to visit Venice, but you don't like crowds. Does this sound like you? Well, I have bad news for you. Venice can be VERY crowded. The tiny city of canals plays host to 20 million visitors a year. You can only imagine how cramped those small alleys and streets can get! The good news is, there are plenty of alternatives to Venice.
Now, I'm not for a second suggesting that you don't visit Venice. The city is amazing, and really is a place that any visitor to the region must experience. What you DON'T need to do is spent an inordinate amount of time there. Venice is not big, and a couple of days is all that the average visitor requires to see it all.
There are several reasons that many people stay in Venice for longer than required. They want to see the other islands. Do day trips around the Venice Lagoon. Trip to other areas. Some don't realize that a week in Venice is way too much time, and find themselves with nothing to do for the second half of their stay.
What not many international visitors realize, is that the regions surrounding Venice contain so many wonderful places to visit. Even within the Venice Lagoon itself, there are some amazing islands that really should be rivaling Venice itself for the tourist dollar. You can visit these places easily from Venice, or even better, stay for a night or two. They are Cheaper, less crowded, and a lot more relaxed than staying in one of the most over touristed cities of the world!
This article may contain affiliate links. If you click on those links and make a purchase, at no extra cost to you I will get a small commission. This will go a long way toward keeping this website running. As always, thank you for your support! Click HERE for more information.
Table of Contents
Alternatives to Venice – Local
Within the Venice Lagoon itself there are plenty of options to stay and enjoy away from the island of Venice. Some of them are actually quite popular destinations for day trips from Venice. My suggestion though, is why not turn the tables. STAY in one of these places, and do day trips TO Venice. The money you could save would be worth it, and you don't need to be fighting to find a table at a restaurant for dinner at the end of a long day!
So here are my suggestions for Local Alternatives to Venice.
Burano
AAH, the quaint island of pastels!
I wrote about Burano recently in THIS article about Hidden Gems of Italy. Because in all honesty it is. How this place is not swarming with tourists is not too much of a mystery, as it is so close to Venice. It IS, however, a shame. Because Burano is a beautiful island in it's own right.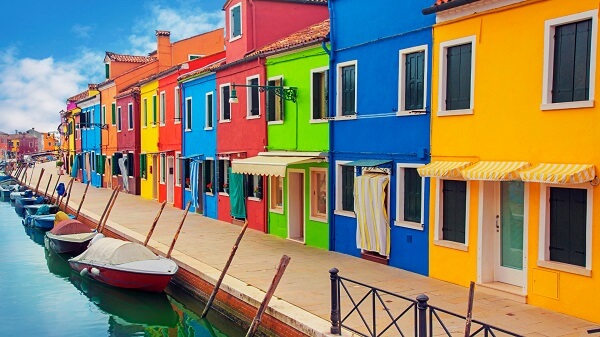 The main feature of Burano is the beautifully pastel colored buildings. They make incredible photos, and are really one of the main reasons that visitors come to the island. There is a lot more to Burano than colors though, and a day spend wandering the streets can be extremely peaceful. Especially compared to its crowded and chaotic neighbor that is only 7 miles away!
You can easily get to Burano from Venice by ferry, with several departures a day. To stay on Burano, you have the options of mostly guest houses or Air bnb.
From the link below, simply filter on the left by neighborhood to Burano.
Lido di Venezia
The island of Lido di Venezia is an 11 kilometer long strip of white sand that separates the Venice Lagoon from the open sea. Essentially, it is a resort island, and some very expensive hotels can be found there.
The main drawcard for Lido di Venezia is the fact that one side of the island is miles and miles of beach, while the other is the Venice Lagoon. It is a quick trip across to the city of Venice by boat, and can be reached easily for a daytrip.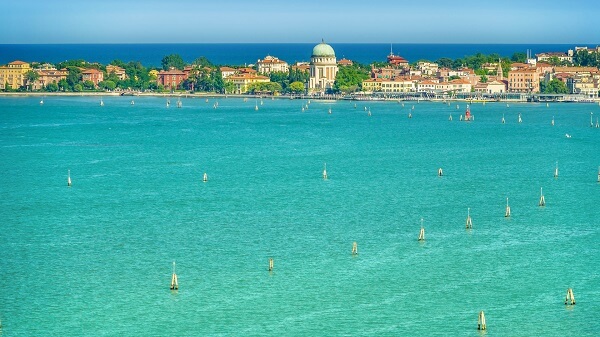 Lido di Venezia is one of the most popular alternatives to Venice, especially for those that are looking for a bit of peace away from the world famous city nearby. It has its own canals, and plenty of things to see and do, as well as the wonderful beaches. One thing to note is that unlike Venice, which has no cars or vehicles, they are actually allowed on Lido di Venezia. You can even bring your own if you like via the car ferry. Most locals, however, still prefer to cycle around the island.
Lido di Venezia is also the location for the world famous annual Venice International Film Festival. As you can imagine, at this time of year the island is crawling with the rich and famous, and most places are fully booked out. So get in early!
From the link below, simply use the filter on the left to "neighborhood" and select Lido.
Murano
Murano is known as the "Glass Island" of Venice. For over 700 years, the glass makers on Murano have been masters of their craft, and for hundreds of years were considered the very best in Europe. In fact, people would come from all over the continent to sample the products on Murano, and it was actually illegal for the glass makers to leave the Venice Lagoon area!
These days, there are master glass makers all over the world. Yet still, Murano remains at the very heart of the industry. The island is always brimming with activity, and is one of the most popular alternatives to Venice for tourists to the region.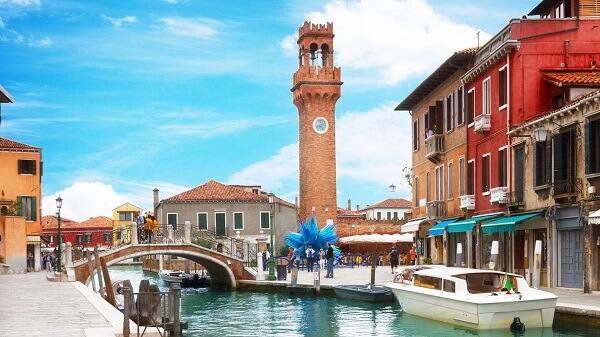 The trip from Venice to Murano only takes a few minutes, and anyone that arrives from the Venetian Capital will immediately notice the difference. Life is very relaxed on Murano. The locals are laid back, and things move a LOT slower. Murano still has a Grand Canal, even if a lot less Grand than the one in Venice. It has beautiful churches, architecture from all ages, and some wonderful places to sit and watch the world go by.
One thing about Murano that can't be underestimated is this. It is an island made famous by its craftsmen and artists. When you visit, do yourself a favor and don't rush around. Even if you are short on time. For there are SO MANY little things to see that can be missed. When an island is built and populated by the best artists in the world, they leave their mark in the smallest and most seemingly inconsequential of places. A lamppost, a window, or nondescript wall. Keep your eyes open!
From the link below, simply use the filter on the left for "neighborhood" and select Murano.
Chioggia
Chioggia is known locally as "little Venice". It is located at the very southern end of the Venice Lagoon, and is a very sleepy town compared Venice itself.
Chioggia is everything that Venice is, only smaller and a LOT less crowded. In fact, hardly anyone visits as it is probably the furthest town away from Venice on the Lagoon. It is 25 kilometers up the Lagoon to Venice by boat (during summer), or about 53 kilometers by road.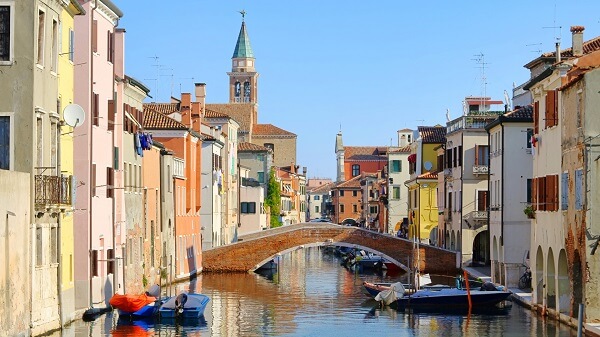 If you are looking for quiet alternatives to Venice, that have the same charming canals, boats and architecture, then Chioggia would be a great choice. You won't be fighting crowds, and will be able to stroll the town in peace.
There is also one other thing that Chioggia has that Venice doesn't. One of the best and most famous beaches in the area is just a short stroll across the causeway at Sottomarina. This beautiful golden stretch of sand is also the location for most of the best accommodation in Chioggia, so really, you get the best of BOTH worlds.
Alternatives to Venice – Further Afield
If you are looking for Alternatives to Venice, you are not just limited to the area around the Venice Lagoon. Further afield you will find some amazing cities and towns that are only a short trip away from Venice. Some of these are already quite well known, although nowhere even remotely in the vicinity of fame of Venice. Others are small towns that ooze charm, beauty and history. Here are a few of my favorites.
Treviso
Treviso is another small town in northern Italy that is often referred to as "Little Venice". This is nothing to do with the size, however, but due to the canals that crisscross it. Located on the Italian mainland, Treviso is only 40 minutes from Venice by train, and a wonderful place to base yourself if you want to explore the region further.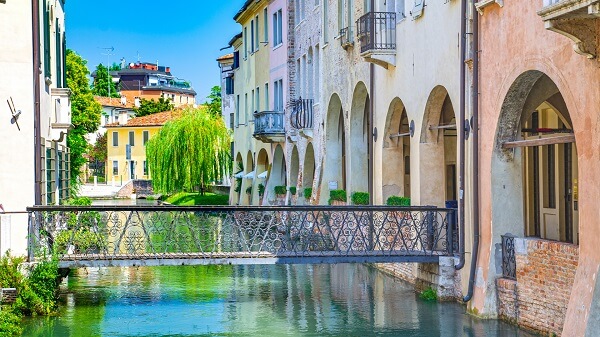 Treviso is a laid back and relaxing town. It is surrounded by medieval Venetian walls, that these days serve as a beautiful jogging track and walkway. They are lined by towering green willows, and blue flowing canals, making them a wonderful way to begin exploring the city. Treviso is also a cycling town, so hire a bicycle and join the locals as they pedal their way around the picturesque streets. Cross over the many canals and explore along the edges of the two rivers that gush through the city itself. Treviso is a simply beautiful place to stay, and you will wish that you stayed longer.
To check out your options for getting from Treviso to Venice, simply follow THIS LINK.
From Treviso you can easily explore the rest of the region as well. Venice is 40 minutes by train, Verona 90 mins, and Florence only 2.5 hours. The Dolomites and Lake Garda are within easy driving distance as well!
Padua
The town of Padua lies 40 kilometers to the East of Venice. It is a University town, and like most other places in the region, is totally overlooked by the visiting tourists.
Padua, though, is beautiful. It is home to one of the oldest Universities in the world, which is also widely believed to be the birthplace of modern medicine. The University grounds are home to a wonderful Botanic Gardens, which also happen to be the oldest such gardens in all of Italy.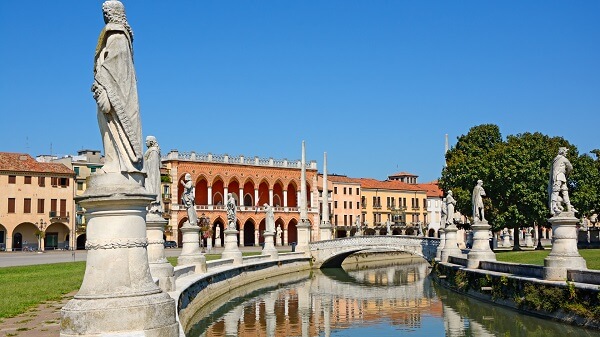 Nearby to the University is the Prato Della Valle, the oval shaped central Piazza that holds the esteemed position of the largest square in Italy. It is enclosed by a canal, and the Piazza itself is lined with iconic statues.
There is one main canal that cuts through the town of Padua. The Piovega Canal was built with the intention of linking the river with the Venetian Lagoon. It is a beautiful place for a stroll, enjoying the peace and tranquility of the flowing blue water.
Padua is also in the unique position of being very, very close to some of the most wonderful places in Northern Italy. Venice is on the doorstep, and only a short distance away are Bologna, Milan, Florence and the northern Lakes. If you want to base yourself somewhere to see the very best of the region, you can't go wrong with Padua!
To find out how to get from Padua to Venice, very easily, check out your options at THIS LINK.
Asolo
Asolo is known as the "city of a hundred horizons". It sits on a hilltop in the lushly forested foothills of the Dolomites, and is blessed with endless views of the surrounding hills. Hence the nickname.
This small and unique city has been listed as one of the most beautiful cities in Italy, yet still escapes the tourist radar. It is located 40 kilometers inland from Venice, so even though it is a bit further away than other alternatives to Venice on this list, I just HAD to include it!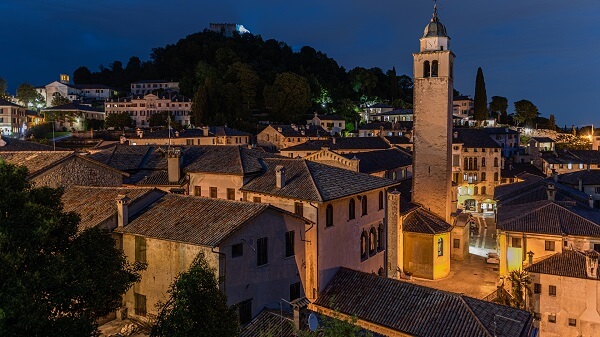 Asolo is no longer the hive of activity that it was hundreds of years ago under the Venetian Republic. It is, however, just as splendid. The views are still the same, and much of the amazing architecture is still in place. A stroll around the town is quiet, and you can relax as you enjoy the gardens, views and local hospitality. If you enjoy the great outdoors, then you will fall in love with Asolo.
The one downside to Asolo is that it has given way recently to holiday homes and rental apartments. The local population is no longer as large as it was, and therefore it is not quite so authentic. The upside? If you are after a nice quiet place, you will find it here!
Summary
If you are looking for alternatives to Venice, then I hope this list has helped you. Personally, I love Venice, but I never stay more than a day. There is just so much to do and see around the region, and every time I visit I find more and more hidden gems, and wonder why they have not yet been inundated with tourists. Because it's only a matter of time.
If you are interested in Italy, then be sure to check out all of my Italian articles in the link below!
DON'T FORGET to leave a comment below. I promise to reply!