Chiang Mai is a shopper's dream! It is also absolute heaven if you are a foodie. This is true at any time of the day, but it is the night time that Chiang Mai really turns it on. The night markets that spring up around town are incredible, and they seem to be everywhere! Here, I have narrowed down a list of my favorites, to what I believe to be the best night markets in Chiang Mai.
This article may contain affiliate links. If you click on those links and make a purchase, at no extra cost to you I will get a small commission. This will go a long way toward keeping this website running. As always, thank you for your support! Click HERE for more information.
#5 – Chang Puak Gate Markets
I will start this list of the best night markets in Chiang Mai at the North Gate of the city. This area is very popular with tourists as there are many great places to stay nearby. There are also a seeming plethora of great coffee shops and cafes. Needless to say, this area is already well known as the place to come to find great food.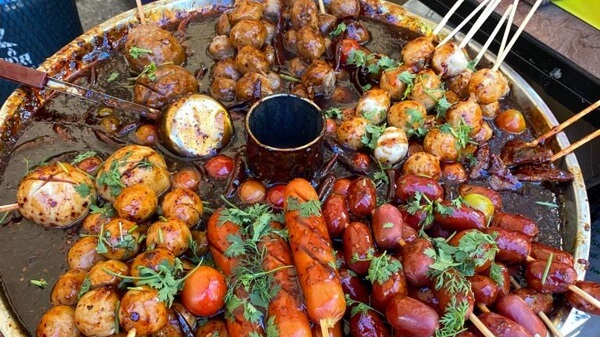 Therefore, why wouldn't one of the best night markets in Chiang Mai be located here. Turn up after 5pm on any night of the week to find a teeming food market full of life, sounds and smells that are sure to get your mouth watering. Local fare can be found nearly anywhere, with noodles, soups, meats and seafood on offer at every second stall. Beyond that, you will find a taste of almost anything that you might be craving, and at a fraction of the price that any restaurant could offer!
Like most night markets in Chiang Mai, they are open late, so call by after you have finished a day trip and you know you will still find a great meal.
Follow THIS link for a Google Maps location.
#4 – Chiang Mai Gate Markets
These were the very first markets that we found in Chiang Mai, as they were just down the road from our hotel. Hence, we had some favorite foods that we just kept coming back for! And I can tell you, they were good, and cheap!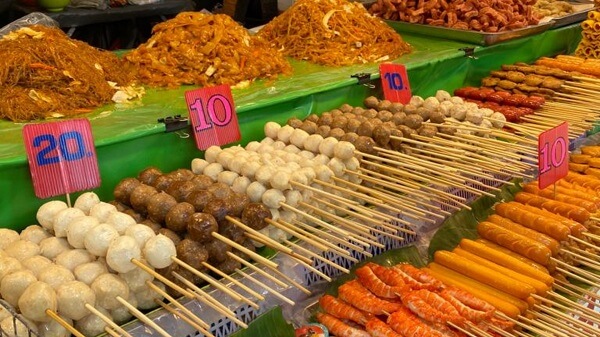 This particular market is pretty much exclusively a food market. They cook everything from local fare, to Turkish Kebabs, to the best (and cheapest) Smoothies that I have ever tasted. Trust me, I came back again and again, and even walked a couple of kilometers out of my way one night just for my nightly Smoothie.
You can come to these markets any night of the week. They open at around 5pm and go till around 11pm. The best day of the week to come, though, is Saturday night, as they are right at the head of the Saturday night Walking Street Markets.
You can find a Google Maps location HERE.
#3 – Changklan Road Night Bazaars
These bazaars are a part of the nightly markets that run along Changklan Road, and are some of the best markets in Chiang Mai. From around 5pm, stall owners will set up stalls along the sidewalks of the road, and stay there until late. There doesn't really seem to be any particular beginning or end to this market, but it pretty much lays between Sridonchi Road and Thapae Road.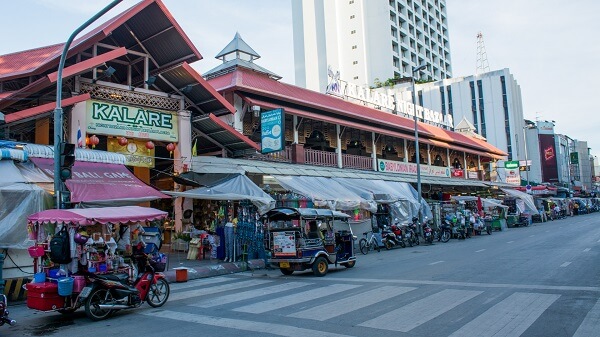 The center of it all is the Kalare Night Bazaar and the Anusarn Markets. These large areas or markets and stalls are set in the back of the streetside shops, and when in full swing are a great way to spend a night browsing for a bargain.
The first time that I came to these markets, I thought that the street side stalls were all that there was. I was pretty impressed with just that, before I found the hidden Bazaars at the rear! So keep your eyes open, because these stalls sport goods that you will find in the Saturday night and Sunday night markets, so are a great option if you are only in town mid week.
Click HERE for a Google Maps location.
#2 – Wua Lai Walking Street Markets
Every Saturday evening, from 5pm, head to the south gate of the city and you will find one of the best markets in Chiang Mai. Starting at the Chiang Mai Gate, and just across the water from the Chiang Mai Gate Markets, the entire length of Wua Lai Street gets closed to traffic as stall owners set up stall after stall along both sides of the street.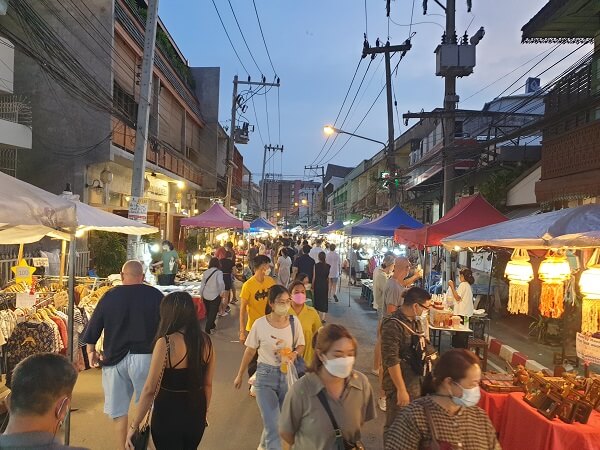 You can find anything in these markets, and the street gets packed with tourists and locals alike as they hunt for a bargain. Everything from Passport covers, to traditional clothing. Handmade T-shirts to tiny hand painted elephants. The local artworks and handicrafts are all on display here, and when you are tired of walking, there are plenty of massage places and food courts set up along the way!
The Markets open around 5pm and go till late, but the best time to visit is after dark when things are in full swing. They go for a full kilometer, and when you reach the end you can either turn around and retrace your steps, or take one of the tuk tuk's that will be waiting at the South exit.
Click HERE for a Google Maps location.
#1 – Thae Pae Gate Markets
These are without a doubt the best night markets in Chiang Mai. They run every Sunday Night from 5pm, and are even better than the Saturday night markets.
Starting at the famous Thae Pae Gate, on the Eastern side of the old city, the markets run all the way along Rachadamnoen Road, and finish at the front of Wat Phra Singh. Once again, the road is completely closed to traffic, and there is nothing but wall to wall stalls and food stands for as far as the eye can see.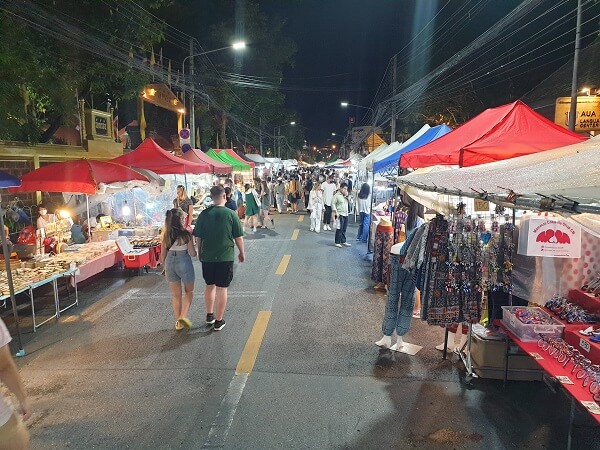 Be careful when walking through these markets that you don't miss anything. Several side streets also join in the fun, and the stalls will spill out into these streets and surrounding block. Food courts spring up off to the sides, and a couple of temple grounds make a dozen or so stalls welcome into their courtyards.
Anything you can find in the Wua Lai Markets on a Saturday night, you will also find here. As hard as it is to believe, though, you will actually find even more!
Many of the places you will find in these markets are actually stalls hosted by shops from around town. So if you are eyeing off a nice dress, earrings or shirt during the week, it might be worth waiting until Sunday night. You never know what bargain you might strike up!
Click HERE for a Google Maps location.
Things to Know!
Getting to markets in Chiang Mai is pretty easy. If you are staying in the old city then most are within walking distance, no matter the direction. If you are a little too far away, then a tuk tuk will get you there quickly and easily. There are always tuk tuks waiting at the exits, so getting home is just as easy.
Feel free to haggle at most of the night markets, especially along Changklan Road. They almost expect it there! A good rule if you are going to be able to visit more than one night market is to shop around and check out prices at different spots. We found one night the prices were different to the next, in the exact same shop!
Food in night markets is a set price. Don't expect to haggle your way to a cheaper Stir Fry! They are cheap enough already.
In the larger markets where there are crowds, watch out for pickpockets. You will see signs around warning you of this in places.
DO NOT bring alcohol to markets. In the Saturday and Sunday night markets, there is a 6 month jail term or 10,000 baht fine for offenders. Possibly even both!
Finally, the best night markets in Chiang Mai are the markets you are at! Make the most of them and have fun!
Did you find this article helpful? Then drop me a comment below to let me know!