If you are visiting Bangkok, then it is guaranteed that at some stage you will be recommended to visit the Jim Thompson House Museum. It is one of the main attractions around Bangkok, and definitely one of the most popular. The reason for this is that it is just so different to anything else you will do in the Thai Capital. It is steeped in the history of Bangkok, and surrounded by an awe and mystery that you will not find anywhere else. In this Jim Thompson House Museum Review, I will take a look at a few reasons why.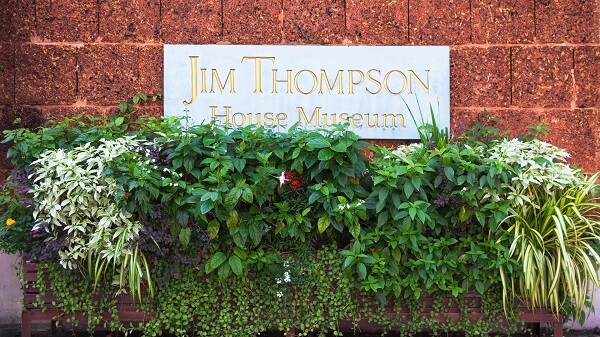 Table of Contents
About Jim Thompson House Museum
When I first visited Bangkok, I had no idea what to expect from the Jim Thompson House Museum. I admit that I am not exactly a huge Museum fan, and despite the positive and glowing recommendations from relatives, I found other things to do that were more convenient. On my second visit, only a few weeks later, I bit the bullet and stayed close by to the Jim Thompson House Museum. Just so that I had no excuse not to go!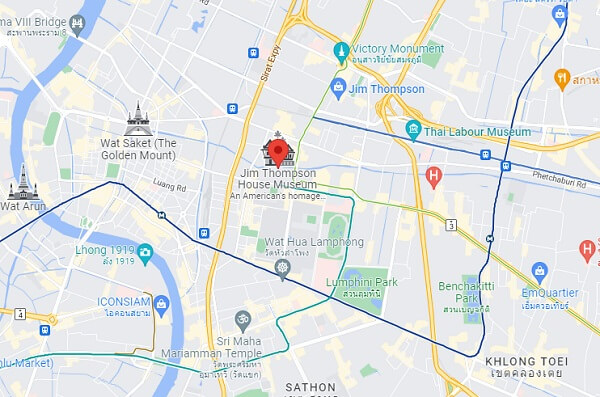 I was very pleasantly surprised.
The house was nothing like what I expected. Even when I walked past the front gate the day before my visit, I actually stopped and stared for a few minutes. Even now, I honestly could not tell you what I had expected, but it was certainly not what I found.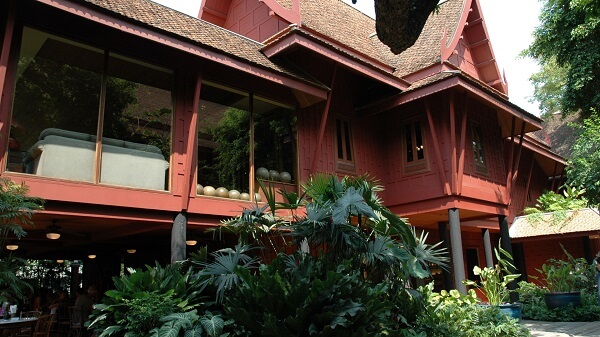 The Jim Thompson House is large and very beautiful. It is built in, and displays the traditional Thai Style. There are two reasons that this is apparent.
First, Jim Thompson actually purchased the materials and the houses themselves, six in total, from the old capital, and shipped them to Bangkok. The second reason was because Jim himself was an Architect by trade, and he designed the houses the way that he wanted. This was the perfect blend of traditional Thai, combined with the Western characteristics that he chose to include.
The house is open now to the public for tours and visits. This became possible when the family of Jim Thompson donated it very generously, as it is an important historic symbol of Bangkok. What became of Jim Thompson himself is anybody's guess, as the demise of such an important figure in the Thai History is shrouded with mystery and intrigue.
More about that later….
The Jim Thompson History
Jim Thompson was born to very successful parents in the year 1906. They were American, and made their fortune as Textile Manufacturers. Jim went on to attend Princeton University, and also competed in the 1928 Olympics in the 6m sailing event. After University, he moved into a successful career as an Architect, before deciding to enlist in the army in 1941.
His time in the army took him to many places around the world. Around this time, he was recruited into the OSS, (Office of Strategic Services), which was a forerunner to the CIA. Here, his travels increased, as they do in that line of work. Eventually he made his way to Thailand, and it is there that he would return years later. This time, it was for the business opportunities that the city presented within the declining silk industry. Perhaps it was Jim Thompson's experience growing up around the successful Textile Industry, but he saw something in the Thai Silk industry that attracted his keen nose for a good business opportunity.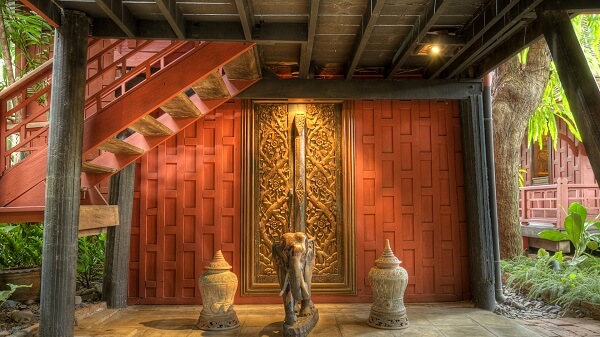 Jim Thompson revolutionized the silk industry in Bangkok. He did his homework, and it didn't take him long to find where the very best silk weaving came from. It was along the banks of the Klong Saen Saep Canal that he set himself up. Right across the narrow waters from the best weavers in the country. Then, instead of setting up large workshops, he allowed the locals artisans to stay at home and work as they had always done. This endeared him to the local populace, and he became a very popular person in Bangkok.
His business venture into the Silk Industry thrived, and became an international hit after his creations were used in New York. There, they featured in the on-stage costumes of the Broadway production of "The King and I". The signature bright colors and patterns of Jim Thompson's Silk had hit the big time, and his star only continued to rise. Back in Bangkok, his silk artisans that had been living in extreme poverty before Jim Thompson came along, were now living a lot more comfortably as well.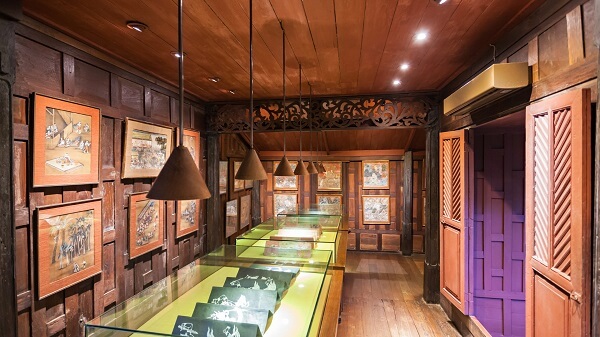 It was in 1958 that he decided to build a house that he could use to display his unique and extensive display of artifacts that he had acquired during his time in South East Asia. Some of those artifacts are hundreds and hundreds of years old, treasured by not only himself, but all the people of Thailand until this day.
Jim Thompson disappeared mysteriously in Malaysia in 1967. He had been on a trip to visit friends, and vanished without a trace whilst in the Cameron Highlands. Despite several searches over the years following, not a single clue was found as to what may have become of him.
Getting to Jim Thompson House Museum
Getting to the Jim Thompson House Museum is fairly easy from most places in Bangkok. Public Transport is very close by, so you can take your pick depending upon where you are staying.
The most common ways are these:
Metro – The Metro is very close, with the National Stadium BTS Station only a few hundred meters walk from the Jim Thompson House Museum.
Water Taxi – The canal at the rear of the Jim Thompson House Museum – the very same one that Jim himself used to revolutionize the Thai Silk Industry – can be used to get to his house. Just hop off at the Hua Chang (Siam Square) stop and you will only have to walk a couple hundred meters. The canal is 75km long, and you can access it from the main river not far from where the Hop on Hop off Tourist boat drops you.
Taxi or Tuk Tuk – These traditional means of transport are easy, and everyone knows where the Jim Thompson House Museum is. Be careful with the Tuk Tuk's, as they often try the same scam that they do at the Grand Palace!
Bus – Being located so close to the big shopping malls, there are plenty of public Buses that pass by.
Tour – You can actually get a tour that will take you there as well! Click HERE to check out a private full day customized tour.
Walk – On my last trip to Bangkok, I chose to stay close by. There are accommodation options nearby that are within very easy walking distance. Check out my "Where to Stay" section below.
Opening Hours and Entrance Fee
The Jim Thompson House Museum is open every day, from 10am to 6pm. The last guided tour is at 5pm, so if you are coming late in the day you might want to be there at least half an hour before then to give yourself a chance of catching it. There are no reservations needed for tours though, and they are allocated as you buy your ticket.
Tickets cost 200 Baht for adult visitors. For those under the age of 22 years, 100 Baht. Children under the age of 10 years are free when accompanied by an adult.
The Jim Thompson House Museum Tour
Every visitor to the Jim Thompson House Museum must do a tour. Your entrance fee includes the tour, so why not? When you purchase your ticket you will be allocated a time slot. Hopefully, depending upon how busy it is, you will not have to wait long. Otherwise, there is a nice restaurant on the premises, and a coffee shop just next door if you have time to kill.
You will be asked to wait in the garden area for the start of your tour. Once you are called, the tour will start right away. It is also worth mentioning that they accommodate for a few different languages on the tours, not just in English, but also French, Japanese, Chinese and, of course, Thai.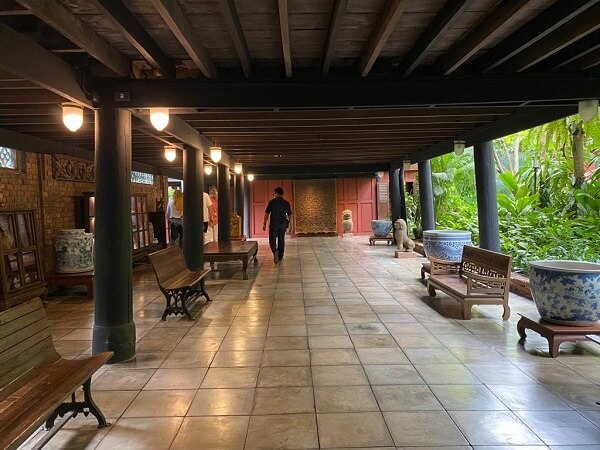 Your guide will follow a learned script, but they are also very knowledgeable about the house, as well as Jim Thompson himself. So don't be afraid to ask questions. Generally the tour will start in the Garden, following the pathway around until you reach the start point again. Along the way you will learn quite a bit about daily life in the house, and about some of the really nice surrounds, and the unique statues and ornaments that can be found in the garden areas. Don't stress about taking photos on this part of the tour though, as you will be free to roam the grounds after the tour and take your photos then. Minus the dozen or so other people that are with you on the tour!
Once back at the start point, you will be asked to remove your shoes, and place them in a locker along with cameras and video equipment. The tour is about to go upstairs, and there is a no shoe policy. You are also not allowed to take photos inside the house.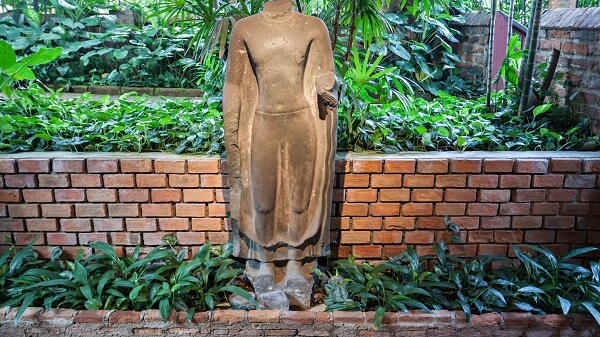 The house itself if beautiful. Some of the artifacts are amazing, and if I have one criticism of the tours, it's that you don't spend enough time at any one point to take it all in. You must keep moving as there will be another group close behind.
Take note though of the amazing wooden floors, and the incredible furniture. In some areas you will see black and white tiles made from Italian Marble. At the time, this was what was being used in the Royal Palace, so Jim Thompson wanted it as well! Naturally.
A couple of things I found interesting was the raised steps between rooms. This is to not only keep young children in, but also to keep evil spirits OUT, as they are believed to only be able to move along flat floors. The window shutters were designed uniquely by Jim to open in reverse to the normal Thai way, and he placed the traditional wooden patterns facing inward, instead of the usual outward. Simply because he wanted to be able to enjoy them more.
The fact that Jim Thompson was an architect and designer is prevalent in much of the house. The walls slant slightly inward to make the structure stronger. There are lamps created out of other objects, just because he saw the potential for something uniquely beautiful. In one room, he shut off the windows and made recessed display cabinets out of them.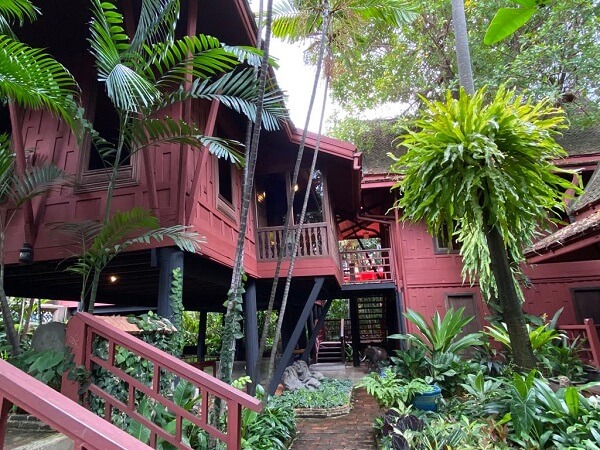 Another feature of the bedroom areas is the addition of western style bathrooms, including toilets. This had not been seen in Thai Houses before Jim Thompson came along.
Once your tour of the Jim Thompson House Museum is complete, collect your belongings, and you are then free to wander the grounds. Here you can take a closer look at some of the things that you saw on the tour. You are not allowed upstairs though, as you can only get up there on the tour itself.
Take note that some of the guides are softly spoken, and you can sometimes be stuck outside of the room when they begin talking. Stick close by and be smart about where you stand so that you don't miss anything.
What else is nearby
Once you are finished at the Jim Thompson House Museum, you have several other things to do in the area. This is good to know, as the tour only takes just over half an hour. So if you come early, you will have the rest of the day to explore this part of Bangkok.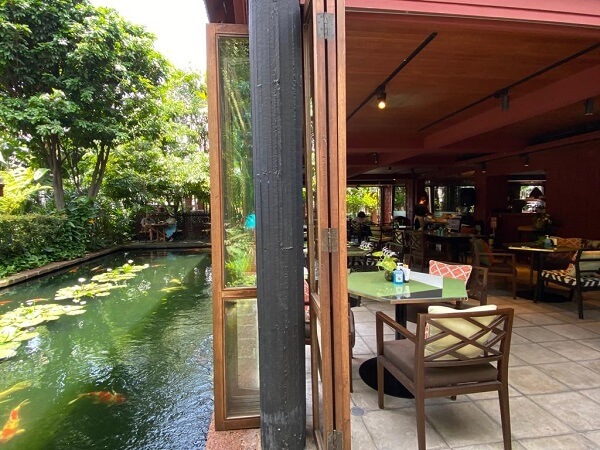 Here are a few things you can do after the tour:
Have lunch in the restaurant – The Jim Thompson House Museum actually has its own restaurant. It's a little pricey, as would be expected, but the food is fantastic!
Check out the Jim Thompson Art Center – Right next door is the Art Center. There is a really nice little coffee shop upstairs, and a gallery style gift shop where you can buy souvenirs, or some of the Jim Thompson products. Also, the roof top has a great view if you want to take a look.
Take the water taxi to Platinum Fashion Mall – This is a great and fairly inexpensive mall located just down the canal. Right next door is the Pratunam Market as well, which is well known as one of the cheapest markets in Bangkok for fashion.
Go shopping at Siam Paragon and MBK – These two shopping centers are only a few hundred meters from the Jim Thompson House Museum, and are both totally different. Siam Paragon is high end shopping, while MBK is full of traditional markets, as well as being a great place to buy electronic accessories.
With the Metro so close, as well as the water taxi, you can also head off into other parts of Bangkok pretty easily from the Jim Thompson House Museum.
Where to Stay
There are plenty of great places to stay around the Jim Thompson House Museum. In fact, many people that really enjoy their shopping will actually choose this part of Bangkok to stay during their visit. It is a very nice part of the city to walk around and explore easily.
Patumwan House
We stayed in Patumwan House when we visited Jim Thompson House Museum. It is literally around the corner, and you can actually see it from the front gate. The accommodation was like a studio apartment, very spacious and comfortable for a good cheap price!
Ibis Bangkok Siam
The Ibis Bangkok Siam is a 3 star hotel located very conveniently just around the corner. It is comfortable, and most visitors fall in love with it simply because of its location. You can't get any closer to the incredible Bangkok malls unless you set up a tent in the food courts!
Hua Chang Heritage Hotel
The Hua Chang Heritage Hotel is only walking distance from the Jim Thompson House Museum, and almost next door to Patumwan House. It is 5 stars, and everyone that stays there raves about the food and the facilities. If you want to stay in this part of the city, then you can't go wrong with the Hua Chang, particularly for its amazing location.
Summary
If you are visiting Bangkok, then you really need to visit the Jim Thompson House Museum. It is not only just a wonderful place to visit, but it is also a history lesson into a very important, if not unique, slice of Bangkok.
Did you find this article helpful? Then don't forget to drop me a comment to let me know!