I had lived in Bali for a couple of years before I had the opportunity to get to Bali Zoo. Not because I didn't want to, but I have always seen zoo's as places for kids. This is an opinion that I was certain to share with many others, and one that changed almost as soon as I stepped through the gate at Bali Zoo. The animals, layout, beautiful natural surrounds and facilities are incredible. It was the Breakfast with Orangutans, though, that made me a true believer!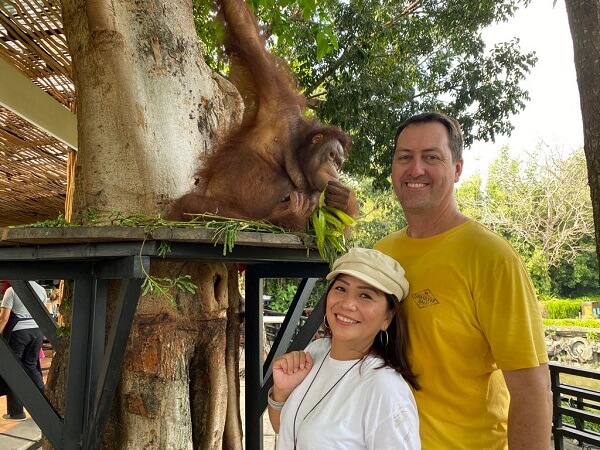 I had never actually heard about the Breakfast with Orangutans Program that Bali Zoo runs. At first, I was skeptical, while still feeling the first tingle of excitement dancing across the back of my neck. My partner and I love Orangutans, after all, and had penciled in a trip to Kalimantan later that month to try and catch some up close. To be able to do it right here in Bali though, was something that we hadn't even considered!
What we ended up finding, was beyond anything we would have dared hope for.
This article may contain affiliate links. If you click on those links and make a purchase, at no extra cost to you I will get a small commission. This will go a long way toward keeping this website running. As always, thank you for your support! Click HERE for more information.
Table of Contents
What is Breakfast with Orangutans?
Breakfast with Orangutans at Bali Zoo is just what it sounds like. Eating Breakfast with Orangutans!
Now, before I go any further, let me just point out that they are NOT sitting at your table with you. They aren't going to be sipping on coffee, or asking you to pass the butter. They WILL be sitting only a few yards away, casually chowing down on some greenery of their own, while posing for random photos. And while the Orangutan is the headline act in this amazing way to kick start your day at Bali Zoo, they are certainly not a one man band, either.
Because at Breakfast with Orangutans, the surprises just keep on coming!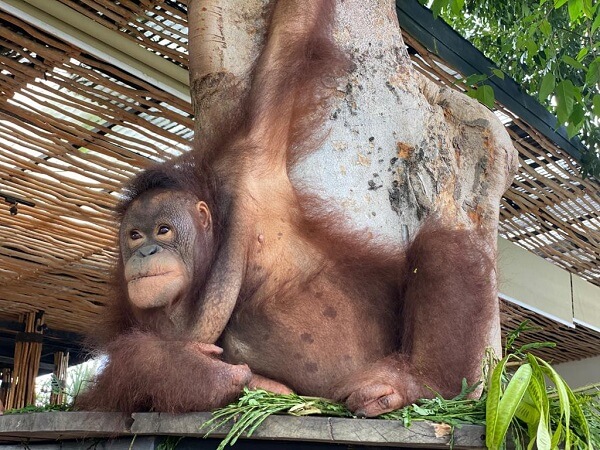 What to expect
Your day at Breakfast with Orangutans will start at the front gate, where you can buy tickets from as early as 730am. If you book ahead, and pay the extra (see the fee below) you can also be picked up from your hotel/resort. Make your way through the gate, and follow the signs and staff directions until you find a cute little double decker "safari" bus that will take you to a different part of the zoo. This is where the Orangutans reside, at "Kampung Sumatra", and your breakfast restaurant can be found.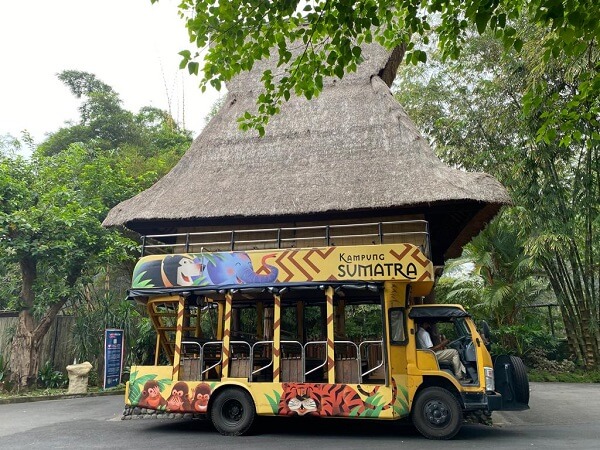 Once you get off the bus, take a stroll around past the Sun Bear Enclosure, across a bridge, and into the restaurant.
Upon arrival, you will notice immediately how large the restaurant is. It can cater for quite a few guests, and showed me immediately how popular the Breakfast with Orangutans Program is! We chose a table for two nice and close to where we were told the orangutan would be sitting, and overlooking the water where the Elephants play. We were set for what we hoped would be a memorable morning! There are plenty of different spots to sit though. Most will provide you with a great atmosphere, and give you good views of what is happening at any point in time.
The Food
The restaurant area is big. The table in the middle has a hot box full of beautiful pastries and Danishes. There is also a selection of breads and a toaster machine. Off to one side is a full omelet station, which I put to work straight away!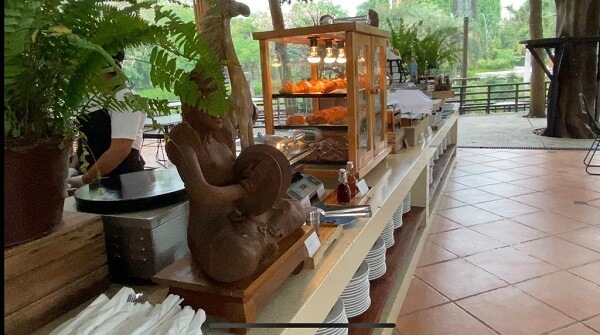 Don't stop just there though. Toward the back of the restaurant is another large service area that has all your favorite western foods, such as Bacon, sausage, baked beans, and potatoes. Over to the left, you will find a cereal station, and drinks such as fruit juices and coffees.
If you are after more local fare, back at the Omelet Station there can also be found Nasi Goreng and Mie Goreng, along with a couple of other selections.
The Breakfast with Orangutans restaurants is very, very well equipped, and you will certainly get your money's worth when it comes to food. Just in case you are wondering, and I know you are, it is pretty darn good too!!
The Animals
At Breakfast with Orangutans, the actual Orangutans are only a small part of the experience. Not long after you arrive, and maybe before you even get there if you are a little slow, two elephants will make an appearance. They will stay around for most of the morning, so don't worry about missing them. You can pose for photos with them, hug them and really have fun interacting with them. They seem to love being the center of attention.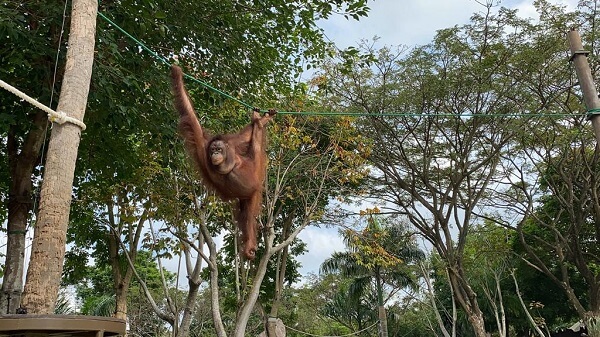 Off to one side there are several colorful tropical birds that will sit on your arm to pose for photos. A Black Gibbon will appear, and hang out for photos with anyone who is interested. Then, the Breakfast with Orangutans goes into full swing as the star of the show appears, walking along a suspended rope walkway overhead.
As he sets up camp on a small platform off to one side where he begins posing for his own photos, zoo keepers on the grassy area begin appearing with different small animals. A playful porcupine, the armadillo like Pangolin, and several cockatoos that you can feed by hand.
Most animals will stay around for some time, and you will have plenty of time to see and interact with them all.
Breakfast with Orangutans Price and Itinerary
There are several ways that you can enjoy the Breakfast with Orangutans experience. Firstly, you can simply pay for the breakfast experience with no frills. Then, you have the option to make a full package day of it, or combine it with other activities. Bali Zoo have several options:
Breakfast with Orangutans – 675k per adult or 475k per child
Breakfast with Orangutans Package including return Hotel Transfers, Bali Zoo Admission Fee, Insurance, Breakfast and Animals Show – 875k per Adult or 615k per Child.
Breakfast with Orangutans and Elephant Mud Fun, which includes mud fun with elephants, lunch, feeding the elephants and hotel return transfers, as well as the Breakfast with Orangutans – 1,925,000 rupe per adult or 675k rupe per Child.
Breakfast with Orangutans and Elephant Expedition – 1,500,000 rupe per Adult and 1,050,000 rupe per Child.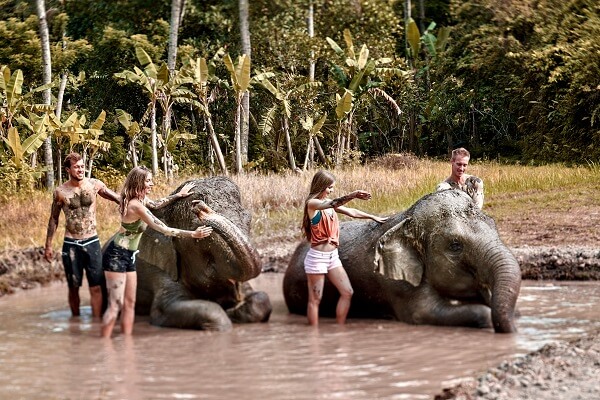 Your Itinerary for Breakfast with Orangutans (with hotel pick up) will look like this:
07.00: Hotel/Resort pick up
08.00 – 10.00: Breakfast with orangutans
10.00 – 12.00: Morning Zoo Tour + Animal Show
12.00: Return transfer to Hotel/Resort
The Verdict
I found the Breakfast with Orangutans to be a wonderful experience. It is something that I definitely wish to get back and experience again. The food is great, and the interaction that is available with the animals is something unique that is hard to find elsewhere.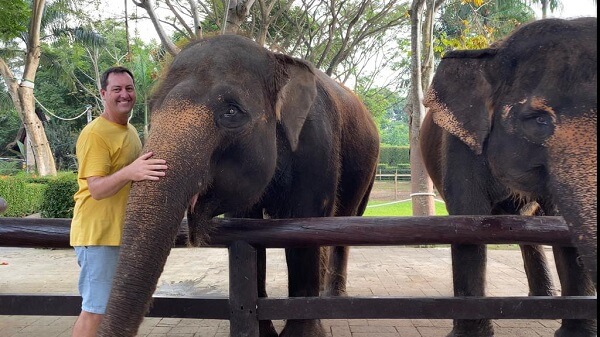 The other thing that impressed me about the Breakfast with Orangutans experience, was that we never felt rushed. There was plenty of time to see and do everything that we wanted, and we didn't miss out on anything. At other similar experiences, an animal might appear, and then be gone by the time you get a chance to see it. This never happened at Bali Zoo.
I would really recommend this activity to anyone who loves animals, but especially to families with young children. It is a wonderful way to introduce them to some really incredible wildlife, in a safe and relaxed environment.
MY TIP: Get there early! We were there first, and had really only just started eating when the animals started coming out. So if you don't want to miss anything, chow down as much as you can before that happens.
About Bali Zoo
Bali Zoo is the first Zoological Park in Bali, and is home to over 500 rare and exotic animals. The Zoo is set in the lush, tropical environment of Gianyar, which provides a unique place to explore and discover all of these amazing inhabitants.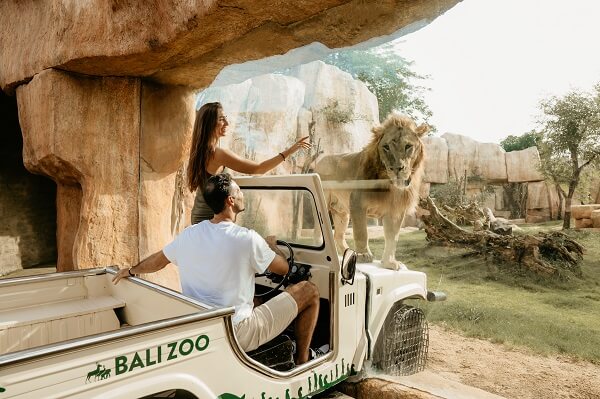 The park not only has some very unique displays and settings for their animals, but also provides many different shows and experiences, some of which are unique in Indonesia. It makes Bali Zoo a must visit location for any nature lover visiting Bali.
Where is Bali Zoo?
Bali Zoo is located in Gianyar, and is easily reached from any of the main tourist areas of Southern Bali. The closest places to stay are around the Ubud and Sanur areas.
Bali Zoo is not hard to find as there are plenty of signs as you head north toward Ubud. You can also approach it from a couple of different directions, which makes it easy to find no matter where you are coming from.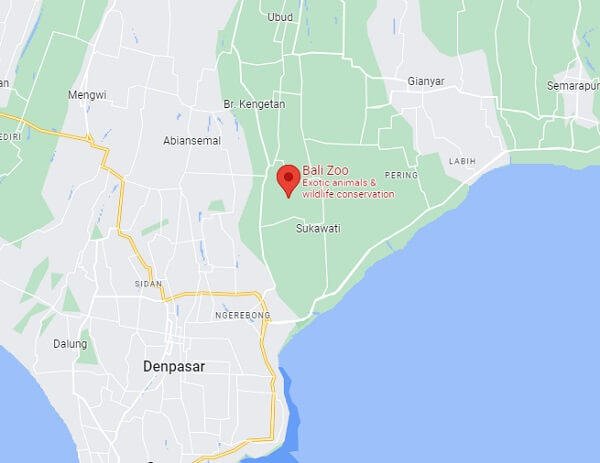 Note that Bali Zoo offers Hotel/Resort transfers depending upon the type of ticket that you purchase, so this definitely could be something worth looking into if you require transport.
Bali Zoo Prices
When visiting Bali Zoo, you can choose to purchase just the General Admission Fee, or any of their amazing packages on offer. Each will provide you with different unique experiences.
Here is a list of some of the current prices:
Zoo Admission: 395k Rupe per Adult or 280k Rupe per Child
Zoo Explorer: 820k Rupe per Adult or 575k Rupe per Child (includes Return Transfers, Zoo Admission, Jungle Splash Waterplay, Lunch, Animal Encounters and Show plus Insurance)
Breakfast with Orangutans: See the prices in the above section of this article
Elephant Expedition: 1,110,000 Rupe per Adult or 780k Rupe per Child (includes elephant ride, Zoo admission, Jungle Splash Waterplay, Animal encounters and Show, Insurance)
Exclusive Elephant Expedition: 1,555,000 Rupe per Adult or 1,090,000 Rupe per Child (Includes Hotel Return Transfers, Elephant Ride, Zoo admission, Jungle Splash Waterplay, Lunch, Animal Encounters and Show, Insurance)
What else is at Bali Zoo?
There is a whole lot to do at Bali Zoo, that you may even find that a full day just isn't enough! Especially if you want to do everything. Here are some of the highlights: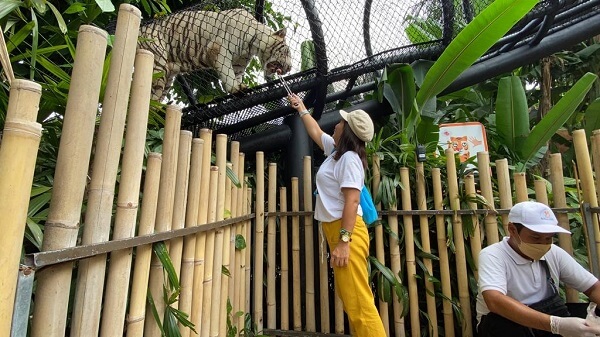 Breakfast with Orangutans – Obviously this is MY highlight!
Elephant adventures – Check out any of the packages above to see how you can interact with the elephants. For me, just going to the Breakfast with Orangutans was enough to interact with them, and see them up close.
Feeding a live Tiger – Yes! You can actually feed a tiger. This is a great initiative, I thought, as for only 50k Rupe you can hold a big piece of Chicken on a long pair of tongs for the tiger to take from you. The money helps to feed the tigers, and provides an experience for you as well.
Animal Shows – Throughout the day, there are many live shows and animal encounters that you can discover around the zoo, including free ranging Orangutans, Otter Shows, Bird presentations, Tiger keeper Talks and Elephant Keeper Talks.
Jungle Splash Waterplay – Bali Zoo has its very own kids waterpark to cool off in!
Discover Exotic Animals – Why does anyone come to a Zoo? To discover the animals, of course! At Bali Zoo you can find the Orangutans, Elephants, Tigers, Lions, Zebra, Ostrich, Sun Bear, plus many, many more. Oh! And they have a Giraffe coming soon!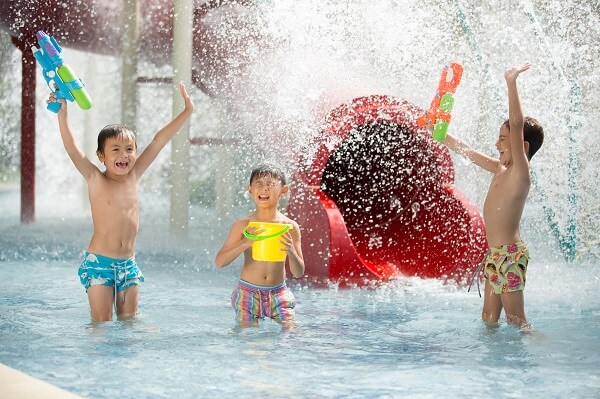 These are just some of the things that you can do and discover at Bali Zoo. Check out their website at THIS link for more information!
What else is nearby?
Looking for something else nearby to fill in your day? Or perhaps you want to stay close by to Bali Zoo, but don't know what else is in the area? Well, let me tell you there is plenty!
As already mentioned, Bali Zoo is not too far from Ubud, and that offers you a lot of things to do. There are also plenty of rivers, canyons and gorges around, so any river based activities are not too far away. Try some of these suggestions: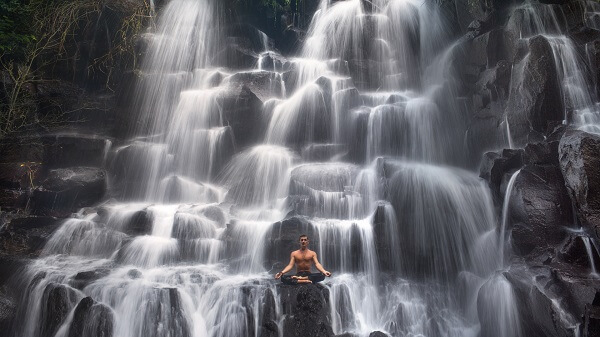 Discover Hidden Canyon – not too far down the road you can visit the amazing Hidden Canyon, where you get to swim, hike, and swing your way down an incredible green canyon, following the river along its ancient course. Click HERE for my review about Hidden Canyon.
Go waterfall hunting – The entire Ubud area is rife with dozens and dozens of waterfalls. For a list of my favorites, check out THIS itinerary.
Discover Ubud – Take some time in the main CBD area of Ubud. It's a wonderful place for a stroll, discovering small boutique shops, cafes and restaurants.
Take a drive to Tegalalang Rice Terraces – One of the best places to see Bali's famous rice terraces is just up the road past Ubud. Why miss it when you are already so close?
Check out the beaches of Sanur – On the way home, why not stop off in Sanur and find out the reason that the beach front there is so highly rated. The cycle way all along the foreshore is amazing.
Go Market shopping in Sukawati – A highly rated, less touristy and even less well known location to get your market fix! Pay local prices in my favorite local markets in Bali. You can find them at THIS location, only 5 minutes from Bali Zoo.
Where to stay
If you want to be nice and close to Bali Zoo, and really get the most out of your experience, then there are several really great options open to you. Nearby, you will find some wonderful accommodation choices. One is even right at the Zoo itself!
Sanctoo Suites and Villas
Sanctoo Suites and Villas are exactly what you are looking for if you wish to stay close to Bali Zoo. In fact, they are right next door! With a 5 star rating, and such an amazing location, what more could you ask for?
Yanyan Resort Ubud
Yanyan Resort is another wonderful spot of luxury that can be found just a stone's throw from Bali Zoo. Famous for its wonderful jungle surrounds, guests awaken to the sounds of the gurgling river nearby, and views of the valley that are incredibly beautiful.
Santi Mandala Villa and Spa
Santi Mandala Ubud is a very popular choice of place to stay when they are visiting Bali Zoo. Perfect for families, guests often rave about the peace and tranquility that accompanies a stay at Santi Mandala.
Asri Sari Villa Ubud
Asri Sari Villa is a slightly cheaper option, but loses nothing of its beauty. Overlooking flowing green rice paddies, and lush green jungles, guests are only a short drive from Bali Zoo, and less than 10 minutes into the heart of Ubud.
Summary
Bali Zoo is a wonderful place to visit, not just for kids and families, but for anyone that loves nature and animals. The Breakfast with Orangutans is the perfect way to start the day, and kick off your Bali Zoo experience!
Did you find this article helpful? Then drop me a line below to let me know.