One day doesn't seem like it is enough to see Bangkok. Let me tell you – it isn't! Bangkok is a huge, pulsing city that has so many places to see and things to do. There are several attractions though, that every first time visitor will put on their "must-see" list, and most of these CAN be seen in just one day. This is exactly where my one day itinerary Bangkok comes in!
Now, this is not the sort of itinerary that you can do on an 8 hour layover. Although, you probably could if you really wanted to. IF you arrive in the morning, and fly out that night.
To get the most out of this one day itinerary Bangkok though, I really suggest you spend at least one night in the city. Two if possible, and use this itinerary to fill in the full day that you have. Alternatively, you could spend one night, follow this one day itinerary Bangkok, and fly out that night. It works just as well.
This article may contain affiliate links. If you click on those links and make a purchase, at no extra cost to you I will get a small commission. This will go a long way toward keeping this website running. As always, thank you for your support! Click HERE for more information.
Table of Contents
A bit about Bangkok
Bangkok is a city that everyone will find themselves in at some time or other. Especially if you travel a lot, and definitely if you come to South East Asia. It is a major hub in the region, and many flights will connect through one of its two airports. It is for this reason that you may, at some stage, find yourself with a long layover in Bangkok, and have time to spare to perhaps see some of the sights.
Interested in Bangkok? Then check out my Complete Guide to Bangkok HERE.
In this case, I really recommend turning your 8 hour layover into a couple of days if you can afford it. Make the most out of your trip, and take the time to see one of the most amazing cities on the planet. Then, you can take advantage of this one day itinerary Bangkok! If not, even a 12 hour layover will work.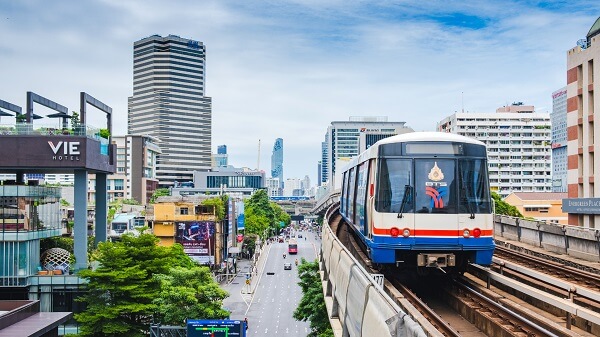 So what is the best time to visit Bangkok? Well, take note that this is the hottest city on the planet. Literally. Temperatures in Bangkok never drop below the high 20's. So don't bother bringing the winter woolies with you! The best time is dry season, around December to February, but it is also when you will find the most crowds. Instead, try November, or March/April for less crowds and some still slightly pleasant weather.
Getting around in Bangkok isn't too hard either. From the airport, it isn't really that far into the city. You can catch taxi pretty easily, and if you find yourself at the major airport at Suvarnabhumi (BKK), you can even catch the train. Once you are in Bangkok, there is the MRT, Skytrain and buses. Then, there is the network of canals and the Chao Phrao River that opens the city up via ferry and tourist boats. There are just SO many ways to get around in Bangkok!
For this one day itinerary Bangkok though, I will mostly concentrate on the river for ease of getting around, as most of what you will want to see is located along the river itself.
Things to do in Bangkok
Bangkok is a huge city. And in any city this size, there is bound to be a lot of things to see and do. In my one day itinerary Bangkok, I take you to see some of the major attractions. But what about the rest?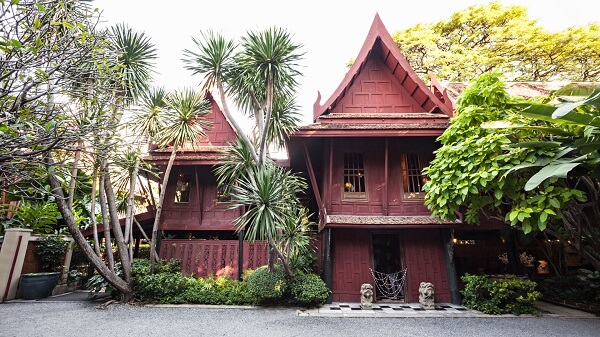 Here is a list of some of the best things to do in Bangkok:
Visit the Bangkok Grand Palace – This is the real jewel in the crown of Bangkok, and an unmissable stop off for any visitor.
Visit Wat Pho and the Reclining Buddha – The oldest temple complex in Bangkok, and arguably the most famous.
Stop by in Wat Arun – The third in the line of must see places in Bangkok. The Temple of the Dawn is possibly the most beautiful temple in Bangkok.
Visit Jim Thompson House Museum – Jim Thompson was an American, but became one of the most famous people in Bangkok and Thai History. You can find out all about him and his legacy at Jim Thompson House Museum. Read more about it in THIS article.
Take a stroll in Lumphini Park – This huge park in the middle of Bangkok is a welcome spot of green in the jungle of a city. You might even spot one of the HUGE lizards that live around the lakes….
Shop till you drop – From Iconsiam on the river, to Siam Paragon and MBK center, there are some amazing shopping malls in Bangkok. There is even one called Terminal 21, where every floor is themed on a different country.
Visit the floating markets – Take a trip to the world famous floating markets, and see what all the fuss is about.
Watch some Muay Thai Fighting – You can find the traditional fighting tournaments in many places around Bangkok. These are serious fights, with big prestige awaiting the winners!
Do a food tour – If you want a crash course in traditional cuisine, this is the best way to do it!
One Day Itinerary Bangkok
This one day itinerary Bangkok will work best if you stay in the right area. For me, that was along the Riverfront area. The river itself runs right through the middle of the city, and from it springs a multitude of canals and other waterways that the locals utilize for getting around. For us though, we will be using the main Chao Phrao River as our main waterway, and ease of getting around the city throughout this itinerary.
Where to Stay
I will start this one day itinerary Bangkok with where to stay. Usually, this would be found at the end of most of my guides and itineraries. For this one however, I have put it right at the start, as it is vital to putting you in the best spot to kick off your day.
As mentioned in the section above, I highly recommend you stay along the riverfront. Below, I will list, first of all, the place we chose to stay, followed by others that I would recommend up and down the river.
Baan Wanglang Riverside
Baan Wanglang Riverside is the place that we stayed for over a week in Bangkok. It is perfectly placed on the riverfront almost directly opposite the Grand Palace. There are wonderful local markets right on the doorstep, and the ferries and tourist boats are less than 5 minute walk away.
Theatre Residence
Theatre Residence Bangkok is almost right next door to Baan Wanglang, and has all the same qualities. Close to everything, with markets, restaurants and cafes right at the doorstep, it is the perfect place to base yourself for my one day itinerary Bangkok.
Riva Arun Bangkok
Riva Arun is perfectly located right in the center of your day's activities on my one day itinerary Bangkok. Only a short stroll from the Grand Palace and Wat Pho, it also has an iconic view right across the river to Wat Arun!
Morning Markets
Morning markets in Bangkok happen absolutely everywhere. I have no doubt that no matter where you choose to stay, you will find markets in some version or another. My favorite markets are the local Wanglang Markets, that can be found right on the riverfront. If you stay at Baan Wanglang or the Theatre Residence, then you will be perfectly placed with them right at your doorstep.
The markets are amazing. You will find that they sell almost anything that you could possibly need, and for incredible prices. The first time I visited, I came straight from Indonesia, where I thought everything was cheap. Those prices were nothing compared to what I found in the Wanglang Markets. The reason for that is pretty simple. This is not a tourist area, and you will not find the tourist mark ups here!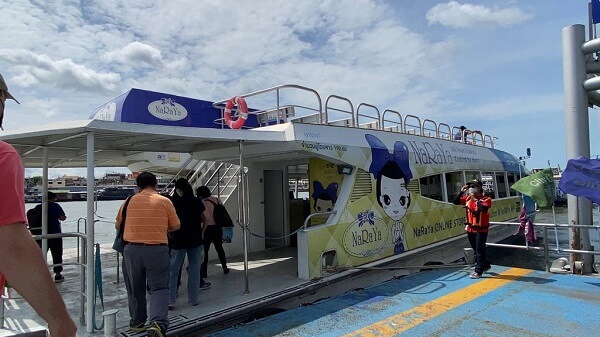 Having said that, you will still find anything you want here. Just remember that because it is not a tourist area, you will find very, very few people that can speak English! Get ready with the sign language, or Google Translate, and enjoy the experience.
I suggest you start your day at the markets nice and early. You can find some wonderful local fare for breakfast, and even a coffee at one of the cafe's. Afterward, head down to the riverfront where you can catch the ferry across the river, or grab a ticket on the tourist "hop on hop off" boat. I suggest the latter, as you will be able to use it later in the day as well. It will also get you a bit closer to your next location, the Grand Palace, where the normal ferry will just take you across the river, and you will have a slightly longer walk.
Grand Palace and Emerald Buddha
If you took the tourist boat, it will drop you nice and close to the Grand Palace. Stroll up the road, and you will immediately see the great white fence that surrounds the Palace. Follow it around to the left and you will find the front entrance on the Northern side.
At this point you have to be aware of the Grand Palace Tuk Tuk scam. You can read all about it HERE. Don't trust anything that a Tuk Tuk driver or Taxi driver tells you anywhere around here. Mostly, they will try to convince you that the Grand Palace is closed. Usually it isn't, and this is a scam to get you to hire them to take you somewhere a lot less interesting. Check the Grand Palace website at THIS LINK, to find out for yourself.
The Grand Palace is the main stop on this one day itinerary Bangkok. It will take a couple of hours to see it all, so get there nice and early. The gates open at 0830am, and you can buy tickets at the main office. You CAN buy them online as well, and this will save you time, however you must do so at least 24 hours ahead of time.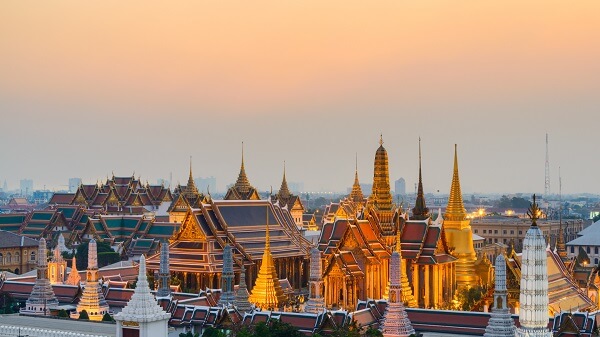 The Grand Palace of Bangkok is an amazing place to visit. At first the price may seem a little steep, but once you walk inside, you will realize that it is worth paying. I have never seen so much gold and glitter in my life! It is an Instagrammers dream (and they are everywhere) and is a place that you can actually spend hours just wandering around in amazement.
The day that we were there wasn't too bad as far as crowds go. But this place can get pretty crowded, so the earlier you get there, the better. That is why I suggest you start early at the markets, and then get across the river to the Grand Palace at opening time.
The amount of buildings inside the Grand Palace are amazing, as the entire complex covers a massive 218,000 square meters. Needless to say, it will take you a while to see everything. For the purpose of this one day itinerary Bangkok however, I would suggest spending only a couple of hours here.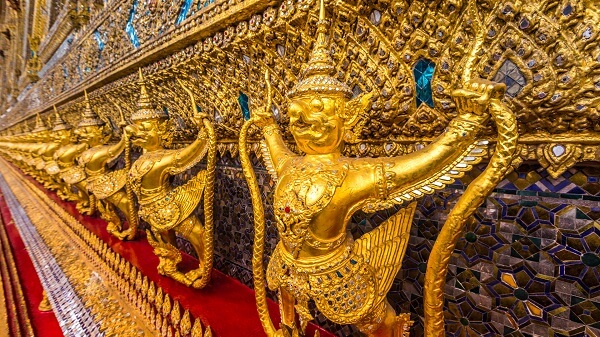 Don't forget to see the Temple of the Emerald Buddha while at the Grand Palace. Officially known as Wat Phra Kaew, the temple can be found inside the Palace grounds, and is included in your entry price. The temple is the most sacred in all of Thailand, so is certainly not to be missed. You also cannot take photos inside, so it is definitely worth seeing with your own eyes.
A few details about the Bangkok Grand Palace:
Entry Price: 500 THB per person. Tickets available at the ticket office or online 24 hours in advance.
Opening Hours: 0830am – 0330pm. Check the event calendar ahead of time on the Grand Palace Website HERE, and don't believe any Tuk Tuk Drivers that tell you otherwise!
Wat Pho
Next stop on your one day itinerary Bangkok is Wat Pho. This famous temple is pretty much right next door to the Grand Palace, and is an easy 10 minute walk. This makes it really easy to do right after the Grand Palace!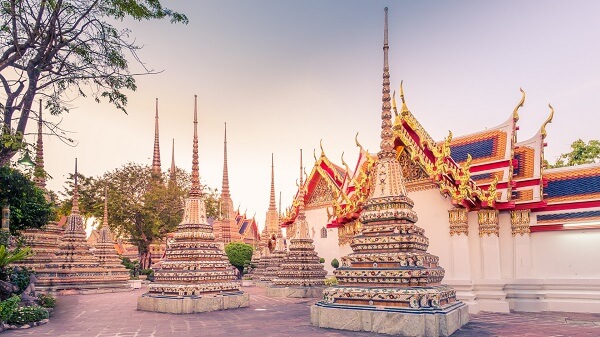 Wat Pho is the oldest temple in Bangkok, and easily one of the most famous. The reason for this is, without a doubt, the massive Reclining Buddha statue located within. It is 46meters long, and 15 meters high. As you can imagine, the building that houses it is rather large as well!
It isn't really easy to get a good photo of the Reclining Buddha, so most photos that you DO see all pretty much look the same. It is an incredible sight to see with your own eyes though, and one that you will not want to miss.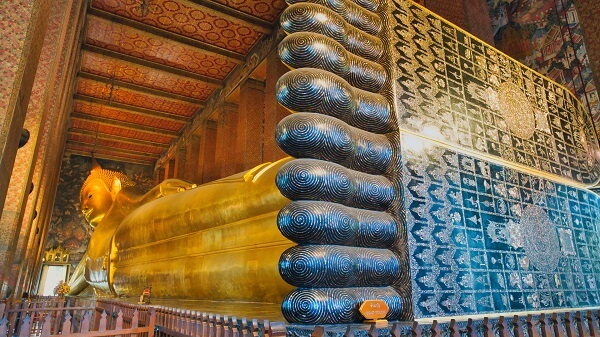 The rest of Wat Pho is rather large, and you should give yourself a good 90 minutes or so to see it all. There are more images of the Buddha in Wat Pho than anywhere else in Thailand! Walking around and seeing them all is quite an experience.
Some details for Wat Pho:
Entry Price: 200 THB per person. Tickets are purchased just inside the main gate.
Opening Hours: 8am – 0630pm.
Dress standards: For all temples in Thailand be aware of the rules for dress. Men must have covered knees, and women should cover their shoulders and wear skirts or long pants below the knees.
Wat Arun
Next stop on the one day itinerary Bangkok is the famous Wat Arun, or Temple of the Dawn. It is located right across the river from Wat Pho, making it really easy to get to. When you leave Wat Pho, head down to the river at THIS location and board the river taxi that will take you directly there. It only costs 5 THB per person.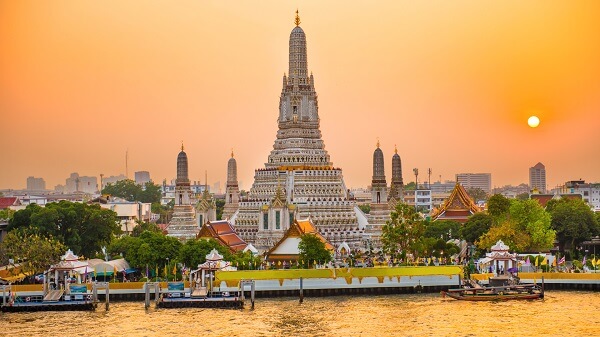 Wat Arun is a lot smaller in area than Wat Pho or the Grand Palace. It is incredibly beautiful though, and very unique in its design. You will only really need about an hour to see it all. Take a wander around though, as there are some beautiful places to take photos, especially with the sun glinting off the millions of ceramic tiles that cover its surface.
Even though Wat Arun is the Temple of the Dawn, the most iconic photos that you can capture are at sunset. On this one day itinerary Bangkok, you are more likely to be here at lunch time, or around midday, but if you are still in the area of the river later in the day, it is definitely worth stopping by!
A few details about Wat Arun:
Entry Price: 100 THB per person. Tickets available at the entrance, either on the river side or the road side.
Opening hours: 8am to 0530pm.
Iconsiam and Asiatique
Once you are finished with Wat Arun, the main part of your one day itinerary Bangkok is done! If you started early though, it will be just after lunch sometime by now, so you still have a few hours of the afternoon to kill.
There is a nice little café at Wat Arun that you can stop for refreshments. Otherwise, if you bought the tourist hop on hop off boat tickets earlier, then simply head back down to the riverfront pier. Here, you can jump back on the boat and head downriver for lunch at Iconsiam.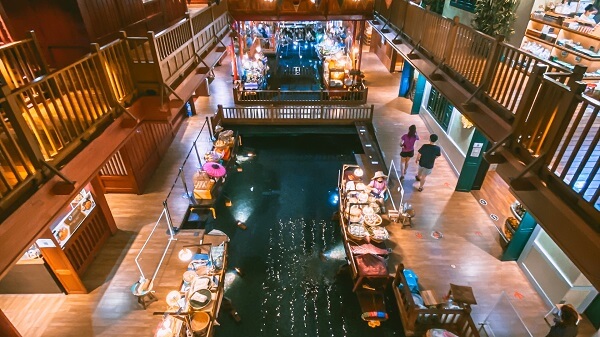 If there is one thing that Bangkok is famous for, its the shopping! This doesn't just mean markets either, because the city has an incredible amount of huge shopping malls. Iconsiam is just one of them, and is located right on the riverfront, so is easy for you to stop by and check out today.
One thing that I found at Iconsiam is how incredible the food court is! When you get off the boat, you will walk in on the bottom level, and right into the food hall. This place is incredible, and I actually spent an hour wandering around taking photos and marveling at the local dishes they were serving up. It is also laid out like you are walking around a traditional village, with buildings, ponds and little bridges to cross.
Have lunch here, or second lunch, if you already ate. Upstairs you will find some really high end shopping if you want to go and browse around a bit in the air conditioning. Otherwise, jump back on the boat and head down to the end of the line at Asiatique.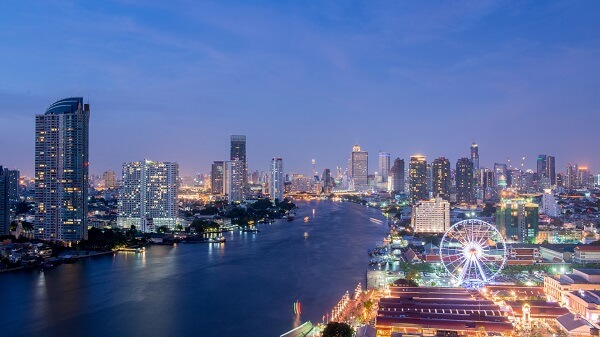 Now, the boat will not actually go to the Asiatique stop until later in the day, so check your timetable, or have a look at THIS article. If you still have some time, I suggest you simply enjoy cruising the river, or even stop by at the famous Bangkok Flower Markets.
Asiatique really comes alive late in the afternoon. It has a Ferris wheel, some wonderful restaurants, as well as many unique boutique market stalls. It's a great place to relax and enjoy the early evening. Just keep an eye on when the last boat leaves in the evening if you want to return to your hotel that way. Otherwise you can easily make your way from here to the airport, or where ever it is you need to be.
If you still have time, and want to experience a bit of the Bangkok nightlife, then I suggest you catch the last boat back upriver, to the stop nearby to Khao San Road.
Khao San Road
Khao San Road is the traditional center for backpackers and budget travelers in Bangkok. Many will tell you it is the "real" Bangkok. I beg to differ though, and believe that the only people who say that have never actually stayed anywhere else. It IS however, a side of Bangkok that everyone should see.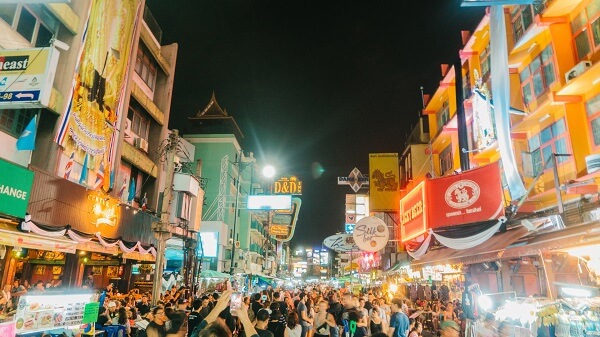 This is the place for finding many, many markets that will sell everything that any tourist could ever want. It is a place that you will have no problems finding whatever food you are looking for, be it traditional, or western. It is also the place that you can find night clubs, bars, and cafe's around every corner.
Khao San Road caters to nearly any taste or whim that you could imagine, so it is a great place to round out your one day itinerary Bangkok.
Final Tips
This one day itinerary Bangkok packs a LOT in. The main points of interest however are the Grand Palace, Wat Pho and Wat Arun. If you only have one day in Bangkok, then these are the places that you really want to see. Luckily, they are all very close to each other, and are easy to fit into any schedule.
Also, be aware of the dress standards for temples in Thailand. Women should cover the shoulders, and wear skirts or long pants that go below the knees. Men should also wear shorts below the knees, or long pants. Many will purchase the nice light traditional pants from the markets to wear to temples in Thailand. This is a cheap and cool option!
Take advantage of the river, and the fact that you can visit other places up and down the river by using the Tourist Boat. If you have the time, you can see quite a bit, in a nice and relaxing way.
Summary
Bangkok is a huge place. There are so many places to see and things to do. I hope that this one day itinerary Bangkok helps you to decide on a way to see the city's main attractions in the limited time that you might have.
Did you find this article helpful? Then drop me a line below to let me know!