Many visitors to Bali have heard of East Bali, but many simply do not know anything about it. It is a place that their friends visited once on a tour, and have raved about ever since. It is a place that tour guides suggest you go, but many people don't understand why. Besides, isn't Ubud a lot closer? Most people would rather stay in their comfort zones and stick with that they know. But East Bali doesn't have to be "that strange land on another part of the island" and in this Guide to East Bali, I will show you why.
One thing that I will tell you right from the start. East Bali is amazing, but taking a tour will only really show you the main sights. There is SO MUCH more to the area that you will not see on a tour. That is why I decided to create this Guide to East Bali – to point out to you just how much more there is to do!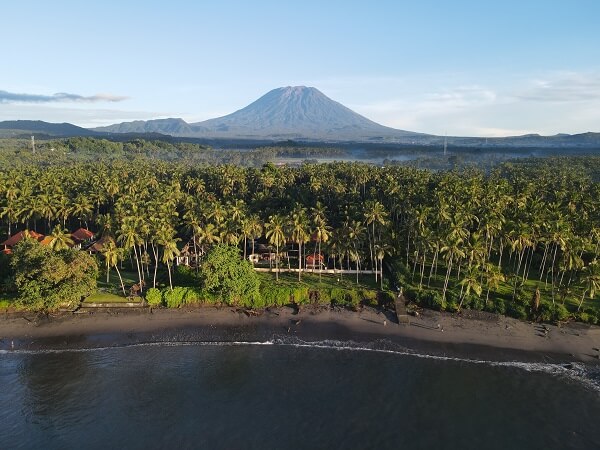 So sit back and enjoy this guide, and I hope that by the end of it you understand a lot more about what there is to see and do in East Bali.
This article may contain affiliate links. If you click on those links and make a purchase, at no extra cost to you I will get a small commission. This will go a long way toward keeping this website running. As always, thank you for your support! Click HERE for more information.
Table of Contents
About East Bali
East Bali is covered mostly by the Regency of Karangasem, but actually covers the entire area of Eastern Bali. The "entryway" to East Bali is commonly considered the city of Candi Dasa, which sits on the East Coast of Bali, and is a very popular resort town. Just a bit further south is Padang Bai, which is the main ferry port for Bali, and the entry and exit spot for the Gili islands or Lombok.
Besides Candi Dasa, the other main towns are Amlapura in the center of Karangasem, and Amed in the north. Sideman, on the southern edges of East Bali is rising rapidly in popularity with visitors as well. Above them all presides Mount Agung, an active volcano that is also the highest point in all of Bali. From anywhere in East Bali you can see the majestic peak, and places such as Heaven's Gate have become even more popular simply because of the view of the indomitable mountain.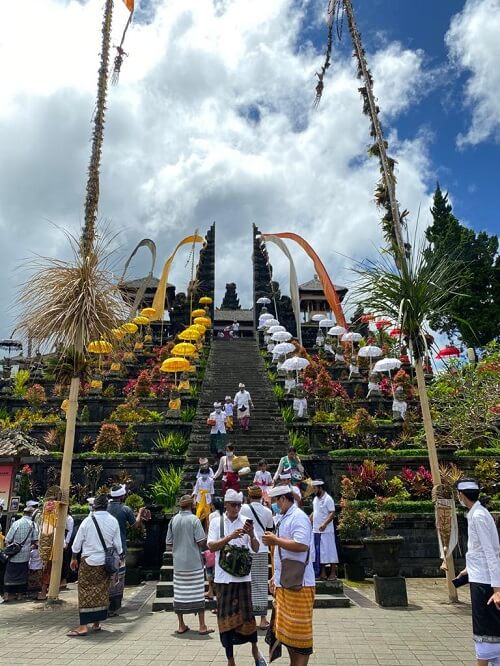 There is much more to East Bali than many people realize. Black sand beaches adorn the coastline, and beautiful sweeping fields of ride paddies carpet much of the landscape. The northern coast is host to some of the most beautiful marine life in Bali, and the diving and snorkeling is world class. Even the slopes of Mount Agung holds its own secrets, and hosts thousands of visitors a year to places such as Besakih Temple, and the gardens of amazingly beautiful Marigolds and Edelweiss that flourish upon her slopes.
East Bali also holds much history of the Kings of Karangasem, and many of the best places to visit will having you walking in their footsteps. Tirta Gangga and the Water Palace are two such places.
No matter where you go in East Bali, there is something amazing just around the next corner. I personally have been there and stayed on numerous occasions, and still find there is something yet on my list of things I need to see or do next time I return!
Things to do in East Bali
There is plenty to do in East Bali, and most people will think they have it covered by doing a tour or two. The thing is, they have hardly scratched the surface! Having spent a long time in East Bali personally, and usually for several nights at a time, I have covered most of it. In this Guide to East Bali, I will highlight some easy to reach places (and a couple not so easy) that you really should have on your East Bali "to do" list.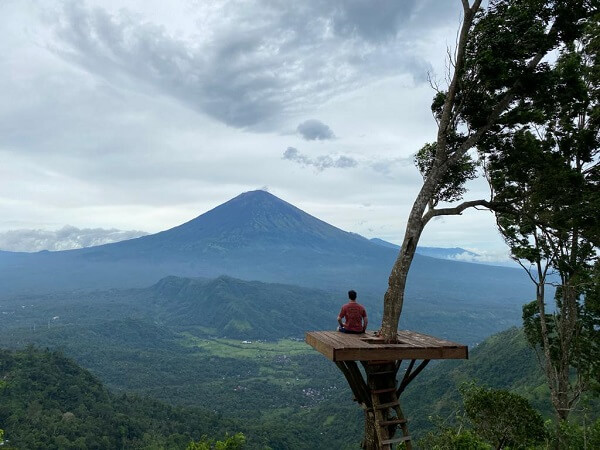 I will also not mention any organised tours in this section, as I have covered that in the next section. Here, I will talk about places you can go by yourself. Many of them you CAN do on a tour as well. So, here goes…
Take in the views at Lahangan Sweet – This is the best viewpoint in East Bali (aside from Mt Agung) and has nearly 360 degree panoramas that stretch from Lombok to Mount Batur. It is also the best viewpoint in Bali for Mount Agung photos. It's hard to get to, but worth it. Check THIS article for more information.
Catch the Sunset at Sunset Point Amed – Probably the best place in East Bali to see the sunset is Sunset Point. This open air restaurant on the point gives beautiful panoramas or the sun as it slowly disappears behind the slopes of Mount Agung.
Do a self drive (or ride) Mt Agung Viewpoint tour – There are some amazing places in East Bali to see the majestic Mt Agung. Hire a scooter and hit each of these places to get the very best photos. Start early before the clouds move in. Check THIS article for details.
Experience the amazing Heaven's Gate – This place probably needs no introduction, but should be on any list for visitors to East Bali. Wonderful views of Mount Agung, and one of the famous directional temples of Bali.
Relax at Virgin Beach – Virgin Beach is an anomaly in East Bali, as the only white sand beach amongst all the black sand beaches. With palm trees and turquoise waters, it is simply beautiful!
Camp at Bukit Asah – This amazing Bukit sticks out into the ocean right above Virgin Beach. You can camp there for extraordinarily low rates, and all equipment is supplied. With some of the best views on the East Bali coastline, it's at least worth stopping by.
Feed the fish at Tirta Gangga – These incredible water gardens are famous on Instagram for the enormous Koi and the stepping stones around their pond. Feed them and get the photo you are so longing for. Come on, you know you want to!
Climb the stairs at Besakih Temple – The oldest and largest temple in Bali is majestic, and sits high on the slopes of Mount Agung. A visit and tour is a must, and there is no better place to learn about Balinese culture.
Visit the Water Palace – The Water Palace is spectacular, and worth a visit just to wander around the amazing gardens and pools that was the summer getaway for the King of Karangasem.
Go Diving in Tulamben – Probably the best place in Bali to Snorkel or Scuba, you can hire gear on site, or even do a full course. The marine life is amazing!
Check out the amazing Rice Paddies – You can do this anywhere in Bali, but the Karangasem region has some beautiful Rice Paddies, and the paddies around Tirta Gangga in particular are amazing. Probably the best is all of East Bali, however, are in Sideman!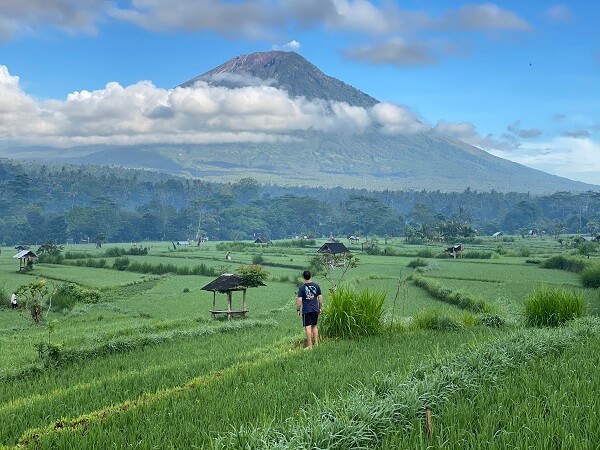 ARE YOU FLYING TO BALI? Then you will want the best airfares, and the best place to find them is at Skyscanner! I have tried all the other sites, and keep returning to Skyscanner. They give the best prices and options available. Check them out at THIS LINK.
Best Tours to East Bali
Many will not want to stay in East Bali, usually due to the length of holiday, meaning they are time limited. Then there will be others who may stay in East Bali, but not be interested in finding their own way around. If you fall into either of these categories, then a tour is probably of more interest to you. In my Guide to East Bali, I have hand selected some of the best tours for seeing the major sights, or doing the most popular activities. I will also include links directly to where you can book.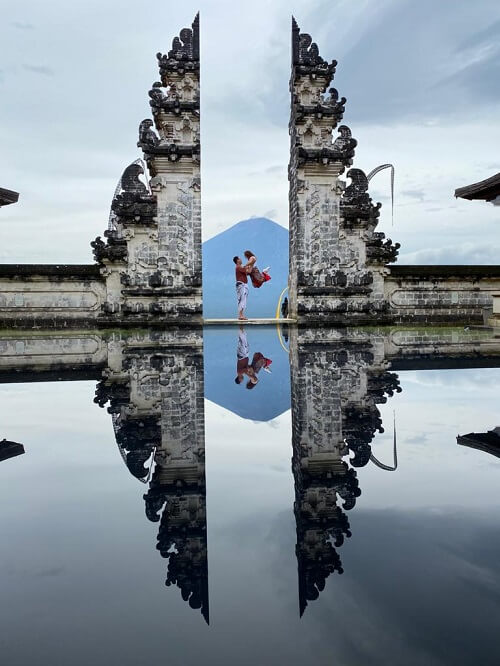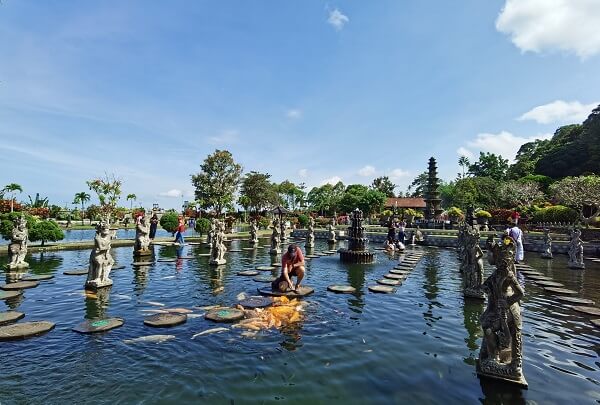 As you can see, the best and most popular tours to East Bali really centralize around the temples and water gardens. If you want to see more, then the best options are self drive, or a custom tour. This guide to East Bali was created for just that purpose – giving you the best information possible to make your East Bali experience an amazing one!
Where to stay in East Bali
Unlike many of my other Guides, this Guide to East Bali will be focusing not so much on individual accommodation options, but on towns and areas to stay. This is because the area in question is SO large and diverse that it is best, first, to pick what sort of holiday or stay you are wanting. I will include links to each town I discuss, so you can find accommodation options located there.
Candi Dasa
This seaside resort town is on the East Coast of Bali, and is becoming a very popular base for anyone that wants to visit the East Bali area. All sorts of accommodation is available, and at a lot cheaper rate than you will find similar accommodation down south. It's a LOT quieter as well, and very worthy of consideration for your next stay to Bali.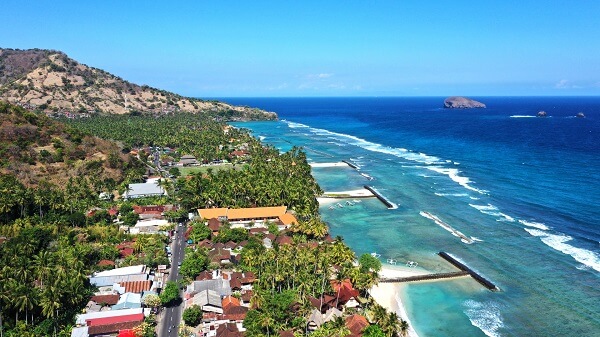 My pick for a really nice place to stay in Candi Dasa is the Candi Beach Resort and Spa.
Amed
Amed is located on the northern coastline of East Bali, and is becoming very popular with expats in recent years. One of the centers for diving, and in particular snorkeling in East Bali, you don't have to go far to find a great spot to head into the water. There are dozens of accommodation options, from more expensive right down to budget, and more restaurants, warungs and cafes than you could poke a stick at!
Oh, Amed is also famous for its sunsets, so even if you don't stay there, at least hang around for the sunset. You won't be disappointed!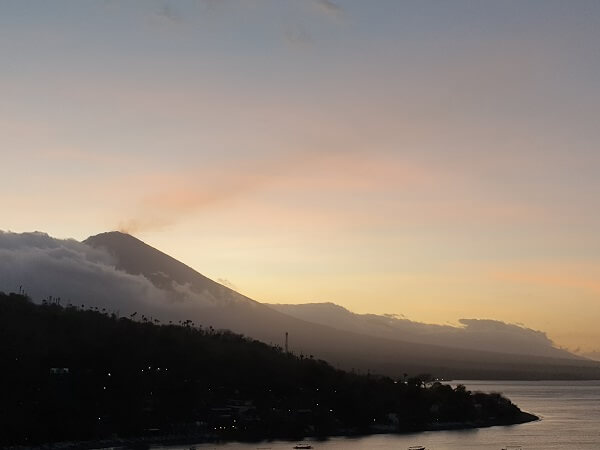 My choice for a great place to stay in Amed is definitely the Aquaterrace Amed. Click below to check it out!
Tulamben
Tulamben is the other place in East Bali that you will find great diving. Although it is a bit quieter than Amed, just up the road, the diving is even more spectacular! The dive on the US Liberty wreck is considered one of the best dives in the world, and is ideally located for beginner divers all the way up to the most experienced.
Tulamben is the perfect place to stay if you want a few days of diving, or if you want to learn to dive and stay in the area for a few days. You will find plenty of places that have inclusive deals to stay and learn, so it's a no brainer really.
The other reason you would pick Tulamben, or nearby Kubu, is because they have all the attractions of Amed, but a lot quieter!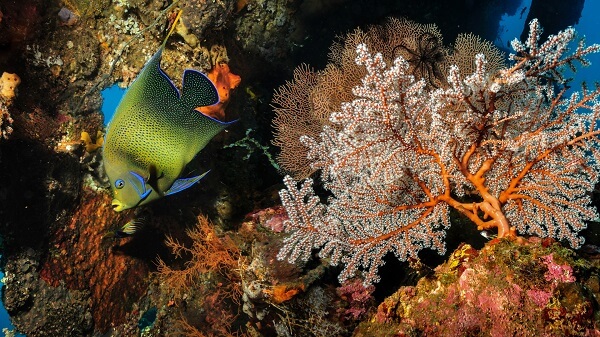 My choice for an amazing place to stay is the Kubu Indah Dive and Spa Resort. I personally know the owner, and absolutely love this place. Tell him I sent you!
Sideman
Sideman is on the very southern edge of East Bali and is another place becoming very popular for expats. It has a very "local" village feel about it, and has amazing views. There are several waterfalls within short drive or ride, and Besakih Temple is just up the road. The rice terraces around Sideman are also rated some of the most beautiful in all of Bali.
For accommodation, Sideman was, until recently, a place that you would only really find lower budget homestays. Now, however, things have changed, and you have the option of higher end accommodation and eco resorts.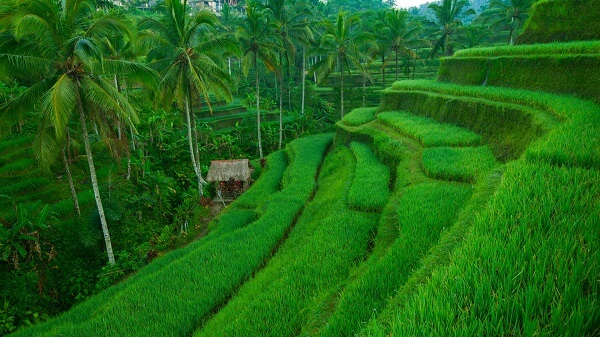 My standout pick for a place to stay in Sideman is by far Hideout Bali. How can you beat a lone villa in the Jungle beside a beautiful river?
Amlapura
Amlapura is the main center of East Bali, and the regency of Karangasem. You won't find as much accommodation around Amlapura, but that doesn't mean there is nowhere to stay. In fact, there are some very nice places, but most tourists opt for places like Candi Dasa and Amed.
Amlapura is a good place to stay if you want to be really close to Tirta Gangga, and only about 20 minutes away from Heaven's Gate. It is a local town, with plenty of food options, and is also a very central option. Virgin Beach and Bukit Asah are only 20 minutes away, and an Amed Sunset only 30 minutes.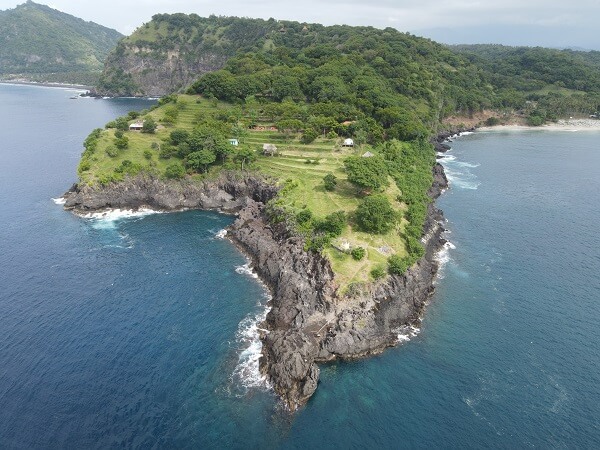 My pick for somewhere to stay around Amlapura is the Taman Surgawi Resort and Spa.
Jasri Beach
Jasri Beach is just East of Amlapura, and is the place I stayed last time I visited. What I liked about it was that it was close to the center, but still on the beach. We woke early and watched the sunrise over Lombok, and took a stroll on the (black sand) beach in the afternoons. There is also some great surfing right off the beach too!
This is another great option if you want to stay central, but wish to be somewhere nice and quiet. If you are a surfer, you should also strongly consider it! It is considered in many circles to be the best kept surfing secret in Bali.
My pick for a great place to stay on the beach at Jasri, is the Jasri Bay Hideaway.
How to get around in East Bali
Getting around in East Bali is easier than you might imagine. Although it is a very popular area, with some of Bali's biggest attractions, there is surprisingly little traffic. Aside from the local traffic, of course. The reason for this is simply because most visitors to the island tend to only visit East Bali on daytrips. This is great news for anyone who decides to stay overnight, or even spend a few days in East Bali.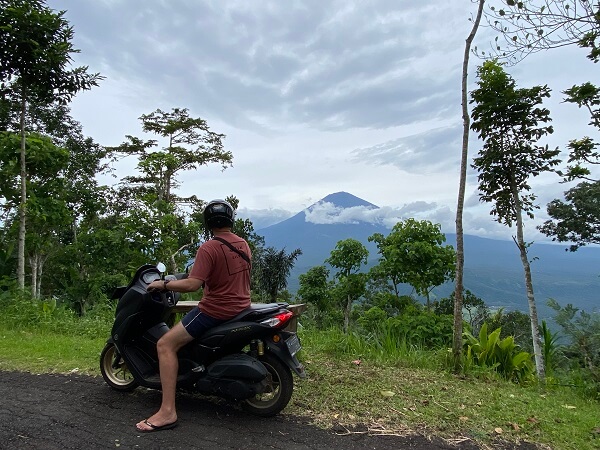 In this Guide to East Bali, I will now highlight a couple of the easiest way to get around in East Bali.
By scooter – This is my favorite way to get around anywhere in Bali, but in East Bali in particular this is the very best form of transport. Many of the best places to go are not on the usual tourist trail, so having a scooter means that you will see a lot more, a lot faster. Then, there are places like Lahangan Sweet that you will simply not get to in a normal vehicle. Hire a scooter quick and easy at THIS LINK.
Take a tour – A simple and obvious option, but if you are staying in East Bali and are interested in going anywhere, then consider a tour, if those places are large tourism objects.
Private Vehicle – You can hire a private vehicle and driver to take you nearly anywhere in East Bali. If you don't mind making your own itinerary, then this is a great option. I would recommend it secondary to hiring a scooter. You can easily hire one at THIS LINK.
Summary
East Bali is an amazing place to visit. It has some of the best spots in Bali, especially if you are a photographer or a diver. There is plenty to explore, and just one day is simply not enough.
If you decide to visit, and are looking for an itinerary, then I have one at THIS LINK that was made just for you! I hope this Guide to East Bali has been helpful, and I look forward to your comments which you can leave below.
DON'T FORGET to leave a comment below. I promise to reply!