Nusa Dua is one of the most popular places to stay in Bali. With high end resorts and the most amazing white sand beaches, there is little wonder why. What many that stay here have problems with though, is where to eat? Not everyone enjoys spending up big at the resort restaurant every night, and getting out to find something less pricey that is still great food can be tricky. But where is the best place to eat in Nusa Dua?
This article may contain affiliate links. If you click on those links and make a purchase, at no extra cost to you I will get a small commission. This will go a long way toward keeping this website running. As always, thank you for your support! Click HERE for more information.
Well, I have the answer for you. Having lived in Nusa Dua for several years, getting to know all of the locals, and trying almost every restaurant and Warung in the area, the votes all come back the same.
Silicon Food Park.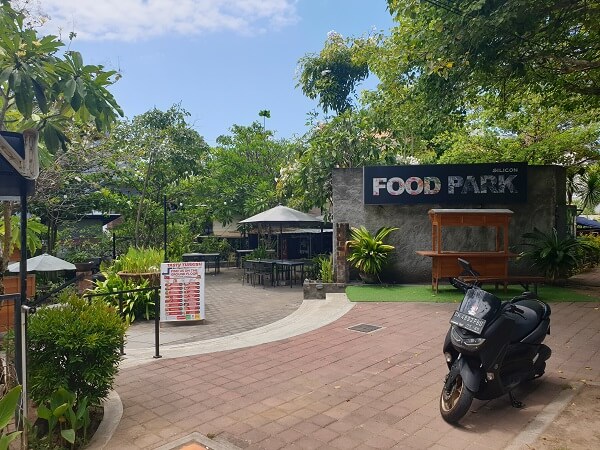 From anyone that has ever eaten there, it is pretty much unanimous. Everyone loves it. The food is amazing, the ambience is unbeatable, and you can always find something to tickle the taste buds just right. But what is it that makes Silicon Food Park the best place to eat in Nusa Dua?
Well, let me show you.
Table of Contents
Where is Silicon Food Park?
Firstly, it would be no point telling you about the best place to eat in Nusa Dua without at least showing you where it is.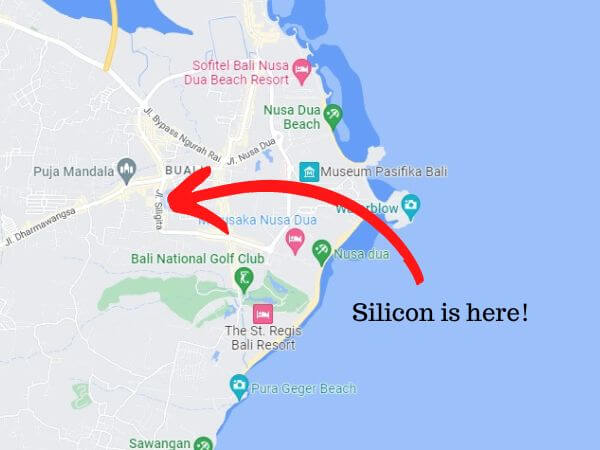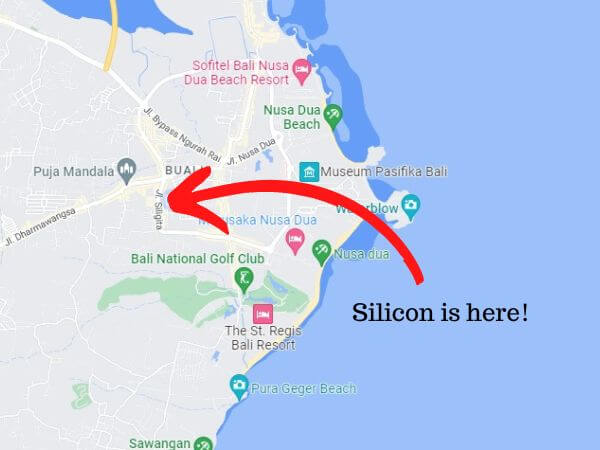 Silicon Food Park is easy to find, but with a few big trees out front, many will zoom on past without even seeing it. Add to the fact that it is actually below road level, and it's no wonder that so many might miss it.
To find Silicon Food Park, locate Jalan Siligita. The food park is right at the top of the hill, only a couple of doors down from the Surya Husadha Hospital. Have a look at the Google Maps screenshot above, or simply click on THIS LINK for an accurate Google Maps location.
What to expect
Great Food and cheap prices! I mean, what else would you expect from the best place to eat in Nusa Dua?
That's certainly not all though!
Silicon Food Park sprang to life several years ago. Only a couple of years before the Pandemic hit, and like everything else in the world, it suffered. But Silicon had already hit the map with the locals in Nusa Dua, and had already become the place to head to for great food. Already, it was becoming known as the best place to eat in Nusa Dua.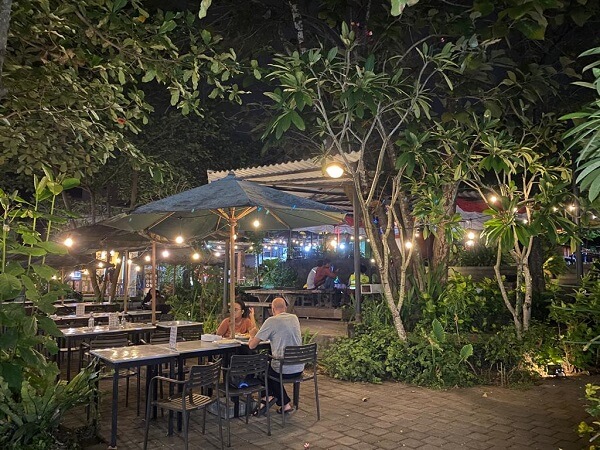 The problems for Silicon came with the pandemic, and the loss of many of their businesses. At one stage, there was only two or three places remaining. Since Bali started to open again though, Silicon Food Park has come alive once more. Some of the best restaurants in Nusa Dua moved into the Park and set up shop. Silicon is thriving, and becoming more and more popular with every passing day.
So why is Silicon not only attracting customers, but also restaurants that were already turning a good trade elsewhere?
Mostly, it is because of the incredible ambience, and the camaraderie that comes with a really well designed Food Park such as this. You see, Silicon Food Park is different to any other Food Park that you would have seen or eaten in around Indonesia.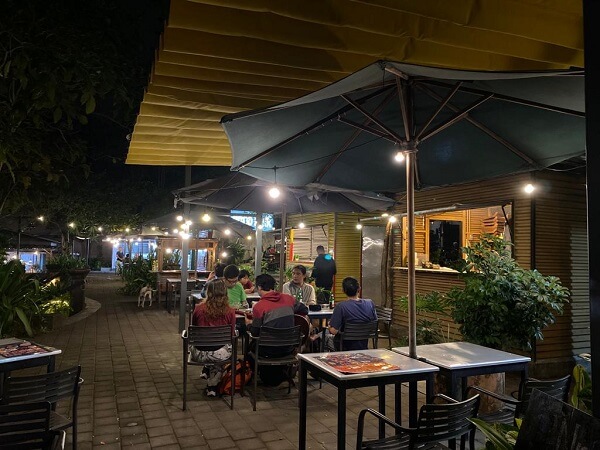 As you enter from the road, you will find a dozen or so "street cart" sized businesses off to your left and right. Walk directly ahead, and you will descend a set of concrete stairs into the main Food Park area. All of the park is covered with beautiful trees, interspersed with plants and gardens everywhere. Tables and chairs are plentiful, without being intrusive or on top of each other.
The larger restaurants down here are located around the outside, facing inward. At night time, there are lights in the trees, and on some nights there is a local band playing to provide some light music in the background.
Another thing that I really love about eating in Food Parks such as this, is that you can order from anywhere. This is great if you are in a large group, or can't agree on what to have for dinner. Just order from where ever you want, and meet together at a table under the trees.
Simply put, Silicon Food Park is just an amazing place to relax, and enjoy your lunch or dinner.
Best Places to Eat In Silicon Food Park
Ok, so now that we have established that Silicon Food Park is the best place to eat in Nusa Dua, let's take a closer look. What are the best places to eat IN Silicon Food Park?
Well, there are a lot to choose from. But like anyone, I have my favorites. They are also personal favorites of many that go to Silicon, so I will concentrate on them for now. Let me just say though, that this Food Park is FULL of great places, so don't be afraid to take a good look around.
If you have already read my article "Where to eat in Nusa Dua" you will already have recognized Silicon Food Park as featuring in there. At the time, it was still getting back on its feet after the Pandemic. Businesses were only just getting established, and I couldn't write too much about where to actually eat INSIDE the Food Park. That is different now, with Silicon thriving, so let's take a look.
Ke Pizza
Ke Pizza is an amazing local Italian Restaurant. The owner, an Italian who has lived in Nusa Dua for well over 20 years, has made Ke Pizza an institution in the area.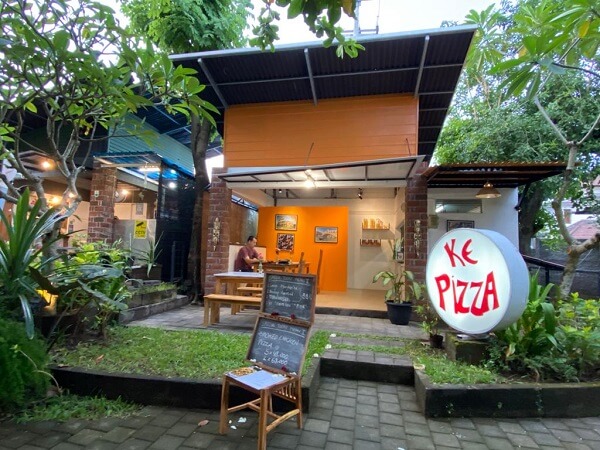 Ke Pizza was once located just down the road in its own premises. It became famous, and was often packed to the rafters with locals and tourists alike. Then, the pandemic hit, and like so many others they had to shut their doors. To the delight of their local fans though, they opened for a short time running out of their house just around the corner.
Once the pandemic eased off, they made the move into Silicon Food Park. It was a wonderful business decision, and opened up their delicious menu to many others that otherwise may not have known about them. Personally, I think the Pizza's have even gotten tastier!
Ke Pizza is about to open a SECOND place within Silicon, so that they can become even more specialized. They now are open extra early, and if you are staying in the area, you can pop by for a great western breakfast.
Nisha's
Nisha's is owned by a beautiful Indonesian lady by the same name, and her English husband Danny. When you enter the Food Park by the front entrance, they can be found tucked in the corner off to your left.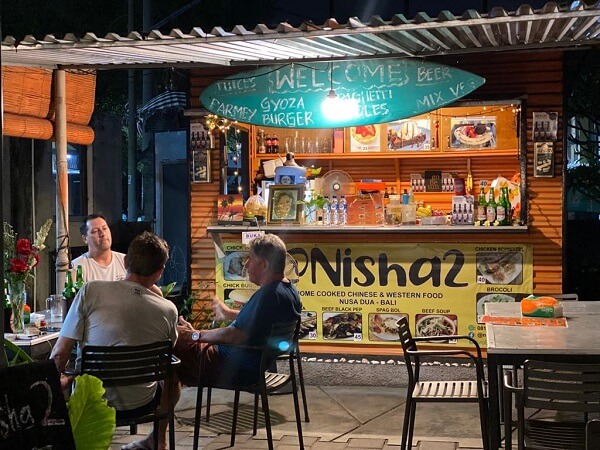 You will find many expats coming to Nisha's. She cooks some wonderfully delicious local foods, but it is her western menu that really shines. I personally love her Gyoza, and have it on very good authority that her Spaghetti Bolognaise is the best in Bali! I have it on my list to try, and most likely will have done so by the time you read this article.
The other great thing that makes Nisha's popular is the atmosphere. The friendly nature of the owners attracts many to become return customers. They are always ready for a chat, and happy to sit and share stories and experiences with anyone who chooses to dine there.
Don't forget to say hi for me! But in all reality, you will most likely see me already there!
Tasty Turkish
It took me a while to try Tasty Turkish, but wow, am I hooked now!
If you like Turkish food, then you will love Tasty Turkish. This little restaurant is owned and operated by a lovely and friendly Turkish man, who really knows how to cook. The food is simply delicious, and there is nothing on his menu that I would not recommend.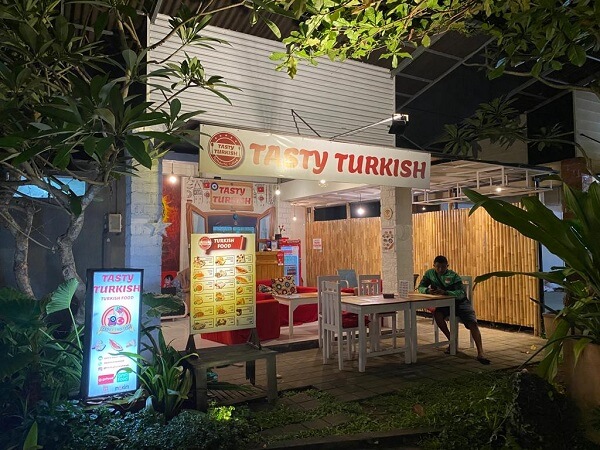 Obviously, I have my favorites though, and at the time of writing this article, I am putting away about 3 Gozleme's a week. His Pide's are great as well, and the Shawarma is incredibly popular. The other great thing is that his prices are SO LOW, that if you can't decide, just order several dishes!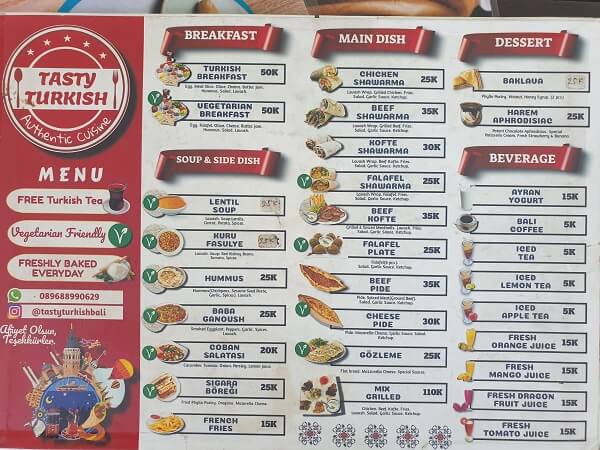 Many dishes also come with a tasty side salad, and in true Turkish tradition, they also provide a nice cup of hot tea complimentary. You really feel like you are getting the full Turkish experience.
Tasty Turkish has become so popular, that the success of this little restaurant is now allowing them to open another store in Uluwatu. So keep an eye open for that one if you are nearby!
Summary
Silicon Food Park is my choice of best place to eat in Nusa Dua. The food is amazing, the ambience incredible, and facilities clean. The trees and greenery throughout make it truly unique among Indonesian Food Parks, and in my opinion the best Food Park in Bali.
Do yourself a favor, and get along to check it out!
Useful Links