It's a question that I get asked a lot, and one that comes up very regularly in comments and conversation. Where is Bali? It's surprising that so many people have heard of Bali, but many have no real idea where it is. This is not surprising for travelers from places like America, or even Europe. I mean, for them, it literally is halfway around the world. For those from Australia and New Zealand though, it is almost right next door!
This article may contain affiliate links. If you click on those links and make a purchase, at no extra cost to you I will get a small commission. This will go a long way toward keeping this website running. As always, thank you for your support! Click HERE for more information.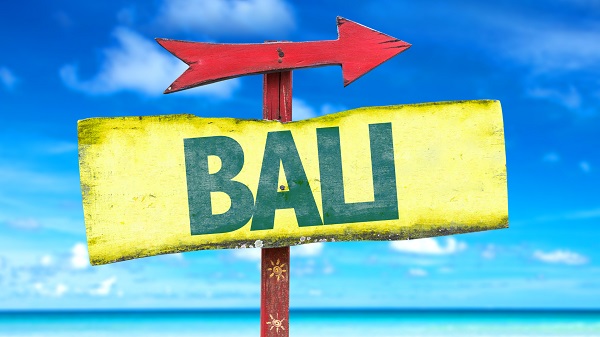 Table of Contents
Where is Bali Located?
So Where is Bali Located?
Bali is a small island that is actually located in the country of Indonesia. This comes as a surprise to many who think that Bali is a country itself. It is not!
Indonesia can be found in South East Asia, with Thailand, Philippines, and Malaysia to the North, and Australia to the South. It would be very true to say that the United States and Europe are half a world away from Bali.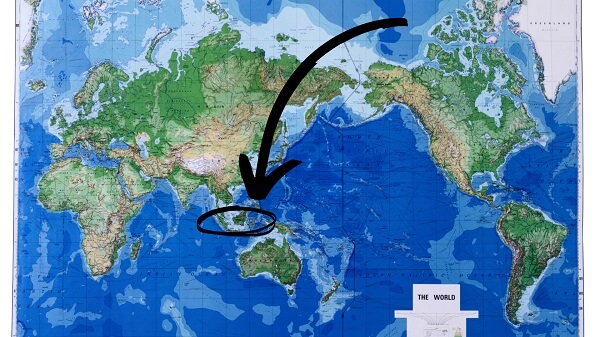 The distance of Bali from the rest of the world is not really an issue, as it also has its very own International Airport, with flights arriving daily from all over the world.
Bali is also located on the famed Pacific Ring of Fire. In fact, the entire Indonesian Archipelago is. Visitors to the country will become accustomed to the sight of volcanoes on nearly every island, many of them very active. In fact, Yogyakarta, on the island of Java to the West of Bali, is home to Mount Merapi, the most active volcano in the world!
Where is Bali on the Map?
Indonesia is made up of over 17,000 islands, and yes, Bali is just one of them. But exactly where is Bali on the map?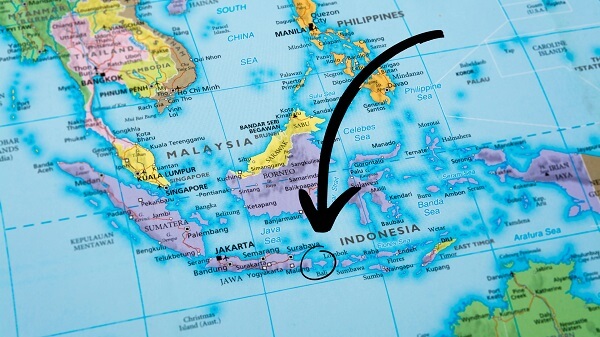 It can be found along the main string of islands that seem to make up the majority of the country. Check out the map below.
Bali can be found in between the Indonesian islands of Lombok, to the East, and Java, to the West. Java is the most populated of the islands in Indonesia, and is also the home of the (current) capital of Jakarta.
What Time is it in Bali?
Bali is in a totally different time zone to most of the rest of the world. Unless you live in Perth, Australia, which I used to do. That made it really easy to come on holidays to Bali, as it was the exact same time zone.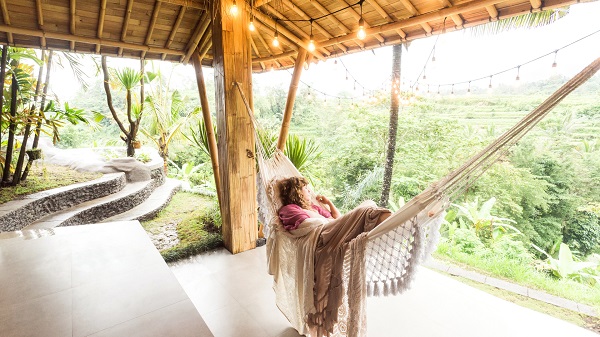 Bali is located in the GMT+8 time zone.
What does this mean?
So, exactly where IS Bali? For an easy reference, here are some examples.
When it is 10am in Bali, it is:
10pm in New York (the day before)
7pm in Los Angeles (the day before)
3am in London (same day)
4am in Rome (same day)
5am in Istanbul (same day)
730am in Delhi (same day)
12pm in Sydney/Melbourne/Brisbane (same day)
Of course, if there is daylight savings in your city, you will have to take into account whether that is currently in affect or not. Either way, it will only vary by one hour, and this is just a guide to let you know how much the time, and date, varies in Bali to your home town.
Also take note that due to the International Date Line, the actual date is different in the United States to Bali. So when you fly across the Pacific, you may be gaining a day, or losing it in the other direction!
How long is the Flight to Bali?
Where is Bali, and how long is the flight to Bali?
Flights to Bali vary significantly depending upon where you are coming from. It is a question that gets asked a lot though, especially for those coming from the United States. It is possibly the second most asked question that I get, right behind "Where is Bali?".
Here, I am going to try and answer it as best I can. It must be kept in mind that, as with any air travel, you can find shorter flights and longer flights. Usually, the longer the flights, and the more legs that are involved, (IE – Layovers and change of planes), the cheaper the flight is. Therefore, for this article, I am going to concentrate on average flight times from each destination.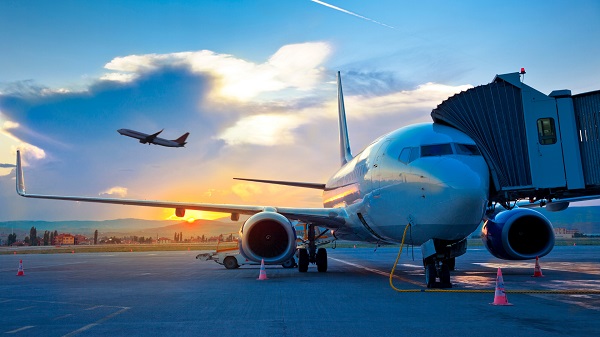 I have to put a short disclaimer in here in relation to the hangover from the COVID-19 Pandemic. All of these flight times are averaged on normal conditions. At the present time, there are not as many flights available, and very few that will fly directly to Bali, especially from the United States. This is changing all the time however, and should be a lot better as we get closer to 2023.
How long is the flight to Bali? Let's take a look at a few examples.
From Perth Australia – 3.5 hours.
From Sydney/Brisbane/Melbourne – 6.5 hours.
From Singapore – 3 hours
From Bangkok – 4 hours
From Beijing 7 hours
From Dubai 9 hours
From Rome 15 hours
From Amsterdam 16 hours
From London or Barcelona 17 hours
From Los Angeles to Bali 17 hours
From New York to Bali 21 hours
Once again, keep in mind that this is average flying times. A flight from New York to Bali could end up being up to 30 hours, depending upon connections and layovers. If you are lucky, and willing to pay a little more, it could be even shorter than the average. When it comes to flying, there are a lot of variations. Hence the reason that many people ask the question, how long is the flight to Bali?
Things to do in Bali
Once you have the question, "Where is Bali?" figured out, you might start to wonder what to actually do here.
Bali is popular for a reason, and one of those reasons is the incredibly diverse amount of things that you can do. From the white sands and turquoise waters of Nusa Penida, to the waterfalls of Munduk. From the world class surfing at Uluwatu, to the summit of a live volcano in Kintamani. This is an island that has something for everyone, and then some!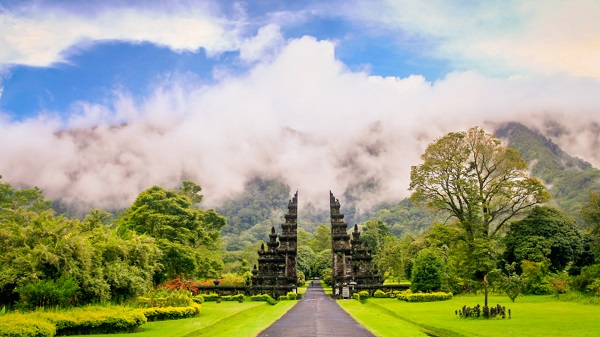 Here is a short list of some of the things that you can expect to be able to do in Bali.
Bali really does have something for everyone. I have lived here for several years now, and even though I have covered the entire island several times on my scooter, I am STILL finding new things to see and do!
Where to Stay in Bali
The question of where to stay in Bali is not an easy one. On an island that depends upon tourism as its major source of income, there are many options. Thousands of hotels and resorts populate this tropical paradise, and new ones are built and opened every single day.
So as you can imagine, narrowing it down is not easy.
There are several major centers to stay or base yourself in Bali. Here, for the purposes of this article, I will list one great place to stay in each of the main centers that I would recommend. For a more comprehensive look at each, follow THIS LINK, to my Complete Guide to Bali.
Kuta
The Grand Inna Resort
The Grand Inna Resort in Kuta is perfect for families and couples. It is located right on the main beach at Kuta, and walking distance to absolutely everything, including Waterbom, Discovery Mall, and the entire main shopping/market district.
Legian
Away Bali Legian
I love this resort. It really flies under the radar, and I can't work out why. The rooms are large and fully equipped with everything you need. The pools are wonderful, and it backs right onto the beach, while the front faces the great Legian Shopping streets.
Seminyak
W Bali Seminyak
Seminyak is, and always has been, a more expensive and up market place to stay. It has no less than half a dozen Beach Clubs, and many expensive restaurants and night clubs. The W Bali Seminyak is perfectly located on the beachfront, right near everything that Seminyak has to offer. It is luxury in the middle of paradise!
Canggu
Como Uma Canggu
Canggu is the new Hip and Happening center of Bali. It is where you will find the largest congregation of Digital Nomads, and where all the younger crowd like to hang out. As a result, you will also find the newest and most popular cafe's and restaurants. Staying at Como Uma Canggu will have you right in the middle of it all!
Jimbaran
Villa Prana Jimbaran
With so many great resorts around Jimbaran, I choose to promote this amazing Villa. Villa Prana overlooks the beaches of Jimbaran, and gets astounding reviews from everyone that stays there. And it's not hard to see why. Jimbaran is a quieter, more family oriented area, really close to the airport, and right on the doorstep of the incredible white sands and surfing of the beaches at Uluwatu.
Uluwatu
Inn Possible Cliff House Uluwatu
Inn Possible Cliff House is located at Bingin Beach, in the Uluwatu area. It is one of the best surfing beaches in Bali, and the beach one of the most popular. Be right in the middle of the action, while enjoying the serenity that comes from staying in a hotel that faces directly onto the sand, with some of the best ocean views you could imagine!
Nusa Dua
Westin Nusa Dua Resort
The Westin Resorts are famous worldwide, and it is no mystery why. The Nusa Dua version is no different. It is the perfect place to stay for families, and faces onto the very best beachfront in Nusa Dua. The sands are a golden yellow, and the water out front a perfect turquoise green. It's hard to go wrong with any of the great resorts at Nusa Dua, but the Westin is one of my favorites.
Sanur
Hyatt Regency Bali
Sanur is the family strip of sand that is very popular for those looking to stay away from the crowds around Kuta and Legian. Therefore, there are a LOT of resorts to choose from. My pick is the Hyatt Regency Bali, especially if you want to spoil yourself. Located right on the beachfront, it has everything you could want and more.
For a more budget friendly choice in Sanur, or anywhere in Bali, check out my Complete Guide to Bali at THIS LINK.
Ubud
Aksari Resort Ubud
Ubud is the center of all art and culture in Bali. It is the place to go for Spa's and wellness retreats. If you love Yoga, then you will love Ubud.
My choice of places to stay in Ubud is Aksari Resort. I loved my time staying there, and have recommended it to friends who ended up loving it just as much. With wonderful villas and an iconic pool overlooking a lush green valley teeming with Bali Jungle and Rainforest, it is quintessential Bali at its very best!
Remember, there are many, many places to stay in each of these major centers, along with many others. To get a more comprehensive idea, check out my Complete Guide to Bali by hitting the link below.
More Bali Resources
So now that you don't have to ask "where is Bali?" anymore, you can actually plan a holiday instead! Why go where everyone else is going, after all?
I have been all over this amazing island several times. I write articles about all the great places I have found, just so that YOU can find them and experience them too. Below, I have listed a few of my most comprehensive guides to some of my most favorite places.
Check them out, and let me know if you find them helpful!
Riding a Scooter in Bali – Everything you need to know
Why Do Australians Love Bali So Much?
10 Bali Day Trips That Every Visitor Must Do
5 Best Mount Agung Viewpoints In Bali
Nusa Islands Bali – Your Complete Guide
Munduk Waterfalls Bali – Complete Guide
Summary
I hope that I have now answered all your questions about "where is Bali?" as well as "where is Bali located on the map?" It is something that I found so many people confused with. Now that you know, let's get into booking a holiday!
Did you find this article helpful? Then let me know in the comments below!