Bangkok, the Capital City of Thailand, is a major International Hub, and a central hotspot for anyone traveling through South East Asia. Many travelers totally bypass the city though, not realizing what an amazing place it is, with its mass of contradictions, incredible temples, and thriving night life. But how much does anyone really know about Bangkok, and what really makes the city tick? Here, I have put together my list of favorite facts about Bangkok that I didn't know when I first visited, but now make perfect sense to me!
Why?
Because they do! You don't have to spend much time in Bangkok to really get up close and personal with nearly every aspect of local life. Especially if you stay away from the major hotel chains. Even then, it is sort of thrust in your face when you head out for the day.
If you have been to Bangkok, then take a read of this list of facts about Bangkok, and maybe you will learn something a little more about this amazing city. If you haven't been, then I hope that after you read them, you will understand a little more about what to expect!
Table of Contents
#1 – Bangkok is the World's Hottest City
When I first visited Bangkok, I nearly passed out. No joke. It was SO HOT.
This was something that I was really not expecting. I had lived in Indonesia for two years, and coming from Queensland Australia, I thought I would be ready for anything that Thailand could throw at me. Alas, I was mistaken.
Bangkok is widely regarded as the hottest city in the world. I'm not sure that this is actually a formal title, and even less sure whose job it is to go around to every city and record temperatures. But I have to say that if Bangkok is NOT the hottest city, then it has to be close!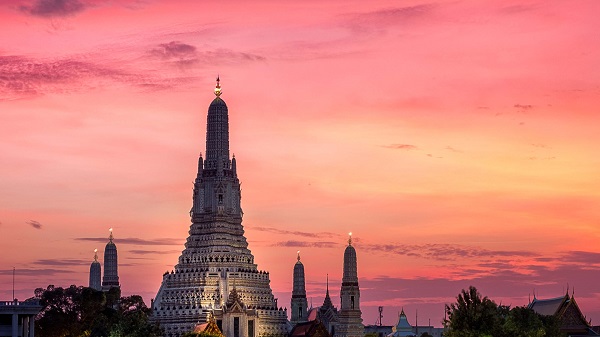 When you visit Bangkok, make sure to take some precautions in order to be ready for it. The average temperatures are around 28 degrees, and at times it gets into the high 40's. So be prepared, in order to be able to enjoy the city more comfortably. Here are my "Facts about Bangkok Tips" for how to make sure the heat doesn't get you. (Also known as common sense tips)
Visit during November to February, when the climate is less humid and temps are lower.
Take a GOOD water bottle that keeps your water nice and cold as long as possible.
Hit the streets early, before the sun gets too high. Time your temple visits around this and find yourself in a nice air conditioned Shopping Mall around lunchtime!
Buy some thin and airy "Thailand Pants" at the markets to wear into Temples. They sure beat your normal long pants!
Take the river boats and water taxis as often as possible to move around. It is a lot cooler on the water than in a bus, trust me.
Visit during the Songkran Festival (Thai New Year) in April. Everyone carries water guns and buckets of water get thrown on you as you walk down the street. The BEST way to beat the heat!
#2 – Bangkok is a City of Millionaires
This is one of the facts about Bangkok that will surprise most people. Especially those that have visited the city and not experienced the High Society side of life. (Me!)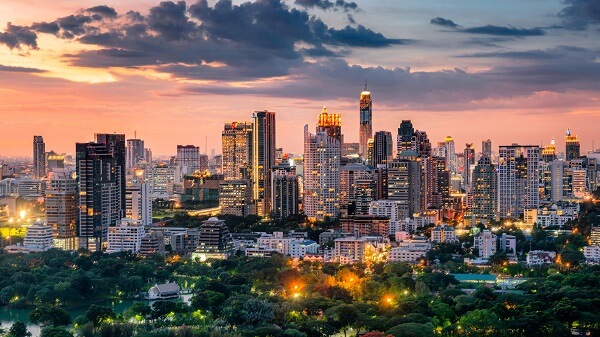 Thailand has over 70,000 Millionaires. Seventy Thousand! That's hard for me to comprehend, so I can only imagine that it is just as hard for you. And by the way, that is calculated in USD!
Bangkok is home to approximately 95% of those millionaires, so you can now see why it is known as the Millionaire Capital of the world. Try to remember this fact the next time you walk down a street and have to dodge the trash piling up, or head to the markets to buy a dirt cheap t-shirt from a guy that looks like he hasn't eaten for a week.
But, no one said that the wealth was evenly spread, did they?
#3 – It has the World's Largest Chinatown
Is it really? Well, we think so.
This is one of the facts about Bangkok that is actually disputed. Apparently Chinatown in Manhattan, New York is larger, and having been there I can imagine it may be. But who actually measures these things anyway? All I know is that the Bangkok Chinatown is massive, and deserves the title anyway!
You can find Chinatown easily, as it isn't really too far from the Grand Palace and Wat Pho. It resides on the same side of the river, and if you are taking the Free Tourist Hop on Hop Off Boat, it is only an extra stop down the river. Just make sure to put aside plenty of time to check it out.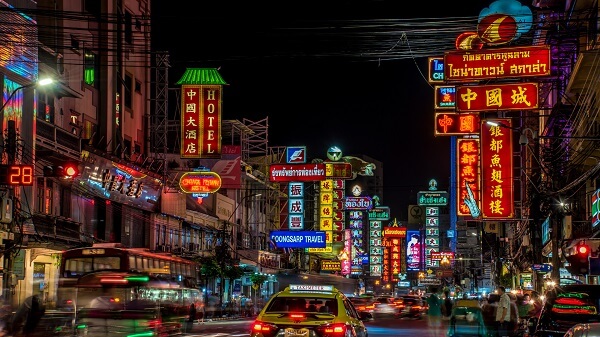 This Chinatown is not unlike any other around the world. During the day there are shops and stalls that sell almost anything that you can imagine, at a lot cheaper price than you will find elsewhere. This includes authentic products, as well as very good knock offs. So be careful.
At night, the food stalls spring up, stretching for as far as the eye can see, and the Bangkok Chinatown becomes a foodie's paradise!
Another interesting thing about Chinatown is that it is also home to the largest gold Buddha in the World. I didn't actually realize this myself, and most people wouldn't think of heading to Chinatown to visit a temple. Make sure you do though, as this is worth seeing. Interesting to note also, is that the incredible gold Buddha was hidden for many years under a layer of plaster. It was only revealed when it was accidentally dropped whilst being moved, and the plaster fell away to reveal the treasure beneath!
#4 – It is Known as the Venice of the East
Anyone that has visited Bangkok will know about the multitude of waterways that criss cross the city. From the mighty Chao Phraya River, to the small canals that bisect neighborhoods, you don't have to travel far in Bangkok to find yourself crossing a bridge, or walking alongside a body of water.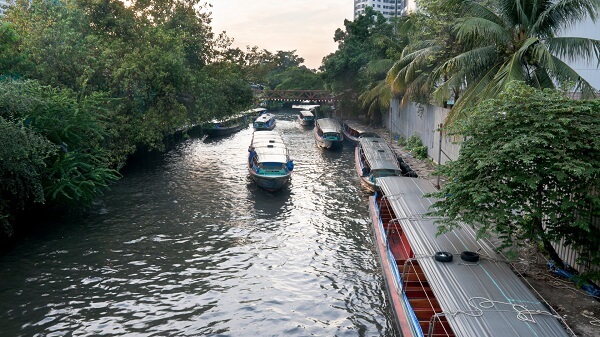 In fact, there are so many waterways in Bangkok, that there are actually MORE than in the city of Venice! Considering that Venice is the most famous city in the world for canals, that is saying something. There is no wonder then, that Bangkok has been dubbed the Venice of the East.
When you are visiting Bangkok, make certain to take advantage of this. Taking the water taxis, ferries and the free Tourist Boat are the best ways to see the city, and get around without all of the traffic jams. So if you only remember one of my facts about Bangkok, make certain to remember this one!
#5 – Bangkok is the Home of Red Bull
Next up on my Facts about Bangkok, is the origin story of everyone's favorite energy drink. Did you know that it came from Thailand?
Not just that, but it was created right here in Bangkok by a non assuming local man by the name of Chaleo Yoovidhya, way back in 1976. If you are wondering how that could be, because Red Bull hasn't been around that long, then you would not be alone. Let me explain.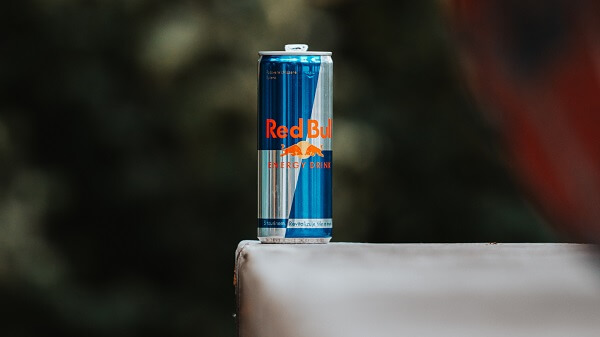 Chaleo Yoovidhya was not originally from Bangkok. In fact, he was from Central Thailand, and moved to Bangkok to seek his fortune, as many Thai do. He invented Red Bull, and successfully changed his life.
The change was not immediate however. The original Red Bull was a very Syrupy mixture, and very different from what we find on the store shelves today. It worked just as well, and one of his biggest fans was an Austrian Businessman by the name of Dietrich Mateschitz. Dietrich was often in Bangkok on business, and swore by the Red Bull mixture to ward off Jet Lag. He was so impressed, in fact, that he sought out its inventor, and became partners in marketing the drink to the Western market. The rest, as they say, is history.
Chaleo Yoovidhya died in 2012 as one of the top 5 richest men in Thailand, which is quite a feat in a land with over 70k millionaires. His legacy lives on, as Red Bull is stocked in every corner store and supermarket around the world. In Bangkok, you can even still find the original mixture alongside the new, flashy and popular version!
#6 – Bangkok has Transgender Toilets
This is one that isn't really a surprise, especially if you have ever been into a nightclub or strip show in Bangkok.
Bangkok is the "home" of the cross dressing and transgender "Ladyboys". Of course, this is what they are traditionally known as, and not what political correctness would allow you to call them these days.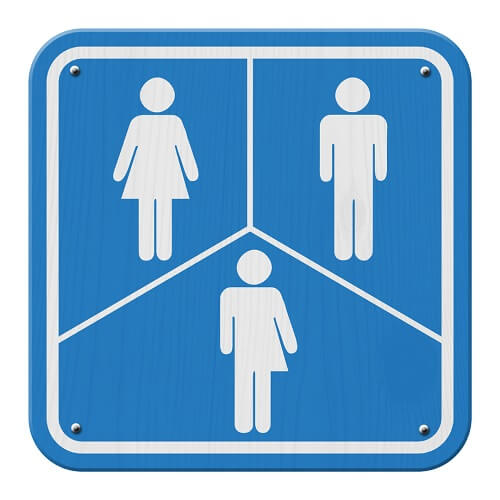 The fact remains though, that in Bangkok, and much of Thailand, for some time there has existed more than just the two traditional sexes. Therefore, it comes as no surprise that Bangkok was the first city on Earth to adopt restrooms that cater to more than just the two sexes.
You may not find them everywhere, but they certainly are not confined to just Bangkok, so take extra care when you stumble from the bar to the toilet that you choose the correct door.
#7 – Bangkok has the Longest City Name in the World
I know what you are thinking. It's only 7 letters long. Right?
Wrong.
If you look up Bangkok on a map, you may see that it is not even called Bangkok. Sometimes it is called "Krung Thep". Still not very long though. Is it?
That's because the traditional name for Bangkok is SO LONG, that they have to shorten it to Krung Thep just to same time!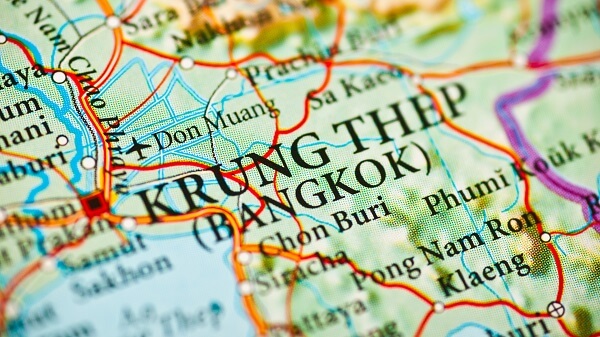 So what IS the name for Bangkok? Well, try this on for size.
Krungthepmahanakhon Amonrattanakosin Mahinthara Yutthaya Mahadilok Phop Noppharat Ratchathani Burirom Udom Ratchaniwet Mahasathan Amonphiman Awatansathit Sakkathattiya Witsanukamprasit.
Confused? Then here is the rough translation.
City of angels, great city of immortals, magnificent city of the 9 gems, seat of the king, city of royal palaces, home of gods incarnate, erected by Visvakarman at Indra's behest.
Now that's a city name that could come straight out of Game of Thrones! (Sorry if you have never watched it, but if you have, you will understand)
#8 – All of the Temples on Thai Baht Coins are in Bangkok
One of the facts about Bangkok that often gets overlooked by visitors, is one that is constantly in front of them. Or in their pockets at least.
The Thai Baht Coins are all stamped with images of temples. The four temples that are depicted can all be found in Bangkok.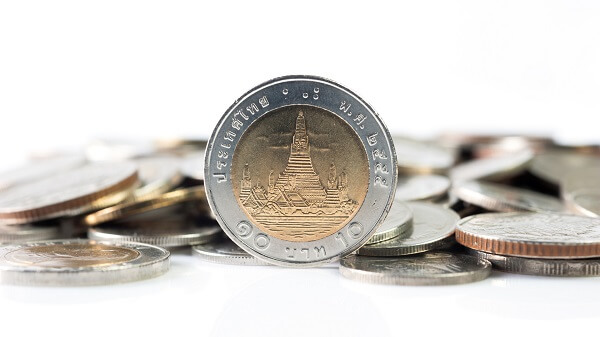 I personally find this very interesting. There are SO MANY temples in Thailand. In fact, there are over 40,000 temples in Bangkok alone! With this much choice, it is amazing that anyone was able to narrow it down to just four to be featured on the Baht Coins. Personally, I fell in love with many in Chiang Mai and Chiang Rai, but have to concede that the Bangkok Temples are very, very special.
So which temples are on the coins? Here is the list.
10 Baht Coin – Wat Arun, The Temple of Dawn. This is one of the most amazing and distinctive temples in Bangkok, and one that nearly every visitor has on their "must see" list when in Bangkok.
5 Baht Coin – Wat Banchamabophit, The Marble Temple, which got its name from the amazing marble imported from Italy during its construction.
2 Baht Coin – Wat Saket, The Temple of the Golden Mount. This incredible structure is built on a man made hill with incredible panoramas. It is worth the effort to get up the 300 steps to see it!
1 Baht Coin – Wat Phra Kaew, The Temple of the Emerald Buddha, is widely acclaimed as Bangkok's Greatest Temple. It is located right in the center of Bangkok, within the grounds of the Grand Palace, and can be visited only after purchasing tickets to the Palace itself.
#9 – Bangkok has the World's Largest Weekend Markets
The Chatuchak Markets, also known as the Chatuchak Weekend Markets, are the largest markets in Bangkok, as well as Thailand. It is also claimed that they are the biggest weekend markets in the world, which is why they feature on my facts about Bangkok.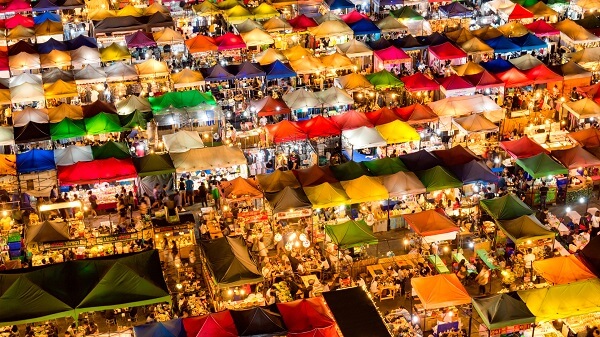 The Chatuchak Markets are simply huge! They have over 15,000 stalls selling everything from electronics to cashmere scarves. If you are in Bangkok, and looking for a bargain, then get on down to this place on the weekends, because you will not find a better deal anywhere else!
Night time is also popular at Chatuchak, with food stalls serving everything from Pad Thai to Pancakes. The markets are famous for their traditional foods, so if you are only in Bangkok for the weekend, then Chatuchak Markets are almost a "one stop shop" for shopaholics and foodies alike.
The Markets are easy to find and open from 9am to 6pm every Saturday and Sunday, however many of the stalls can still be found open right through until midnight. To get there, simply check out the MRT or the BTS, both of which will drop you close by.
#10 – Bangkok has the most colorful Taxi's in the World
Walking around Bangkok is sometimes like sifting through a bag of Skittles. There are colors everywhere, especially on the roads.
The main culprit for this is the taxis. It seems that every time you hail one, it is a different color from the last one. But how do you tell the difference, and which ones are the best?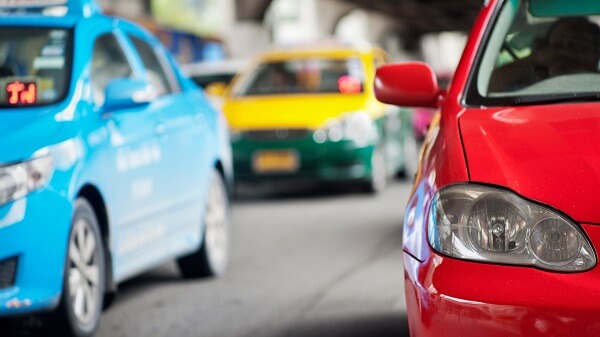 It seems that it doesn't really matter. Logic would tell you that maybe the different colors meant they served different areas, or were better in some way to the others. In reality, the colors only really differentiate the actual taxi companies.
So when you are standing by the road and looking to hail one, don't be put off by the colors. The only things to remember are that the Green/Yellow Taxis are owner operated, while the other colors belong to a company. Just be mindful that whatever cab you choose has a meter, otherwise you might be taken for a ride in more ways than one.
#11 – It is the most visited Travel Hub in the World
This is not surprising. Nearly everyone that comes to South East Asia by plane will come through Bangkok at one time or another. So it also stands to reason that eventually, that layover will result in an overnight stay, or longer.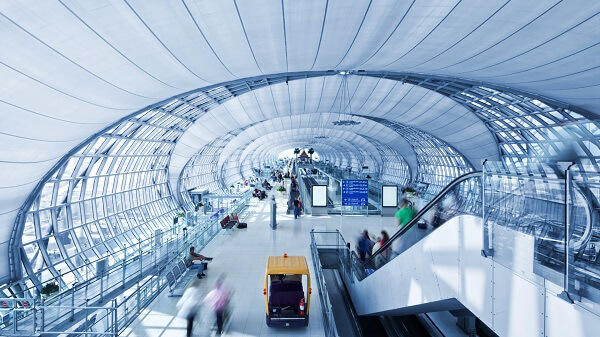 Mastercard actually published its statistics of the most visited Cities of the world, and Bangkok topped the list. So it seems that there are plenty of travelers who think the same as me!
Bangkok is an amazing city to visit. I personally regret taking so long to get there myself, but I never really had a reason to. As soon as that reason came along though, I turned my 24 hour layover into an entire week. I couldn't get enough of the waterways, markets, and stunning temples. Everywhere you go in Bangkok turns your day into an adventure.
So next time you are passing through, don't just stay in the airport. Grab a cab and head to the city. You won't regret it!
#12 – Bangkok may not exist much longer
Remember how I was saying before about Bangkok being the Venice of the East? If not, then scroll back to Facts of Bangkok #4. Remember now?
Well, all of those canals and waterways are slowly beginning to work against the city. It is estimated that in a few short decades, it could be totally lost.
Why?
Well, the main reason is the geographical location of the city, built at the mouth of the Chao Phraya River. Many other cities of the world that are built in similar locations are facing the same uncertain future. Albeit not quite so fast as Bangkok though.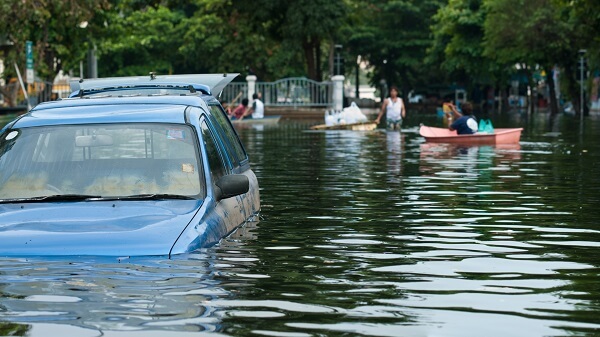 The city of Bangkok is only 0.5m to 2m above sea level. It is also sinking at an approximated rate of 2 to 3 cm every year. It doesn't take a mathematician to work out that the prospects don't look good. Some estimates have much of Bangkok under water by 2030, or most likely 2050 at best case scenario.
Already, periods of flooding during wet season see areas completely unpassable, with several feet of water flooding city streets. So much like Jakarta, Venice, and even New York, get along to visit Bangkok now, before it's too late.
Summary
There are many, many amazing facts about Bangkok. These are just some of my favorites, and I hope that reading them has understanding a bit more about this incredible city!