Bangkok is an amazing city. It is a major hub in South East Asia, and prior to the pandemic saw millions of tourists not only transiting through, but also visiting the city. For many though, they arrive with no idea where to go, what to do, or even what to expect. In my Complete Guide to Bangkok, I will cover all of that and much more!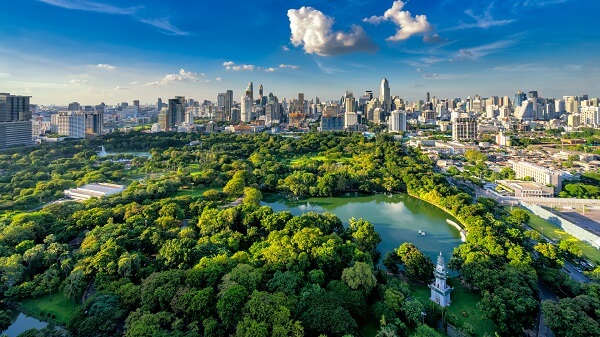 Personally, it took me a long time to visit Bangkok. I like to jump at the opportunity to visit new cities and countries when the chances present themselves, but it was only this year that I first came to find myself in the Thai Capital. I immediately fell in love with how diverse Bangkok is, and how much there is to do in this extraordinary place. On that particular trip to Thailand, I returned to Bangkok a couple of times, mostly to see it from a different angle by staying in different areas.
This turned out to be a fantastic idea, as I came to realize that Bangkok can be very, very different depending on what sort of experience you have. I gathered as much information as I could on those trips, and am now putting it all together in this Complete Guide to Bangkok.
So, let's get into it!
This article may contain affiliate links. If you click on those links and make a purchase, at no extra cost to you I will get a small commission. This will go a long way toward keeping this website running. As always, thank you for your support! Click HERE for more information.
Table of Contents
Where is Bangkok?
Bangkok is the Capital City of Thailand, and is centrally located on the Chao Phraya River Delta on the Gulf of Thailand. It's proximity to the countries of Malaysia and Cambodia, as well as Central Location in Thailand makes it the perfect hub for travelers through the region.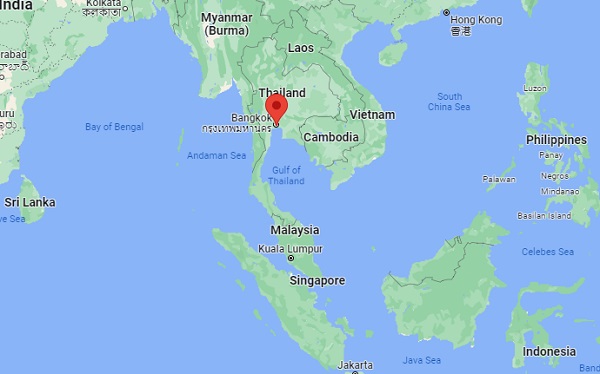 Travelers not only utilize Bangkok to transit via the airports either. The train lines from Bangkok run in all directions, and dozens of bus services run from Bangkok into Cambodia via land borders, as well as Malaysia, Myanmar and Laos.
Do you need a visa?
Bangkok is the Capital of Thailand, meaning that you will have to check your eligibility for travel to Thailand in order to visit. The good news for most travelers, is that Thailand is a very easy country to travel to. In the majority of cases, you will be eligible to visit Thailand without the need of a Visa. For others, you can simply obtain a Visa on Arrival.
Countries that can enter without a Visa include, but are not limited to:
Australia
United States
Switzerland
Canada
United Kingdom
Austria
France
Hong Kong
Belgium
Singapore
Turkey
Norway
Sweden
Spain
New Zealand
This is only a small selection of countries that are eligible for Visa Free Entry into Thailand. Check the handy tool I have included below to find out your own eligibility.
Guide to Bangkok tip: Visa eligibility can change with little to no notice, and does so very quickly. Check your own eligibility before you book a ticket, as information on websites can be inaccurate. The information in this article is to be considered a guide only.
Best time to visit Bangkok
Bangkok is located in the Tropics, and therefore has the tropical weather that you can expect around most of South East Asia. Be warned though, that it is also considered the hottest city in the world, and with good reason!
The best time to visit Bangkok is November to February. This is the "dry" season, and you will escape the tropical monsoons that are prevalent at other times of the year. It is almost impossible to escape the heat, but at least you will not be there for the worst of it. During this period, you can expect temperatures around the 24 ° to 33 ° mark.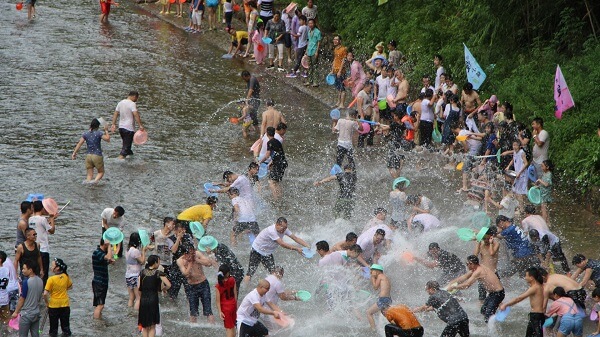 During the months of April and May, the temps can soar up as high as 35 ° to 37 ° during the day. The humidity is also extremely high, and in the middle of the city it seems even higher. If you come during the Thai New Year in April, known as Songkran, you might find some respite. Celebrations include throwing and spraying water on anyone that passes by, so dress appropriately!
Complete Guide to Bangkok Tip: Visit in late November or early December when the monsoon season has finished, but the tourist season has not yet started. This will give you the best weather combined with the lower crowds.
What to expect in Bangkok
This is a complete guide to Bangkok, so even though I love the city, I will give you both the good AND the bad. Not that the bad is that bad anyway…
First, expect it to be hot. It is also humid. But I already covered that in the previous section. So what else to expect?
No English. Or any other language that you are likely to know, either. That includes on street signs, and pretty much anything that you are likely to try and read, including menus. Unless you are in a very, very expat or tourist friendly area. But then, language issues when traveling is half the fun, isn't it?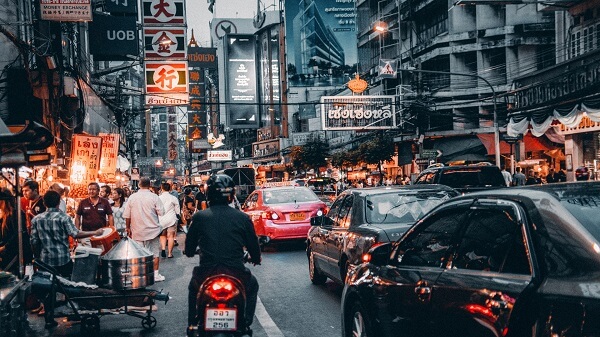 The heat and humidity, depending upon what time of year you visit, will have to be handled carefully as you trip your way around Bangkok. Wear a hat, and carry water. Lots of it. In places around the Grand Palace, you will have to do a lot of walking unless you want to get scammed by the local Tuk Tuks and Taxis. You can read all about that HERE.
Also, if you take a Tuk Tuk or Taxi anywhere, make sure to carry a map, or have Google Maps ready. This is because they don't speak English, and don't really know where they are going. They are likely to take you somewhere no where near where you want to go, and you will end up paying extra. Most times this isn't a scam – it's just a misunderstanding. But then, sometimes it's a scam. Good luck figuring it out though! On one occasion, we wanted to go to the Floating Markets, and ended up at a totally different market in another direction. It happens.
So other than the bad things, what is good about Bangkok?
The diversity. This is an incredible city that changes with every neighborhood. Do yourself a favor, and don't just stay in one area the entire time. That is, unless you are only there for a short trip. Move around and explore.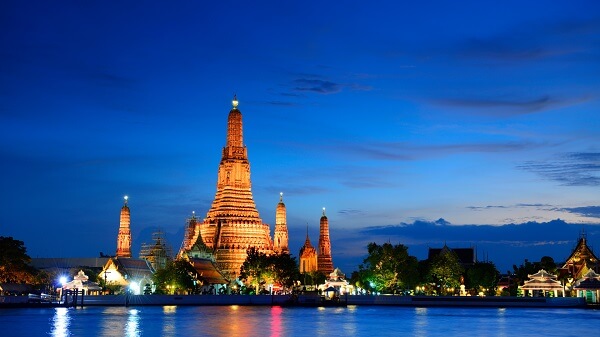 The other reason to move around is that many things are a long way apart. Bangkok is a huge city, after all. The Grand Palace, Wat Pho and Wat Arun are close together, but don't let that fool you. Other locations can take an hour to get to by taxi.
Complete Guide to Bangkok tip: Use the river! We found that the Hop on Hop off Tourist Boat took us to many wonderful places, quickly and easily. As did the river ferries. Check out my review HERE.
Also, Bangkok is a great place to be introduced to the culture of Thailand. The amazing temples and Grand Palace HAVE to be visited. The markets are incredible. The Shopping is endless. The locals are SO friendly.
Explore Explore Explore!
Things to do in Bangkok
Next up in my Complete Guide to Bangkok, is things to do. In a city as large and diverse as Bangkok, as you can imagine, there is plenty to keep you occupied! From exploring the incredible culture, to delving into the amazing history, there is pretty much something for anyone. Even if you only came to hit the bars and party, Bangkok will never disappoint. In fact, it may just be the perfect place in the world to do it!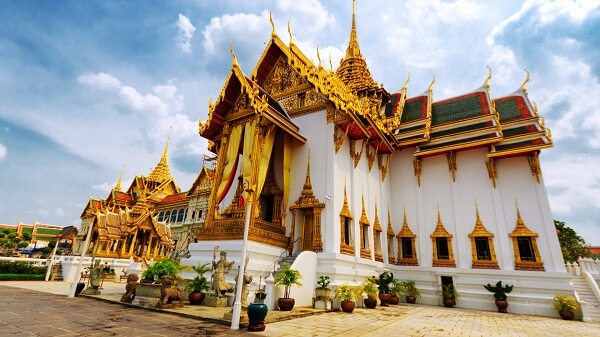 So let's take a look at some of my favorite things to do in Bangkok:
Visit the Grand Palace – The Grand Palace is one of the "must see" places in Bangkok. Don't let the entrance fee put you off. It is worth every Baht! Check the official website before you go for opening times, and don't let the local Tuk Tuk's and taxi's scam you!
Check out the Reclining Buddha at Wat Pho – Wat Pho is right next door to the Grand Palace, so is easy to visit in the same day. It is the home of the incredible and famous Reclining Buddha, that has to be seen to be believed.
Head across to Wat Arun, the Temple of the Dawn – Right across the river is Wat Arun, the Temple of the Dawn. It is easy to get to by a short ferry ride from Wat Pho. Check out my one day Itinerary to see the Grand Palace, Wat Pho and Wat Arun all in the same day by clicking HERE.
Take the Hop on Hop off Tourist Boat – The Tourist boat is the best way to see the city if you are staying around the river area. It takes you to many major tourist destinations, and is a great way to explore, especially when you first arrive in Bangkok.
Visit the Floating Markets – The floating markets are synonymous with Bangkok. There are several around the Bangkok area, but many have become very touristy. For a local and traditional floating markets, head to the Taling Chan Floating Market at THIS LOCATION.
Shop till you Drop – If there is one thing about Bangkok, it's that it is a shopper's dream! Many tourists just come to Bangkok simply to shop. The high end retail malls are endless, and you will find every major brand and many more. Also try MBK, which is great for indoor "market" type shopping, as well as really cheap electrical and mobile phone shops.
Take a stroll in Lumphini Park – Lumphini Park provides a welcome spot of green in amongst the skyscrapers and concrete jungle of the city. It is huge, with lakes, fountains, walking tracks, and resident lizards around the watery areas that look like they stepped out of a Jurassic Park movie!
Get lost in the Weekend Markets – And I MEAN get lost. The Chatuchak Weekend Market is amazing, with 10,000 odd stalls waiting for you every Saturday and Sunday. They are considered the biggest weekend markets in the world, and are brimming not only with the usual bargains, but also incredible food courts and street food carts. Find them at THIS LOCATION.
Hit the bars in Khao San Road – Khao San Road is traditionally the Back Packers center of Bangkok. It is cheap, has plenty of hostels, and cheap bars and street food abound. This is the place to go if you want to party, or are looking for a cheap night out. The atmosphere is pretty amazing too!
Check out history at Jim Thompson House – Jim Thompson was an American ex CIA that made his home and fortune in Bangkok by reviving the Silk Industry. He became such a local legend, that many years after his mysterious death you can still visit his house and learn about his story. Check out my full review in THIS ARTICLE.
Watch some Muay Thai Boxing – Muay Thai Boxing is a large part of the Thai Culture. You can catch a match anywhere in Thailand, but Bangkok is where you will find the best. Competitors come from all over the country, and there are big prizes and even bigger prestige for the winners. Needless to say, this is no exhibition.
Do a food tour – The food of Thailand is incredible, as it is all over South East Asia. The best of Thai however, can be found in the carts and restaurants around Bangkok. If you don't trust yourself to pick out the "safe" places to eat, then do a food tour. You can find a "foodie" Guide to Bangkok that will take you to the best and tastiest places that you would never find yourself.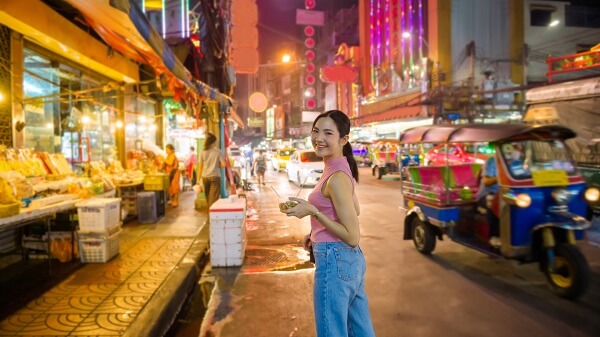 There is so much to do in Bangkok that you will never run out of options. On my first visit, I was there for a week. At first, I only had a couple of days planned, and by the end of the week I needed more time! You are guaranteed to keep finding things to see and do, and will never, ever get bored.
Complete Guide to Bangkok Tip: Do the river tour when you first arrive. You will learn a lot about Bangkok, and see many places you wouldn't normally see. Then get around with the ferries via canals to beat the traffic!
Day Trips from Bangkok
As much as there is to do in Bangkok, there are many things to see and do outside of the city as well. Some of these aren't actually too far afield, but going on an organised day trip is the best, safest, and most time effective way to do them. So here are the Complete Guide to Bangkok best day trips that you should consider doing if you are in Bangkok. Just click on the highlighted link to see more details about each.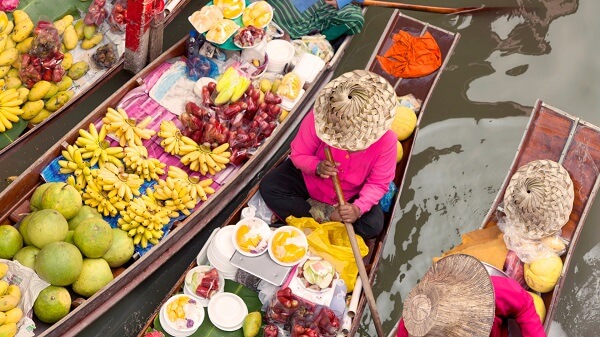 Damnoen Saduak Market and Maeklong Railway Market – This tour is raved about by anyone that takes it and is interested in learning about local life and culture of Bangkok. Visit a traditional "floating market" at Damnoen Saduak, and the Maeklong Railway Market, a seafood market that hugs the railway tracks.
Ayutthaya Temples Small Group Tour with Lunch – In the Golden age of Siam, Ayutthaya was the Capital City. On this trip, discover all the hidden wonders amongst the ruins of that age, and learn the amazing history from an informative and friendly guide.
Ayutthaya Day Tour by Bus or Boat – Visit incredible Ayutthaya by air conditioned bus in one direction, and a beautiful cruise back down the river in the other!
Erawan National Park and Kanchanaburi Group Tour – Travel to Western Thailand on this tour, where you will visit the amazing National Park and marvel at a seven tiered waterfall. Then travel onto the infamous "Death Railway" and discover history at the Bridge over the River Kwai.
Full Day Customized Tour with Local Transportation – Grab your own guide who will show you around Bangkok using public transportation that will take you anywhere in Bangkok that you want to go. Perfect for those with limited time, on a short layover, or would even just like a local to show them how to get around!
Bangkok in a Day – Must Visit Highlights Tour with Guide – Another easy way to see the best sights of the city without having to plan it yourself! Visit the Grand Palace, Wat Pho, Wat Arun and Chinatown with a guide, all in one day.
Amphawa Floating Markets and Firefly Boat Tour – On this tour, you will see the wonderful Amphawa Floating Markets, the Maeklong Railway Markets, and finish off with an evening boat ride to see the magical fireflies!
Day Trip to Pattaya City and Koh Larn Island – Escape the hustle and bustle of the concrete jungle for a day. Head to the coast and visit a tropical island where you can swim, snorkel and soak up the sun!
These are simply some of the most highly rated day trips that you can do from Bangkok. The list is endless though, so click on the link provided below to take a look yourself.
Guide to Bangkok tip: Make sure you check out the floating markets and railway markets. They are unique, and the local markets are a far cry from the tourist markets!
Where to stay in Bangkok
Riverside
I am a personal fan of Riverside as a place to stay. It is the first place that I stayed in Bangkok, and though I have tried and loved other areas, I will always choose to come back to Riverside when I can. Being so close to the river (obviously) you can access other areas easily, and peacefully on the river. It is also great for first timers that want to experience the Grand Palace, Wat Pho and Wat Arun, as well as some wonderful, non-touristy local markets.
Budget – Bahn Wanglang
The Bahn Wanglang is the first place I stayed in Bangkok, and although not 5 star, I would really recommend it for anyone that wants to be close to everything, but staying out of the tourist zone. The hotel is right across the river from the Grand Palace, and just up the river from Wat Arun. There is also a really nice local market right at the front door.
Mid-Range – Theatre Residence Bangkok
Theatre Residence is a really nice place just next door to Bahn Wanglang, that is a more upscale Hotel with outdoor pool, river views, and the markets right outside. It also has easy access to the ferries and tourist boats that leave from the nearby piers.
Luxury – Riva Arun Bangkok
Riva Arun is a beautiful boutique hotel that sits right across the river from Wat Arun. It has wonderful views in one direction of Wat Arun, and in the other Wat Pho and the Grand Palace. It is easy walking distance to all of them, and the ferry to Wat Arun runs from a short distance away.
Khao San Road
Khao San Road is the place to stay if you are on a budget, and either are a back packer, or don't mind the back packer scene. This place is full of bars, cheap food, cheaper markets, and a humming night club scene. If you don't stay here, then it is still worth stopping by to check it out.
Budget – Ploen Bangkok Hostel
Ploen Bangkok Hostel is a great place to stay if you are wanting to enjoy everything that Khao San Road has to offer, and are traveling on a budget. The hostel provides private rooms, as well as 4, 6, 8 and 10 bed dorms, as well as an 8 bed female dorm.
Mid Range – Baan Chart Hotel
Baan Chart Hotel is perfect for those that want to be close to Khao San Road, but also have a little more money to spend. It features luxury accommodation minus the luxury price tag. With a rooftop swimming pool, spa, and all the other features you would expect from a really nice hotel, how could you go wrong?
Luxury – Chillax Heritage
Chillax Heritage is located right on Khao San Road, and is the ultimate luxury. With amazingly well appointed rooms, a rooftop pool and skybar, and a really unique vibe, the Chillax Heritage is my pick of Luxury places to stay in the area.
Siam
Siam is another place I enjoy staying if I am in the city for a layover or short trip. It is full of high end shopping, but really caters to anyone. Siam Paragon is the most popular place to shop (it's huge) and the cheaper MBK is right across the road. If you are interested in visiting the Jim Thompson House Museum, then this is the place to stay as well.
Budget – Patumwan House
We stayed in Patumwan House when we wanted to visit the Jim Thompson House Museum, which is just around the corner. The Hotel is really well appointed for the price, has nice coffee shops and restaurants nearby, and the water taxi right out back. Siam Square is only a short stroll away, as is the BTS Skytrain.
Mid Range – Ibis Bangkok Siam
The Ibis Bangkok Siam is just down the road from Jim Thompson House, and has the BTS and Siam Square at the front door. You cannot get any closer to everything Siam has to offer for this price! The Ibis is certainly not luxury, but everyone that stays there has only good things to say about it, with high ratings across all the booking sites.
Luxury – Anantara Siam
The Anantara Siam is a luxury Hotel that is right in the middle of everything. The rooms are incredible, and guests can't stop raving about the breakfasts. With a luxury pool, 8 different dining options, and all the facilities you would expect from a luxury hotel, you simply can't go wrong.
Sukhumvit
Sukhumvit is a great place to stay for first timers to Bangkok. One of the main attractions is the proximity of all of the public transport, making it easy to get around to other areas of the city. It also boasts great restaurants, roof top bars, shopping and some great cultural attractions.
Budget – Holy Sheet Hostel
The Holy sheet Hostel is nice, cheap and clean accommodation in Sukhumvit. The hosts are friendly and extremely helpful, and guests enjoy it so much that they make a point of returning. That makes it pretty great in my opinion!
Mid Range – Holiday Inn Bangkok Sukhumvit
The Holiday Inn Bangkok Sukhumvit is a great hotel for a really decent price. Located right near the shopping malls and restaurant areas, it is also very handy to the BTS. This makes it the perfect place to base yourself, and is a major reason that people keep coming back.
Luxury – Sheraton Grande Sukhumvit
The Sheraton Grande Sukhumvit gets rave reviews from nearly every guest that stays there. They all agree on the one thing – the staff and service is impeccable! The luxury at the Sheraton Grande only just starts there though, so if you are looking for a luxury stay in the area, then click the button below and check it out!
Thonglor
Thonglor is a more expensive and trendy neighborhood to stay in. It is full of the young, rich and elite, and you will find all of the best, world class restaurants and bars here. Seeing as Bangkok has the most millionaires in the world, Thonglor can really get humming. Only stay there if you have the cash though!
Budget – The Bob Hostel Bangkok
Although the Bob Hostel gets mixed reviews, most people agree that the cleanliness and the fact that they do the little things right, makes the Bob Hostel a great place to stay. Check it out below.
Mid Range – Grande Centre Point Sukhumvit
If you are looking for luxury at an affordable price, then this is it! Centrally located, it features a gym, hot tubs, yoga studio, and a pool with a bar that has city views. There is even a complimentary Tuk Tuk Shuttle!
Luxury – Ascott Thonglor Bangkok
The Ascott Thonglor Bangkok is only new, and is still a very good price, so get in early! It features apartment style accommodation, in a great area, with all the amenities that you would come to expect. The service is great, breakfast is a buffet, and even the swimming pool has a great view!
How to get around in Bangkok
Bangkok is a big city, and getting around can be a bit of a chore if you don't know where you are going. On my first trip, that was certainly the case. Once I learned what sort of public transport was available though, I was set! On my second and subsequent trips to the city, I stayed close to the public transport hubs that would get me to the places that I wanted to visit. In this case, it was Siam, with access to the BTS and local boats/ferries. On my first visit, I stayed in Riverside, which was perfect to get to the Grand Palace, Wat Pho and Wat Arun.
Here is the Complete Guide to Bangkok quick run down of the main public transports that you will use in Bangkok as a visitor.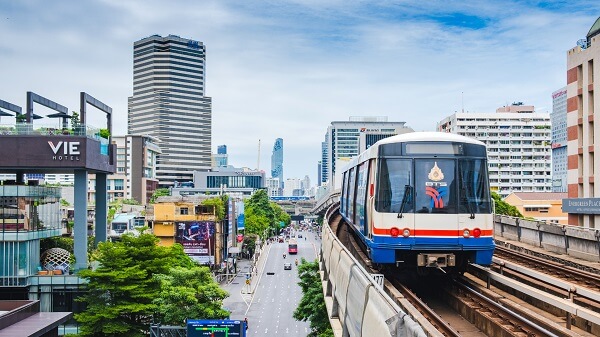 Ferries/boats – These run all up and down the Chao Phraya River, and will get you back and forth with ease. There are also ferries, or water taxis, that will take you up and down the myriad of canals around Bangkok. Traveling by water when you can will save you a lot of time and money!
Hop on Hop off Tourist Boat – Grab a ticket for this boat one day, and check out everything there is to see up and down the river. From the Grand Palace, Wat Pho and Wat Arun, to Iconsiam Shopping Center, Chinatown, and Asiatique, the Tourist Boat will get you to many places you wish to visit.
BTS/MRT – The trains in Bangkok are really good. The BTS, also known as Skytrain, travels on elevated tracks above the traffic, and has a link to the airport. The MRT is convenient and really easy to access. Just check out a map of the routes, especially if you are staying around Siam or Sukhumvit. Siam is the major hub, and a great place to stay to access both of the BTS lines.
Tuk Tuk – The good old Tuk Tuk is an iconic symbol of Bangkok, and you haven't really stayed in Bangkok until you have been in one. Just be aware of scams though, especially around the Grand Palace area.
Taxi – The taxi's are easy to hail and come in a myriad of different colors. Don't worry though, as the colors only represent different companies, not routes. Make certain the taxi has a meter, and be aware that many drivers have no idea where they are going. Some are farmers that only drive part time or seasonally!
Bus – There are buses around the city, and if you want to catch one then you are braver than me! But seriously, they are cheap, but most have no air-conditioning, and you will be better off seeking alternative means to getting around, especially on hot and humid days.
Complete Guide to Bangkok Tip: When coming to Bangkok, decide what you want to see, and then search for the best public transport to get there. If you can stay nearby to a major hub for that transport, then you should be golden!
Summary
I hope you have enjoyed by Complete Guide to Bangkok.
This is a wonderful city, and one that everyone really should visit at least once. The cultural diversity and incredible local attractions make it a place that I fell in love with. Not on day one, but by the end of my stay I had already planned a return trip! I know you will love it too, and I am sure that this Guide to Bangkok will help you out.