Chiang Mai is a popular city in Northern Thailand for most visitors to the country. Nearly every itinerary for first timers includes a stop off in Chiang Mai, and it is a staple for back packers in South East Asia. But what makes it so popular? Why do people visit it almost as much as the tropical islands down south? In this Guide to Chiang Mai, I will cover the answers to those questions, as well as show you where to stay, what to do, and how to get to Chiang Mai.
This article may contain affiliate links. If you click on those links and make a purchase, at no extra cost to you I will get a small commission. This will go a long way toward keeping this website running. As always, thank you for your support! Click HERE for more information.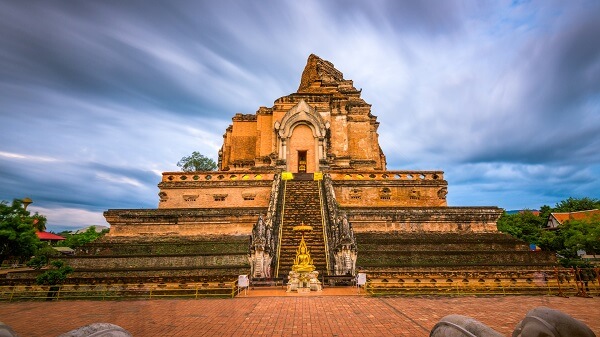 Table of Contents
About Chiang Mai
The name Chiang Mai means "new city" in Thai. It was built in 1296, and at the time became the new capital of Lan Na, hence the name. It is located on the Ping River in Northern Thailand, and was founded because of the strategic location for trade. Most of the trade routes in the Northern part of Thailand naturally ran through the area, as well as the routes from other nearby countries.
This Guide to Chiang Mai is not about history though. So what does modern day Chiang Mai look like?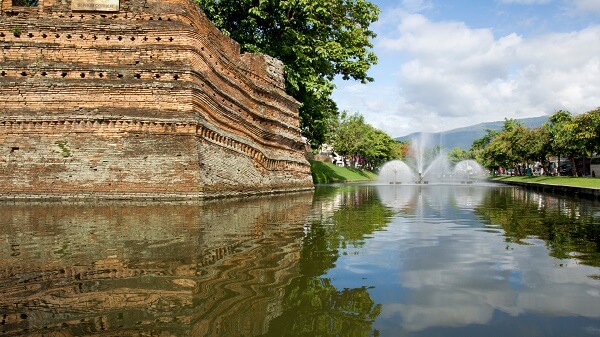 The city of Chiang Mai essentially has two parts. The Old City, which is the very heart of Chiang Mai, and the newer city that has grown up "outside" of the walls of the Old City. The Old City can easily be found right in the middle of Chiang Mai, surrounded by an ancient moat, and the remains of an ancient wall that once encircled the city.
It is within the Old City that most visitors will find themselves. In here, there is an astonishing 40 plus temples crammed into about 2 square kilometers. Hotels, Guest Houses and home stays abound, as well as quaint cafes and Chic Restaurants. All of this, plus nightly markets and a very temperate climate has made Chiang Mai a magnet for digital nomads and visitors from all over the world.
Where is Chiang Mai?
Chiang Mai is located in Northern Thailand. It is the largest city in Northern Thailand, and the second largest city in Thailand. It is 700km north of Bangkok, and is situated in a mountainous region not too far from the Myanmar and Laos borders. The Infamous "Golden Triangle" where the three countries meet is not too far from Chiang Mai.
How to get to Chiang Mai
There are several ways to get to Chiang Mai. Most travelers will come from Bangkok, but others may come across the border from different countries. Even more may fly from international locations directly to Chiang Mai. In this Guide to Chiang Mai, though, I will mainly concentrate on how to get to Chiang Mai from Bangkok.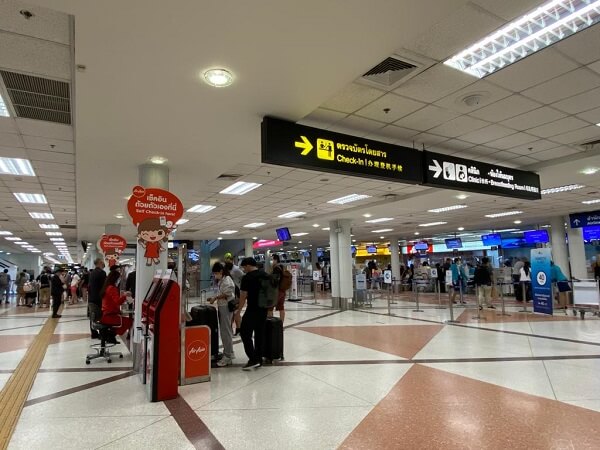 There are several different ways, and all are very easy and cost effective:
By plane – Flying to Chiang Mai is very easy. From Bangkok, the flight can cost as low as $25 USD per person. Several airlines fly the route, so prices are usually quite competitive. Having flown with many of them, I really recommend giving ThaiVietJet Air a go. They are fantastic, professional, and most importantly for me, have a lot of legroom for a local, budget airline! Check for flight prices HERE.
By Train – The trains from Bangkok to Chiang Mai are extremely popular. The trip is not a quick one though, running 12 hours plus on most days. There is the option of an overnight sleeper train, with saves a night's accommodation, or the day train, that allows you to see a lot of scenery. Both options are worthwhile, and there are several different budget options included. Prices can start pretty low too, even in the single figures for the day train!
By Bus – Bus is a little faster than train, which I find unusual. The prices are much the same on average, although if you are really willing to rough it, the train can be cheaper. Traveling by bus in Thailand is a lot better than most would think. You won't be nursing a chicken or goat on these buses. They are modern and have great facilities, comfortable seats and air conditioning. So it is definitely worth checking them out as an option when deciding how to get to Chiang Mai.
By far the best way to book a train or a bus from Bangkok to Chiang Mai is Via Bookaway. I only stumbled upon this site recently, and it has now gotten me out of quite a few jams! The harsh reality in South East Asia is that many of the booking sites for buses and trains are not user friendly, and can be a real pain to book and pay through. Bookaway is amazing, and I now use them all over the world. Click the link below to check them out.
So there are the 3 main ways to get to Chiang Mai from Bangkok. You can also catch flights and trains from places such as Siem Reap in Cambodia, or flights from many hubs in South East Asia such as Kuala Lumpur. So no matter where you are, getting to Chiang Mai is definetely doable.
Things to do in Chiang Mai
Chiang Mai is not really a big city. Certainly not by city standards. Therefore you would not expect there to be too much to do. But somehow, I spent over a week in Chiang Mai and was never bored! Just wandering the streets in this amazing place can be fun, and you will always find something to occupy your time.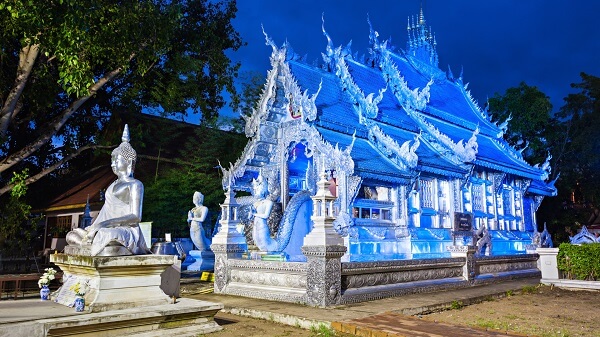 This, however, is a Guide to Chiang Mai, so let's actually take a look at some of the things to do in Chiang Mai.
Go Temple Hunting – This is a no brainer in a city with over 300 temples! Plus, it's the main reason that most visitors even come to Chiang Mai. All one has to do is wander the streets, and you will easily find some of the most glorious temples in Thailand. A couple not to miss, however, are Wat Chedi Luang, Wat Sri Suphan, and Wat Phra Singh. Check out my Temples Itinerary HERE.
Take a ride up to Wat Doi Suthep – This is easily the most famous temple in Chiang Mai. It is located on a hilltop 12km outside of Chiang Mai. Every visitor to the city makes it a must-see, and local Thai's travel from all over the country just to visit. The easiest way to get there is to hire your own scooter, but you can also catch taxi or local transport from outside the University.
Attend a "Monk Chat" – One thing that you will notice in Chiang Mai, is the amount of Monks walking around. There are literally thousands of them in the city. Several temples have a great program called "Monk Chat" where you can sit down and have a one on one chat with a Monk! Read more about it in THIS article.
Check out the Saturday and Sunday night markets – These two amazing markets are located in different parts of Chiang Mai every weekend. Two entire streets are shut down, and for a full kilometer the place comes alive with stalls selling everything you can imagine. The food is pretty amazing too! Read more about these markets HERE.
Eat your way around the nightly food markets – Every evening at around 5pm at locations around Chiang Mai, nightly food markets spring up. Some of the most amazing food I ate in Thailand came from these markets!
Get soaked in the Songkran Festival – If you are lucky enough to be in Chiang Mai in April, then you might just get to experience the Songkran Festival. It is the Thai New Year, and celebrations go into full swing around the 13th of April, lasting from a few days to a week. Thai's believe that throwing water on someone will cleanse their sins. So expect to be soaked nearly everywhere you go! People actually carry Super Soaker's around with them!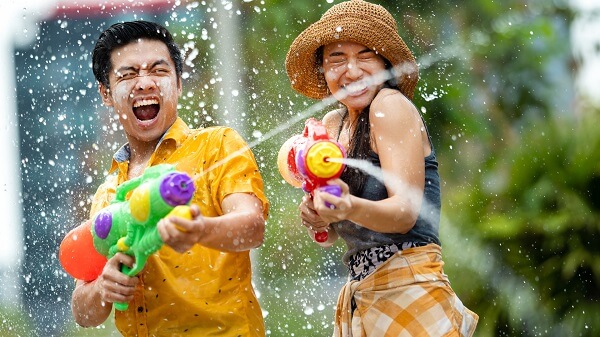 Chiang Mai is full of wonderful things to see and do, and any guide to Chiang Mai would struggle to cover them all. Just wander the streets and find some amazing things to do. Plus, daytrips from Chiang Mai are where you will find some other amazing activities. Let's take a look now…
Day Trips from Chiang Mai
Daytrips from Chiang Mai can really open visitors up to the incredible Northern area of Thailand. From Chiang Rai to the infamous Golden Triangle. From the famous Long Neck Tribes, to the beautiful Doi Inthanon National Park. There are plenty to choose from!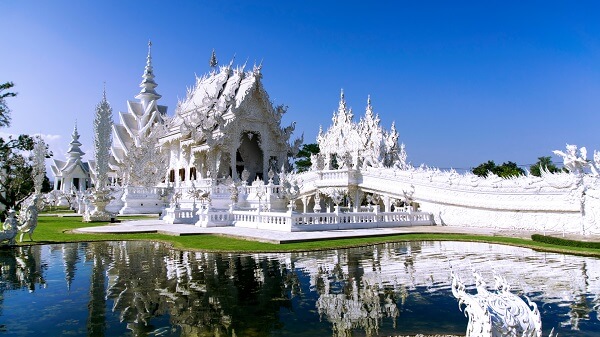 Here are some of the most popular.
Day trips from Chiang Mai are very popular. When I visit Chiang Mai, I like to spend a few days exploring the city first, and then will top it off with a day trip or two. Chiang Rai is definitely a highlight for me!
If you are interested in visiting Chiang Rai and the Golden Triangle, and don't want to do it on a day trip, then one of the most popular options is to stay in Chiang Rai for a couple of nights. To get there can be a pain from Chiang Mai though, but once again Bookaway make it easy. If you are interested in finding an easy way how to get from Chiang Mai to Chiang Rai, then this is your answer. Just click THIS LINK to check it out!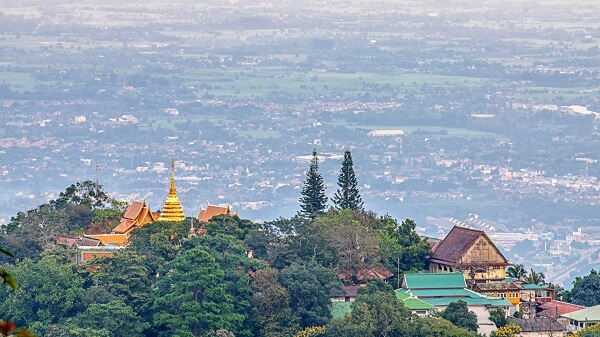 Where to stay in Chiang Mai
Old City
As I have mentioned several times, I really recommend to anyone to stay in the Old City, also known as Old Town. If you are reading this Guide to Chiang Mai, then there is a good chance that this is your first time visiting. In this case I DEFINITELY recommend you do. Simply because it will put you close to 90 percent of the places that you will want to see, and things that you want to do.
Here are some options around the Old City area.
Tamarind Village
There are not many "Luxury Options" in the Old City. Most of those belong in other areas of the city, as the Old City is mostly a traditional area. If you ARE looking for luxury, though, the Tamarind Village would really suit you. It is located in a very popular area, and rated 4 stars.
The Wing Lanna
The Wing Lanna is a great little place ideally located on the south side of Old City. It comes at a good, mid range price, and the staff are great. I stayed there for 5 nights on my last visit, and even extended for a few because it was so good!
Green Sleep Hostel
Green Sleep Hostel is a centrally located Hostel that is an extremely popular budget option. It is very comfortable, has wifi throughout the premises, and is close to everything that you will want to see and do in the heart of the city.
Riverside Area
The Riverside area is to the south and east of Old City, and covers the strip along the river, as the name suggests. It is generally known as the place to stay in Chiang Mai for families, or groups of friends.
Anantara Chiang Mai Resort
For a luxury option in Riverside, you can't go past the Anantara Chiang Mai Resort. It is actually rated in the top 2% of hotels in Thailand. With all the facilities that you could think of, Anantara is located right on the Ping River and is perfect for couples or families.
Swiss Lanna Lodge
The Swiss Lanna Lodge is a great mid range option along Riverside. Located in a residential area, this is a typical Thai House, and the owners speak French as well as English. It is situated perfectly for the Night Bazaar, or access to the train station, and has high speed Wifi throughout.
Rustic River Boutique
The Rustic River Boutique Hotel comes just as it sounds. It is a budget friendly option that gives a real colonial feel to your stay. Featuring hardwood floors, and wooden furniture throughout, it is close to the river and has easy access to everything that you would want.
The Nimmen Area
The Nimmen Area is a very trendy neighborhood, popular with young people and digital nomads. It is where you will find all the nightlife of Chiang Mai, and a host of trendy cafes and restaurants.
U Nimmen Chiang Mai
The U Nimmen is a great Luxury choice for travelers wanting to stay in the Nimmen Area. Perfect for Shoppers, it is close by to the new Maya Lifestyle Shopping Centre. The Hotel features a great sundeck, sauna, gym, cocktail bar and restaurant.
Sanae Hotel Chiang Mai
This is a great mid range option in the Nimmen Area. It has an outdoor pool, garden, is very comfortable and has free Wifi throughout. All rooms have a separate living room, city views, and a rain shower!
Sakulchai Place Hotel
Sakulchai Place Hotel provides comfortable and budget friendly accommodation right in the heart of the Nimmen area. It has a pool and fitness center, Wifi, and easy access to all tourist attractions.
Night Bazaar area
The other place to stay is around the Night Bazaar area. This is great for shoppers, with the night market that runs every single night in the middle of this area. There is also a lot of massage places, pubs and restaurants that cater to westerners. You will find a lot of high end accommodation around the Night Bazaar area. The Night Bazaar area is also only a short walk from the Tha Phae Gate, giving access to the Old City and also the Sunday Night Markets.
Le Meridien Chiang Mai
Le Meridien is 5 star luxury in Chiang Mai that can't be beaten. It is close to the Night Bazaar and walking distance into the heart of the Old City. The pool has an amazing view, and guests continually rave about the food. It is surrounded by great restaurants and cafes, so what's not to like?
Yaang Come Village Hotel
This wonderful Thai Style hotel is classed as mid range, but really comes into the high end of that category. Located just to the south of the Night Bazaar area, it has a wonderful pool surrounded by gardens and greenery that will make your stay about as peaceful as it can get.
Stay ThaPae Hostel
This highly rated hostel is located right near the river and an easy walk from the Night Bazaar. It's rooms are comfortable and they claim to have the most comfortable mattresses around! There is a female's only floor, and free Wifi throughout.
Where to eat in Chiang Mai
If there is one thing that is easy to find in Chiang Mai, it is somewhere to eat! But what sort of Guide to Chiang Mai would this be if I didn't at least point them out?
Let's first start with the night markets. You can read all about them in THIS article, but I will still highlight some of my favorite options here.
Firstly, there are the normal nightly markets. On my most recent trip to Chiang Mai, I stayed near the southern wall of the Old City, and every night went to the nightly food market at the Chiang Mai Gate. The food there was incredible, and after a couple of nights I had my favorite stalls that I just kept going back to! There are also markets such as these every night at the other gates around the city. The North Gate markets are very popular!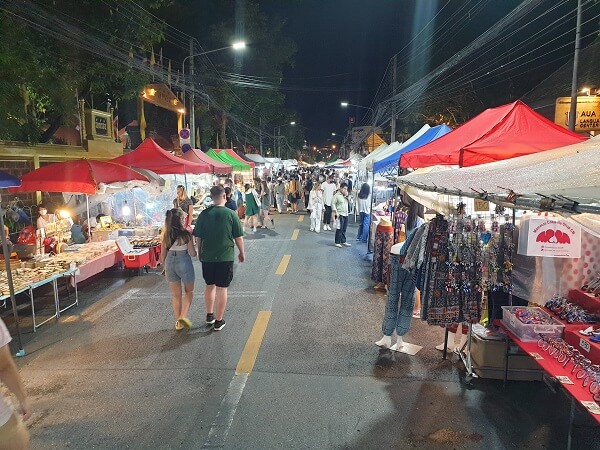 On weekends, make sure to save your appetite for the Saturday and Sunday night markets. The markets themselves are incredible, but the food is to die for! Every hundred yards or so it seems there is a food court, and you will put on a few extra pounds if you stop in every one of them. My mouth is watering just typing this Guide to Chiang Mai right now!
Other than the markets, there is a plethora of quaint and chic cafes and restaurants scattered around the Old City. You will not have to walk far to find one. Then, out from the East side of the city, head down Loi Kroh Road to find cheap bars, massage places and restaurants. Once you reach Changklan Road you will find more markets, cheap restaurants and a few other places such as Pizza Hut and MacDonald's, if you are searching for a quick break from local food.
How to Get around in Chiang Mai
Chiang Mai is very easy to get around. If you are staying in the Old City, and I recommend you do, then you will not even need transport to get most places. You can pretty much walk everywhere. There will be times that you won't want to walk though, or it is not convenient. For that reason, next up in this guide to Chiang Mai, I will look at how to get around in Chiang Mai. What options there are, and how easy it is.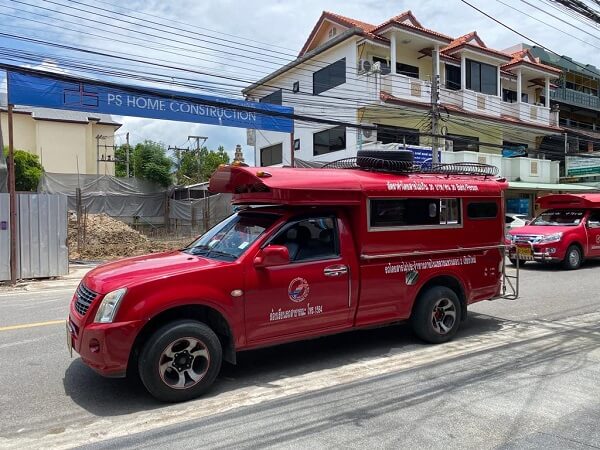 Songthaew – This is a funny looking, bright red converted pick up truck that you will see almost as soon as you arrive in Chiang Mai. They run nearly everywhere, and cost very little, as it is essentially a ride sharing type of set up. Hail one down and tell the driver your destination. If he is going even remotely in the right direction, he will tell you a price. You can barter, but 30 Baht will pretty much get you anywhere in the city. Just be aware that you will be sharing your ride with other locals!
Tuk Tuk – Like everywhere in Thailand, you can find Tuk Tuk's. They will get you anywhere you want to go, but you will have to barter, and they will be more expensive than the Songthaew.
Taxi – The good old air conditioned taxi is available in Chiang Mai, just like everywhere else in the world. This can be a common option for getting up to Wat Doi Suthep from Chiang Mai.
Grab – Grab in Thailand is like Uber, and is the most common ride sharing app. I highly recommend you download Grab before going to Thailand, as Grab can sometimes really get you out of a jam. Most times cheaper than taxi, it is nice to know the price before you even call it! Interestingly, in Chiang Mai, you can actually get a private Songthaew on Grab. We even took one to the airport when we left!
Rent a scooter – I did this last time I was there to get to Wat Doi Suthep, and a few other places I wanted to get to that were just too far away to walk. It was easy and economical. Just make sure you have your International Drivers Permit with you.
There are other ways to get around that I might not have fully covered in this guide to Chiang Mai. You can ride a bicycle, which is just as easy as walking. A bus does exist in Chiang Mai, but really only covers a couple of routes, so catch it if it is convenient. To be honest though, and I have said it already – if you are staying in the Old City, you will rarely need to find transport. The occasional Tuk Tuk or Songthaew will get you out of trouble.
Where to go next
Moving on from Chiang Mai, there are several options as to where you might go. It all depends upon where you came from, and what your future plans are. Here are a few choices though.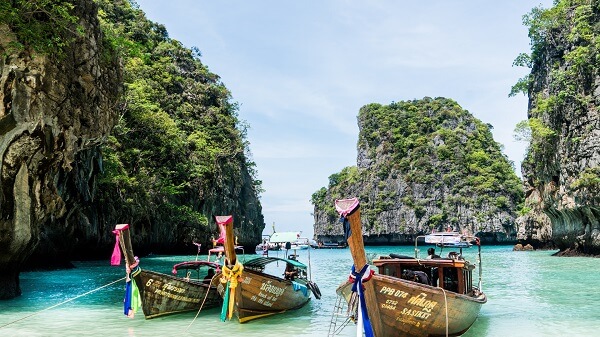 Bangkok – the most obvious option first. You can fly, or catch the train or the bus to head down to Bangkok. If you haven't been there before, then you will find plenty to do and see. If you have, then Bangkok is the perfect hub to take you to your next stop.
Chiang Rai and the Golden Triangle – Many visitors to Chiang Mai will then opt to move onto Chiang Rai for a couple of days. From there you can go to the Golden Triangle and cross the border into either Laos or Myanmar.
Phuket – It's a fair distance away, but you can catch a local flight to the South of Thailand and swap temples and mountains for beaches and islands.
Siem Reap – Why not head to Cambodia, and the amazing temples of Angkor Wat and the Angkor Archeological Park?
You can also just head straight home from Chiang Mai. There is an international airport, so if you are short on time, you don't even have to worry about heading back to Bangkok. Unless your flight connects there, of course!
Summary
I hope you enjoyed my Complete Guide to Chiang Mai.
Chiang Mai is an absolutely amazing place to visit. I love the city, and look forward to going back whenever I am close enough that the opportunity arises. I'm certain that you will fall in love with it just like I did. How am I so sure? Because everyone does!
DID you find this guide to Chiang Mai helpful? Then drop me a line in the comments to let me know!