Every visitor to Bali has heard of it, but not many have actually been. It is that place you see on signs as you leave the airport, pointing off in a completely different direction to where you are going. It's the place that the rich and fabulous go. Or so you think, because no one you know has ever been there. But what is Nusa Dua really like? Well, I am here to tell you that Nusa Dua is for everyone. It is stunning, quiet, and secluded, and can be the perfect destination for your next Bali holiday. So here I have created my Complete Guide to Nusa Dua to show you just how amazing it actually is!
This article may contain affiliate links. If you click on those links and make a purchase, at no extra cost to you I will get a small commission. This will go a long way toward keeping this website running. As always, thank you for your support! Click HERE for more information.
When it comes to holidays in Bali, everyone has heard about Kuta, Ubud and Seminyak. These are the places that were always traditional stops for first time visitors. For those on their second, third, or fifteenth visit, wings often spread and other areas of the island are explored. Very quickly, places like Canggu became popular, and Sanur, Jimbaran and other outer areas started to become more the norm, rather than the exception.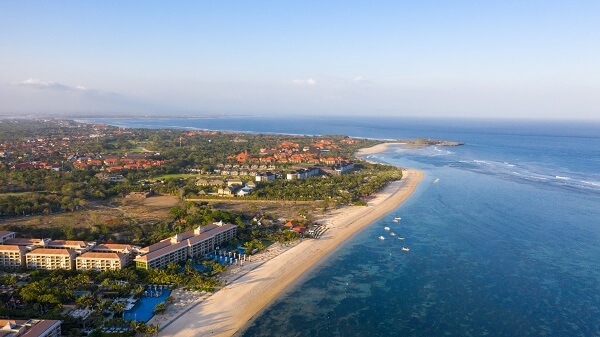 Then, for those that were looking for something different, Nusa Dua sprang up, and people began to take notice. It's wide and manicured lawns, gardens and pathways. It's pristine white beaches.
Nusa Dua suddenly became popular.
Now, let's take a look inside my Complete Guide to Nusa Dua…
Table of Contents
A bit about Nusa Dua
If you talk to any local about Nusa Dua, you will be told stories about how quiet it once was. As recently as 20 years ago the streets were still dirt roads, and just a few weeks ago that large supermarket was just a couple of small local warungs. In truth, large resorts have been at Nusa Dua for over 40 years, but it certainly doesn't feel that way.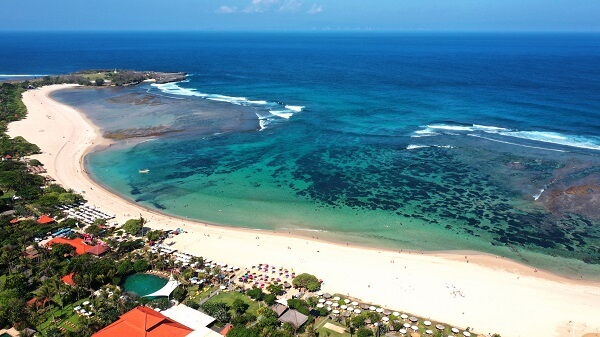 It is safe to say that things have changed in Nusa Dua, although it hasn't just happened overnight. Resorts began to move in many years ago, and had the pick of the places to set up along the pristine beaches. Slowly, others began to spring up around them, and Nusa Dua came alive.
These days, it is still quiet. Especially compared to the other resort areas of Bali. What Nusa Dua has managed to maintain, however, is a feeling of seclusion, where visitors can come and enjoy their holiday away from the hustle and bustle. Simply put, this is the tropical holiday that you want when you come to Bali.
Where is Nusa Dua?
Nusa Dua is only about 20 minutes from the airport, and around 20 to 25 minutes from either Kuta or Sanur. The tollway that runs across Benoa Harbour has made the trip a lot faster than it used to be, and depending on traffic and the time of day, a trip from the airport can take as little as 10 minutes.
Nusa Dua lies on the most southern part of Bali, on the "Bukit". This small peninsular at the bottom of the island is home to Nusa Dua, Uluwatu and Jimbaran. It boasts imposing cliffs, pristine white beaches, world class surf, and some of the best sunsets that you will see on the island.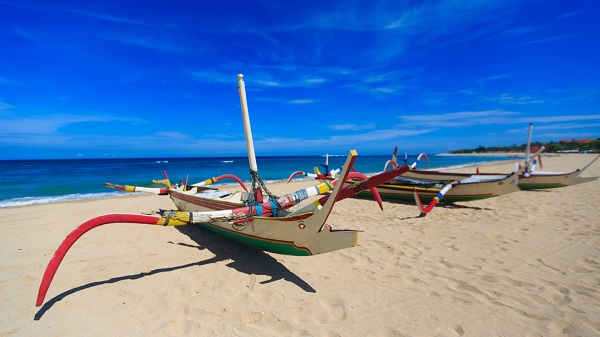 What is the ITDC?
Since the early 1970's, the International Tourism Development Corporation has run the Nusa Dua Tourism region. It is an immaculate area of manicured lawns, wide streets and paved walkways surrounding world class resorts. The ITDC area can only be accessed via 3 large gates that maintain security 24/7.
Within the ITDC area there are resorts, BIMC Hospital, a world class golf course, shopping center, restaurants, conference center, museum and Theater. For visitors that are staying within the ITDC, it is a beautiful, world class and secure area to spend your holiday.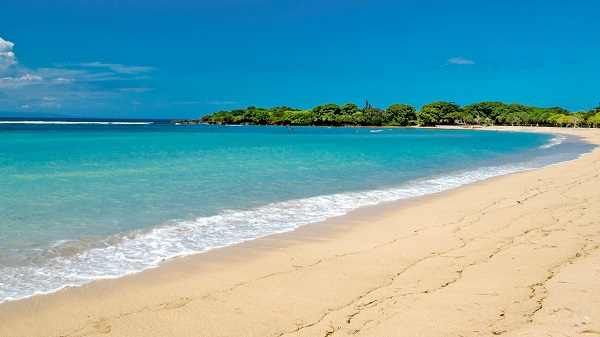 What to expect at Nusa Dua
Pristine white beaches, manicured lawns, wide streets and perfectly maintained gardens are only the beginning of what you can expect from Nusa Dua.
Take a stroll along the walkway that runs for over 6 km around the beachfront past the ITDC Resorts. Explore the "two islands" that gave Nusa Dua its name, or just lay on the beach and soak up the sun. Nusa Dua is all about peace, relaxation and seclusion. You will not get anyone hassling you to buy bracelets on the beach like in Kuta, and you won't be forced to bargain for everything in the shops. Expect Nusa Dua to be the relaxing tropical holiday that you want. Not that you will not get the bargaining in the markets at all, but you have to actually go looking for it.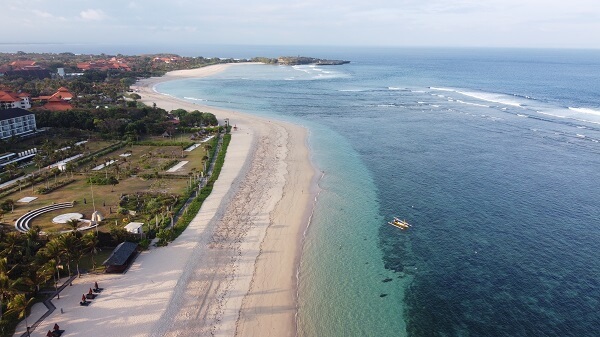 Things to do in Nusa Dua
Nusa Dua is away from the busy centers of Kuta and Seminyak. For that reason it is totally different to the "holiday strip" and you will find it a lot quieter. This does not, however, mean that there is nothing to do. In fact, people come all the way TO Nusa Dua to do some activities. Others are a bit further afield, but are easier to get to than from the busy streets of Kuta. In this Guide to Nusa Dua, I will show you a bit of both.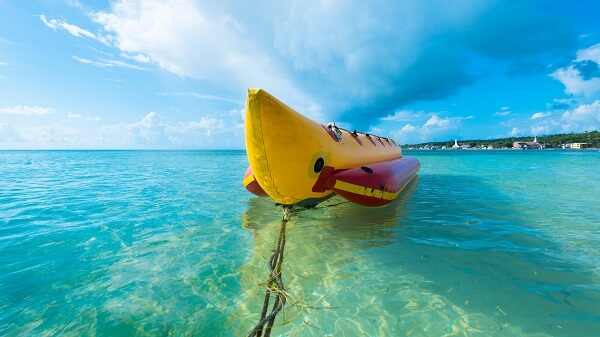 Things to do Locally
Enjoy your resort – This seems like a no-brainer, but you DID actually pay a lot of money to stay in an exclusive and possibly luxury resort. The facilities at such places are top notch, so enjoy them!
Take a stroll, jog or ride along the beachfront – Nusa Dua has a wonderful cycleway that runs from Mengiat Beach all the way to Club Med and beyond. It goes past all the great resorts, and gives you a great look at the amazing beaches and facilities available.
Enjoy some water sports – Just down the road from Nusa Dua is Tanjung Benoa, which is the water sports capital of Bali. It's actually so close that you could walk, if you wanted!
Shop at Bali Collection – Nusa Dua ITDC's own shopping precinct comes stocked with all of your favorite shops, as well as some delicious restaurants.
Explore the "two islands" – Nusa Dua literally means "two islands" and is named that for a reason. The two peninsular-like islands were once completely separated from the beach, but these days are easy to access via the walkway. The largest of the two, Nusa Gede, actually has a walking track around the island itself.
Learn to surf – Nusa Dua has plenty of surf schools, and the surf breaks right out from your hotel are perfect for learning!
Relax on Geger Beach – Geger Beach is not too far from the ITDC, and is only a few minutes ride. In fact, you would walk there along the beach from the Grand Hyatt. Quiet and uncrowded, you can relax on deckchairs for a fraction of the price of your resort, and pay less than a third what you might be paying for a beer in your own restaurant.
Get soaked at the Waterblow – On Nusa Gede, Nusa Dua has its own Waterblow, where in the right season the water shoots high into the air, soaking anyone in the vicinity.
Take a ride up the hill to Gunung Payung Cultural Park. This is a great viewpoint for sunrise, and the beach below is a real hidden gem. Check it out HERE.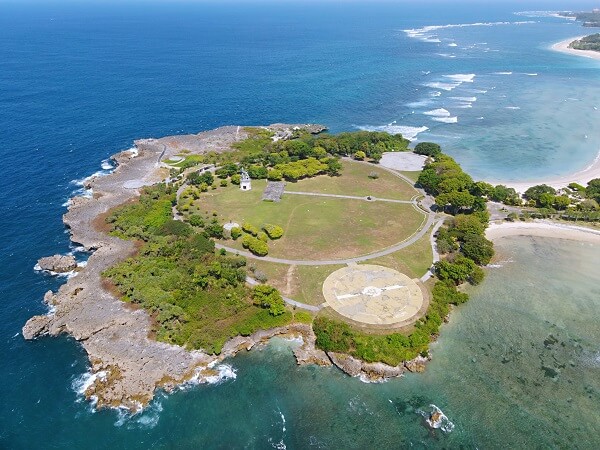 Daytrip activities
If you want to get further afield and explore, then Nusa Dua is perfect for getting away. You can hire a driver yourself, or take an organised tour. Either way, the great roads and the tollway mean that you are well on your way to great adventures in the blink of an eye from Nusa Dua. Here are some of the very best daytrips that this Guide to Nusa Dua recommends:
Visit Uluwatu Temple – this amazing temple is famous in Bali as the place that the pesky resident monkeys will steal your phone or sunglasses. It is much more than that though. Come for sunset and watch the amazing Kecak Dance!
Climb Mount Batur – Mount Batur is a great daytrip from anywhere on the island. I personally have done it from Nusa Dua on two occasions and highly recommend it. The sunrise is the best on the island!
Daytrip to Nusa Penida – If you are tired of laying in your resort looking at the island on the horizon, then take a boat there instead! Some the very best sights in all of Bali are on Nusa Penida.
Visit Heaven's Gate and Tirta Gangga Water Gardens – East Bali is only a couple of hours drive in air conditioned comfort. Why not head off early and see some of the most iconic sights in Indonesia?
Go Waterfall Hunting – Whether it's Ubud or Munduk, Bali has amazing waterfalls. Personally I have visited over 60 on Bali island alone! Organize a daytrip and you could be on your way to see 3 or 4 of the very best in just one day.
Be amazed at Tanah Lot – Another of the famous temples in Bali is not too far away. Take a tour and see why it is so popular, and stay for the iconic sunset.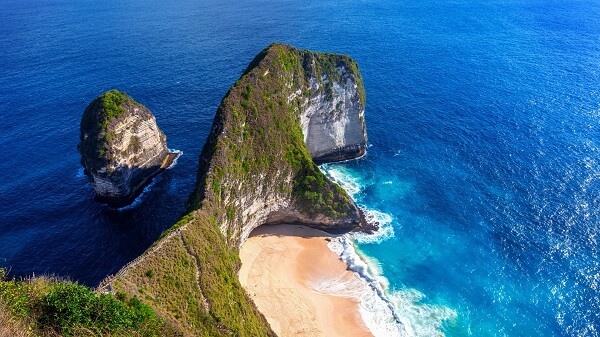 There are plenty of things to do in, around, and away from Nusa Dua. This Guide to Nusa Dua has touched on some of the most popular, but there are plenty more. For inspiration, head HERE for a look at some of the more popular tours you can do.

Accommodation in Nusa Dua
No Guide to Nusa Dua would be complete without listing some of the best places to stay. Now, while most of Nusa Dua is considered Luxury, the resorts are not all expensive. Some are more family oriented, and price ranges are a lot lower. There are all inclusive packages, and any range of specials at all times.
Here, I will run through a list of some of the better places to stay, based on my personal experiences or those of my family and friends. Living in Nusa Dua, I also tend to get a quite a lot of local recommendations.
Nusa Dua is NOT just for the high paying guest anymore. There are plenty of places that cater these days for backpackers and budget visitors. Why should a place as beautiful as this not be available for everyone, after all? For a list of places to stay, check out THIS article.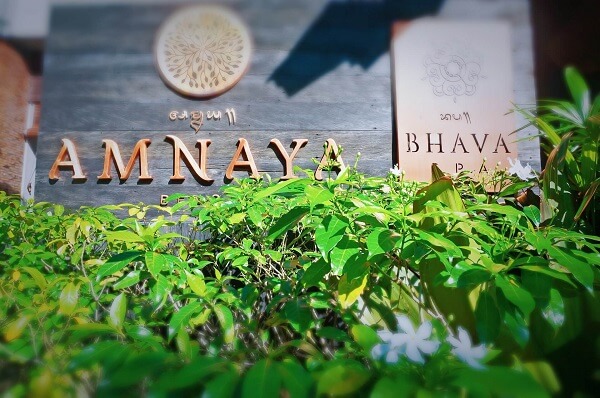 Places to stay in Nusa Dua:
I hope that gives you a good idea of where to stay in Nusa Dua. To see and read a bit more about all of these places, visit THIS article.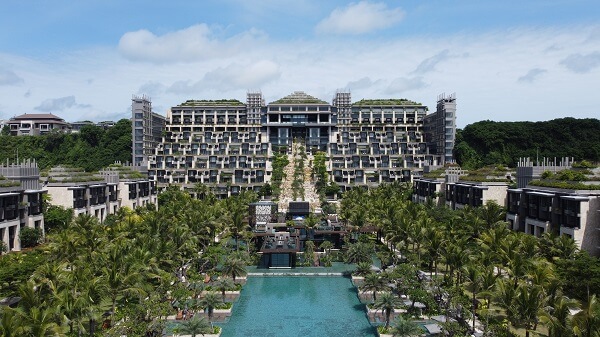 How to get around Nusa Dua
Depending on where you stay in Nusa Dua, and what you want to do will best determine how to answer this question, which this Guide to Nusa Dua will attempt to do. There are several options, however.
On Foot – If you are staying in the ITDC area at one of the local resorts, getting around on foot or by bicycle is a great option if you are only wishing to stay local. The pathways around ITDC are amazing, and created especially for ease of access. You can walk or ride all along the waterfront past the hotels and restaurants, to Bali Collection for shopping and eating, or even out to the local restaurants just outside the main gate.
Bluebird Taxi – There are many taxis in Bali, but Bluebird are the most reliable and the biggest company. Ask reception to call one for you. You can go almost anywhere in a Bluebird, and the meter system they run is always reliable.
Private Vehicle – If you are heading further afield, my suggestion is to get a private vehicle and driver for the day. Just head to THIS LINK to book one. They can do everything from taking you shopping in Ubud, a daytrip to East Bali, or waterfall hunting in Munduk. It's your driver for the day, so the choice is yours!
Scooter – This is my choice to get around when I am in Bali. Nusa Dua is easy to ride a scooter due to the wide streets and limited traffic. All you need is your International Drivers Permit. Go to THIS LINK to hire a scooter quick and easy!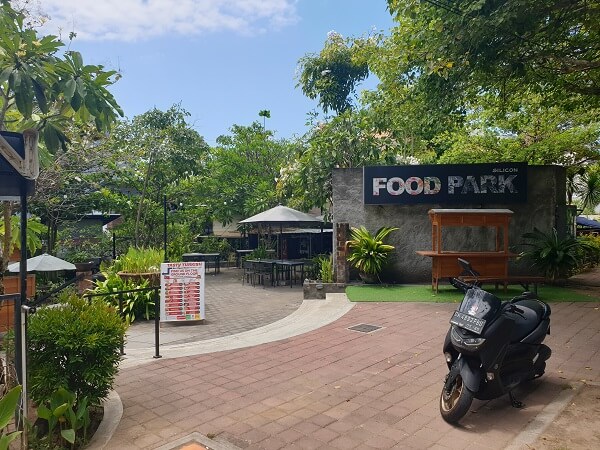 What else is nearby
Nusa Dua is located on the Bukit of southern Bali. The nearby areas of Uluwatu and Jimbaran are the easiest and closest for visitors to reach, along with Tanjung Benoa on the other side.
At Uluwatu you can visit the famous temple (just watch those pesky monkeys) or many of the amazing beaches nearby. My pick would be Nunggalan Beach, with the famous shipwreck which is great for photos. Also check out Green Bowl Beach which is on the way to or from Uluwatu.
Jimbaran is famous for its seafood restaurants along Jimbaran Beach. Head out there late in the day for dinner on the sand. There are also a couple of beautiful little beaches nearby, between Jimbaran and Uluwatu that are worth visiting, such as Tegal Wangi Beach and Balangan Beach.
At either Uluwatu or Jimbaran you should take the time to see some amazing sunsets. Head on over the THIS ARTICLE to find the best places.
Also not far from Nusa Dua is Tanjung Benoa. I have already covered it a little in this article, but the best water sports in Bali can be found down there, so pop down and check it out while you are nearby!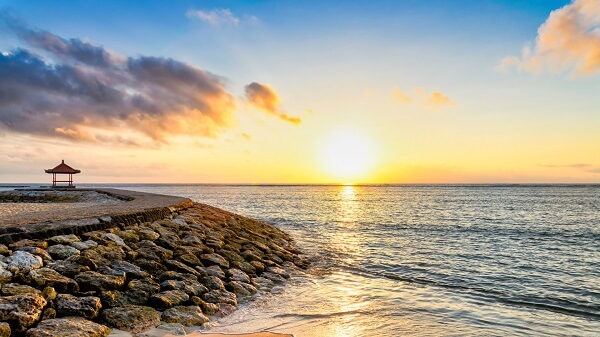 Check your Visa and Travel Insurance!
If you are planning a holiday to Bali, then don't forget to check your visa requirements. It is simple and easy to check ahead of time online. Just click on the advertisement below to get all the information you will need!
For Travel Insurance, I never go anywhere without my SafetyWing Coverage in my pocket. It is easy to get coverage from them, no matter where you are in the world, even if you are already traveling. Plus, they cover a whole range of stuff that no one else does!
Do yourself a favor and check them out at THIS LINK.
Summary
Nusa Dua is an amazing, quiet and secluded place to stay compared to the rest of Bali. It is a Bali holiday with a real difference, and in this Guide to Nusa Dua I hope that I have left you a little wiser about what it has to offer.
I cannot, personally, recommend a holiday to Nusa Dua any more. I live here when I am in Bali, and will continue to do so for however long I continue to visit!
DON'T FORGET to leave a comment below. I promise to reply!