It was quite a few years back that I first stumbled upon an article that mentioned the little town of Sirmione. I had never heard of it back then, and as much as I was intrigued by the article, I never thought I would ever get the chance to actually visit. I certainly would not have ever imagined being in a position to write a complete guide to Sirmione!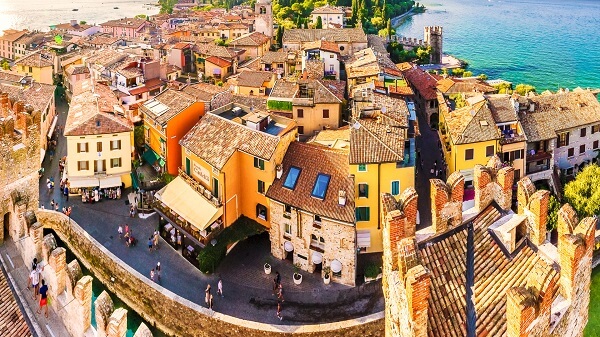 This article may contain affiliate links. If you click on those links and make a purchase, at no extra cost to you I will get a small commission. This will go a long way toward keeping this website running. As always, thank you for your support! Click HERE for more information.
Sirmione is one of those wonderful places that is completely unique. I honestly could not imagine another place like it existing in the world. So when I had the opportunity to visit, I grasped the chance with both hands. I booked accommodation close by to Desenzano Del Garda, which is not too far away, and began planning my trip. I put one day aside to visit Sirmione, and ended up returning day after day. I loved it that much!
So why is Sirmione so special? Read on to find out.
Where is Sirmione?
Sirmione is located in Northern Italy, on the southern coastline of Lake Garda. The town is situated on a thin peninsular of land that juts out into the lake.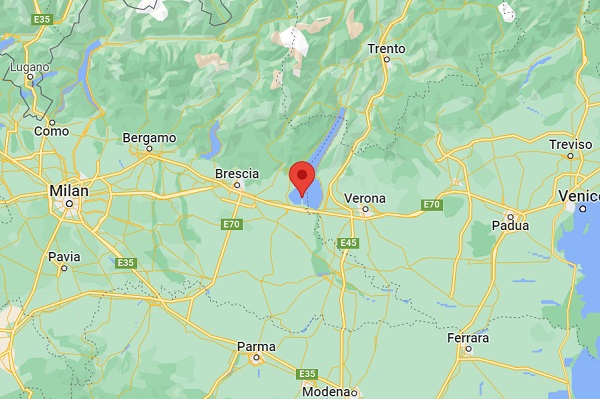 Sirmione is only about 40 kilometers from Verona, which is the nearest large city, and 130 kilometers from Milan.
What to expect
Sirmione is incredible.
Before you visit, you will most likely check out some photos, and have an idea of what to expect. Let me tell you though that photos don't do it justice.
You arrive at the "gates" of Sirmione after a pleasant, if short, trip up the peninsular. What is right in front of you is the castle that you will have seen from photos. It is rather spectacular, especially if you are like me, and from a country that doesn't have castles.
To enter the town, you must walk across the bridge over the moat and under the arched gateway of the castle. You don't actually go INTO the castle though. If you want to do this, there is another bridge immediately to your right after you enter that will take you there.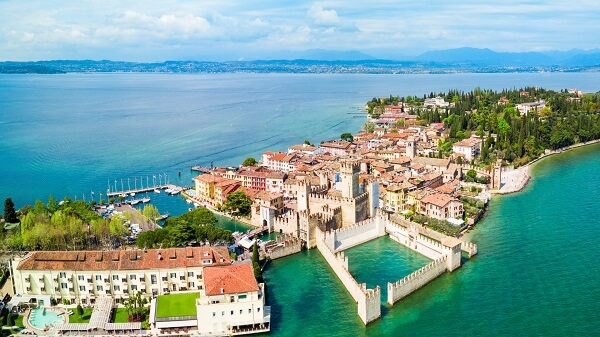 Once you pass under the arch, you are in the town. Sirmione is a brightly colored little town that has only (officially) about 8000 residents. This part of Sirmione you are now in is mostly restaurants, cafes, bars and shops. There is one single street that runs up the narrow strip of land away from the castle, and several smaller streets run off it, like ribs from a backbone. They basically go nowhere, as there is nowhere to go, but are worth wandering down to explore.
The main road is narrow, and what little traffic there is can only pass one way at a time. Particularly through the couple of small tunnels that give access under a several buildings. These only emphasize the "medieval" aspect of the town.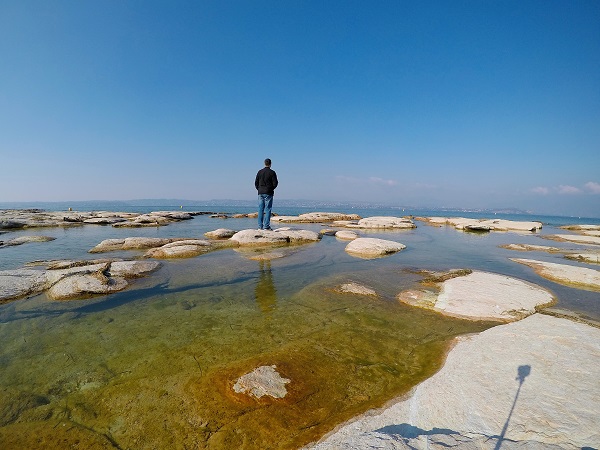 You can wander right through the town, and end up after a few minutes in a "parkland" area. Here, you will find a Spa, Church, Roman Ruins, and some wonderful views. You can also make your way down to the rocky beaches around the point where you can get some amazing photos.
Basically, that is the guide to Sirmione quick snap shot of what to expect. But, I don't want to give it ALL away…
How to get to Sirmione
There are several ways to get to Sirmione. Five in fact.
The first and most obvious is by road. There are major arterial roads running from Milan to Verona that pass close by to Lake Garda. So if you have a car and are in the area, then driving to Sirmione is an option. Just beware that even though there is a large carpark near the entrance to the town, it is still limited, and in the busy summer months might not be the easiest place to find a spot.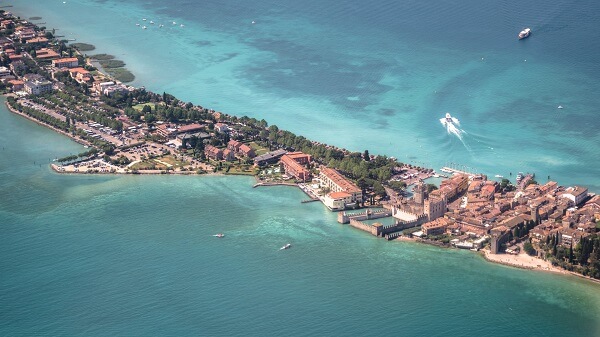 The next option is bus. From Verona you simply need to catch the LN026 bus from the main Verona bus terminal. It runs regularly and is a pretty decent price. Last I checked it out, it was just under 4 Euro. You can also catch the bus to Sirmione from nearby towns such as Desenzano Del Garda and Peschiera Del Garda. Both have connecting trains lines, which brings me to the next way to get to Sirmione.
Train! The main train line between Verona and Milan runs right by the southern shoreline of Lake Garda. So, if you are traveling to any of the towns along the route, you can easy get to Sirmione from them. On my last visit, I stayed at Desenzano Del Garda, and made my way to Sirmione from there. You can even use bicycle, which I did myself, so that technically make sit SIX ways to get to Sirmione!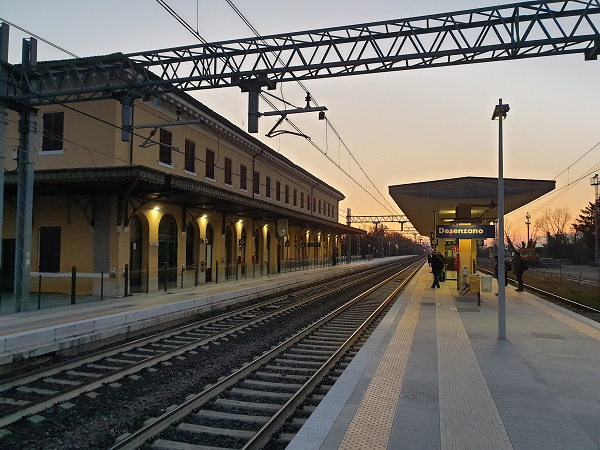 Ferry. There is a ferry terminal at Sirmione, and you can catch the ferry from several places around the lake. So check out the ferry terminals and you might be able to take a "day cruise" to visit the town. The closest town you can catch the ferry from is Desenzano Del Garda.
The last option is to take a tour. If you are in Milan, Bergamo or Verona, you can get to Sirmione on different tours if you are interested in a quick daytrip. This is a great option for those that are time limited and don't actually want to stay in the area.
Click HERE if you want to check out a tour from Verona. For a tour from Bergamo that includes Sirmione, try THIS link.
If you are already staying on Lake Garda, you can also take a cruise that stops at Sirmione. Check out THIS one as a great example.
Guide to Sirmione tip – Consider taking the train to Desenzano Del Garda. Spend a couple of nights there, and do a daytrip or two across to Sirmione. This is the most economical option, especially during summer. The ferry stops at both locations, and to cycle only takes about 40 minutes on a mostly flat route.
Things to do in Sirmione
Sirmione may just be a small town, but there are so many things to do. Many visitors will just spend a day there, and sure, you can see most of it in a day. Personally I have been there several times, and for multiple days, because I really am in love with this romantic little town, and can't get enough of wandering the little streets, and exploring the coastline.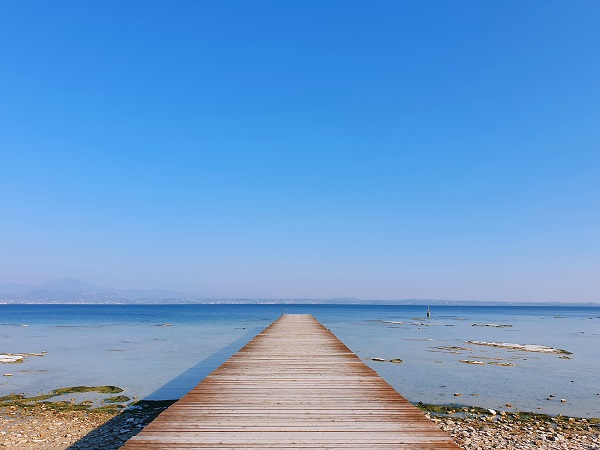 So here are the guide to Sirmione list of things to do.
Visit Scaligero Castle – This incredible Castle is the main attraction at Sirmione, simply because of its position. All visitors to the town must pass through the gates across the drawbridge. It is truly unique, and the views from the tower are brilliant!
Take a dip at Jamaica Beach – This beautiful beach is right at the very tip of the Sirmione Peninsular. You can reach it by walking around the rocks from either direction, but beware of the tides. Once you get there, you will find a small grassed area with a couple of restaurants, bar, and toilets.
Enjoy some Gelato – Once you enter the town you will notice quite a few gelato shops. I have eaten gelato in plenty of other places, but the gelato here somehow tasted so much better. Plus, the portion was huge! On a single cone they give such a big scoop that they also provide a spoon to eat it.
Relax in a Thermal Spa – Sirmione has some wonderful Thermal Spas! Wander through the town, and on the far end as the buildings and shops finish, you will find large green park areas, and Aquaria Thermal, which also features majestic views of the lake and surrounds.
Explore the coastline and beaches – Jamaica Beach is not the only "beach" at Sirmione. Once you pass through the town "entrance" at the castle, turn hard right and follow the signs to the beach. Here you will find a walkway that will follow the coast all the way to Jamaica Beach. Along the way are some amazing places to rest, relax and take incredible photos.
Wander the streets of Sirmione – There is only one main street, but there are plenty of side streets. Discover some great boutique stores, souvenir shops, restaurants, cafes and some really unique architecture along the way!
Visit Grotto de Catullo Museum – This is located about as far out on the peninsula as you can get without dropping off the edge. Grotto de Catullo is the ruins of a large Roman Villa that once commanded incredible views of the lake, in one of the best spots on the entire lake. History buffs will love it!
Stop by in Chiesa di San Pietro – This beautiful but modest church is located right near to Grotto de Catullo, and you really can't miss it. It has some wonderful fresco paintings, and is located in a really nice quiet corner of the peninsular. It is also at the top of a steep hill, so if Sirmione is busy, this is a good escape from the crowd.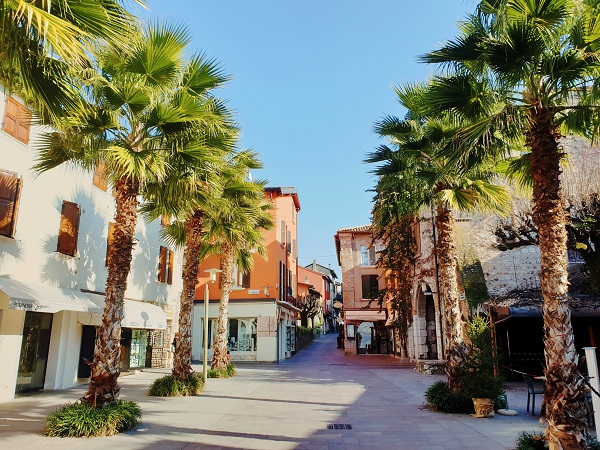 There are plenty of things to do in Sirmione to keep you busy. My personal favorite, and the top Guide to Sirmione tip is to explore the beautiful whitewashed rocks along the coastline, especially if you want some great photos for Instagram.
Day Trips to Sirmione
There are plenty of places to see and things to do around Sirmione. Also, Sirmione is a great place to visit if you are staying elsewhere! I already touched on it earlier in the article about how to get to Sirmione, but now, let's just take a look at some of the tours that you can do in and around the area.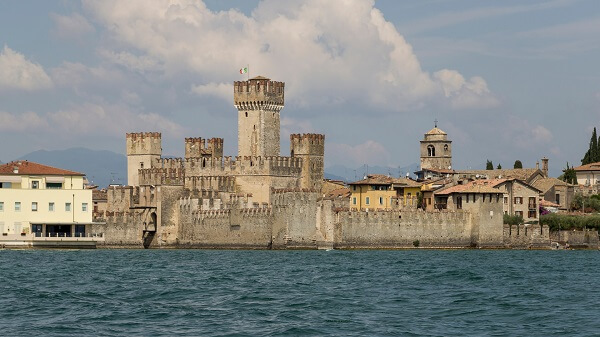 Here are the Guide to Sirmione top tours to consider if you are in the area.
Sirmione Hotels and places to stay
Welcome to my Guide to Sirmione list of places to stay.
Honestly, I didn't even realize there were places to stay at Sirmione. Before I first visited, I knew it was a small town, located on a small peninsular. I figured there were a couple of hotels around, but was not prepared for just HOW MANY places to stay are there. Not only on the peninsular drive OUT to Sirmione, but in the town itself!
So, I have now done a bit of legwork and put together my very own list of the best places to stay to help round out this Complete Guide to Sirmione.
Luxury
Luxury hotels are abundant around Sirmione. They seem to go with the landscape, with wonderful views and incredible facilities. Here are my guide to Sirmione top picks.
GRAND HOTEL TERME
The Grand Hotel Terme is located right on the edge of Lake Garda, and is luxury plus. The Spa is incredible, and the swimming pool is Thermal Heated. Breakfasts are amazing, and guests constantly rave about both the staff and the excellent rooms with lake views.
RELAIS LA SPERANZINA
Relais La Speranzine is a little piece of luxury located right in the heart of Sirmione. If you want to spoil yourself, and really feel like you are getting the most out of your Sirmione experience, then this is the only way to do it!
VILLA CORTENE PALACE
Villa Cortene Palace offers something that I would never have expected at Sirmione. A luxurious, stately stay in the middle of gorgeous parkland only a stones throw from the main street. With incredible views, service, food and rooms, you couldn't possibly find better.
Mid Range
Mid Range prices in Sirmione may look like luxury prices elsewhere. But then, you should have a look at the luxury prices to compare! On the other hand, your mid range hotel will guarantee to make you feel like you ARE staying in luxury.
HOTEL EDEN SIRMIONE
Hotel Eden Sirmione is located right in the heart of Old Town, making it the perfect place to base yourself to explore. Views are incredible, and the sunsets are beautiful. Rooms are clean and well appointed, breakfast is great, and the hotel even has its own parking. Not that you will need your car with this location…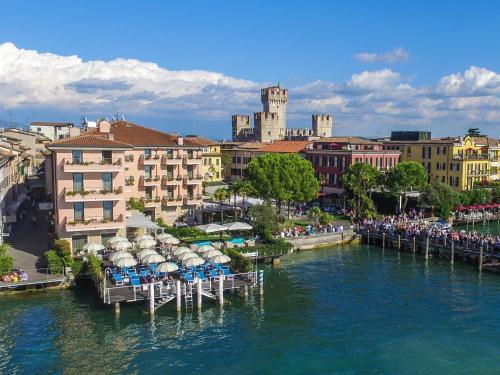 VILLA PIOPPI SIRMIONE
Villa Pioppi is a standout to any visitor to Sirmione. You will pass it on the way to the town, and wonder if it belongs to Italian Royalty of some description. It doesn't, and you can actually stay there! With two pools, wonderful views, great food and a decent price tag, why not give it a go?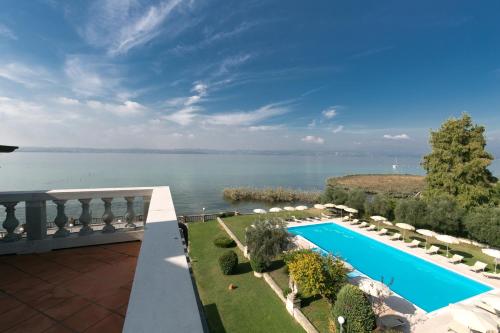 Budget
When it comes to budget around Sirmione, there isn't that much in the "budget" range without going a long way out. But there are some lower priced places, and here is the guide to Sirmione picks.
SIRMIONE CONFORT EASY
Sirmione Confort Easy is a well appointed apartment in a really great location not too far from Sirmione Old Town. It is quiet, and has everything you could need to make your stay comfortable.
HOTEL ALSAZIA
Clean rooms, comfortable beds, large breakfasts with great staff all in a very good location for a budget price. Doesn't that say it all? Click below to have a closer look.
Summary
I hope you have enjoyed my Guide to Sirmione, and that when you visit, you will have a better idea of what to expect, where to stay and what you can do!