Plovdiv is an amazing town that is approximately 8000 years old. As one of the oldest and continually inhabited cities in the world, you would be correct in assuming there is a lot to see and do. The history in Plovdiv is incredible, and the good news is that the city is not expensive to visit. The even BETTER news, is that there a many free things to do in Plovdiv.
This article may contain affiliate links. If you click on those links and make a purchase, at no extra cost to you I will get a small commission. This will go a long way toward keeping this website running. As always, thank you for your support! Click HERE for more information.
The town of Plovdiv is spread out across 7 hills throughout a very fertile valley. At times throughout history, the area and town has been occupied by Romans, Ottomans, Thracians, Greeks, Huns and many others. Each of them brought their own cultures and architectural styles, and Plovdiv in return was left with the ever present reminders of each.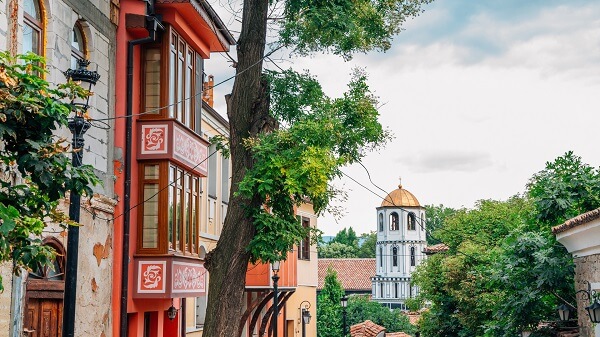 A walk through Plovdiv is a unique experience. It is not very common to be able to visit a town where you can stand in one spot, and see Roman ruins, Ottoman architecture, relics of the Soviet era, and modern buildings all at once. In Plovdiv you can not only see this, but you can see it everywhere you go.
Many of the reminders of Plovdiv's past are right out in the open. You wander past them when you go shopping, and gaze across at them from the coffee shop. They are just THERE.
Therefore, it is extremely easy for a visitor to Plovdiv to see and experience so much of what Plovdiv has to offer, without even spending a single Bulgarian Lev.
Here is my list of the best free things to do in Plovdiv!
Table of Contents
Walk around Old Town
Old Town is a place that I found myself coming to nearly every second day that I was in Plovdiv. There is a real attraction to the cobbled streets, ancient relics and amazing architecture that makes Old Town what it is.
The Renaissance style houses are wonderfully intact in Old Town, and many of them are open to the public now as museums. Churches, Inns, shops and even the Ancient Theatre all make up what is today a wonderful slice of the history of Plovdiv.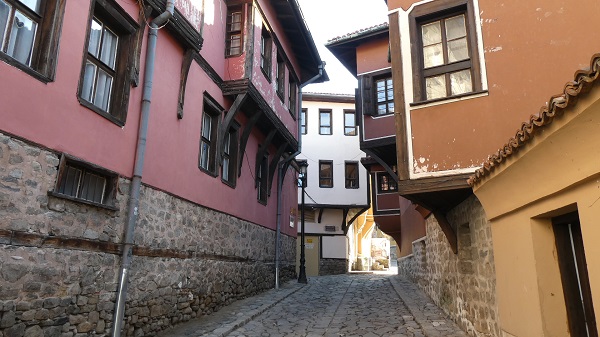 The cobbled streets, with stones so large that you have to watch your footing as you negotiate your way up and and down the hills. The ancient arched gate that looks like it just stepped out of an episode of Game of Thrones. Old Town is exactly what you would expect from a town that is as old as Plovdiv, and it is to the town's credit that it still stands intact and, to a large degree, untouched. There is even a spot in Old Town where you can clearly see the layers of stone foundations from over the centuries.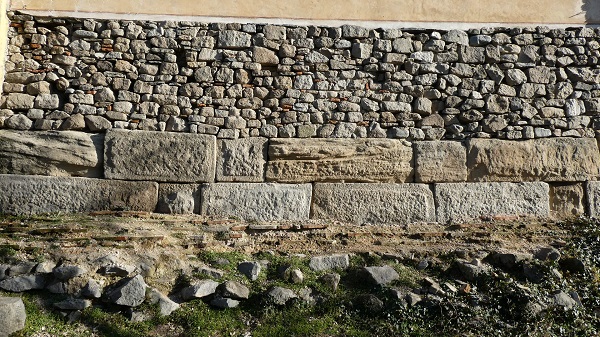 Entrance to old town is free, and it costs you nothing to wander the streets and soak up the atmosphere and the history, making it one of the best free things to do in Plovdiv.
Ancient Stadium of Philippopolis
The Ancient Stadium of Philippopolous is located right in the main street of Plovdiv, and is probably the most recognizable feature of the town. It is also one of the best preserved Roman Era buildings in the Balkans, even though it is over 2000 years old.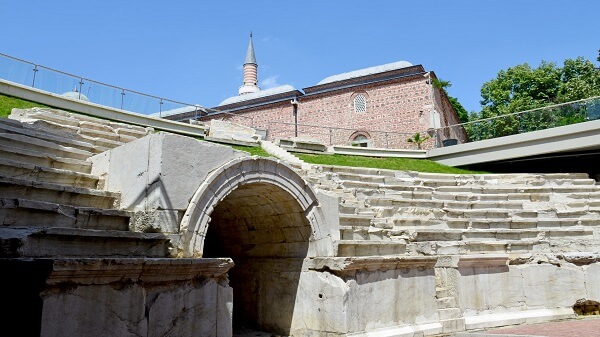 The Stadium runs for 250 meters along the main pedestrian street, with the majority of its stands hidden beneath the buildings. At one end, the curved seating section and entry tunnel are on display below street level, right in the middle of the pedestrian walkway. It is free to enter and explore.
There is also a section in the basement of the H&M building that you can see from within the store itself. It will cost you a few LEV to actually go into the ruins themselves though.
Free things to do in Plovdiv fact – The local populace have known about the stadium beneath their streets for a very long time. Being the center of town though, no one spoke up about it to the authorities, as no one wanted to lose their houses and shops that were sitting in "prime" position in the main street!
Main Square and Pedestrian Street
The main walking street of Plovdiv is a pleasure for visitors to stroll down at any time of the day. I once stayed for a month in Plovdiv, and my daily walks down the main street were something I looked forward to every morning.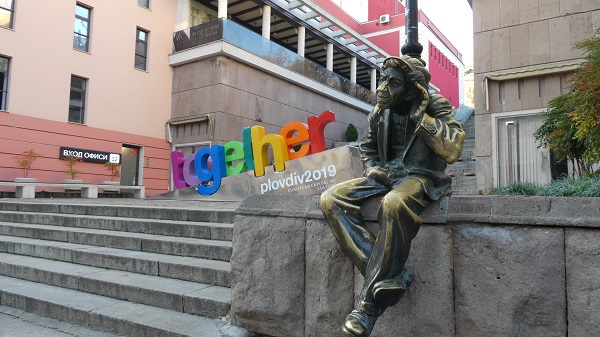 The main pedestrian street is over a kilometer long, and runs right past famous locations such as the Ancient Stadium of Philippopolous, and ends outside the Tsar Simeon Garden. It is lined with buildings that feature wonderful architectural styles, and are a tourist attraction almost in their own rights.
Along the way, don't forget to check out some iconic locations, such as the "Together" sign, and alongside it, the statue of Milyo the Crazy. Also, if you drop into the H&M store, on the ground floor you can look down onto a section of the Ancient Stadium that is part of the building's foundations, and even do a tour if you like.
Ancient Theatre of Philippopolis
Of all the free things to do in Plovdiv, this has to be my favorite!
The Ancient Theatre of Philippopolis was constructed over 2000 years ago, but was lost and forgotten about until relatively recently. Considering the fact that it sort of sits on top of a hill, does cause confusion at first.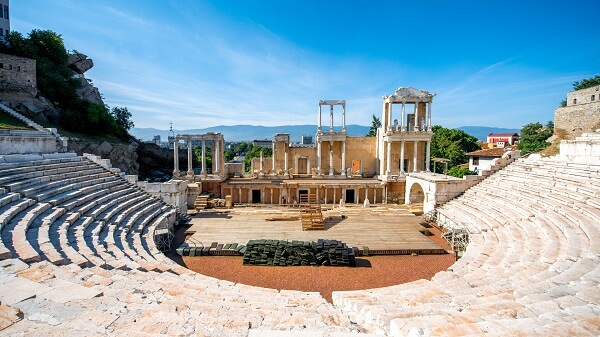 The fact is, the entire theatre was covered with dirt and was actually completely covered for hundreds of years. It was only when the town began digging beneath the hill to create a new traffic tunnel that they suddenly discovered the foundations of the theatre. Now, it is the centerpiece of what was already a town filled with amazing ancient ruins.
The Theatre is far from ruined though. In fact, it is the most well preserved Ancient Roman theatre in the world, and it STILL hosts concerts and events. If you are in Plovdiv during the summer months, you are actually able to buy a ticket and attend a concert at the Theatre.
And guess what? The Romans knew what they were doing too, because the acoustics are said to be astounding. It is technically located between the two hills that form Plovdiv Old Town, so I would be willing to guess they chose the spot for a reason.
The Ancient Theatre of Philippopolis is free to come and see. You can stand at the top of the theatre and look down into it, albeit through the security bars. If you want to get down and have a closer look, sit in the stands and wander around, it will cost you 5 LEV.
Which isn't much really.
Tsar Simeon's Garden
Tsar Simeon's Garden is located right at the Southern end of the main Pedestrian Walking Street, and is a wonderful place for a walk or a peaceful timeout. Especially during the Summer months.
These beautiful gardens were created in 1892 by Lucien Shevals, a Swiss gardener. They are a touch of greenery in the middle of the city, and attract locals from all over Plovdiv nearly every day of the year.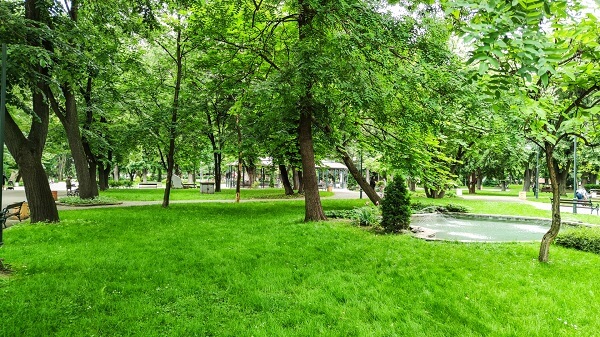 Within the gardens, you can find many winding walkways, evergreen trees, lawns of fresh green grass, and gazebos to relax in. There are multiple sculptures scattered throughout, people playing chess, and a large children's playground. With so much to see and do, multiple restaurants around the fringes and café within the park itself, there is no wonder that visitors and locals love this part of town.
During the Summer months, the famous Singing Fountains within the park become the main attraction. At night time they light up, and dance to the choreographed music. And the best part? It all costs nothing, making it one of the best free things to do in Plovdiv.
Clocktower
Another great free thing to do in Plovdiv is almost right beside the main street. Partially hidden behind buildings is Sahat Tepe, one of the six remaining hills of Plovdiv, and on top can be found the famous Clocktower.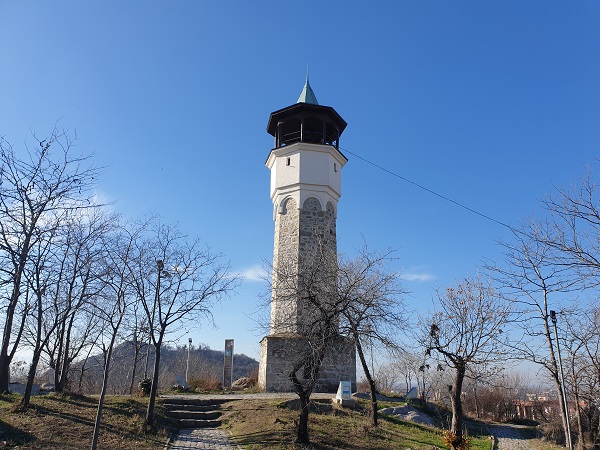 The Clocktower was first built in 1623 and stands at a height of 17.5 meters. In 1883, the clock, made in Vienna, was installed. The clock chimes regularly, and can be heard all around the town, and surrounds.
To get to the clocktower, it is a simple and easy 5 minute walk from the main street. There is a road running almost all the way up, and also a couple of sets of stairs, depending upon which direction you come from. It is a great place to visit early in your trip to Plovdiv, as it will give you a good view of the immediate town area. The Clocktower and Sahat Tepe are also a wonderful place to view the sunset, especially if you are staying in the CBD area.
Bunardzhika Hill
This beautiful hill is also known as the Hill of the Liberators, and is topped with the famous Alyosha Monument depicting a Soviet Soldier. Bunardzhika Hill is the second highest of the Plovdiv 7 hills, but may just be the most famous as it can be seen from nearly anywhere in the town.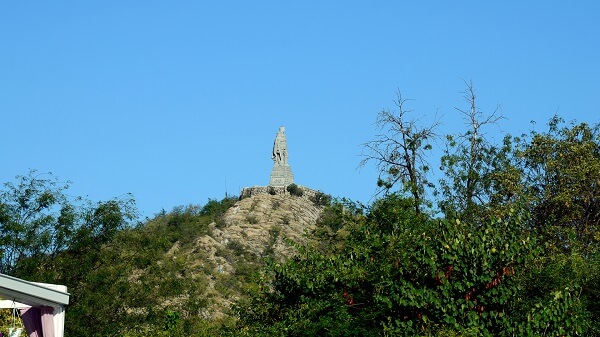 The hill has a wonderful park area, featuring several other statues and monuments. There is a restaurant, children's playgrounds, and even an outdoor theatre that is in use during the Summer months.
Bunardzhika Hill is a very popular hill and park for locals, mostly due the many tracks, trails and paths around the hill. You can climb to the summit via dozens of different trails, each offering their own unique views. Then, of an evening, you will find many locals and visitors at the summit enjoying a sunset.
This park is dog friendly, so you will see many locals walking their dogs, especially in the mornings and late afternoons. There is a paved roadway going to the summit as well, which offers an easy ascent if you don't feel like getting the blood pumping too much. The road is closed to cars and traffic though, so you will have it to yourself.
One more thing to note – the park and summit are very safe, and often patrolled by security and police, making this one of the best free things to do in Plovdiv!
Hisar Kapia Gate
Hisar Kapia Gate is one of the most famous places in Plovdiv. It is an old medieval Gate that is made entirely of stone, and was once one of the three entrances to ancient Plovdiv. Hisar Kapia Gate was built in the 11th Century A.D. and was constructed over the top of the foundations of an ancient Roman Gate that stood there prior.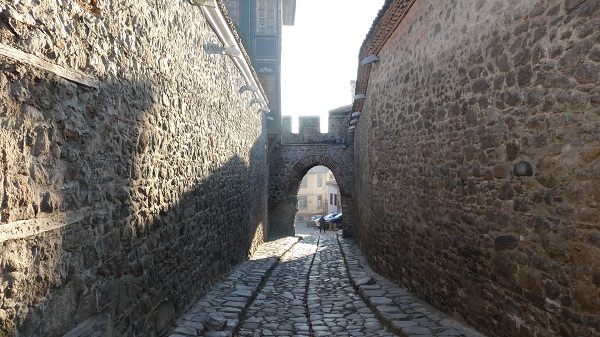 The main attraction of Hisar Kapia Gate is simply its unique look. When I first saw it, it struck me as exactly what you would expect to see in an ancient medieval town. I lingered as long as I could on that occasion, and then am not ashamed to say that I returned many times over the ensuing weeks that I was in Plovdiv, and took way too many photos.
You can find Hisar Kapia Gate in Plovdiv Old Town right beside the Plovdiv Ethnographic Museum.
Watch the Sunset
One very popular activity, and one of the best free things to do in Plovdiv is to watch the sunset. Obviously, sunsets are free and you can watch a sunset anywhere. In Plovdiv though, there are some wonderful places you can head to make the experience even better.
First, and my personal favorite, is at the summit of Bunardzhika Hill. Locals and visitors flock up the road to the Alyosha Monument to catch the sunset every evening. In my opinion though, the monument is not the best place to see it.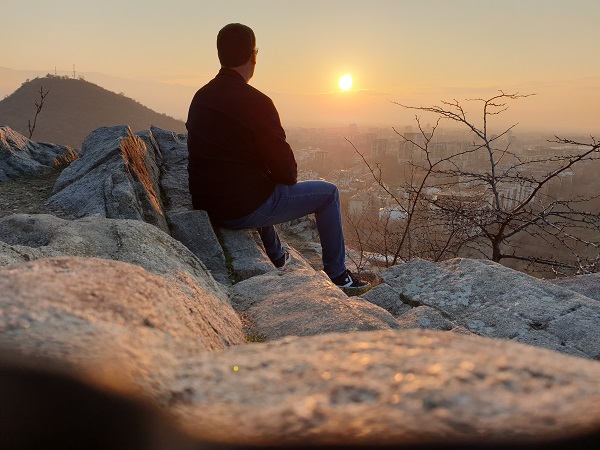 This hill is an amazing place to find a nice quiet spot all to yourself. There are so many walking and hiking trails going to the summit, that you can easily find a rock on the side of the path to sit on. Also, the hill is made up of massive rocky outcrops. There are so many its hard to believe. Just find one and claim it. You will likely have it to yourself as others move onto the next outcrop.
In the space of a few weeks I must have watched a dozen or so sunsets, and never sat in the same place twice. So why stand with the crowd at the monument when you don't have to?
The other really good place is the other hill nearby, Sahat Tepe, which is the hill right in town with the clocktower on top. It has a nice clear peak, and is perfect for catching the sun dropping down over the mountain.
Roman Forum
Another of the wonderful free things to do in Plovdiv, is to explore the Ancient Roman Forum. This is another place right in the middle of town, and is hard to miss as you are walking around. In fact, I found this place myself on my very first day in Plovdiv, and I had no idea it even existed.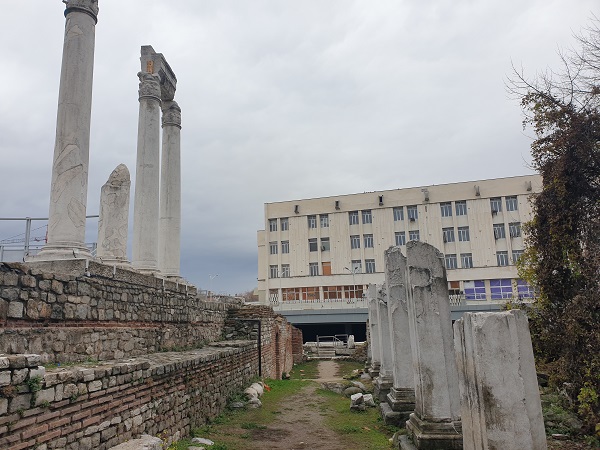 This Roman Forum is over 2000 years old, having been constructed in the 1st Century AD. The city of Plovdiv have done a wonderful job of preserving it, and you can stroll around amongst the remains, reading placards explaining what everything is, how it was used, and how old it is.
The Roman Forum was my first real introduction to the incredible history of Plovdiv. It is a great starting point, and so easy to find. Simply head to the main street directly opposite Tsar Simeon's Gardens and you will find them right beside the Post Office building.
Free Plovdiv Tour
One of the best free things to do in Plovdiv, is the Free Plovdiv Walking Tour. This incredible initiative is run by the 365 Association, and completely free to participate in.
The guides on the Free Plovdiv Tour are experienced, informative, and really know their stuff. I did it when I first came to Plovdiv, and learnt so much in the space of only 2 hours. My guide (Adi) spoke really great English, and not only knew all of the history of every location, but a lot of facts and funny tales as well.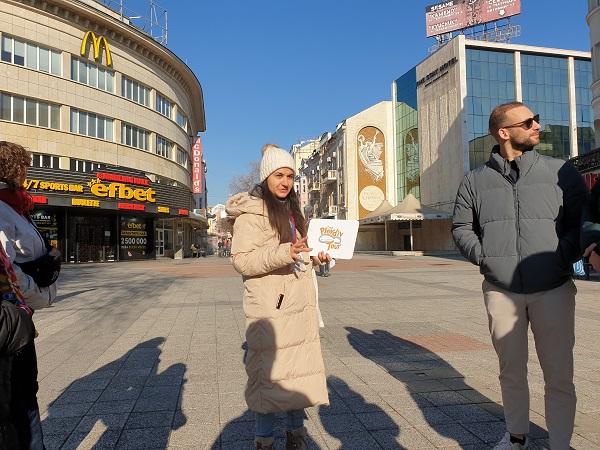 So where do they take you in 2 hours? Everywhere that you would want to go. They start in the main square, and walk down the main street, through Kapana and into Old Town. Along the way they stop at over a dozen locations and tell you all about it, as well as answering questions.
The tour, as advertised, is completely free. On most walking tours you CAN give a donation at the end if you like, but this is not necessary nor expected.
You can find all the information about the Free Plovdiv Tour at THIS link.
Discover Kapana
Kapana is the "new" district of Plovdiv. In actuality, it has been around for as long as the town has, but has seen a remarkable resurgence in recent years, bringing it to the attention of not only visitors, but once again to locals as well.
Kapana, meaning "the Trap", is a maze of little streets laid out in a confusing format, right between the main street and Old Town. It was designed this way on purpose by the retailers and traders in the area to "trap" visitors, causing them to wander around past more and more of their shops.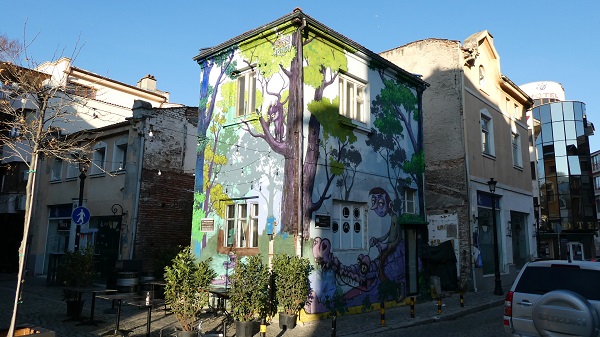 More recently, when Plovdiv applied to be considered as the European Capital of Culture for 2019 (which they won) the district of Kapana underwent a full makeover.
What resulted was a new center for artists and local culture in Plovdiv. A wander around the streets will see artwork and street art everywhere. There are decorations above the streets, and beautiful architecture wonderfully restored or preserved. Every street now features boutique bars, quaint and chic cafes, restaurants, used book stores and souvenir shops.
What they have done so well in Kapana, is that nothing looks out of place, in a place that is totally out of place itself! There are very few neighborhoods that could pull off street art on a high class restaurant wall, with a souvenir shop on one side and a used book store on the other.
In Kapana though, it just works.
It is free to explore Kapana, and if you are a fan of street art, or you are a photographer, then this place is perfect!
Asen's Fortress
Ok, so technically this isn't free, but it has very minimal cost. It also depends upon your mode of transport, because Asen's Fortress is a little out of town.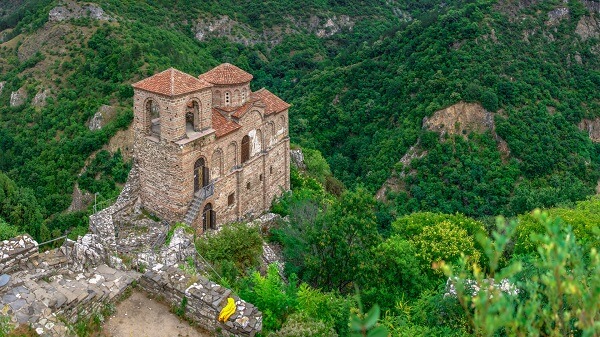 Asen's Fortress is actually located nearby to the town of Asenovgrad, and can be reached easily from Plovdiv by Bus, Train or Car. Getting there by car is easy, simply by following Google Maps to THIS location. You can catch the bus from Plovdiv South Bus Station, or Train from the Plovdiv Train Station. Personally, I recommend the train. It costs a measly 1.30LEV each way, and provides a full day out.
From the train station, you then just hike up the road to the Fortress. Its a little over 3km, but not a hard walk, although it is uphill on the way and downhill coming back. Many people from the town walk to Asen's Fortress every day for exercise, and relax at the top to enjoy the views.
If you want to explore inside the fortress more, it will cost 4LEV for entry.
Click HERE to read my Complete Guide to Asen's Fortress.
Summary
There are many free things to do in Plovdiv. You can see and experience the entire town, and not even spend a single LEV if you don't want to. If you DO have a small budget, there are also some very cheap things to see and do (such as Asen's Fortress) and ways to save money.
If you are on a budget, and want to know where to eat to save money, check out THIS article that has all the cheapest places to eat in Plovdiv.
Also, check out my Complete Guide to Plovdiv for more information about this incredible city!