Lahangan Sweet is a viewpoint located on the very top of the hills overlooking Amed on the North East Coast of Bali. Although well signposted and easy to find, it is actually not that easy to reach. Making the effort is well worth it, though, as it has some of the very best views on the entire island.
Table of Contents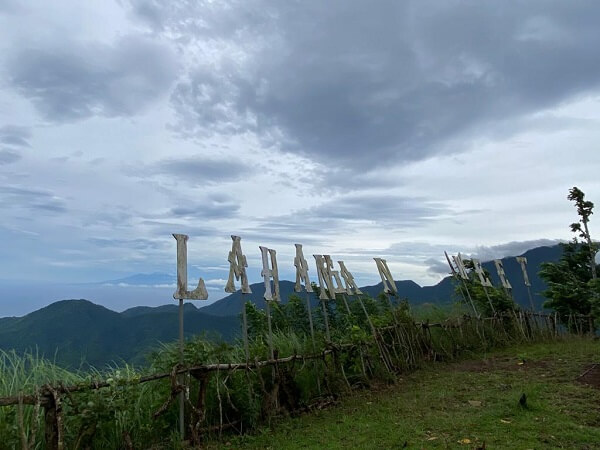 This article may contain affiliate links. If you click on those links and make a purchase, at no extra cost to you I will get a small commission. This will go a long way toward keeping this website running. As always, thank you for your support! Click HERE for more information.
How to get to Lahangan Sweet
Getting there is as easy as following this link on Google Maps. If you don't have google maps, and are starting out from Amlapura, take the road past Tirta Gangga toward Amed. Just before Berina Rice Terraces, take the right turn into Jalan Magetelu. At the T-Intersection, turn left and head out of the village and up the hill. Toward the top you will reach a road off to the left with a sign to Lahangan Sweet. A couple of Kilometers up this road you will reach a dirt road to the right. Your destination is 500m up this road. Beware that in the wet season it can get very muddy, and even on a scooter it can be tough going. In the best conditions it's scooter and 4wd access only
What to expect
When it comes to views, Lahangan Sweet is one of the most amazing places I have been to on the island of Bali. This place tops anywhere else I have been, and I can only imagine that the peak of Mt Agung would be the only place better.
Sitting right above Amed, the entire northern coastline is visible. Off to the right, Lombok and the Gili Islands are clearly visible, dominated by Mt Rinjani looming above. In the other direction you can see right across the island to the south, with sweeping views down past Mt Abang and Mt Batur in the distance toward Singaraja. Dominating everything else, though, is Mt Agung, standing as a silent sentinel, towering over everything within sight. It is really an impressive sight from Lahangan Sweet, and it alone is worth the trip.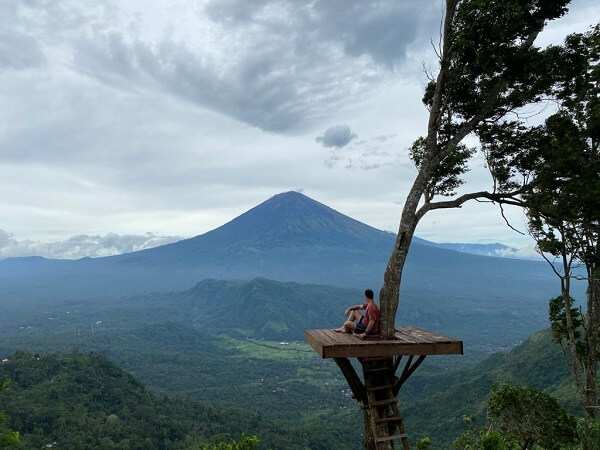 Camping at Lahangan Sweet
Views are not the only reason that people come to Lahangan Sweet. You can camp there, and if you don't have your own gear they have it for hire. Beware, though, that if it gets windy, your tent may end up in Lombok!
Around the peak there are also plenty of places for photos. Platforms in trees, small lookouts and various signs all act as great props for taking those perfect Instagram shots. There is also a small Warung at the very end of the path where you can shelter from the elements and have a bite to eat.
I recommend Lahangan Sweet to anyone that is looking for a great place to see some fantastic views. Just for the amazing sight of Mt Agung from so close is worth the trip in itself.
One more thing to note is that during the wet season the road can be hard to get through. It is the best time of year for scenery, though, as it is all green. Dry season there may be a better chance of no cloud cover and clear views, but the area will be very barren, dry and hot.
On the trip back down the mountain, when you reach the road down to the village again, turn left instead of right. It will take you basically to the same place, but will also wind right past Lempuyang Temple, (Heaven's Gate). You may as well check it out while you are there!
Where to Stay
If you are visiting Lahangan Sweet, then you are probably going to want to visit some of the other great places in the East Bali area. Along with Lempuyang Temple, you also have the Water Palace, Tirta Gangga, and numerous great viewpoints for sunsets and mountain views. I would recommend staying in the Amlapura area, or if you are interested in being near the water, then Amed might be better for you. Amlapura is a lot easier and closer to most of the attractions listed in this paragraph though. In the end, Karangasem is littered with places to stay that are all relatively close to what you will be wanting to do.
Here are some easy links for your convenience.
Places to stay in Karangasem
Places to stay in Amed
Can I do a tour?
You can't actually get a tour to Lahangan Sweet. However if you wanted to organise a private trip with your own driver you could. Just make certain that he has 4wd, otherwise you may end up stuck on the side of the road. My recommendation is to hire a scooter and ride there yourself. You could drive, but you would have to be willing to park and walk the final 500m, which is dirt/mud/rock road and nearly all uphill, and quite steep in places.
For anywhere else in East Bali you could organize tours. Check out the following link for our recommendation of "GetYourGuide" who are well known all over the world and only use local guides who are experienced and know what they are talking about.
DON'T FORGET to leave a comment below. I promise to reply!