Every visitor to Bali knows that the island has volcanoes. At the very least, they are aware that it sits on the famous "Ring of Fire". This means that Earthquakes and tremors are regular events, and Volcanoes are very real things. Bali, in fact, has more than one volcano, the largest of which is the indomitable Mount Agung. But it's Agung's much smaller neighbor that is maybe even more famous. Every morning, while it is still dark, several hundred visitors and locals will endure the Mount Batur trek in order to witness one of the best sunrises on the island. And it's totally worth it.
This article may contain affiliate links. If you click on those links and make a purchase, at no extra cost to you I will get a small commission. This will go a long way toward keeping this website running. As always, thank you for your support! Click HERE for more information.
Table of Contents
Personally, I have climbed the mountain twice. Both occasions have been totally different experiences, and for a couple of reasons. These can be good and bad, but honestly, the choices that you make BEFORE you get to the mountain, can make or break it for you.
So, let's get into it.
Your choice of guide makes a difference
This is a very important choice to make. I will tell you why, from my own experience.
The first time I did the Mount Batur Trek, I went with the choice of an established, reputable company from GetYourGuide. My guide was fantastic, and, I found out later, was from one of the biggest, best, and most trusted guide companies in Kintamani. Once I found that out, (after my trek), it made sense.
This guide was knowledgeable, explained about the mountain as we climbed, took time for rests at intervals, and watched me like a hawk the entire time. At the top, he cooked me breakfast, which consisted of good, hearty food including egg, fruit, juice and biscuits. When I wanted to explore around the rim, he came with me and took photos for me, offering advice and showing me the best places and positions for the most amazing results.
On the way back down, he took his time, pointing out to me where to be careful, and only going at a pace that I was comfortable with. He even did the little things right, such as offering to carry my backpack through the tough sections. I didn't take him up on the offer, but it was a nice touch.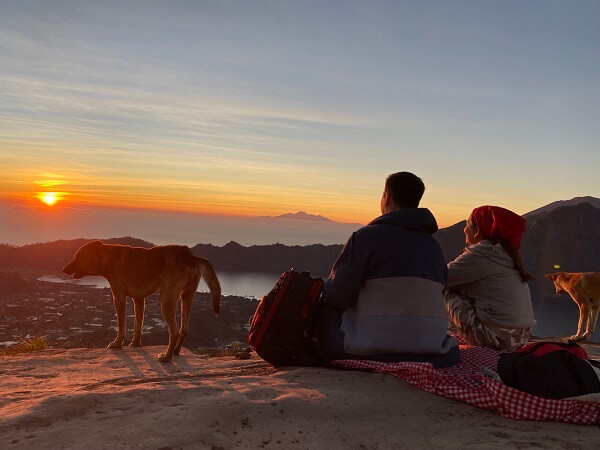 Now, let's have a look at my second Mount Batur Trek experience.
This time, there were two of us. We decided to look into doing the Mount Batur Trek a second time, but didn't want to pay as much as the first time. So we went onto Instagram to search for guides there. We found several, and settled on one that had some really nice photos that we liked. He was responsive when we reached out, and the price was very good. Almost half of what I had paid the first time, and this was for TWO people.
With high expectations, we set off at 0130am from home, ready to hit the trail. Our Mount Batur Trek itself started at 0330am in the carpark at the base, and we set off at a good pace. The only trouble was, when my partner began to fatigue, the guide kept going. There was no slowing of the pace, and even though I could keep up, the third member of our party was rapidly falling behind.
I began to slow up and wait. The guide, though, took off into the dark. Fortunately I was not virgin to the Mount Batur Trek, so I was confident with the trail. We caught him up by the time we reached the first check point, and the place that the local operators wait to sell tickets to get up the mountain.
At this point, another local joined us, which was a godsend because he waited behind when someone slowed and lost contact with the rest. I took all the backpacks and lugged them up the mountain to make it easier on my partner, thinking that maybe the guide would offer to help.
Nope.
Nothing.
So I struggled up the mountain with all the gear, and my partner struggled in the dark behind me. Fortunately, we made it to the top for sunrise, and it was an amazingly clear day. The sights were perfect, and other than a bit of wind, mother nature could not have turned it on any better.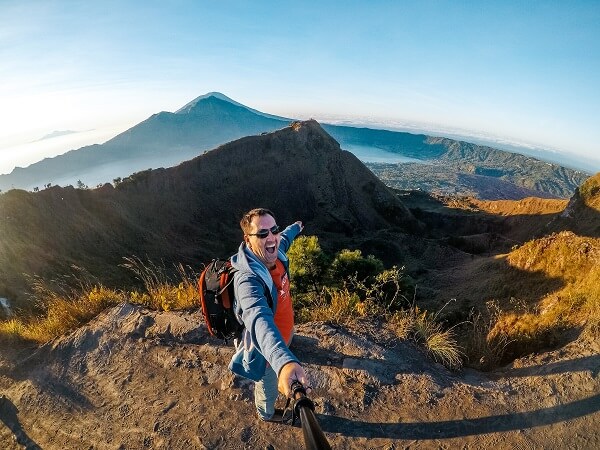 Our guide, though, was content that his job was done. He took a couple of photos for us, then disappeared into a hut nearby. We explored the volcano rim, battled with the monkeys, and took hundreds of photos by ourselves. By the time we decided it MUST be time for breakfast, we had to go looking for him, only to find breakfast consisted of a bowl of instant noodles from Circle K.
Great.
The guide was just as helpful going back down the mountain. My partners knee was shot, and she soldiered on bravely, with absolutely no help from the guide. He took off and we hardly saw him on the way down. Every time we sighted him, he was sitting beside the trail playing on his phone. When we got near, he would jump up and take off again, rapidly disappearing again.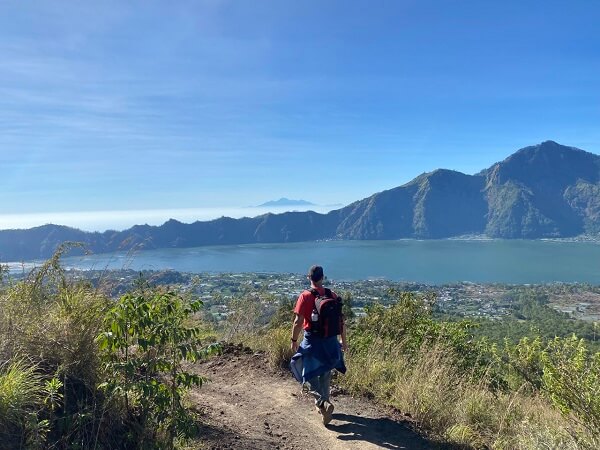 We made it down, no thanks to him. I was ok, if not a little tired from lugging those backpacks up the mountain in the dark. My partner had a sore and swollen knee, but made it ok.
The point is, a good guide will be there to help. The Mount Batur Trek is not hard, but then it isn't easy either. Most regular hikers will fly up it, and most reasonably fit people will find it moderately hard at the most. It's not a hard track to follow, so getting lost isn't a problem, especially with a couple hundred others following the same path. But the guide is supposed to be there to help. Get one that will!
The best way to do this is to stick to an established, reputable company that can back up that reputation. I recommend my first guide, and his company from GetYourGuide. Click THIS LINK, or any of the others I have put in this section. You won't regret it.
Mount Batur Trek – What to Wear
Picking the right gear for the Mount Batur Trek is another important factor. This is why.
On my first trek, it was early May. This is only the very start of the dry season, and it wasn't very cold. I made the trek up the mountain wearing shorts and T-shirt, good hiking shoes, and had a light hoodie in my pack. On top of the mountain, that sufficed as the weather was very mild.
Second time around, it was nearing the end of July. Dry season is in full swing by that time, and fortunately I decided to prepare for a slightly more chilly experience. Therefore, I wore long (but still light) hiking pants, T-Shirt, hiking shoes, and carried a nice fleecy hoodie in my pack.
I needed it!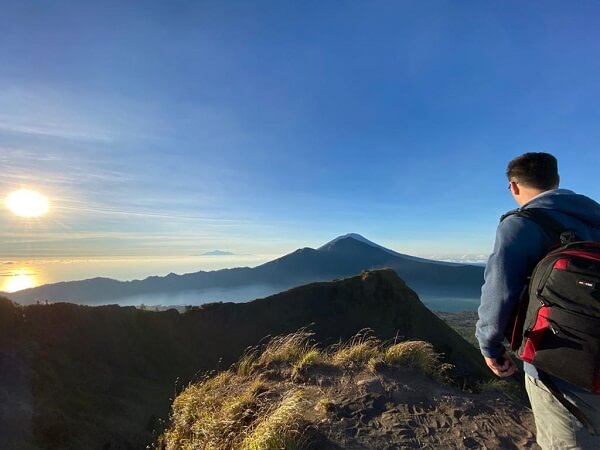 On top the wind was blowing and it was freezing. It had even been cold in the carpark at the start, and while everyone rugged up, I stayed in my t-shirt, knowing I would soon warm up on the hike. That was well and good, but by the time I reached the top, I was digging out the jumper and wishing I had a beanie as well!
So, come prepared. Check out the season and expected weather at the top. Ask your guide before you leave if you are concerned.
Also, make sure you have decent shoes. This is a volcano, and even though good runners will suffice, the going (especially on the way back down) can be very slippery with loose volcanic rock underfoot. Be prepared!
Mount Batur Trek – What to Take
This is one that most people don't even think about before they fly to Bali. But just a few small items will make the world of difference on the Mount Batur Trek. Some are obvious, but others, unless you hike regularly, you might not even think of. I already touched on a couple earlier, but here is my quick list:
Hiking Boots/good runners
Water Bottle
Headlamp
Daypack
Jumper/Hoodie
Snacks
CAMERA!!
Just do it!!
If you are still on the fence about whether to do the Mount Batur Trek, my advice is to JUST DO IT!
It doesn't come any simpler than that.
Yes, I would advise you to do some exercise beforehand. Start doing some walking, or stairwork before you come to Bali just to make the hike easier for yourself. In the end, though, I believe anyone can do the Mount Batur Trek. I have a friend back in Australia who will be the first to admit that when she reached the summit, she was waaaay overweight, unfit, and had no business being on a volcano trek. But she made it.
Now, she has shed that weight and is lining up to do the Mount Batur Trek again!
To give you an idea of how long it is and how much work you will do, then this is what my Garmin watch told me on BOTH occasions once I had reached the end of the trek.
17,000 Steps
169 flights of stairs UP.
Now, I am 6 ft 3 inches tall, so if you are 5 foot tall, you could probably add a few thousand more steps onto that. But it should give you an idea. The thing is, if you want to do it, then you should, because you won't regret it if you do, but you will certainly regret it if you don't.
So just get out there and give it a go!
Ok, so that's it for the my most recent article on the Mount Batur Trek. I have written two others as well, which all offer different information, so if you are interested, click HERE or HERE for both of them.
Otherwise, I am going to sign off this article with some Frequently Asked Questions about the Mount Batur Trek.
Thanks for reading!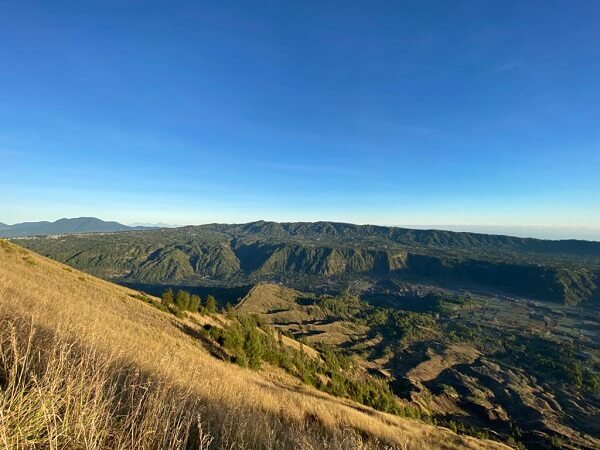 Mount Batur Trek – FAQ'S
How long is the Mount Batur Trek?
The Trek is just over 11km long.
How long does the Mount Batur Trek take?
Approx 2 hours to get to the summit, and 2 to 3 hours to get down, due to the slippery path.
When is Mount Batur open?
The mountain is open all year round, but remember to check the weather before you book.
Do you have to do the sunrise trek?
No. You can climb the mountain at anytime during the day. In fact, on our last trek back down we met a local hiking group just heading up at about 9am. It will be hotter, but you will have it to yourself!
How high is Mount Batur?
1717m
When did Mount Batur last erupt?
Mount Batur's last eruption was in the year 2000. It erupted on the opposite side from where the climbing track is. The mountain is historically the most active on Bali, but recently Mount Agung has showed more activity. Mount Batur is technically classified as normal, or dormant, but when you are standing on the rim and you feel the heat, you are reminded that you are, actually, on a volcano.
Where is Mount Batur?
Mount Batur is located in the Kintamani Region of Bali. It is about 1hr drive north of Ubud, and about 2 hrs from Kuta/Seminyak/Sanur areas.
Where to stay for Mount Batur?
If you want to stay local, and therefore sleep in longer rather than have a 1am start, then you can find accommodation in the Kintamani Region by clicking HERE.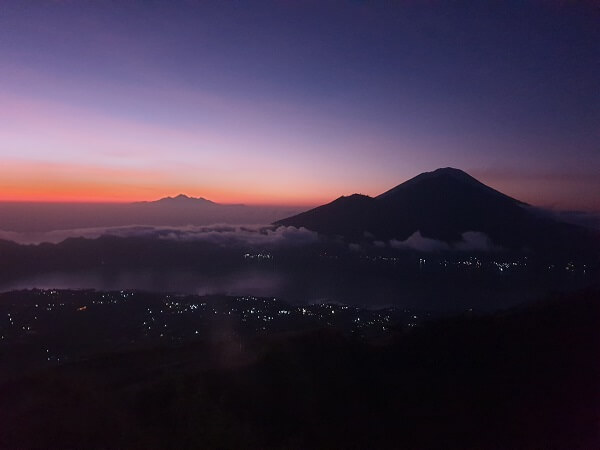 Are you visiting Bali for the first time?
If you are a first time visitor to Bali, then check out the handy guides that I have made about this wonderful island.
For a full guide on how to create your perfect Bali Itinerary, have a look at THIS article. Inside, I have covered everything you need to know about where to go, stay and what to see. Most importantly, you will also find information on how long I recommend you spend in each spot!
If you are confused about the different areas of Bali, then check out THIS article. Here, I have broken down each area, and explain the differences. The last thing you want when you come to Bali is to find out you have booked in "Party Central" when you actually wanted a chill, peaceful jungle experience. Or vise versa!
How to get around in Bali? That's an easy one, and something you don't have to worry about with THIS article on where to hire scooters, cars, and even drivers to escort you around the island.
Mount Batur Trek Summary
To wrap up, all I can say is to do it! The Mount Batur Trek is something that you will not regret, and is definitely (for most people) a once in a lifetime experience. You will not find a better place on the island to enjoy the sunrise, and it is one that you don't want to miss.
Just remember, get the right guide, wear the right clothes and you will have an amazing experience.
Trust me!
DON'T FORGET to leave a comment below. I promise to reply!