When I first decided that I would be coming to Penang, I did what I would usually do. Google search what there is to do in Penang! Coming from Bali, I wasn't so interested in just another place with decent beaches and sunshine. Then, I found out about Penang National Park, and suddenly I began to get excited!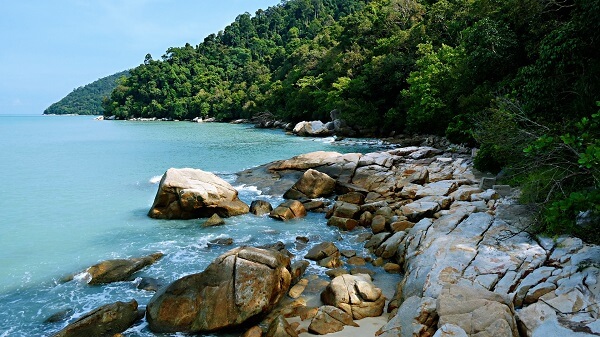 What Penang National Park offered was not only some nice hiking within a small area, but the chance to see some really beautiful, secluded beaches along the way. Throw in some monkeys, tropical rainforest, a treetop walk and a turtle conservation, and Penang National Park really packs a decent punch.
This article may contain affiliate links. If you click on those links and make a purchase, at no extra cost to you I will get a small commission. This will go a long way toward keeping this website running. As always, thank you for your support! Click HERE for more information.
Table of Contents
Where is Penang National Park?
Penang National Park is located in the north west corner of the island. It is about an hour away from Georgetown, but is quite easy to access. If you are staying at or around Batu Ferringhi, you will only be a short drive away.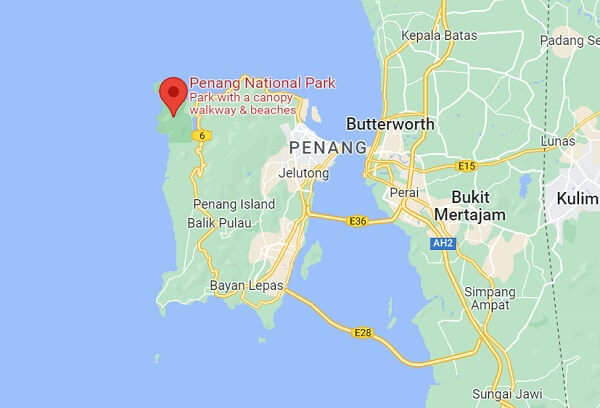 An interesting fact about Penang National Park is that it is the smallest National Park in the World. Not just Malaysia, but the entire World! This is not readily apparent for anyone that finds it on the map, as it seems to take up a large chunk of real estate on Penang Island. Remember though, that this is only a relatively small island to start with.
How to get to Penang National Park
Getting to Penang National Park is actually rather easy. It is accessible by road, and the roads on Penang Island are rather good. So any mode of road transport will suffice.
BUS
Bus is, in my opinion, the easiest way to get to Penang National Park. You can catch it from the main terminal at Pangkalan Weld Jetty Bus Terminal in Georgetown. Look for bus 101 that will leave from Jetty B Station. HERE is a Google Maps location.
The bus will take you all the way to the village just near to Penang National Park.
Unfortunately, even though there are bus stops a lot closer, because of road works and construction, the route currently does not go to the National Park Entrance, instead dropping you about 1km down the road. It's an easy walk to the gate though, and if you don't have any food or water, you will get plenty of opportunity to pick some up from local stalls along the way.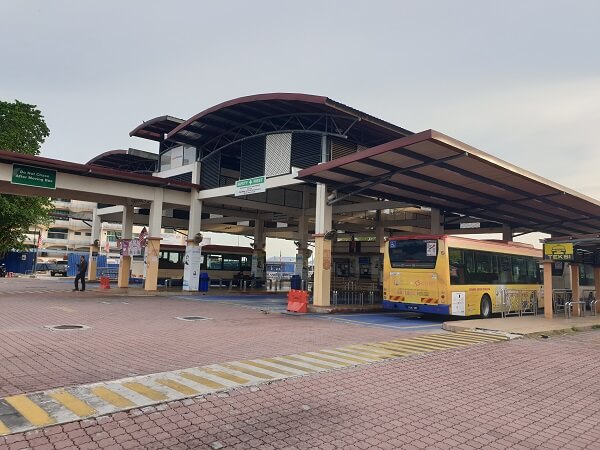 When you come back out, once again look for bus 101. You will have to come all the way out to the roundabout, and find the bus "depot" a hundred yards or so further down the road toward Batu Ferringhi at THIS location.
The first bus 101 leaves Georgetown at 0530 in the morning. I personally opted to take the 0730 bus, as the park doesn't actually open until 8AM. So no point being there super early!
Bus fare will cost you 3.40 RM if you catch it the full distance. Pretty cheap for a ride of just over an hour!
I have also seen some confusion online about bus 102 also going to Penang National Park. Technically this is true, but it is an airport route, so it only skims the west side of Georgetown on its way through. If you are staying in this area, perhaps it is an option, but bus 101 is the better choice. You can get it from the terminal, or at points throughout the city.
TAXI or GRAB
Taking a taxi is also possible from Georgetown. But it will cost you a whopping load more money than the bus. This might not be so bad if you have a few people though, and it will get you to the front gate.
Grab is probably a better option than Taxi though. If you don't know, Grab is like Uber, and you can call it using the app. It will also cost a little less than a Taxi, and you know the price up front.
What to expect
Penang National Park is a tropical Jungle/Rainforest. So you can really expect anything that you would expect in that sort of environment.
The treks are wild and jungly. They can get slippery underfoot in the wet season, and there is a lot of clay in places. In other places there is a lot of sand. There are monkeys, lizards, spiders (small ones especially in the morning) birds and plenty of other wildlife. This is true jungle, too, so don't forget the humidity!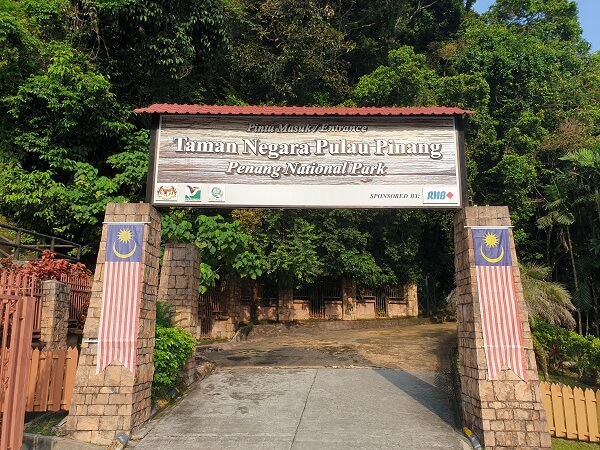 The beaches are beautiful. They are possibly the best on the island, and you are almost guaranteed to have Turtle Beach to yourself. The two beaches are completely different to each other, but you are certain to fall in love with them both. Some visitors are even known to stay on Turtle Beach for the sunset, though I don't think I would want to hike back in the dark. Definitely hire a boat!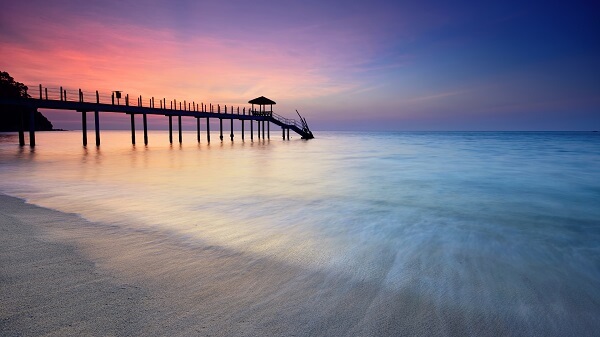 The great thing about Penang National Park though, is that you can enjoy it YOUR way. You can spend the day hiking, getting your fix of physical exercise and some amazing rewards along the way. Or you can enjoy the park and the beaches by hiring a boat and driver to take you on a completely different route and experience.
The choice is entirely up to you.
When you arrive
Upon arrival at Penang National Park, you will be greeted by the owners of several food stalls and restaurants, as well as boat drivers and their sales people. They are all well intentioned, and most will offer their services, and then let you on your way if you politely decline. They are also a wealth of information, so if you get into a conversation with them, expect to learn a few things about the park.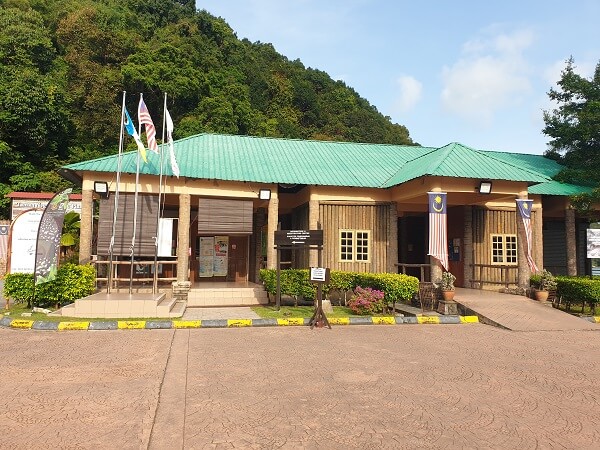 Continue through to the Penang National Park office. Here, you will have to register to enter the park. Entrance is free, but they like to know who is in the park at any given time. I understand why, but how they know is a mystery, as I went back to the office when I left, to register that I had done so, and they waved me away.
Apparently I am still in the park.
Anyway, there is a simple code to scan so that you can fill in your details online. Just know your Passport number, enter some personal details, and you are on your way.
What hikes can you do?
There are several hiking trails in Penang National Park. In reality, there are only two that people tend to stick to. Those are to Turtle Beach and Monkey Beach. Along the way you will pass by a few others, but I think they are more for locals or workers in the park to access different areas. I haven't met anyone that has ever done them!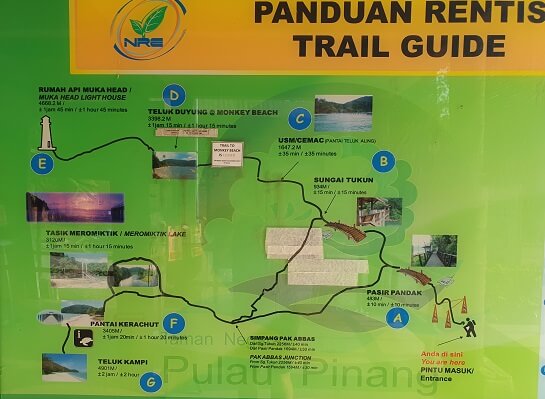 Canopy Walk
I didn't actually do the Canopy Walk as it wasn't open, but it is worth doing if it is! This amazing walk takes you over the tree tops, literally through the canopy 15 meters above the ground. It goes for about 250 meters, and is very reminiscent in that regard to the treetop walk in Kuala Lumpur. You can buy tickets at the start of the walk for only 5 MYR if it is open.
Turtle Beach (Pantai Kerachut)
The Hike to Turtle Beach goes up and over a hill. A pretty steep hill. Along the way you will find several rest stops, but these tend to be grouped close together in the second part of the trek.
When I hiked the track to Turtle Beach, there was quite a lot of damage at the beginning of the path. Concrete stairs had been washed away in places, and simply didn't exist. I couldn't help but smile, as in places such as Australia, the entire park would be closed down while they fixed the "hazard".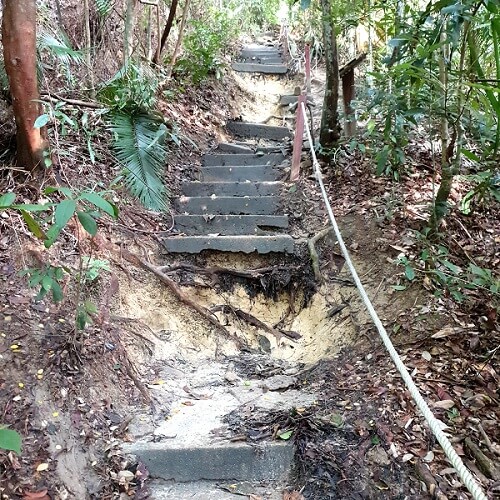 The stairs are easy enough to negotiate, and the rest of the trail is akin to most jungle and rainforest tracks you might encounter. Wear good shoes and have a decent, or at least moderate, level of fitness and you will be fine.
After about an hour to 90 minutes (depending on your fitness) you will reach the Meromictic Lake. This lake is a phenomenon, as the salt water and the fresh water meet, but don't mix, instead existing next to each other on different layers. This is only one of two lakes in Asia that this occurs.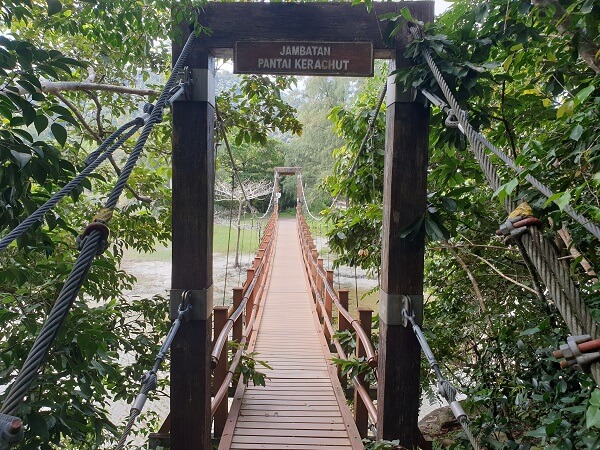 Just past the lake, you will go across a short suspension bridge and emerge onto Turtle Beach.
This beach is beautiful. It is a long, wide expanse of brilliant white sand that is quite coarse underfoot. The water is amazing, but beware as you CANNOT swim at this beach due to deadly jellyfish. Instead, enjoy the beach itself and the wonderful rocks at the lake end of the beach.
In the middle of the beach is a jetty, and just past this you will find a turtle conservation. It is free to enter and check out for yourself. They have baby turtles, mid size turtles and a large turtle in their "pools" which are really just large tubs. Turtle Beach got it's name because at certain times of the year the turtles come ashore and lay their eggs. The locally run conservation preserves the eggs, hatching them and releasing them when the time comes to ensure the turtle survival rate stays as high as possible.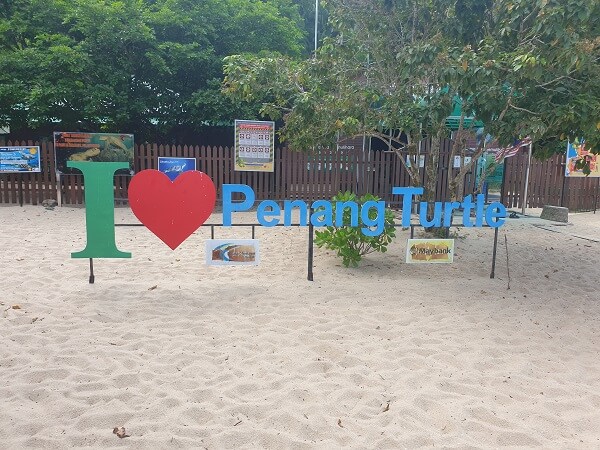 This is not the best Turtle Conservation I have seen. It certainly isn't the worst though, and they can only do as well as the funds they are given. Visit them and have a look, as it is a noble cause.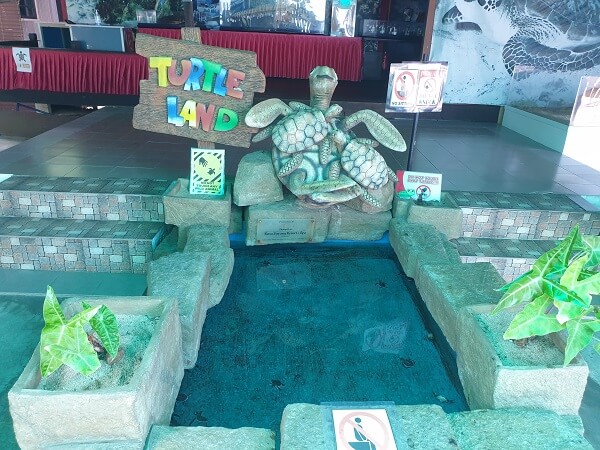 When you finish at Turtle Beach, you face the issue of Trekking back again. Unless you have arranged a boat to meet you, or if you are like me when I was there, a boat suddenly appears. Yes, I bargained with the driver and got a ride back to the entrance. Via Monkey Beach of course!
Monkey Beach
Monkey Beach is a lot different to Turtle Beach. It is long and has a lot narrower strip of sand. You can swim, and it is lined with local food stalls for you to grab a bite to eat or a cold drink. None of this is available at Turtle Beach.
For this reason you will find a lot more people at Monkey Beach. And a lot of boats. It is, basically, the perfect place to come, pick a hammock, order some food and a couple of cold beers or a coconut, and laze the day away in peace.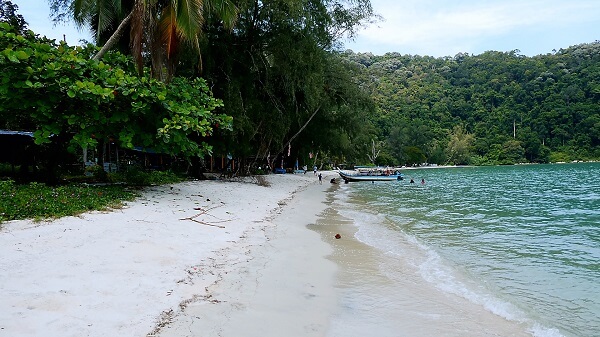 The only issue is that at the moment you will have to get there by boat. The hiking trail has been closed since 2019 due to damage, and I don't see any signs of it opening again in the near future. To get there at the moment, you will have to organize a boat, either from the entrance, or the part way point on the hike, just before the closure.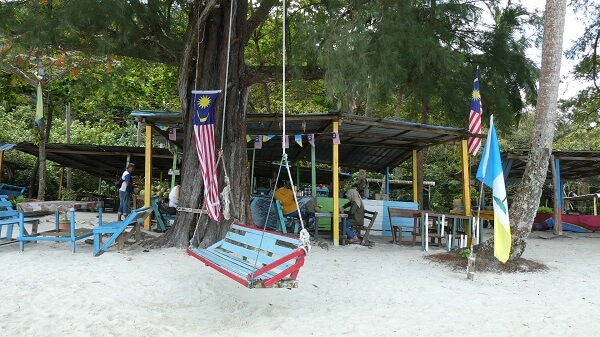 Once you are at Monkey Beach, you CAN hike up to the lighthouse which is accessible from the beach itself. I haven't actually done it, so can't tell you what that is like. (sorry)
Oh yeah. Monkey Beach also has monkeys. Coming from Indonesia, I was a bit apprehensive about losing my phone, wallet, camera and sunnies. These monkeys didn't even come near us though, and if anything, did their best impersonations of trees and stayed right away from everyone.
Is it worth it to take a boat?
This entirely would come down to personal preference. Personally, I would say yes.
If you are a serious hiker, then get your boots on and enjoy the trails that are available. If you only want to enjoy the beaches and see a bit of the park, then by all means hire a boat. As I mentioned, I opted for the boat back from Turtle Beach, and am so glad that I did. I saw Monkey Beach, and some other great spots along the way, and wouldn't have been able to without the boat.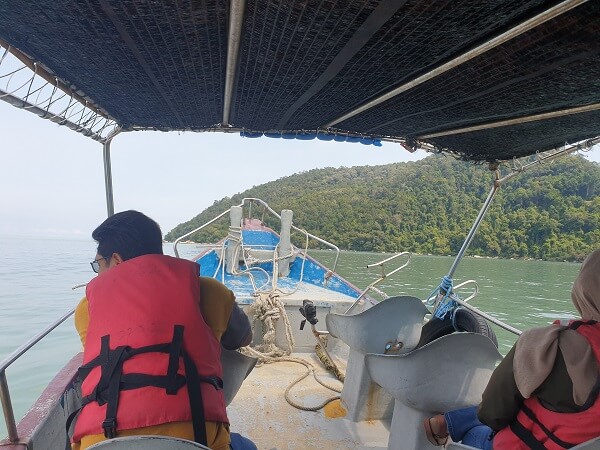 A boat will cost about 200 MYR if you get it from the gate. This will take you on a return trip out and back and you will see both Turtle and Monkey Beaches. The driver will wait for you, even if you want to stop for lunch, a swim and hike to the lighthouse.
If you opt to hike to the midway point on the Monkey Beach trail, you will be able to hire a boat for less. I don't know the price though. Then, if you are like me and get lucky, at Turtle Beach, I was able to hitch a ride back to the entrance via Monkey Beach for 80 MYR. (I bargained him down from 120 MYR)
Hiring a boat is a great and fairly authentic way to enjoy the highlights of a National Park. I honestly cannot think of another park that you can do that!
What to bring to Penang National Park
You are hiking, and the area is remote. So you really don't want to be stuck without something, do you? So here, I have you covered with this small list of things you really should bring with you.
Good shoes – You have seen the state of the Turtle Beach track in my photo. Other than that, these are jungle hiking tracks. They are slippery, and you will be jumping, stretching, and tripping over everything. Bring GOOD shoes.
Water – You will need it. Bring double! If you are going to Monkey Beach you can buy it. But not at Turtle Beach, and you won't find any stalls in the jungle.
Mosquito Repellent – Once again this is jungle, and they are everywhere. I put on a lotion before I started and had no problems.
Snacks – for energy along the way. There are stalls just at the entrance so stock up.
Camera – Don't forget it! You will be sorry.
Extra Cash – In case you decide to hire a boat. I wasn't planning to, but changed my mind, so you might too.
Hat and Sunscreen – So you don't spend the rest of your holiday in pain. The tropical sun will get you once you emerge from the trees.
Where to stay
If you are coming to Penang, then you will most likely be staying in Georgetown. This is where most accommodation is, and is the main hub of the island. Many enjoy getting away from all of that though, and that usually would mean heading to somewhere like Batu Ferringhi, the most popular and famous beach area on the island.
Therefore, for Penang National Park, that is the most obvious place to recommend staying. It is only a short drive down the road, or by bus. Other than that, staying in Georgetown makes it just as easy, only the trip is a bit longer. Here, I will show you some options for both.
Batu Ferringhi
LUXURY – PARKROYAL Penang Resort
The name should say it all. The PARKROYAL is right on the beach, has an amazing freeform pool, and an Italian Restaurant that guests constantly rave about. Plus, you get all the perks that you might expect from a PARKROYAL Hotel.
MID RANGE – Double Tree Resort by Hilton Penang
A great option that would normally come under the Luxury tag, but costs less than many other places in the area. Get fresh "welcome cookies" when you check in, and then feast away on the brilliant buffet breakfasts each morning. With spacious and comfortable rooms, the Double Tree Resort by Hilton really nails it when it comes to pleasing their guests.
BUDGET – Roomies Suites
This little gem is about as budget as you can get in Batu Ferringhi, but it gives you great value for money. Only a short walk from the beach, they offer comfortable and clean rooms with a wonderful breakfast and even a balcony to eat it on. Everyone that stays at Roomies Suites is pleasantly surprised at what they get for their "budget" stay.
Georgetown
LUXURY – The Prestige Hotel Penang
This beautiful Hotel is located right in the heart of Georgetown, close to Fort Cornwallis, the Clan Jetties, and most other things you would want to see when staying in the city. With a great breakfast, amazing pool with views, and clean and comfortable rooms, The Prestige Hotel Penang just gets it right!
MID RANGE – Le Dream Boutique Hotel
This little boutique hotel is cute and comfortable, for a very comfortable price. Featuring a rooftop bar and hot tubs with a view, there is no wonder that it is so popular. Le Dream Boutique Hotel is in a really great spot, and even though a bit further away from the waterfront, is still within easy walking distance. Surrounds are very quiet, and guests enjoy very peaceful stays.
BUDGET – Cocoa Mews Cafe and Homestay
I loved Cocoa Mews when I stayed there on my first visit to Penang. Located in Little India, it can be noisy in the evenings, but makes up for it in hospitality. Cocoa Mews is just like a friendly Hostel, only with private rooms. It is surrounded by wonderful restaurants and cafes, right next to Chulia Street, and walking distance to nearly everywhere, including the famous Penang Street Art.
Summary
I would highly recommend a trip to Penang National Park to anyone that is visiting Penang Island. It is an amazing place, and you don't even have to break a sweat to see its very best features. Just hire a boat and sit back to enjoy the ride!