Fethiye, a small fishing port on the Southern Coast of Turkey, also happens to be one of the most popular destinations for tourists to the region. It's beautiful scenery, amazing landscape, picturesque ocean views and near perfect weather make it a first choice for nearly anyone looking for a Turkish "escape". So it was for us when we first visited. Yet as perfect as it was, we really struggled when it came to finding good, cheap places to eat in Fethiye.
This article may contain affiliate links. If you click on those links and make a purchase, at no extra cost to you I will get a small commission. This will go a long way toward keeping this website running. As always, thank you for your support! Click HERE for more information.
It took a couple of days, recommendations from a few locals, and basically some good old hunting around, to finally find a few places that we were happy with.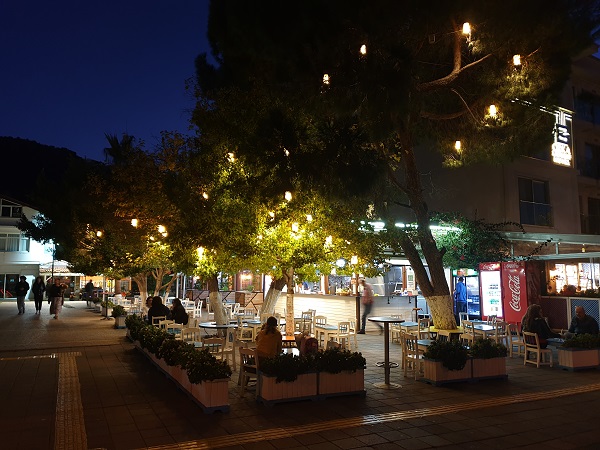 You see, Fethiye is a "holiday" town, as much as it is still a fishing village. The prices reflect the fact that it is mostly tourists that will be patronizing the restaurants along the waterfront. And it's really only going to be visitors that will eat at the cafes in the "hotel" part of town. The locals, well, they eat elsewhere.
So, where do they eat?
I am sure I will find more on future visits, but here is a list of Places to eat in Fethiye on a budget that we have already found. They may not be exactly what you would expect, but that is what made some of them pretty hard to locate!
Lezzet Lokantasi
This is the one place to eat in Fethiye that I would not have even stopped at if not for a local recommendation. As a matter of fact, it was our Air BNB host that told us about it. If you are on a budget, then this place will fill you up for only a fraction of the cost of most other places to eat in Fethiye.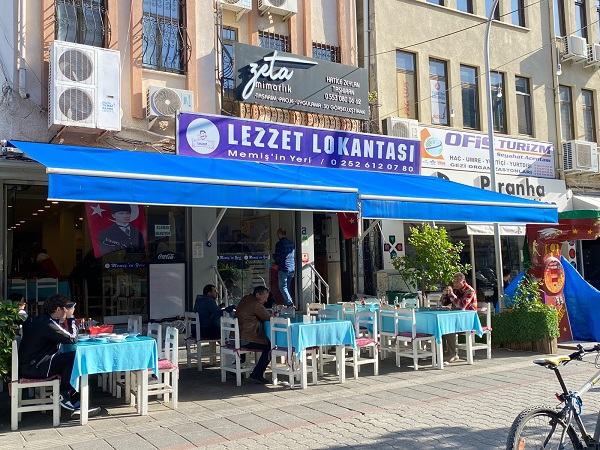 Lezzet have a set menu. While it says "set", there is some variation available. I will post a photo of the menu, however it IS in Turkish.
Basically, what you get is a bowl of soup (choice of Lentil or Chicken), a main, which is your main choice when looking over the set menu, a bowl of rice, and a bread basket that would fill 5 people! There ARE variations. We didn't explore the entire menu. Yet!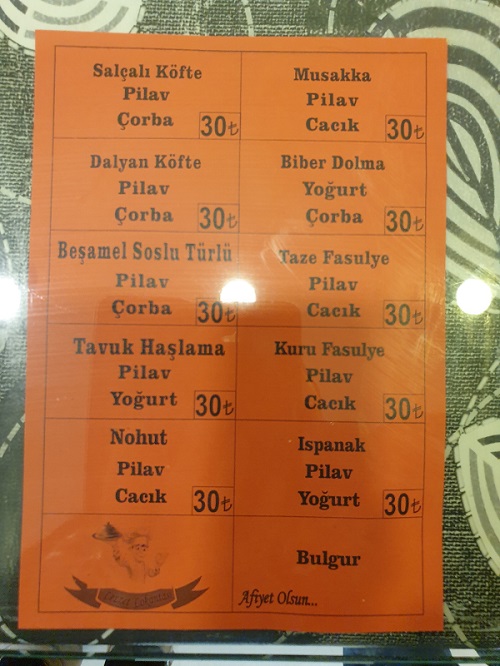 When we were there, we went with the two choices on the top, and alternated each time we visited. This is because they were basically both a beef meatball dish that we absolutely loved!
If you are in town and searching for a places to eat in Fethiye on a budget, then this HAS to be at the top of your list!
Click HERE for a Google maps location.
Iksirci Tezcan
We walked past Iksirci Tezcan about a dozen times, before we decided to sit down and try it out on our very last day. We were pleasantly surprised!
You see, this little gem is located right on the waterfront, next to the main square, and all the other restaurants along that strip were expensive. We had noticed that Iksirci Tezcan had cheap Toast, so only decided to stop as we were looking for a coffee and snack. When we saw the menu, we ended up having lunch!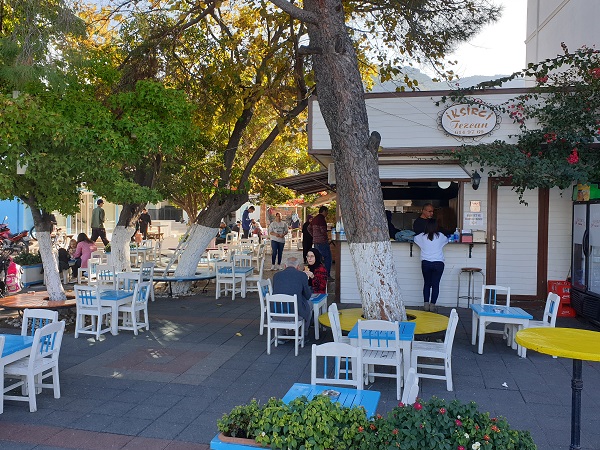 You will notice Iksirci Tezcan immediately as you walk past due to their distinctive tables and chairs. Basically, they are child size! It looks like they shopped at Toys R Us.
We found that this only adds to the charm, as you sit "down" and order a nice cheap meal (try the Gozleme) with harbor views, and still stick to the budget!
You can find Iksirci Tezcan at THIS location.
Hello Bufe Café
When we first arrived in Turkey, our first stop was, naturally, Istanbul. We stayed in Kadikoy, and one of the things we loved along the port areas was the Bufe restaurants that were everywhere. They sold cheap kebabs, and we would regularly buy them to eat on the ferry.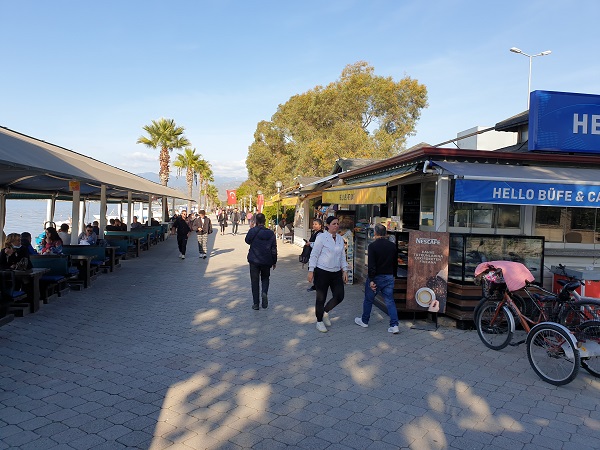 So, having been a couple of weeks away from Istanbul, we were pleasantly surprised to find similar places to eat in Fethiye. Hello Bufe Café is not far away from the very center of Fethiye, and right on the waterfront walkway. If you have been to Fethiye before, you SHOULD know exactly where it is.
We only really stopped in for coffee, but noticed immediately that it was a good, budget place to eat as well. Featuring seating and tables all along the edge of the dock, we were able to sit and watch the fish (so many of them) swimming below us, fighting for food scraps with the ducks and seagulls.
You can find Hello Bufe Café at THIS location.
Meshur Fethiye Borekcisi
Of the places to eat in Fethiye listed here, this one was easy for us to find. Borek is a very popular food along the south coast of Turkey, and we had eaten a lot of it in Antalya.
So, when we came to Fethiye and found THIS Borek place, we immediately decided to try it out.
The one great thing about Borek is that it is almost NEVER expensive. This place is one of the best places to eat in Fethiye on a budget, and in fact, ANY Borek place probably is!
Another reason we found Meshur Fethiye Borekcisi so easily, is that it is literally right next door to Lezzet Lokantasi.
Click HERE for a Google Maps location.
The Local Market
This seems like a cop out, but it is true!
The same day that we found Hello Bufe Café, we took a short cut across town to the Otogar to get bus tickets for the next day. Almost immediately after leaving the dock area, we stumbled across the local market. It was packed with people buying fruit and veg, and we decided to wander through to check it out.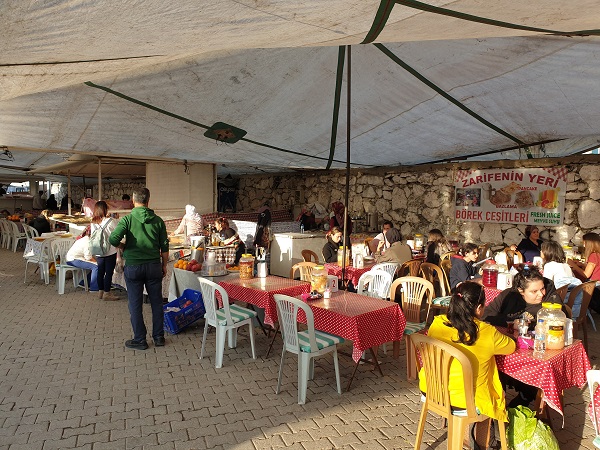 Little did we know that the market is also one of the best places to eat in Fethiye! And I'm NOT talking about the fruit and veg either.
Within the market are food stalls. And all of them are amazing quality for a great price! They ARE catering to the locals, after all.
My choice is the Gozleme place. I love Gozleme, and couldn't walk past without giving it a go. For a good price you get a HUGE Gozleme. Perfect for snacking on as you wander through the rest of the markets.
You won't actually find the restaurants on the map, but if you head to THIS location, you will find them right there!
Note – On Google Maps it says this is a Tuesday market. We were there on a Friday, so it might be worth checking out any day of the week to see if it is open!
Summary
Finding really cheap, budget, but still good places to eat in Fethiye is not really easy. But they DO exist, you just have to be open minded and know where to look. I hope that my list of 5 places to eat in Fethiye helps you out, and lets you stick closer to your budget next time you visit!
Interested in Fethiye? Then check out my full Travel Guide to Fethiye HERE.