It sounds like a crazy question, but there it is anyway. Is Winter in Turkey actually a better time to visit? Well, I have just spent an entire month in Turkey during winter, and guess what? It was pretty damned good!
Welcome to my 17th edition of THE JOURNEY!
I know I only just posted the 16th edition, but I had a few things to say and clarify about the new Bali/Indonesian Laws. So now, I will be using THIS edition to get you all up to date on my travels, and what sort of travel tips and guides you can expect to be coming your way soon.
So lets dial it right back to 4 weeks ago when I left Bali. No prizes for guessing where I have been, because I already told you in the title. Turkey!
This article may contain affiliate links. If you click on those links and make a purchase, at no extra cost to you I will get a small commission. This will go a long way toward keeping this website running. As always, thank you for your support! Click HERE for more information.
A Winter in Turkey
We landed in Istanbul to a balmy average temperature of about 14 degrees. This is a far cry from what I had been getting used to after spending nearly 3 years in Bali! But here is a little secret about me.
I love the cold.
Hence the reason I love snow skiing so much I guess.
So the cold weather in Istanbul was no issue for me. Jo was a different matter. She is Indonesian born and bred, so cold weather to her is anything under 27 degrees.
She handled it like a trooper though, and I don't think I ever heard her complain. In fact, she fell in love with Istanbul, and after a week there, was not wanting to leave!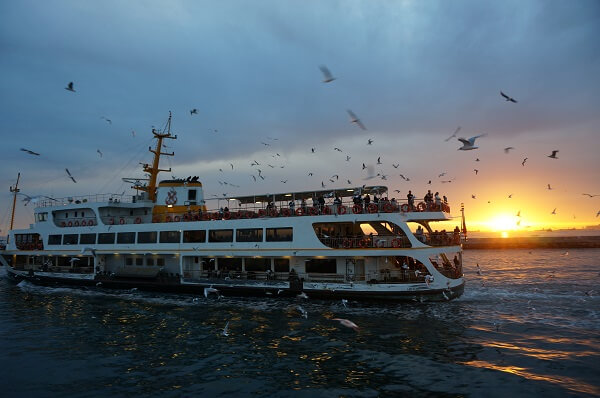 We both loved Istanbul, and the entire week we were there we were on the go constantly. We rode the ferry every day across to the European side from our base in Kadikoy, and back again at sunset. On average, we walked about 14 kilometers every day, and saw a hell of a lot! The Hagia Sofia became a constant, and there was always an excuse to just "swing by" and take a photo or two. Isn't that what you do when you travel?
The great thing about Istanbul in the winter though, is that nothing is crowded. There are still tourists, but it is manageable. The lineups are smaller, and the public transport is mostly locals. When we needed to book a bus, there were plenty of options, and we were about to head to Cappadocia to start our circuit of Turkey.
The thing was, even though there are plenty of buses, it was actually only about $10 extra to fly! So fly we did!
Winter in Cappadocia!
Cappadocia is famous for its balloons. And they ARE amazing to see. But whatever you do, UNLESS you have the money and REALLY want to fly in one, don't bother! It costs on average 150 Euro to have a one hour flight for the dawn, crammed into the basket with a heap of other tourists. Add to this the fact they are not very safe, and you will understand why my tip is to stay on the ground and take photos. The balloons are best seen from below anyway.
IF you really want to go up in a balloon, I have put a widget in below with a few trusted companies included.
If you have not been to Cappadocia, then you will probably not realize just how damned hot it gets in summer. 45 degree temperatures are common, and nothing is really fun when you are trying to trip around in that sort of heat. Even the air conditioning in the tour buses can't handle it.
So we found winter in Turkey was the perfect time to be there. The mornings were a little chilly, but it was beautiful and comfortable going on tours, and hiking through the fairy tale valleys around rock formations in a balmy 17 degrees each day. Stopping for coffee was a pleasure, and you actually wanted it hot!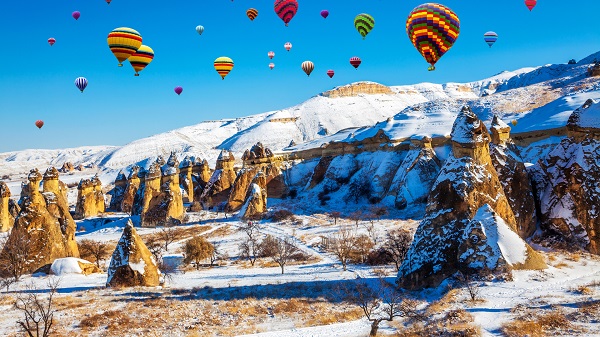 Which brings me to another point. Turkish Tea.
Tea in Turkey is a tradition, and one that we indulged in whenever we could. We ordered it with everything! Now, I don't know how I would go drinking hot tea in 45 degree heat, so winter in Turkey made this little tradition a pleasure to experience.
I will speak more about Winter in Turkey, and in particular Cappadocia in my full guide that I will be creating shortly, so keep an eye open for it.
And FYI – you REALLY want to see snow in Cappadocia. This is one thing that Winter in Turkey may provide you when you are there. And if it does then you are very, very lucky because the entire place becomes a fairy tale wonderland!
Winter on the "Turkish Riviera"
From Cappadocia we moved on to the southern coastline. This area is know as the Turkish Riviera, and there is almost an unlimited amount of options for places to visit. The entire coastline is dotted with beautiful towns that all offer incredible scenery.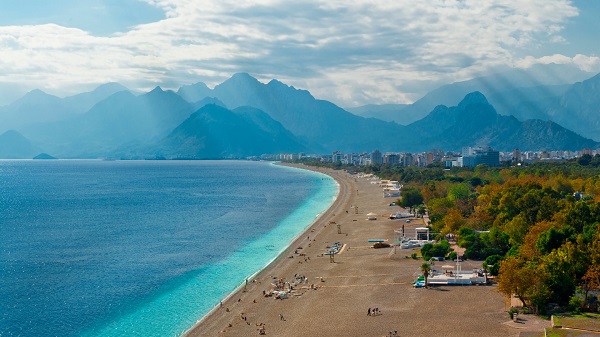 Basically, it was a lottery as to where we would go!
So I did what any good traveler does. I picked up a map and chose a couple of places at random!
I tell you what, we were pretty happy with the results.
Winter in Turkey is great along the coastline. This area is normally jam packed with tourists, both international and domestic. The beaches are crowded, and the towns are a nightmare. But not in Winter.
We had day after day of about 22 – 24 degree weather and we were loving it. I was walking around in jeans and a t shirt every day. It was awesome, with no crowds and no holiday price hikes either. In Antalya, we had nearly empty streets in the Old Town, and the beach only really had locals. Restaurants were near empty, and the only time that public transport became crowded was in peak hour commute.
We loved Antalya, but after 4 days we moved onto Fethiye, a "little" fishing port further along the coast. The time there was SO relaxing, and it WAS empty. We literally felt like we had the entire town to ourselves! Winter in Turkey was really turning into a winner!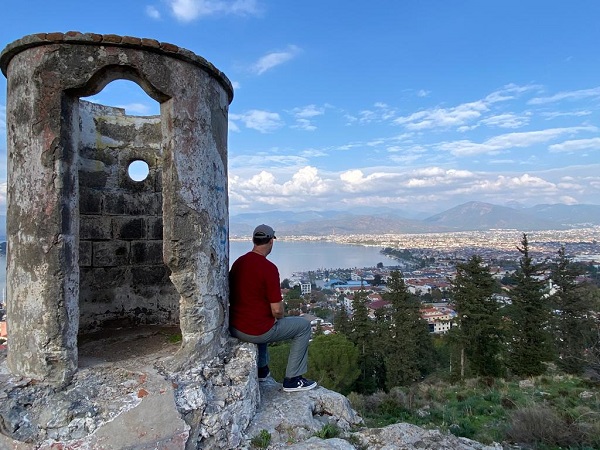 From Fethiye, we were going to go to the great tourist trap of Pammukale, but decided against it. There were some really bad reviews coming out of it lately, and it was only about a week until Jo had to leave to head back to Indonesia. So we decided to leave the normal tourist track and head to Izmir, the third largest city in the country.
Izmir was really nice. We only had two days there, and it rained for one of them, but that didn't stop us. We charged on anyway, and saw a lot in those two days. It is a really nice city, with a laid back and casual populace, historical background, and wonderful sunsets over the bay. In a way, Izmir is like Istanbul on a slower and smaller scale. Minus the big tourist attractions, of course.
With Jo only having a few days left, we decided to head back to Istanbul, and spend her last few nights in her favorite place in Turkey – Kadikoy. It was where we started our trip, and was still her favorite place.
So back to Istanbul we went, and spent 3 days going back to the Hagia Sofia, riding the ferries, and eating at all of our favorite spots.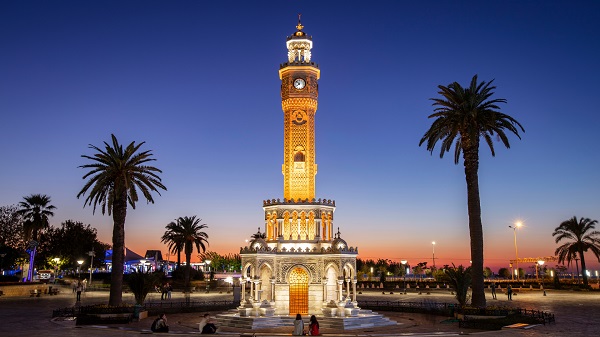 Christmas and New Year
We left our Winter in Turkey behind a few days ago. Jo has moved onto Dubai to visit family for Christmas and New Year. As for me, I am currently in Plovdiv, Bulgaria. I am hunkered down over my laptop in a nice little studio apartment, and it's currently 4 degrees outside. They are expecting snow in the New Year, so maybe I won't actually get my white Christmas just yet.
If you are in Plovdiv, then drop me a line on here or on Instagram. I am blogging away and catching up on my articles and guides about Turkey, but would be keen to talk to another human every now and then! Especially if you are a local.
Cheers, and I will catch up with you all in the New Year with my next update in THE JOURNEY #18.
J