To be honest, I nearly didn't make it to Zagreb. So the last thing that I thought I would be doing on this blog was writing a Complete GUIDE to Zagreb. The reason that I nearly didn't make it? It's simple really. I honestly just didn't think there was anything worth seeing there!
This article may contain affiliate links. If you click on those links and make a purchase, at no extra cost to you I will get a small commission. This will go a long way toward keeping this website running. As always, thank you for your support! Click HERE for more information.
This comes from the fact that Croatia is such a beautiful country, and has so many other, more famous and incredibly amazing cities, that poor Zagreb gets left behind. For anyone that has visited though, there is a completely different story. Now, I can proudly say that I am one of those people.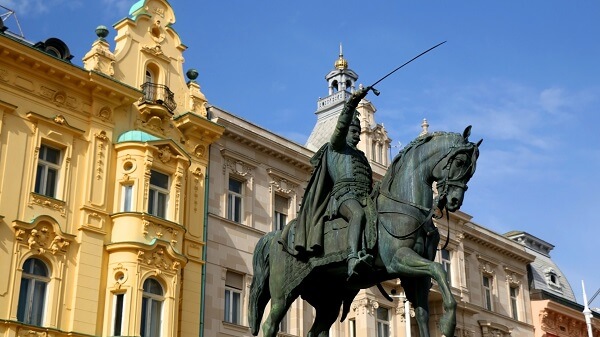 Zagreb is beautiful. In fact, I am going to go out on a limb and tell you that, I'm pretty certain, it has just rocketed up my list of favorite cities to number one! That's right, it has displaced Tokyo, and that takes some doing.
This is a city that is just plain nice to walk around. No matter where you go, you will be amazed at the beauty of the architecture, the parks, the tree lined streets, and even the statues. Zagreb is not a huge city, and by capital city standards is actually quite small. But, therein lies part of the charm.
So, let's get into my complete guide to Zagreb!
Table of Contents
Where is Zagreb?
Zagreb is the Capital City of Croatia, and is located in the North of the country, and very close to the border with Slovenia.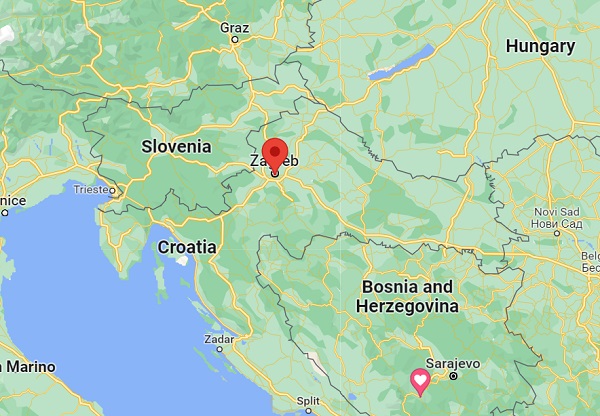 Zagreb is an inland city, unlike most of the cities in Croatia. It is located along the Sava River, and at the foot of the Medvednica Mountains.
Weather in Zagreb
When we talk about the weather in Zagreb, we are also talking about the best time to visit, as they go hand in hand.
Stay away in Winter if you can. I have been to Zagreb in Winter, and although every city has its own beauty, especially with a nice snowfall, this is a place that is a lot better enjoyed in Summer. Temperatures in January can get down to about -2°C, so it isn't the "holiday" destination most would plan to visit.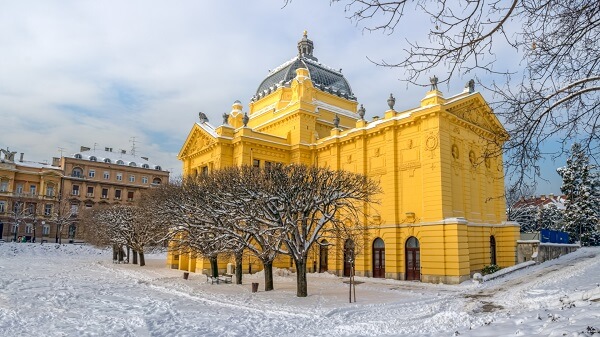 The very best time to visit Zagreb is from April to September. The period from June to August will naturally be the warmest, with temperatures topping at about 30°C. The Spring period of April and May will see top temperatures of about 18 – 21°C, but you will also experience a bit of Spring Rain.
So, what is the Complete Guide to Zagreb pick as the best time to visit?
Probably the nicest time of the year, away from the Summer crowds, with lower prices and slightly lower temperatures is the Autumn. Over September and October, temperatures peak at about 20 – 24°C, making it a smart choice for many reasons.
How to get to Zagreb
Getting to Zagreb is easy, and in fact it is probably the easiest city in Croatia to get to. This is only natural with it being the Capital City.
Zagreb has a major international airport, and is connected with most European Countries with multiple flights from each every day. Croatia Airlines uses Zagreb as its home base, and most of the other major carriers in Europe offer up flights to the city. Being only a couple of hours flight away from most of the major European Cities makes Zagreb a popular destination of choice.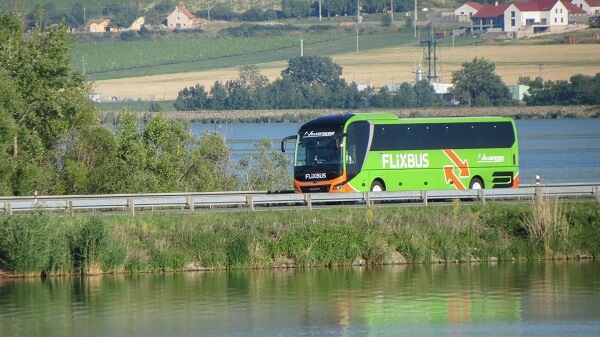 Trains also run to Zagreb daily from many countries around Europe. The city has one major train station, and is connected by rail to Slovenia, Hungary, Austria, Germany, and Switzerland.
For many budget travelers, and those coming from cities and towns that are not exactly major centers, bus travel is a popular choice. Buses literally run from anywhere around Europe to Zagreb, and often at a fraction of the cost of a flight.
With Croatia now joining Schengen, bus travel will only become even more popular without the dreaded prospect of the land border crossing. So too will travel by car, and with so many major arterial roads coming into Zagreb from all neighboring countries, there is no reason that fellow Europeans should put off their Croatian holidays any longer!
Zagreb airport to Zagreb City
One question that many visitors, or potential visitors ask, is how to get from Zagreb Airport to the city center. That is a question with a very easy answer!
There is a shuttle bus!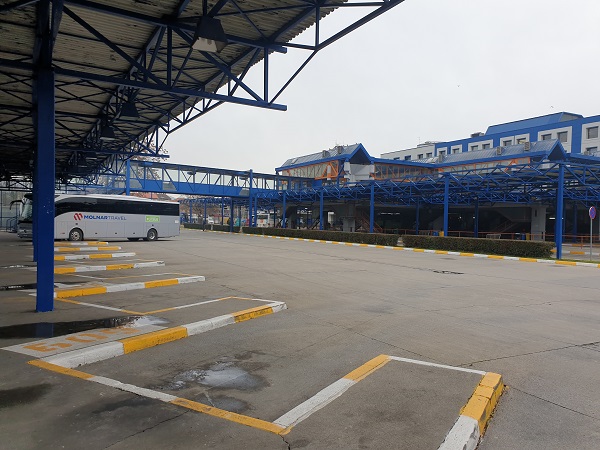 This is the easiest way to get from the airport to Zagreb. Once you are in the arrivals terminal and have cleared through immigration and customs, walk straight out of the main doors. Look diagonally over to the right, and the bus will be sitting RIGHT THERE. You really cannot miss it. There is even a sticker on the front window that says "shuttle bus". Otherwise, confirm with the driver.
The trip into Zagreb will only cost you 6 Euro, payable directly to the driver when you board the bus.
Buses depart regularly, and you won't have very long to wait. They will take you to the main bus terminal in Zagreb, and from there you can easily catch local buses or trams to your final destination. If you are like me though, it was an easy walking distance to my hotel!
How many days to spend in Zagreb
Like many of the cities in this part of the world, I would say that 3 days is the optimal time.
You would spend the first day exploring, and I would suggest a free walking tour. Then the second and third days, return to places you liked on the tour and want to see more of. Get along to a couple of museums, and taste a bit of the local food.
As with anywhere though, you could easily spend longer. In my opinion though and the guide to Zagreb recommendation, is that 1 or 2 days is too short. 5 days may be too long for many. Leaving around 3 days as the best suggestion.
Things to do in Zagreb
I loved Zagreb. I have said it before, and I have no issue saying it again. But when someone asks me what I really liked about Zagreb, it is such a tough question to answer. It wasn't like there was ONE thing that I did that made me fall in love with the city. It was a combination of it all. The atmosphere, architecture, and the friendliness and welcoming nature of the people.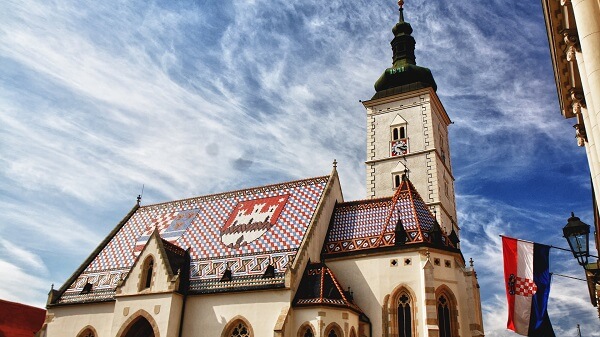 Having said that, there are plenty of things for you to do in Zagreb. Here are my Guide to Zagreb list of favorites.
Do the Free Walking Tour – Did you know that in nearly every single major city you can do FREE Walking Tours? There is a great one in Zagreb that starts in the main square, and the guide will show you all the main sights, explain them, and tell you funny stories along the way. Check it out HERE.
Watch the Cannon Shot at noon – Something quirky about Zagreb is that there is an actual Cannon high in the LotrScak Tower that fires off a single shot at noon every day. This then starts all the church bells in the city ringing.
Ride the world's shortest Funicular – At just over 60 meters long, this has to be the laziest way to get up a very small hill! Either way, if you want to say you went on it, the Funicular will take you up to the Tower for the cannon shot.
Museum of Broken Relationships – Located right behind the same tower is the ultimate museum to failed relationships. I don't think it comes more quirky than this, but it is also the most visited museum in the city. Just don't go there for your first date!
St Mark's Church – This 13th Century Medieval Style Church is probably the most famous sight in Zagreb, and recognizable all over Croatia. This is due to the unique colors and design of the OUTSIDE of its roof.
The Stone Gate – This medieval Stone Gate leads into the Old Town, and is famous for its shrine to the Virgin Mary. There are several pews to the side, and people come to worship at all times of day. Take the FREE walking tour to find out the amazing story behind this iconic location in Zagreb.
Zagreb Cathedral – The Zagreb Cathedral is as imposing as it is impressive. Severely damaged in recent years from an Earthquake, it is painstakingly being restored, but is still amazing to behold. When you CAN get inside, the beautiful chandeliers actually came from a Las Vegas Casino!
Check out some Art Museums – If you love art, you will adore Zagreb. There are actually SO MANY art museums in the city that Trip Advisor actually has done a list of the 10 best! Check it out HERE.
Go Planet Hunting – Zagreb has its very own solar system, laid out accurately though the city streets. Start with the sun, and from there hunt down the rest of the planets. It's a fun way to keep the kids occupied, but be warned, it COULD take all day. Find out more HERE.
Shop in Dolac Markets – Dolac markets are the famous fruit and vegetable markets right behind the main square of Zagreb. The produce is amazingly fresh and delicious. There are also some very good quality and still cheap souvenir stalls around the markets as well.
Explore Old (Upper) Town – I loved exploring the Old Town. Many of the places on this list are actually located there. Wander the streets, get lost and discover hidden alleys, cafes and bars along the way.
Enjoy the architecture of the Lower Town – The Lower Town is where you will find most of the museums in Zagreb. It also has amazing architecture. So get your camera ready and take a walk around the streets. The evening is really great for a stroll too, as the buildings get lit up really beautifully.
Have coffee in Ban Jelačić Square – The main square of Zagreb is one of the most popular places to hang out. There are a few really nice coffee shops and bakeries around about, so order up and take a seat to people watch for a while.
Check out Gric Tunnel – Gric Tunnel is a pedestrian tunnel that was originally built under Old Town in the second world war as a bomb shelter. It is now open to the public, and is worth taking a stroll through to check it out.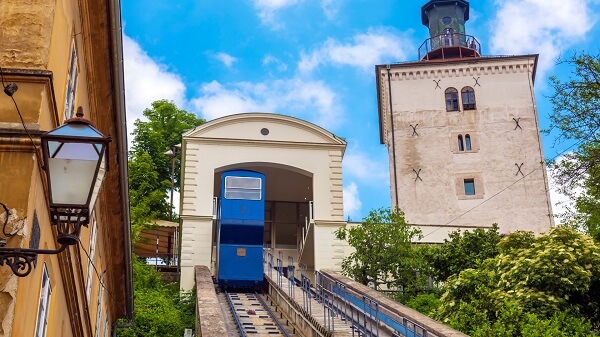 This list is not exhaustive. There are many small and wonderful things to find around Zagreb. Just wandering the streets can take hours of your time if you allow yourself let go and just explore. There are so many museums, street arts, parks and fountains to discover!
Guide to Zagreb tip – Make sure you do the Free Walking Tour! There is no catch. It is actually completely free. You can donate at the end, but this is not expected. They will show you the best of the city in a quick 2 hours, and save you a LOT of time!
Daytrips from Zagreb
Croatia is one of the most beautiful places on the planet. I am not joking when I say that. There is a reason that a country that only has just over 4 million residents gets over 20 million visitors a year!
From Zagreb you can visit the amazingly beautiful Croatian coastline, and some of its famous cities such as Dubrovnik and Split. You can also use Zagreb as a base to go to nearby Slovenia, and the incredible Lake Bled and Ljubljana. The daytrips that you can do from Zagreb are simply beautiful.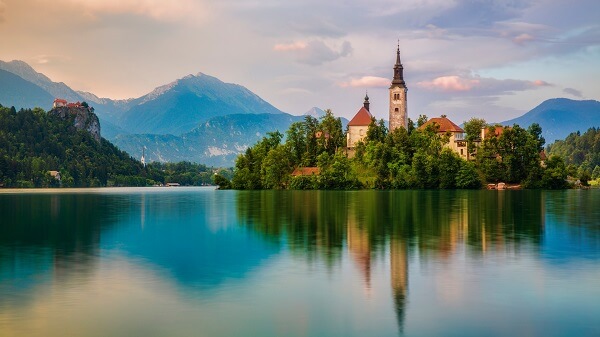 Let's take a look at my Complete Guide to Zagreb choices of best daytrips from Zagreb.
This is only the guide to Zagreb list of favorite and what I consider the best tours from Zagreb. There are many others, but most of them will take you to Plitvice Lakes or Lake Bled. Because, well, why not?
How to get from Zagreb to Dubrovnik
There are several ways to get from Zagreb to Dubrovnik, and it is a question that comes from many travelers and visitors to Croatia. The main reason for this is because Zagreb is the Capital City of the country, and it is a lot more convenient and cheaper for many to enter the country through there.
The most obvious answer to the question is to fly. There are regular flights from Zagreb to Dubrovnik, and it is only a short flight. Because Dubrovnik is only a small city however, many visitors just aren't aware that there is actually an International airport there!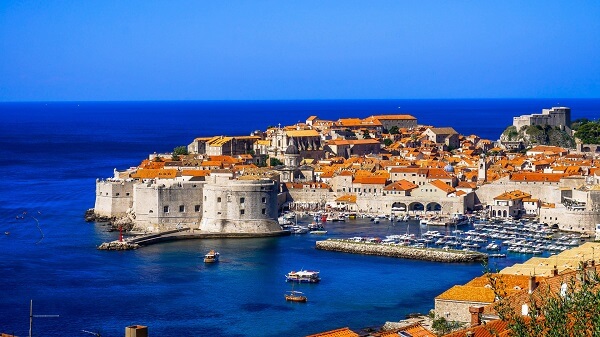 Unless you are strapped for time though, why fly to Dubrovnik from Zagreb and miss out on the amazing sights that Croatia has to offer? Zagreb is located right in the very north of the country, and Dubrovnik about as far south as you can get. So to travel by road means that you will pretty much see everything!
Maybe the most economical way to travel from Zagreb to Dubrovnik is by bus. The journey is a long one, taking around 12 hours. There are several options of times that you can depart from Zagreb, and different bus companies. Some MAY even stop in at Plitvice Lakes along the way. This is something you will have to check with the bus companies themselves. Just be aware that to reach Dubrovnik you will have to cross the Bosnia and Herzegovina border twice!
The other way to travel is by car. This is a great choice if you want to discover the country along the way. Stop in at Plitvice Lakes, and maybe somewhere like Split to break up the journey. The Croatian coastline is beautiful, and well worth taking the time to see.
Remember that if you are driving, you will cross the border into Bosnia and Herzegovina and back out again. Make sure you have all of the relevant documentation for both yourself AND your rental car, including registration, rental agreements and insurance! You could face fines if you can't produce them.
Before you ask, there IS a way to get to Dubrovnik by train, but it is not direct, and you will have to change trains several times. It is NOT recommended!
In summary – the complete guide to Zagreb choice of how to get from Zagreb to Dubrovnik is via bus. If you want to stop along the way – then hire a car. If you are in a hurry – fly. Simple as that!
Where to stay
Zagreb is really only a small city. As far as Capital Cities go! The best way to see it is to stay central, and that way you are pretty much walking distance to everywhere. Fortunately, there are plenty of options, no matter what you budget is.
So here are the complete guide to Zagreb choices on where YOU should consider staying for you trip to Zagreb.
Luxury
ESPLANADE ZAGREB HOTEL
The Esplanade Zagreb Hotel is one of the best places you could possibly stay in the city. Centrally located, it has great views, amazing service, and a buffet breakfast that will make you keep coming back for more! If you are wanting a luxury stay, then this is definitely the place.
Mid Range
HOTEL DUBROVNIK
The main attraction of Hotel Dubrovnik is location. It can be found right on the main square of Zagreb, with everything within easy walking distance. Rooms are spacious enough, and the breakfasts get 5 stars. Don't expect much of a view, but with everything else 5 stars, I certainly don't worry about that!
Budget
CHILLOUT HOSTEL
The Chillout Hostel is a favorite for most visitors that are traveling on a budget. Well priced and in a good location to discover the city, you can't go wrong. There is a bar directly downstairs which is great for meeting other travelers, and a rooftop area that is good for chilling out.
How to get around
Getting around in Zagreb is easy, as the city itself isn't that big. Most of the main sights and things to do are in the very center as well, so walking is the best way to see them.
If you don't want to walk, or mobility is an issue for you, then the public transport network is also very good in Zagreb. Trams in particular run all around the main areas in the middle of town, and buses cover the rest. If you are going to be using it multiple times, then simply grab a day pass for only about 4 Euros.
Budget places to eat in Zagreb
In this section of my Complete Guide to Zagreb, I am only focusing on BUDGET places to eat. There are so many wonderful restaurants to eat at all around the city that most other articles already have them totally covered.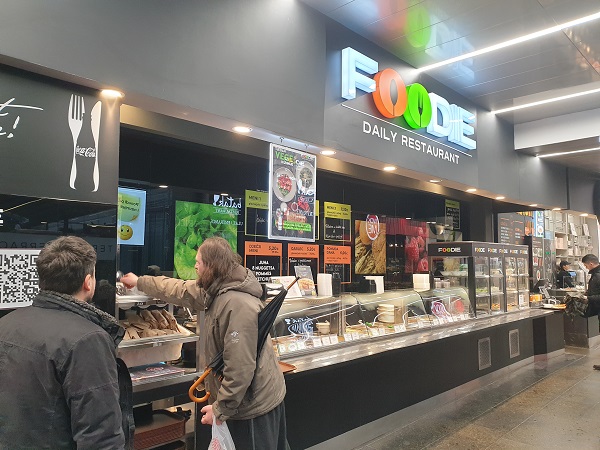 What ISN'T covered though, is the really good, budget places to eat. The ones that you need to find just because you only have a couple of Euro to spend each day. This is where I come in.
First, I have found around most of my travels in the Baltics, that there is a very great place to find budget food. It is the same in nearly every city I visit, and is one of the first places I look.
That is the bus and railway stations! I found this in Bulgaria especially, in both Plovdiv and Sofia.
In Zagreb, at the main Bus Terminal, and also in the underground tunnel at the main Railway Station, you will find cheap bakeries and cafes selling pizza, borek, salad rolls, and various breads and pastries. All are for excellent, cheap prices, and perfect for those on a budget.
In close to the city center there is a real hidden gem that is my choice of places to eat in Zagreb on a budget. This is a place called Foodies, and it is located in a little food court tucked away beside H&M at THIS location. They run a set menu for only about 6 Euro, and will be guaranteed to fill you up!
Summary
Well, that's it for the Complete Guide to Zagreb. It is a wonderful city to visit, and I know you will love your time there. I hope this guide has helped you to learn a bit more, and will make your visit go just a little more smoothly!