Nusa Lembongan and Nusa Ceningen islands lay just off the coast of Bali. Too often, both of them are overlooked for the more popular Nusa Penida. This is a travesty, however, as both of these small Balinese islands are as beautiful as they are idyllic and quiet. For anyone wanting to escape from the hustle and bustle of Bali for a couple of days and still see some great sights, they are the perfect answer, and now, I have created for you my perfect Nusa Lembongan Itinerary.
Here, I am going to detail how to see both islands in just two days. I have done this on a couple of occasions myself, and would do it no other way. Some pieces of this Nusa Lembongan itinerary are interchangeable, such as accommodation, but will still work perfectly anyway.
So, let's get started.
This article may contain affiliate links. If you click on those links and make a purchase, at no extra cost to you I will get a small commission. This will go a long way toward keeping this website running. As always, thank you for your support! Click HERE for more information.
Table of Contents
Nusa Lembongan Itinerary – Day 1
Your day will start with a pick up from your hotel at about 7.30am, depending upon where you are staying. If you are around the Kuta area, you can expect this time. If you are at Uluwatu or Ubud, pick up would be around 7am, but if you are in Sanur, you can catch an extra hour of sleep.
The transfer will take you via air conditioned van to Sanur and drop you right near the ticket office for the fast boat. I suggest going with Arthamas Express, which can be booked through this link. They are a great company that only do the Lembongan run and know every single detail of it back to front. They also run three services a day, so you have a few options on times for your return.
Check in at the fast boat counter, then sit down for a short wait until they call for boarding. If you are there early, there are a couple of Warungs nearby and even a very nice coffee shop.
The run across to Nusa Lembongan takes 35 to 45 mins. The boat leaves at 0915am so you can expect to be feeling Lembongan sand between your toes by 10am. If you have arranged accommodation already, and you go with my recommendation, then you should have someone waiting for you.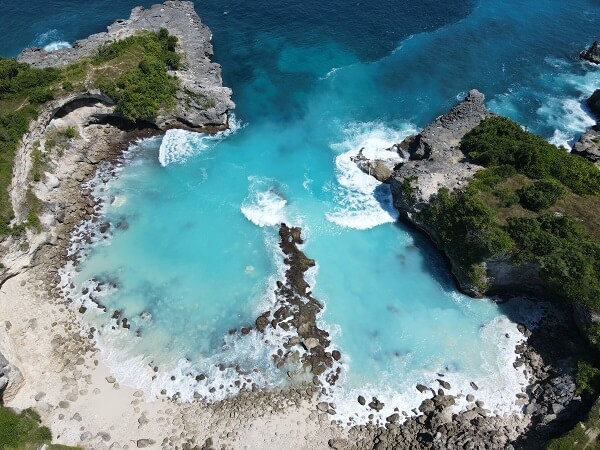 On that note, for a nice couple of days away that will be comfortable without being expensive, I recommend a place I have stayed in before. Pattri Garden Lembongan is a small place with great Villas, pool and beautiful Gardens. What I really like about it is that it isn't too big, being only about half a dozen villas, and the service is very personal. They will even provide you a scooter to use during your stay if they have one available, (you better ask first), or else will arrange a good hire for you. I usually pay 70k rupe a day, but last time I was there I had a loaner from Pattri Garden. If you need to hire one, perhaps ask them if they can have it arranged for you already to save you some time when you arrive.
Once you have checked in and dropped your gear off, get ready to set off to explore the island. Your first stop on your Nusa Lembongan Itinerary is literally just around the corner!
Devil's Tears
Devil's Tears Nusa Lembongan is only about 5 minutes ride from your villa. When you check in they will give you a map, but if you click here, you will get a Google map location.
This place is essentially a blow hole. It is a little different to other blowholes you might have visited before, though. At Devil's Tears, the swell rolls into a large cove and disappears literally under the rock you are standing on. What you can't see is the large cave that stretches under your feet for a couple hundred meters. The swell explodes within the cave and comes rushing back out into the sunshine as millions of water droplets, causing beautiful rainbows and hues as they glisten in the sunlight. These are what is known as the "Devil's Tears".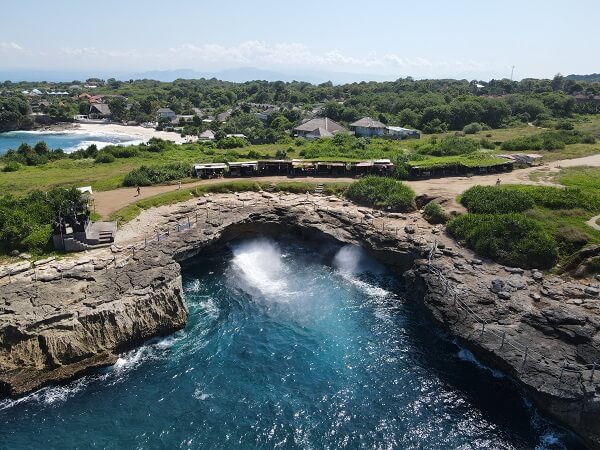 Stand and watch the show for a while, and beware that the bigger the swell, the better the show, but also the more dangerous the show. A fence has been installed in recent months (during Covid) but in my experience, water takes no notice of fences. If you can, keep an eye open for sea turtles too. Several of the larger variety like to graze in the cove and can regularly be seen breaching the surface for air.
Tidal Pools
Next, take a wander around past Devil's Tears toward the end of the point. Follow the fenceline, and right where it ends you will find another blowhole that works best on the high tide, but also some amazing Tidal pools. These make fantastic photos, and at low tide and on small swell days can even be explored. Beware of the swells, and also the very, very sharp volcanic rock here. Wear good shoes if you explore down lower and keep eyes open in the back of your heads.

Dream Beach
When you are finished at the Tidal pools, take some photos of the beach off to your right (because it's pretty) then head back to where you probably parked your scooter near the Warungs. From there, follow the dirt tracks back the other way and you will locate Dream Beach.
You would have seen the signs as you rode in, and possibly you may have even come to Devil's Tears past this beach if you took the wrong turn. Either way, take the time to explore it now. It's an idyllic beach with amazing white sand and turquoise waters. There are also plenty of photo opportunities, so begin snapping away.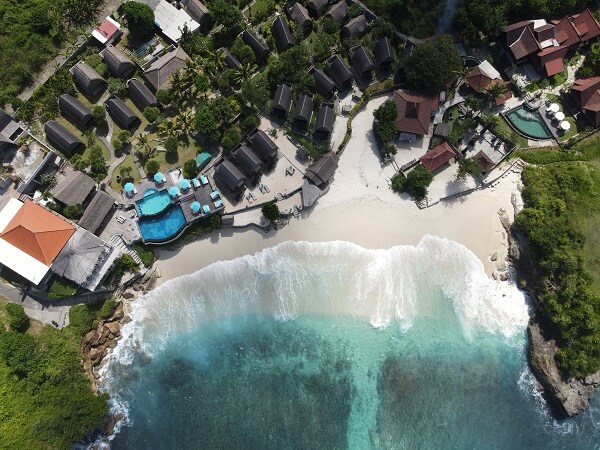 By now, it should be lunch time, or if you are me it's after lunch (because I take my time and tend to linger too much at places). So, if you like you can eat in the beach club at Dream Beach, or head toward our next destination, Yellow Bridge. There are a couple of nice little (and cheaper) restaurants on the way with great views across the channel at Nusa Ceningen that are certainly worth trying out.
Yellow Bridge
Yellow Bridge is the bridge that connects Nusa Lembongan and Nusa Ceningan. It's an interesting little bridge that is very photogenic due to its design and bright yellow paint. In fact, you usually have to dodge tourists at either end that will stop to take photos.
The interesting thing about Yellow Bridge is that it is only wide enough for two scooters to safely pass each other. You will not see trucks or cars trying to traverse THIS bridge. Therefore, you will only see a couple of small pick up trucks on Nusa Ceningen as well. Otherwise, it's all scooters!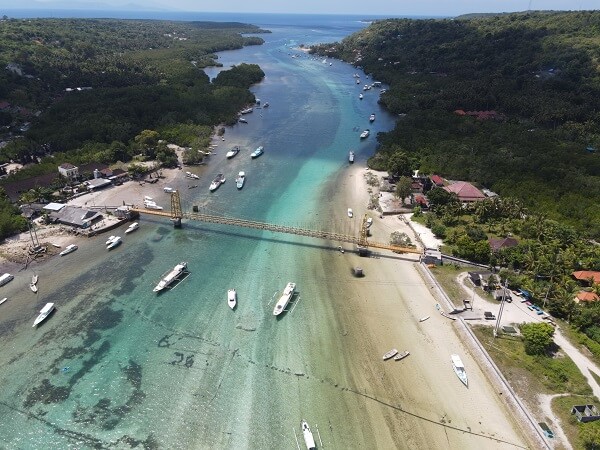 This edition of Yellow Bridge is actually the second. The original Yellow Bridge tragically collapsed several years ago during a local ceremony, killing many people that were on it at the time. The event rocked the local community, but in true Balinese spirit they rallied and rebuilt the bridge in the exact same design not long after.
Tip: Once you traverse the bridge and maybe take a few photos, turn right almost immediately and not far down the road you will find a sandy road jinking back toward the bridge. This will take you to the waters edge and a great spot to get some more photos of the bridge and the channel itself.
Yellow bridge is pretty easy to find just by following the signs, but just in case, HERE is a google map link.
By this time it is early afternoon. If you took the right turn after the bridge, good! Because we will head up that road and at the top of the hill veer right toward THIS spot. We are heading for my favorite place on the island!
Mahana Point
Mahana Point is actually quite an incredible place. When I first visited years ago, it was nothing but a small warung perched on a tiny piece of rock overlooking a fantastic surf break. Now, it's a great little restaurant with loads of seating area, cliff jumping spots and an amazing view.
This place has to be seen to be believed, but I will post a photo here to help you. As you sit and nurse your beer, or juice, you can look right down on top of the surfers below you as they catch waves off the point. You could almost reach out and touch them.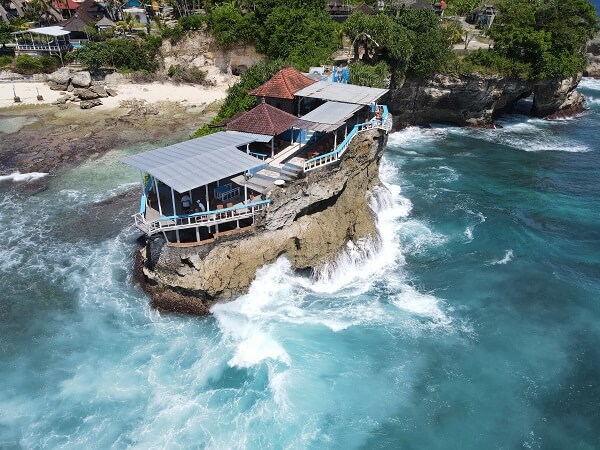 Around the edge of the cliff you are standing on are a couple of spots to step out and jump from the clifftop if you feel game. Below you is a set of stairs disappearing down into a room where you can climb back up out of the water and come back up into the restaurant.
I have been to Mahana Point many times, and have spent way too many hours lingering. I just love the place. But, we must move on.
Blue Lagoon
This place has probably popped up on your Instagram feed a few times. An amazing cove with the lightest blue water that is in total contrast with the deep blue ocean water just a short distance away. It is a beautiful spot, and a great place for photos.
As you leave Mahana Point, a concrete wall will appear on your right. You would have passed it on the way. Halfway along the wall is a hole with a little sign stuck on it saying Blue Lagoon. The sign is so dodgy it might not even be there when you arrive. Who knows?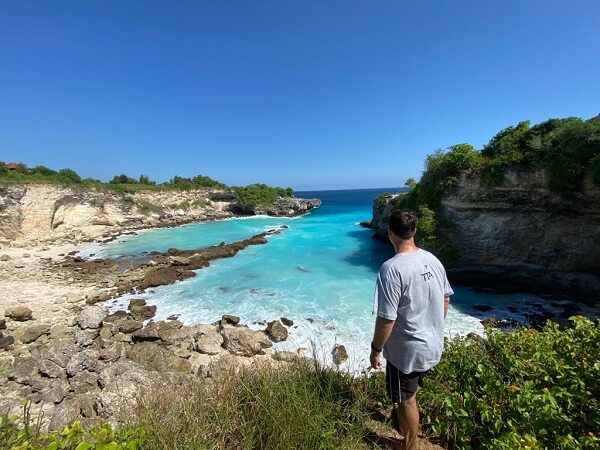 Step through the hole into the long grass behind and follow the dirt track about 50 m to the cliff edge, and you will be standing right above Blue Lagoon!
If you like, and time permits, off to your left you will see a clifftop "Beach" club. They have a great pool and the best of views. So if you like, then take a load off and relax, because we are done for this afternoon's edition of the Nusa Lembongan Itinerary.
Except for one thing.
Sunset at Devil's Tears
At about 5pm you will want to head back down to Devil's Tears. If you thought those tidal pools were beautiful during the day, you should see them at sunset. Do yourself a favor and head back and check it out. It's easily the most popular spot for both locals and tourists to watch the sunset on Nusa Lembongan!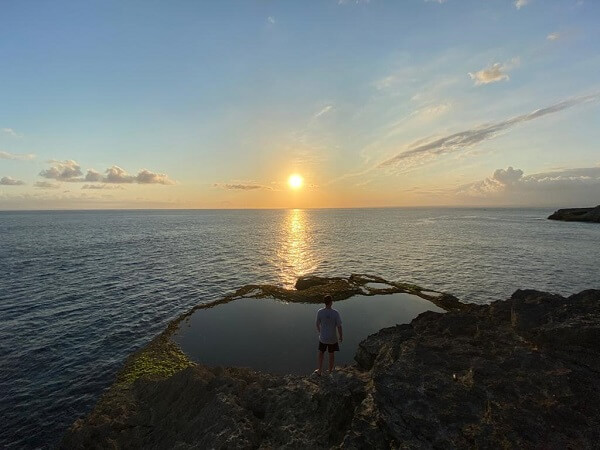 Nusa Lembongan Itinerary – Day 2
Arise bright and early and have breakfast, then a swim if you like. For day 2 of the Nusa Lembongan Itinerary, we will be heading back over to Nusa Ceningan again for some more amazing views. So once you are ready, jump on the scooter and head to Yellow Bridge.
Cross the bridge and this time, go straight ahead and follow the road to the left. Toward the end, turn right and head up a VERY dodgy road that leads up the hill. If you go too far and miss the turn you will just end up in a seaweed farm. So double back. (I did that too). Otherwise, follow THIS link.
Ceningan Cliffs
The road up the hill is not a good one. In fact, it's the worst on the island. What awaits at the top is worth it though.
Ceningan Cliffs is an amazing place with awesome views. As you stand and gaze out from the clifftop, you are looking directly across the vast, deep blue channel at Nusa Penida. The island looms in front of you as a great green monster. Photos and descriptions just don't do it justice.
At the cliffs there is a restaurant where you can order a bite to eat or drink, and also use their pool. Relax and enjoy the view for a bit before we head back off on that terrible road again.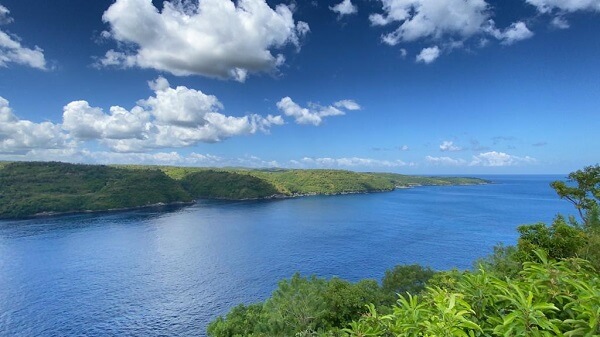 Secret Spot and Secret Beach
When you leave the cliffs you can do one of two things. First you can go back down the hill the way you came. It's longer, but in the end shorter on time. If you turn left, the road is just as bad if not worse. Both ways will lead you where we want to go, but the left turn will take you past a great place called "The View". This is a cliff top "beach club" that has amazing views across the channel and Yellow Bridge, over Nusa Lembongan toward Bali. If you took this road, then stop and check it out.
The place we are going now, though, is a secret spot that I found when I took a wrong turn to Secret Beach. Follow this link for Google maps location, but basically where you turned right to Mahana Point yesterday, this time keep going straight. The road will lead you through bush and right to the very tip of the island where there is nothing but grass, rock, a few trees and cows.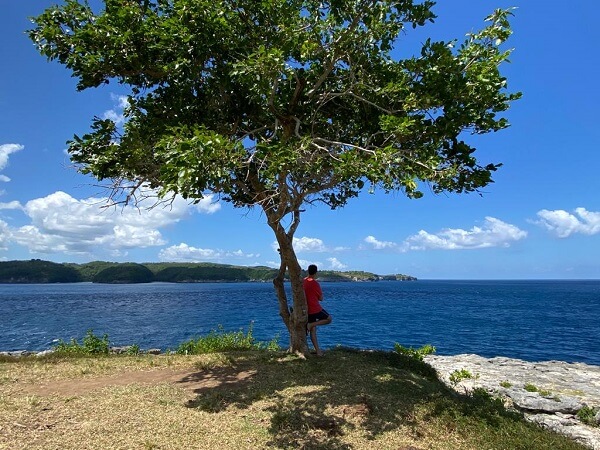 This is a beautiful place that the locals use for camping, and has great views across to Nusa Penida, this time at sea level. Take some snaps, explore for a while and then head back out.
On the road back out, take the turn toward Villa Travally. This is a small resort located on Secret Beach, which essentially is a private beach for use of their guests. You can get to the beach through the resort and even use their pool and restaurant. Be polite and mindful of guests though.
Secret Beach doesn't have much sand, but is a rock beach that is extremely beautiful. I found it on my second trip to the island, and go back every time to visit.
By now it should be pushing Midday. Head back across the Yellow Bridge, and go for a bit of a ride around the island. It's a beautiful place, and is fun to explore. You have a few hours to kill before your boat leaves at 4.15pm, so take your time.
If you are interested, there is one more place to visit. This is a beautiful little Hidden Beach on Nusa Lembongan that many never even realize exists. It is tucked in beside Mushroom Bay, but not easy to find. When we found it on our last visit, we had it to ourselves. There weren't even any footprints in the sand when we arrived!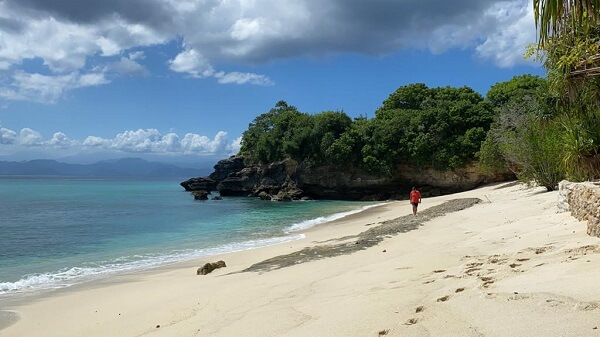 Head back toward the Villa, and take an adjacent road to this location. Down beside Nanuk's Cottages there is a paved Gang. Follow that gang almost to the end. You will see another small gang about 100m long to the left with a wall along the right hand side. There is a hole in that wall and a sandy track that leads to the beach.
What better way to wrap up the Nusa Lembongan Itinerary?
Enjoy!
Make sure you are back and ready to head to the boat by about 3pm. If you arrange with the Villa they should be able to get you there, or just meet you there and pick up the scooter from you.
I hope you have enjoyed my Nusa Lembongan itinerary. Two days is plenty to see all there is to see on Nusa Lembongan, but remember: if you want to dive or snorkel or surf, then add in more time!
I hope I see you out there one day!
A couple of useful links:
DON'T FORGET to leave a comment below. I promise to reply!