The Nusa islands are made up of 3 islands located off the South Eastern Coast of Bali. They are clearly visible from anywhere on the Eastern Coastline, and they will have become a daily sight for anyone staying in the Sanur or Nusa Dua areas. The closest of the islands is Nusa Lembongan, and tucked away behind it is Nusa Ceningan. Both are dwarfed in size, though, by the much larger Nusa Penida which presides over them both.
In this guide I am going to tell you a bit about all three Nusa Islands, how to get there and what are the best places to see. There will also be a few tips for hidden gems along the way, and places that are a long way off the beaten path that you can seek out for yourself. So, sit back and enjoy my complete guide to the Nusa Islands Bali.
This article may contain affiliate links. If you click on those links and make a purchase, at no extra cost to you I will get a small commission. This will go a long way toward keeping this website running. As always, thank you for your support! Click HERE for more information.
Table of Contents
How to get to the Nusa Islands
The easiest and quickest way to the Nusa Islands is via Fast Boat. There are multiple (and I mean dozens) of companies that do the run across to the islands several times a day. It only takes about 30 to 35 minutes to complete the crossing, but this will also depend on weather and swell. The boats are quick, powerful and sleek, so they make pretty quick work of even the larger swells. Crews and captains are experienced and know the crossing back to front, so you are in good hands!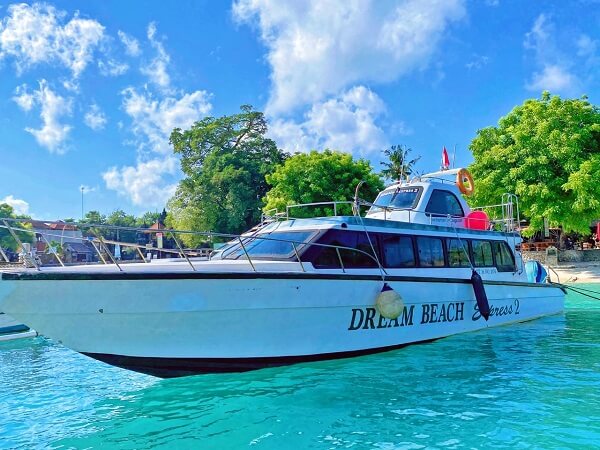 To get to Nusa Penida there is also a slow ferry option that takes around 90 minutes. This leaves from Padang Bai, and allows you to take your scooter with you, which is a great option if you don't want to rent one on the island. Be aware that it runs at limited times, and at the time of writing, this was still on reduced schedules due to Covid. Check the ferry websites for more information.
For more options on how to get to the Nusa Islands, check out THIS LINK.
Getting between the Nusa Islands
Fast boats will take you to Nusa Lembongan or Nusa Penida. But what if you want to cross to a different island once you are on one or the other? The answer is actually simple.
Nusa Lembongan and Nusa Ceningan are connected via a bridge. This is the famous Yellow Bridge, and is able to be crossed easily by scooter. Once you are on Nusa Lembongan, you will find yourself crossing the bridge so regularly that it's not uncommon to think of these two Nusa Islands as just the one place.
I will cover more about the Yellow Bridge a little later in this article.
Getting from Nusa Lembongan/Ceningan to Nusa Penida might take a little more work. Don't worry though, you don't have to go all the way back to Sanur and catch another fast boat to Nusa Penida! Although, technically that IS an option.
Instead, head down to the Yellow Bridge and find the local Taxi/Ferry service that runs to Nusa Penida. This boat used to run on a schedule, but at the present time with limited passengers just tends to run when it is full, or when the captain is happy he has enough passengers to make the run worthwhile. It is relatively inexpensive, and is the cheapest option to transfer between the Nusa Islands.
One other option is to head around Nusa Lembongan to Mangrove Point. Here you can usually drum up some interest from one of the local fishermen that would be willing to run you across to Nusa Penida for the right price. This is a bit similar to negotiating with the fishermen at Pemuteran to get a ride out to Gili Putih Sumberkima. Just have your negotiating skills ready!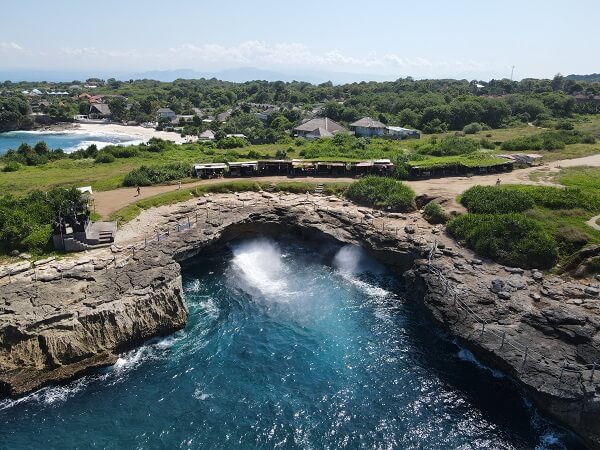 Nusa Lembongan – What to expect
Nusa Lembongan is the closest of the Nusa Islands to Bali. Most fast boats will drop off passengers at Jungutbatu Beach, but a few will go instead to nearby Mushroom Bay. Either way, they are easy to access, and close to accommodation options and scooter rentals.
These main areas of Nusa Lembongan have great facilities and are easy to get around. The island isn't that big, and therefore the best and easiest way to travel is on scooter. Grab one as soon as you can when you arrive. The price will be a little more than you will get in a place like Kuta, but for about 70k Rupe a day you will be set.
Accommodation on Lembongan is as cheap or expensive as you like. I have stayed in really good villas for less than $17 AUD a night, and if you are looking for something more luxurious, you will also find it. For my pick of place to stay, click here.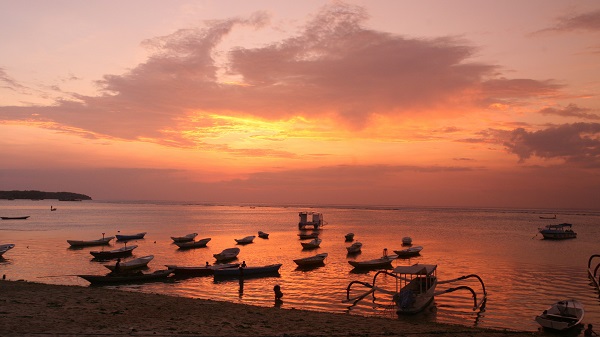 The best thing about Nusa Lembongan is that you are never far from anything. You can stay on the beachfront, but if you opt for something a bit further away from the sand, it's only ever a short stroll or a minute on the scooter to get there. Remember, it's only a small island!
Warungs and Restaurants on Nusa Lembongan are plentiful. You will find some great options along the main street in Jungutbatu, such as Lemongrass, and around at Mushroom Bay you will also find some really nice places to eat. Further afield, head over toward the Yellow Bridge and you will find some cute places along the waterfront with amazing views across the channel to Nusa Ceningan. Then, if you are looking for street food, or the cheaper Warungs, they are pretty much everywhere. You are still technically in Bali, after all.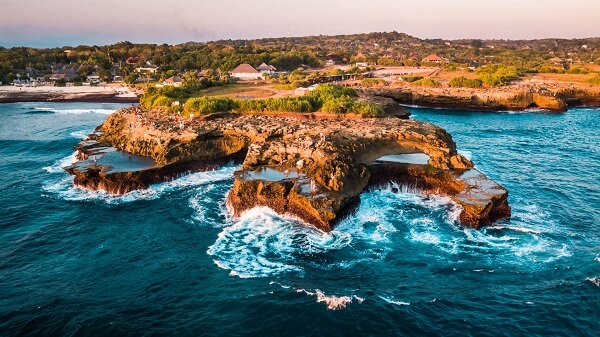 How long to spend on Nusa Lembongan
I am going to lump Nusa Lembongan and Nusa Ceningan into one for this question. The reason for that is because when you stay on Lembongan or Ceningan, you will hire a scooter and see the other island as well. There is no need to pack up and move between these two islands unless you really want to.
So having said that, the absolute minimum is two days. A one night stay will be enough to see it all, but a 2 or 3 night stay would be great in order to soak it all in and relax a bit more. I have been to Nusa Lembongan on several occasions, and my last two visits were simple overnight stays, and I saw everything I wanted to see. Granted, I knew where I was going, as I had been there before.
If you want to surf or dive, add in some extra time as well.
What to do on Nusa Lembongan
There are some amazing sights on these islands. In my opinion, they only get better as you progress across them. But I will start here with Lembongan.
Devil's Tears
This is an amazing natural blowhole not too far around from Mushroom Bay.  The waves flow into the massive cave that you will be standing above, then blow back out again, leaving a beautiful natural mist hanging in the air, known as "Devil's Tears". You will also be able to catch some great rainbows as the mist settles.
Just around the corner from the blowhole are some great tidal pools and another smaller blowhole that works nicely on the high tide. Visit the tidal pools at sunset for the best effects!
Tip: Get here early if you can, as the day trippers from Bali all smash this place with crowds through the middle of the day.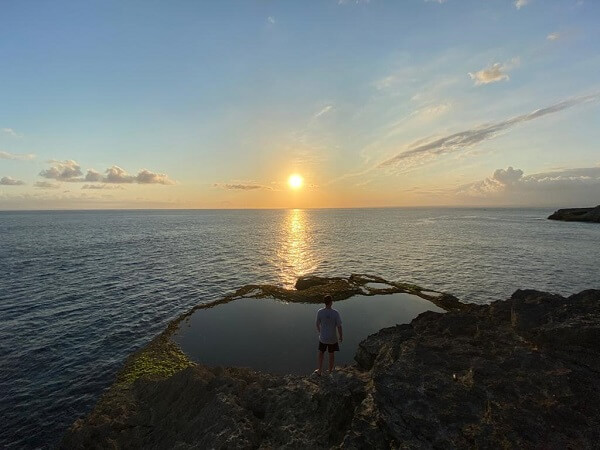 Dream Beach
Dream Beach is located just to the west of Devil's Tears, and you will see the signs to it as you ride in. A beautiful white sand beach, it is also very popular with the day-trippers and, once again, the crowds can get overbearing. Probably the best way to see the beach is to stay in one of the villas or resorts that line it, or visit the beach club for lunch.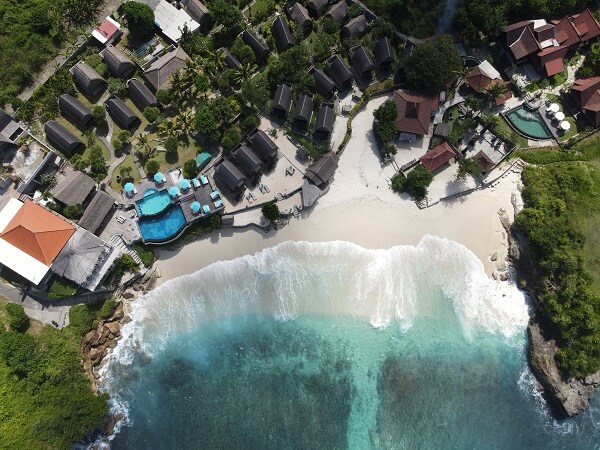 Yellow Bridge
Yellow Bridge is a quirky and very picturesque bridge that connects Nusa Lembongan and Nusa Ceningan. The original Yellow Bridge collapsed tragically several years ago during a local ceremony, killing many local people that were on it at the time. It has since been rebuilt, but has the exact same style and colour as the original bridge. The new rendition has been made stronger and slightly wider than the original which was only wide enough for one scooter to traverse at a time. The new bridge allows for one scooter in each direction.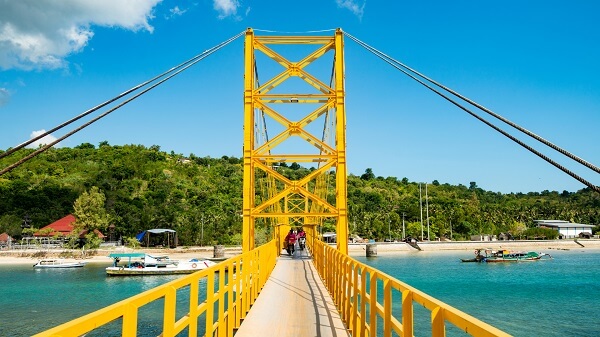 This is a secret beach that I found through some advice from a local on my last visit. He gave rough directions, and we had to find our own way from there. I don't think this beach even has a name, but it is right next door to Mushroom Bay.
Find Nanuk's Bungalows on the map through this link. Down the side of the Bungalows is a paved Gang. Follow it to the Hidden Beach, but at one stage you will have to go through a hole in the wall on your right and follow the sandy path to the beach head.
This is a great little beach, and when we were there we had it all to ourselves. There weren't even any footprints in the sand when we arrived!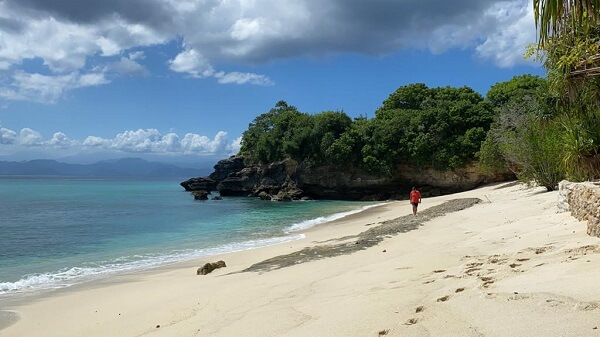 Nusa Ceningan – What to expect
This is the smallest of the three Nusa islands, and has always been my sentimental favorite. Small does not mean it isn't good though! There are hardly any cars or trucks on this island, due to the small bridge and lack of access for anything other than a scooter. This means it stays quaint, and preserves it's quiet image.
Mahana Point
This point is famous for its cliff jumping and great point break for the surfers. Nestled on top of the cliff, though, at the spot where they cliff jump, is a brilliant little restaurant. Sit and nurse a beer and chips while you watch the surf below, or even catch the amazing sunsets over distant Bali.
Mahana Point is my favorite place on both islands, and I never miss a visit there!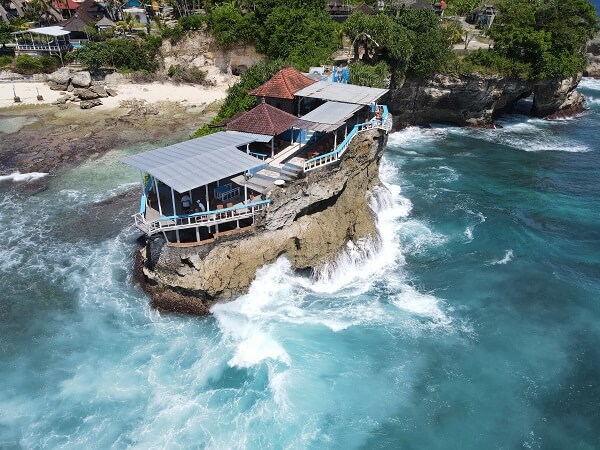 Blue Lagoon
You have probably seen photos of Blue Lagoon. It is a natural inlet where the water turns the lightest of blues that is in direct contrast to the darker blue of the ocean outside. It has to be one of the most Instagrammable places on both of these Nusa Islands.
On the Eastern point of the inlet was once a cliff jump area. It was closed several years ago due to the dangerous location, but you can still see the concrete remains of the platforms. There is also now some great resort/villas that get the best views, and a pool overlooking the entire lagoon. Check out the link here.
To get your own photos, head toward Mahana point and just past the entrance to the resort. On your left a wall will appear, and only about 20m along will be a hole in the wall and an old sign saying Blue Lagoon. It's actually fairly easy to miss. Follow the path through the grass to the cliff edge and get the camera out, because you will get some amazing photos!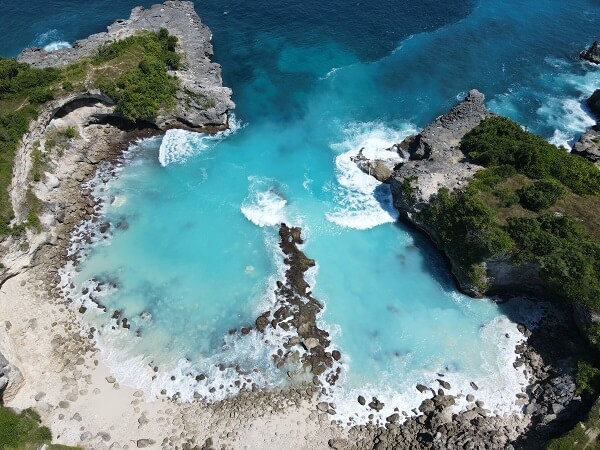 Ceningan Cliffs
These cliffs can be accessed a couple of different ways. Follow this link for location. I first found these cliffs by studying Google maps for a new place to check out. What I found was amazing! This is a restaurant, pool and view point nestled on top of the cliffs, with a view right across the channel to Nusa Penida. The colors and contrasts of the deep blue water below and brilliant green of Nusa Penida are indescribable. Don't miss this place!
Tip: Be ready for a rough ride to the cliffs. This is the worst maintained road on the islands, and if you are a pillion on the scooter, be warned!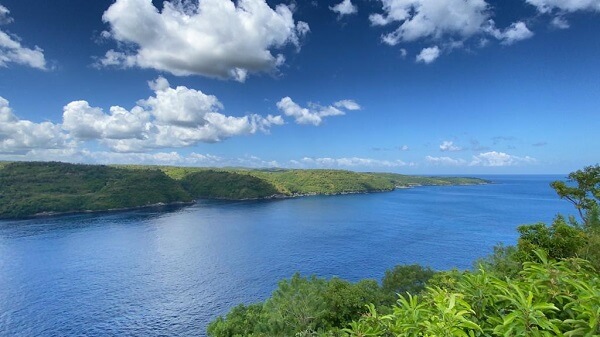 Secret spot on Nusa Ceningan
We found this spot when searching for Secret Beach. Follow this link and you will find yourself at a point that was hard to believe existed on this island. Popular with local fishermen and campers, you will find yourself sharing it will a few cows, gazing across the channel at Nusa Penida's Broken Beach and Crystal Bay. If you are after a some peace and quiet, amazing views with a totally different vibe, then check this place out!
Tip: On the way back out check out the turnoff to Villa Trevally. This place sits on Secret Beach, which is basically a private beach. You can walk through though, use the restaurant, and soak in the unique vibes of the beach at the same time.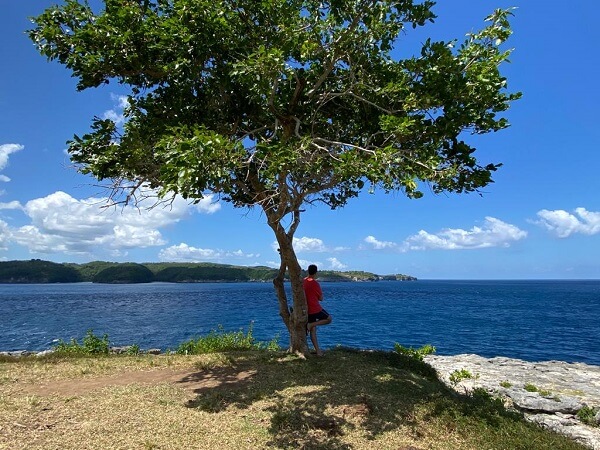 Nusa Penida – What to expect
Nusa Penida is the largest of the three Nusa Islands. Until recent times, it was largely inaccessible and the great sights that it is famous for today were relatively undiscovered. A haven for Scuba Divers and Snorkelers, people eventually began to realize that the island was home to something more than colorful fish, Mantas and turtles!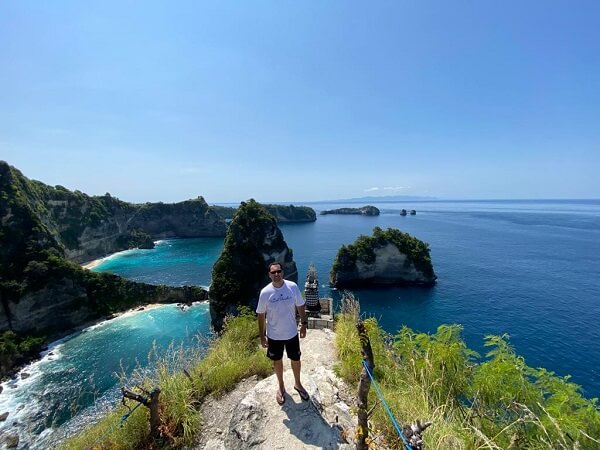 When you arrive on Nusa Penida, it will be on the northern coastline, which is the only part of the island that is not lined by towering cliffs. Along here you will find the bulk of the accommodation and facilities.
If you have booked a tour, your driver will usually meet you at the jetty. If not, you can easily hire a scooter on arrival, or find the transfer to your hotel waiting for you. Just make sure that is arranged before you arrive.
How long to stay on Nusa Penida
This all depends on what you want to do. If you are interested in diving, then you will have to stay a bit longer than normal. But in this article, I will concentrate on those that just want to see the island. For that reason, it is easiest to book a tour to see all the best sights.
As far as tours go, the island of Nusa Penida is divided into two. East and West. Each tour takes a day, so the minimum I would stay on the island is definitely 1 night. If you want to hire a scooter and see a bit more, (because there is a lot more to see) then add a night or two. Usually on the tours, most people will see everything they are interested in anyway.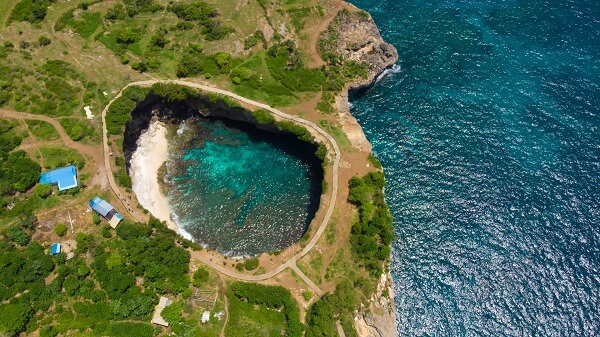 Why not combine a trip to Nusa Penida with a tour of East Bali? If you have limited time, there are great tours like THIS one that will show you the highlights! You can do this sort of tour from anywhere that you are staying in Bali, whether that be Kuta, Sanur or even Nusa Dua!
Nusa Penida West Tour
The West Tour is the one most visitors to the island will do, and those on daytrips will book. It encompasses the major locations on the island, and probably the most popular spots in all the Nusa islands. That being said, some of my personal favorites are on the East Tour.
Kelingking Beach
This spot is more about the headland above, than the beach below. You will recognize it instantly as the famous headland that looks like a "T-Rex". One of the most Instagrammable places on all of the Nusa Islands, the tourists flock here! As such, be prepared for anything up to a two hour line up just for photos, depending on what time of day you arrive. During Covid-19, we had it to ourselves, if you don't count the monkeys that make it their home as well.
Tip: if you want to make the trek down to the beach, allow yourself half an hour to get down, and about an hour to get back up. It's a long haul!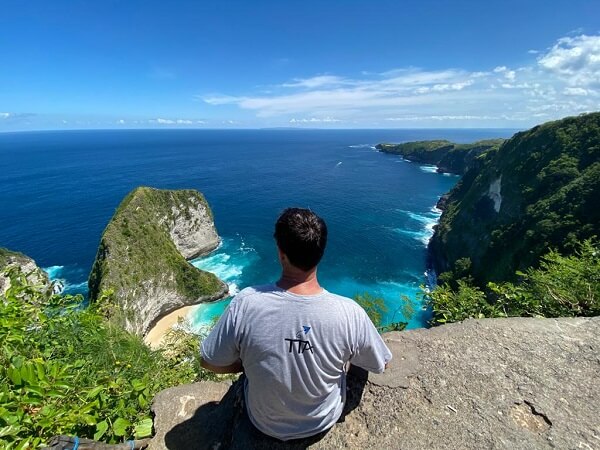 Broken Beach
Broken beach is almost indescribable, but basically it's where the ocean washes in through a hole in the cliff into a round bowl surrounded by cliffs. The hole in the cliff forms a natural bridge that looks amazing. The photo below will show you what I mean!
This is another spot that is great for Instagram. Don't just stick to the main photo spots though. All around the rim of the great hole you will find unique places to strike a pose, hopefully away from the lineups at the more popular spots.
Tip: on the ocean side of the hole, take a walk along the cliff east of Broken Beach and you will get a great view back at the hole in the cliff itself. Then keep a look out below you for the giant Manta's in the water. This place is called Manta Bay for a reason!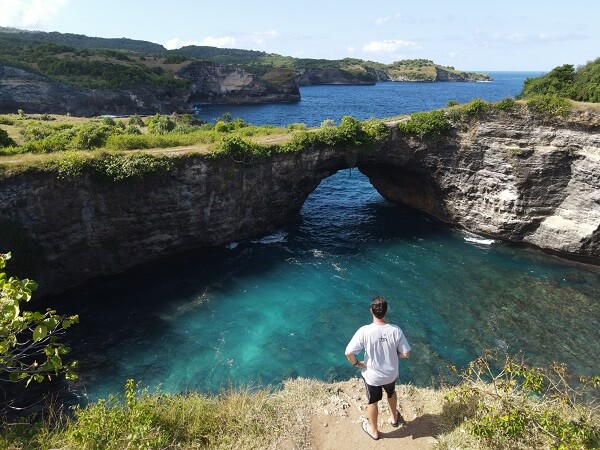 Angel's Billabong
Angel's Billabong is located very close to Broken Beach, and is easy to walk to. It is a natural infinity pool that has crystal clear water, and is great for cooling off in at low tide. Beware of the swell, though, as the larger waves will crash over or wash down the length of the pool. During high tide it would be best to steer clear and take your photos from a safe distance.
On larger swells, the waves will crash over top of the massive cliffs alongside the Billabong. Don't take any risks if you are there during this time.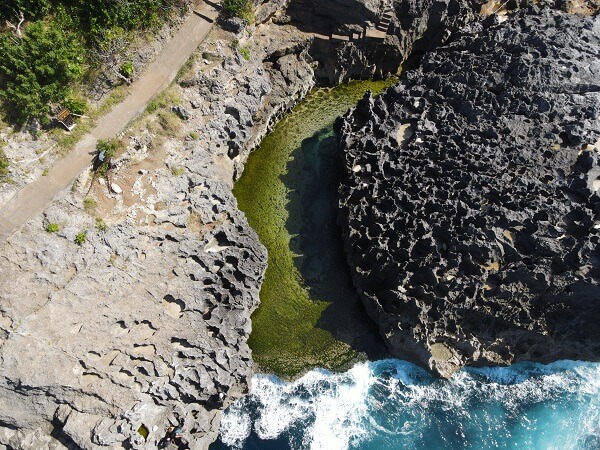 Crystal Bay
This is a cute little bay on the west side of the island with views across to Nusa Ceningen. It features a little island in the middle of the bay where stairs are visible leading from the water's edge up to a temple on top.
The bay and beach are lined by palm trees and Warungs, and the water sparkles like crystals. Essentially it is a black sand beach, and although not the most attractive beach on the island (far from it) it is a nice spot to relax while the tour driver times the trip back to port to drop you off in time for your boat back to Sanur.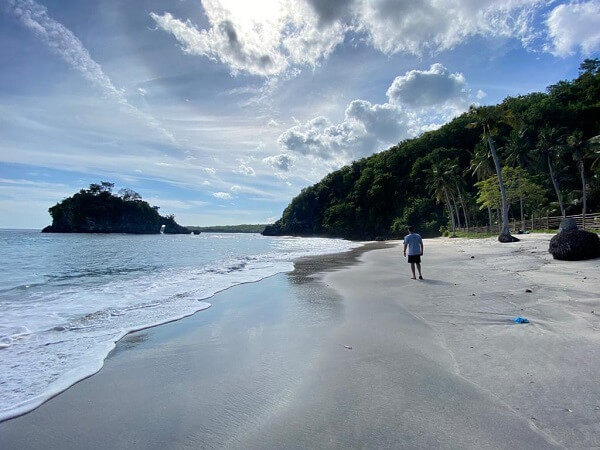 Nusa Penida – East Tour
This tour is the least popular of the two tours, but in no way has less attraction. In fact, I loved the sights on this tour!
Rumah Pohon – the Tree house
This is a rather large treehouse that is set in the most amazing location you could imagine. With an outlook over the crystal clear and blue waters of the bay and islands, you could be forgiven for thinking you are in Thailand somewhere. Pose for a photo on the stairs of the treehouse, then take a stroll to the point right above it for some of the best views on Nusa Penida!
Tip: Take water and your walking shoes. There are hundreds of stairs down to the treehouse, and on a hot day it is tough!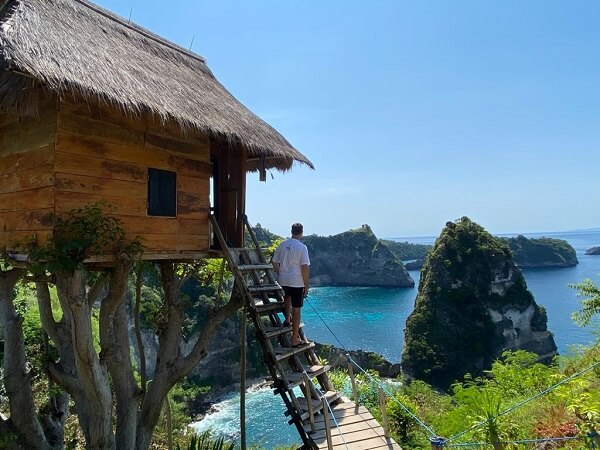 Diamond Beach
Diamond Beach is one of the most beautiful places that you will visit. Not just here, but possibly anywhere. Like all beaches on the Nusa Penida tours, you will be faced with a long flight of stairs down to the beach, if you want to actually go down.  The beach is idyllic, and there is a swing at the bottom that is very popular for Instagram shots. The best photos are taken at the top, though, as the view is amazing. One thing to note is that this beach is right near the tree house, and the bay you are looking across is the exact same, just from a different angle.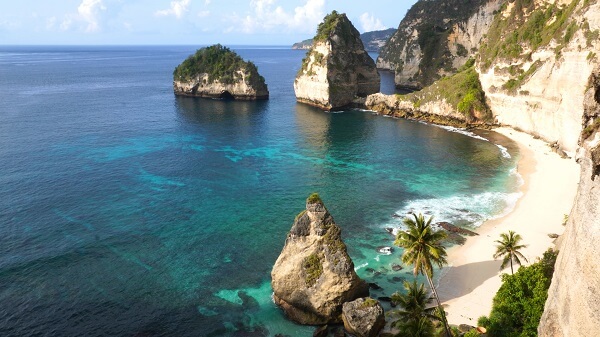 The East Tour of Nusa Penida has some of the most spectacular sights and views in the Nusa Islands. Nearby to Diamond Beach, you will also visit Atuh Beach, another brilliant white sand beach with clear blue water and plenty of Warungs lining the beach head. Just beware that this is another long flight of stairs, and after the Tree House and Diamond Beach, you will begin to feel the burn! Then, after lunch it is a nice drive to Teletubbies Hill, a series of rolling green grassy hills that make for nice photos.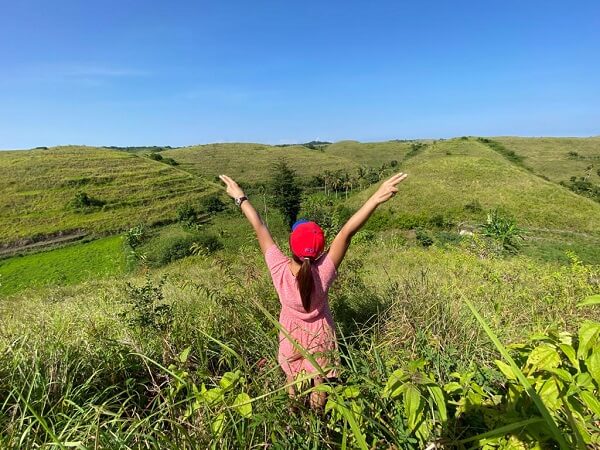 Summary
If you are in Bali and looking to get away for a few days, then consider a trip to the Nusa Islands. In my opinion, you simply cannot afford to miss them. They are absolutely amazing. One last tip I will leave you with is this. Once you have done the tours on Nusa Penida, hire a scooter and explore further. There are some other places on the island certainly worth visiting, and no where less spectacular than the popular places on the tours. For more articles and info, click the link below.
Nusa Islands – A few handy links
Fast Boats to Nusa Islands – Click here
Accommodation Nusa Lembongan – Click here
Accommodation Nusa Penida – Click here
Nusa Penida Tour – Click here
DON'T FORGET to leave a comment below. I promise to reply!