Having been on the island of Bali for the past 2 and a half years, and after posting over 80 articles about experiences, itineraries and places to go, I have finally decided to do my Complete Guide to Bali!
Everything that I put in this guide will be from my own personal experience and viewpoint. Also worth noting is that I have been a regular visitor to Bali for the past 17 years, and along the way I have stayed in nearly every area, witnessed many changes, and gleaned a lot of tips and hints. It is for that reason that I hope that my guide would be very helpful to you, and that hopefully you will be much wiser about your impending visit to Bali than you were before you began reading.
So, where to start my Complete Guide to Bali?
This article may contain affiliate links. If you click on those links and make a purchase, at no extra cost to you I will get a small commission. This will go a long way toward keeping this website running. As always, thank you for your support! Click HERE for more information.
Table of Contents
What to expect in Bali
I guess this is the question that people want to know most, and would expect in a complete guide to Bali. But the answer comes in several parts.
Crowds – you are going to have to expect these in many parts of Bali. Of course, at the moment there aren't too many, but usually there are. This is ONLY true in the most popular areas, though, and I will cover a bit more about the different areas of Bali and where to stay a little later in this article. The truth, though, is that if you get away from the busy areas and explore the more beautiful and still natural areas of Bali, the crowds quickly disappear. Think, waterfalls, mountains, and distant beaches.
Diversity – Bali has a complete range of activities, and any Complete Guide to Bali would be remiss to not mention this fact. I cannot think of any other island that offers what Bali does. From ice cold beer on the beach, to Lattes overlooking a volcano. From water sports and parasailing along the beach, to white water rafting through the jungle. Mountains, waterfalls, temples, secluded beaches. No matter what you want, you will find it in Bali.
Culture – The Balinese live a very religious life, and it is everywhere you look in Bali. Unlike many places you might visit in the world, the temples and ceremonies simply just "happen" all around you and don't even interfere with you in any way. It doesn't take long for any new visitor to Bali to be swept up in just how beautiful this culture is, and before you know it you will be scanning the web, or searching brochures finding the best temples to visit. For more information, simply look here.
A friendly smile – Balinese are the most friendly people on Earth, and there is no way that I can overstate that. No matter where you go on the island, you will be greeted like and old friend, and treated the same way.
Home – If there is one thing that the Balinese have mastered, it is making tourists feel at home. And if they don't, then it won't be for the lack of trying. You will be amazed at how most of the guides have picked up words and phrases from cultures and countries worldwide, and in the biggest tourist areas you are almost guaranteed of a welcome in your home dialect. If you are from Australia, expect to see the footy playing at the local bars. If you are from Europe, the football will be on everywhere. The people here know what you want, and if you want something different, I guarantee they will do their best to find it for you!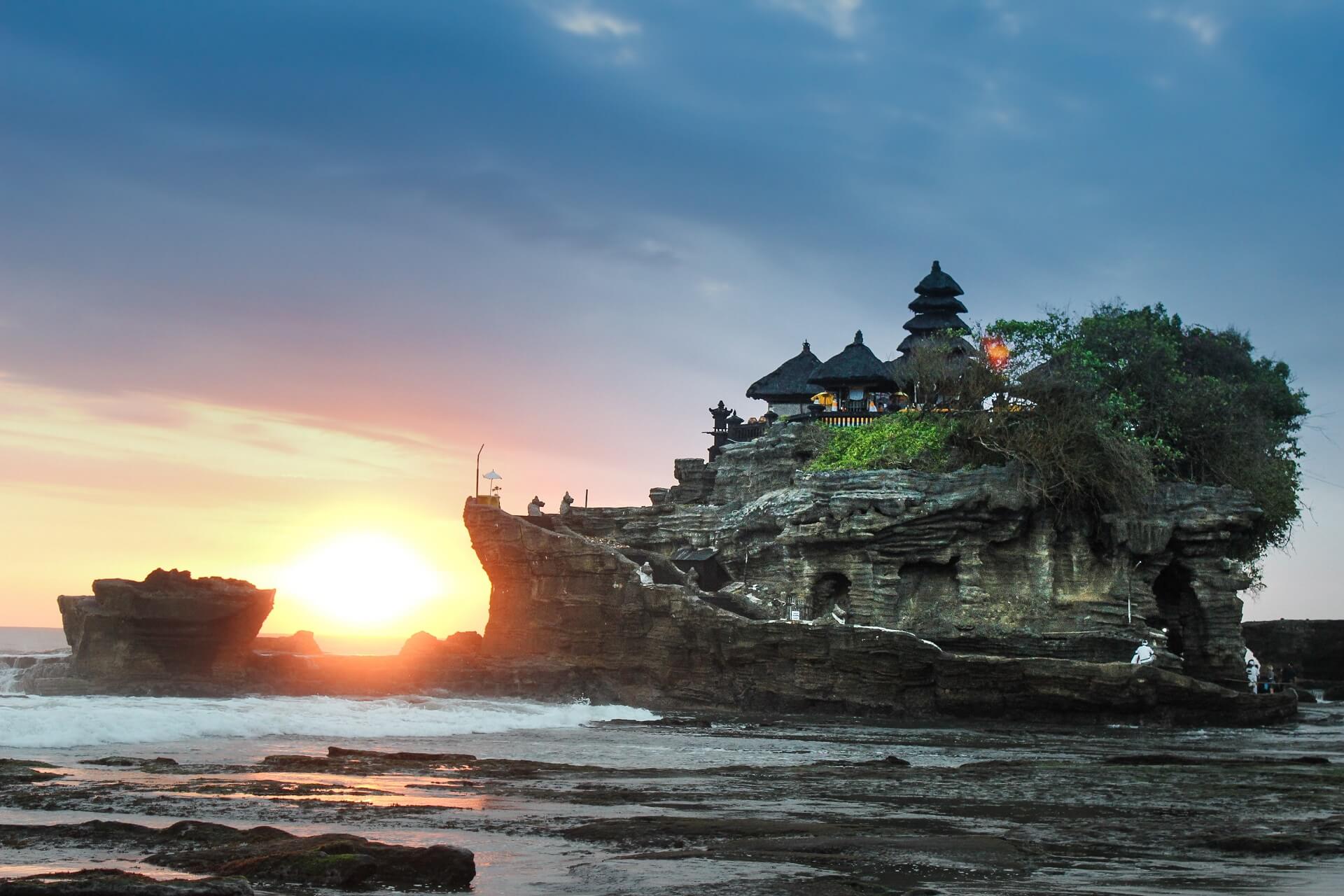 What is the best time to visit Bali?
The best and most popular times to visit Bali are basically April to October. This is known as the "dry" season in Bali, when rain is limited and there is less humidity. The "wet" or "rainy" season in Bali is from November to about March, but this can vary a little depending upon the region of Bali you stay in. For example, the wet season is a little shorter on the Bali Bukit in areas such as Uluwatu and Nusa Dua.
If you want good, consistent weather, then the dry season is what you are looking for. If you don't mind a bit of humidity and afternoon downpours, then there is no reason that you can't take advantage of less crowds and lower prices by visiting in the wet season. Personally, I always visited in wet season and really enjoyed it. The afternoon storms reminded me that I was in the tropics, and we simply timed our days around them.
Do you need a visa?
Most major countries are eligible for a Visa on Arrival. (VOA). The VOA is a paid Visa that you can get on arrival in Bali. You can find the counter to purchase this right in the middle of the Arrivals hall. You can't miss it! This visa lasts 30 days (not to be confused with one month) and is extendable for another 30 days by visiting Immigration.
There is also the Visa Free Entry that residents of many countries are also eligible for. This allows you to simply pass through immigration easily if you are there for tourism reasons. The Visa Free Entry is only valid for 30 days, and you will be charged around 1 Million Rupe for every day that you overstay! So take note of your exit date.
If you are unsure whether you are eligible for either of these, and wish to double check, then simply click the button below. This will take you to IVisa who are the best in the business for informing you about your Visa Requirements, as well as any other documents you might need while traveling!
Where to stay in Bali
Where to stay in Bali? Now, that's another loaded question. It is probably the most asked question of me from first time visitors. And of course, a Complete Guide to Bali HAS to include this!
What most don't realize, and it is hard to explain, is that for such a "small" island, one area of Bali is SO different to another. Even in the Southern Tourist district, neighboring areas such as Kuta, Legian, Seminyak and Canggu are so diverse that it isn't funny. Now, when I say that they are different, it doesn't mean the weather, beach, or anything like that. The big changes that separate these districts have appeared naturally due to the type of people that choose to stay and live there, and subsequent hotels, resorts, cafés and restaurants that begin appearing as a result.
For example. When I first came to Bali, I stayed a few nights in Legian, then Seminyak, and then Nusa Dua. All of these places are different. I didn't really understand that at first, but it became very apparent once we were here. On following trips to Bali, as a young family we chose to stay in Legian. A few years on from that as our tastes and needs evolved, so did the areas we chose to stay in. It's horses for courses, at the end of the day.
So let's explore a few of the main areas of Bali that you will most likely be looking at.
Kuta
Any Complete Guide to Bali has to start here! Kuta has always been the haven for cheap travel and cheap holidays to Bali. It still is, and you will find a lot of young families flocking to the large and slightly older resorts that dominate the beachfront here. This is also where you will find the cheapest markets, but be warned that you will have your work cut out for you in the bargaining department. These shopkeepers have been here for years and know every trick in the book!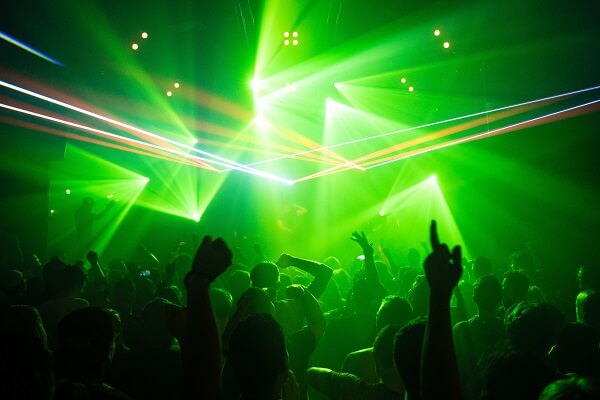 Also in Kuta you will find the main "party" district of Bali. This is where the biggest nightclubs and pubs are located, and young people will flock here in droves at the end of the school year. Personally, I have always tended to avoid Kuta, except to visit the shopping mall or Waterbom Waterpark. I don't come to Bali for the crowds and nightclubs, even if many others do.
They don't come any closer to the beach or any more central than Grand Inna Resort Kuta. Check out the link below.
For something a little more Budget Friendly, check out Febri's Hotel and Spa. This place is beautiful for the price, and is easy walking distance to nearly everything in Kuta, including Waterbom and Discovery Mall.
Legian
Legian is the area of Bali that I always used to stay when I came here on family holidays. The funny thing about Legian, though, is that it is a sort of midway point between the two rather diverse neighborhoods of Kuta and Seminyak. In a way, it is a place where you can find the best of both those worlds.
In Legian you will find a more relaxed and comfortable version of Kuta. You will also find a slightly less sparkly and slightly cheaper version of Seminyak. So, like I said, the best of both worlds.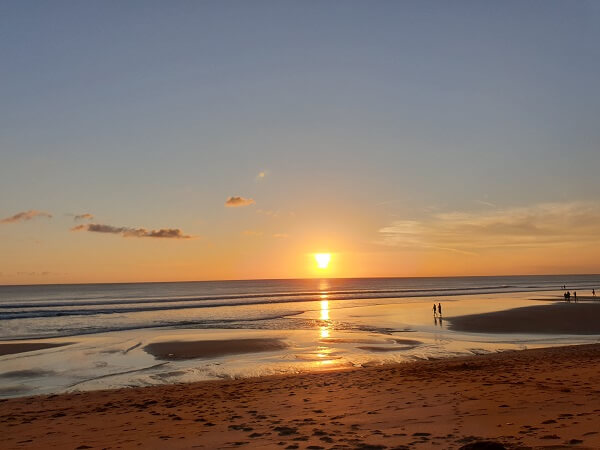 Legian is the place to stay if you are after a fairly relaxed holiday, but still want to be surrounded by cheap restaurants, shops, bars, and have easy access to the beach. In a way, as a family, it has a little bit for everyone. Like everywhere in Bali you will find small hotels, large resorts and villas. The other thing going for Legian is that it has easy access to Kuta. For example, as a younger family we always found it was easy to jump in a taxi, or on our scooters and get to Kuta without fighting hours of traffic. Or we could easily head out for a daytrip without too much hassle. Geographical location, therefore, is a big attraction to Legian.
The Pullman Legian is one of the biggest and best along the Legian Strip. Click the button below to take a look!
For something a little more Budget Friendly, try the Swiss Belinn Legian. This is in one of my favorite areas of Legian. It is surrounded by great massage places and restaurants, plus is walking distance to the beach!
BONUS – The Away Bali Legian Camakila Resort is a place that I only discovered recently. It is right across the road from where I usually stay in Legian, and turned out to be a real hidden gem. I fell immediately in love with it. Away Bali is not very expensive for it's great location right in the middle of Legian. It faces onto a great shopping street, and backs directly onto the beach. What more could you want?
Seminyak
The next stop along the beach just north of Legian is Seminyak. This has long been the "hip" area of Bali, and is home to many of the label brand shops, expensive restaurants, lavish beach clubs and big resorts such as the W Resort. If you want to stay in a beautiful, fully appointed villa close to the beach and money is no object, then this is that place. If you want to impress your friends when they asked where you stayed in Bali, then this is the place.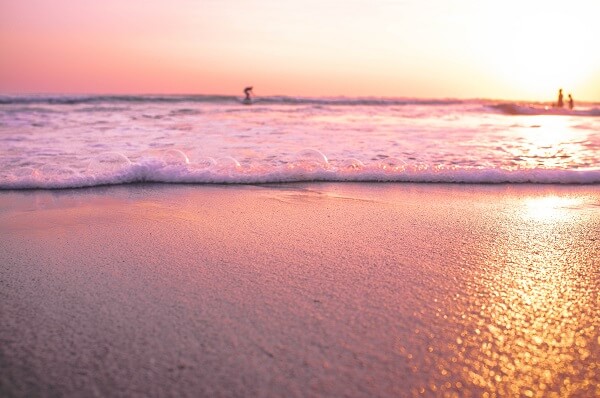 Personally, I stay away from Seminyak. It is a nice place to visit, and I actually spent Christmas Eve dinner there last year. As I said, it has the nice restaurants. But when I visit Bali I don't come to spend thousands of dollars. I could have done that in Australia. Once again, though, it's horses for courses, and if the perfect holiday to Bali for you is living in 5 star luxury and going to expensive beach clubs, then this is the place for you!
If you are looking or luxury in Seminyak, then take a look at the W Bali. It's just what you are looking for!
For a more Budget Friendly option, try the Sense Hotel Seminyak. This is a rare find in this area, as it is not only close to most of the popular restaurants, but also walking distance to Ku De Ta and Potato Head Beach Clubs.
Canggu
Now we are really heading north, and the Canggu to Tanah Lot stretch is about as far north and west as we can really talk about when it comes to places to stay in Bali. But no Complete Guide to Bali would be complete without mentioning it.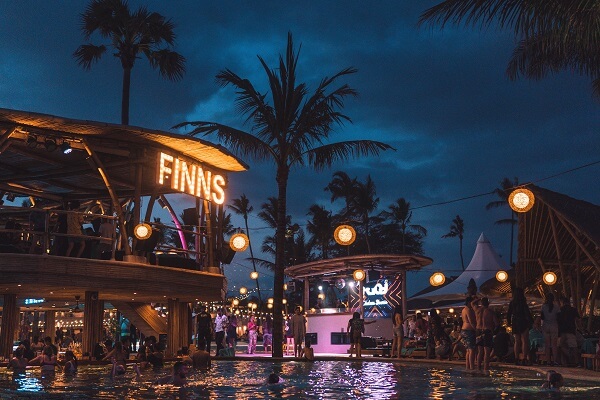 Canggu has really begun to take over from Seminyak as "Hip Central". The main difference is that most of the people in Canggu either live there permanently, or are there long term. It has become home to digital nomads, surfers, and the younger crowd that enjoy a party. Hip coffee shops, cafes, and restaurants abound in Canggu, and the beaches come alive around sunset as everyone flocks to the beach clubs there to watch the sunset.
Think, villas, beachclubs and the "in" crowd when you think of Canggu. Check out one of the most popular places to stay in the image and link below.
For something more Budget Friendly in Canggu, try the Surf Motel. Only a few minutes from the beach, it is rare in this area to find something this cheap, but still quality. Minimalistic, Surf Motel is close to most of the good shops and restaurants as well.
Ubud
Ubud is almost the jewel in the crown of any complete guide to Bali. It is one place that everyone has heard of.
Ubud is the place to go if you want to really zone out and relax. I never really visited Ubud that much when I first started to come to Bali. It was really only a place I might pass through if going white water rafting, or heading up to Mount Batur. Since I have lived here, however, I have stayed there many times and come to really love Ubud for what it is.
Ubud is a little cooler than the stretch of Kuta to Canggu on the coastline. Many will say that is because it is "in the mountains", but those people have obviously never been to the Bali mountains! What is true is that it is "on the way" to the mountains and has a lot more elevation.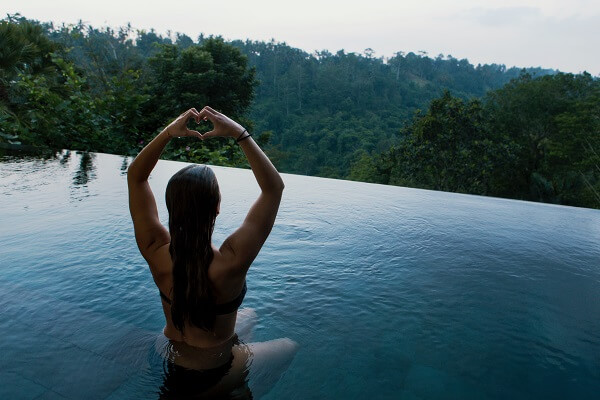 This is that place where you will find endless, dreamy rice paddies, raging waterfalls and idyllic palm trees. Ubud is home to artists, writers and those creative types that prefer peace and quiet over the hustle and bustle. For places to stay, you are spoilt for choice with everything from cheap homestays, to expensive Villas and 5 star resorts. If you want to experience that part of Bali that you see in photos, with sweeping green fields of rice, hikes through the jungle and Instagrammable art markets, then this is the place to go!
Check out the link and image below for one of my favorite places to stay in Ubud.
For a Budget Friendly option, try Wenara Bali Bungalow. Located right in the middle of Ubud, you will be walking distance to the Monkey Forest, as well as the art markets and the best restaurants in town!
Sanur
Sanur is the perfect place for a family holiday. It isn't too far from the airport, and removed from the hustle and bustle of Kuta. Also, it is a lot closer to Ubud and things such as white water rafting. When you add the fact that Sanur exists along a beautiful piece of coastline that has a wonderful beach, sunrises and resorts, you are onto a winner straight away.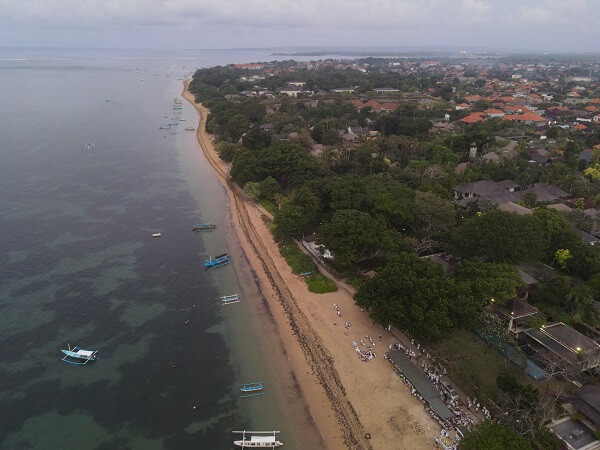 In Sanur, you can expect to find anything that you are looking for, whether it be 5 star, or something a lot cheaper. Restaurants are everywhere, and it has a very relaxed feel, hence the reason that families love it. Don't expect too much in the way of nightlife at Sanur though.
Check the link below for the Hyatt Regency Bali at Sanur. It boasts the very best location along the beach, and has an amazing pool!
For a slightly more Budget Friendly option that is still right on the beach, try the Inna Sindhu Beach Hotel and Resort. This is right on the beach walkway, and has great facilities, as well as wonderful sunrise views.
Nusa Dua
Nusa Dua exists out on the "Bukit" at the Southern reaches of Bali. From the airport it can be reached these days via the Toll Road that runs out over the harbor, which means it is now a lot closer to the rest of Bali than it used to be.
You will know you have reached Nusa Dua when you drive in through the large gates and get stopped by security. The entire area surrounding the Nusa Dua resorts is beautifully manicured parkland and nature strips. The roads are wide, and the walking/cycle paths run everywhere. As you would expect, this is an expensive area of Bali to stay.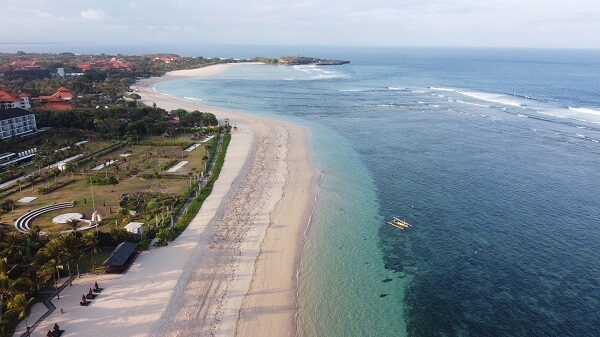 As such, it is in Nusa Dua that you will find some of the biggest hotels in Bali, although not all of them are actually within the secured ITDC area. The Grand Hyatt, Westin, and Club Med are probably the best known of the resorts located here, facing onto the most beautiful white sandy beaches in Bali. If you want a 6 star beach front resort, then this is where to come.
The other way to go is to head out of the gates and up the hill to the tops of the cliffs. This is the "newer" part of Nusa Dua, and you will find the Hilton, Apurva Kempinski and Conrad Hotels up there. All are perched on cliffs with views for miles, and their own private beaches down below. If you are after luxury, then you are in the right place.
Click the button below for one of the best resorts in Nusa Dua, and a winner for families!
For a more Budget Friendly option in Nusa Dua, try the Mercure Bali Nusa Dua. This is still within the ITDC area, and only a short walk from the amazing Mengiat Beach. You won't find many hotels in Nusa Dua for this price, this close to the beach. None in fact!
Benoa
Benoa is just down the road from Nusa Dua and is the home of watersports in Bali. You will find a good selection of resorts here, and if you enjoy spending your days on Banana Boats or jet ski's, then look no further. This is the place that everyone comes to to get their adrenaline rush.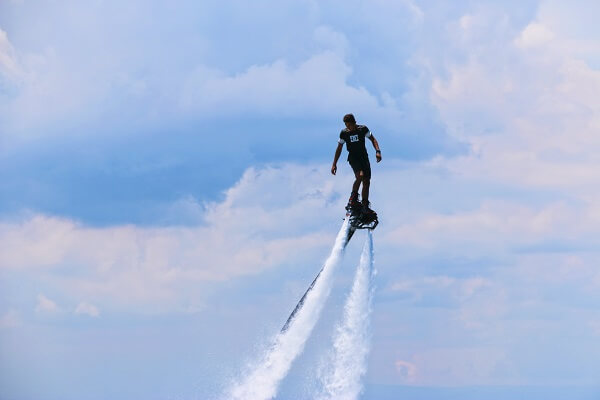 That being said, Benoa has taken leaps and bounds in recent years and visitors now choose to stay there as well. The resorts are big and luxurious, with new ones popping up all the time.
For a slightly more Budget Friendly option in Benoa, check out the Amnaya Resort Nusa Dua. This resort is a short stroll from the beach, and has a pool that you can lay around all day long. The facilities are amazing, and the Spa is one of the best you will find!
Uluwatu
Uluwatu is the home of the surfing crowd in Bali. It is where the best and most famous waves are, and people such as Kelly Slater choose to holiday when on the island.
Not many years ago Uluwatu was only known for its surf. Visitors would stay in Kuta, and head to Ulu on their scooters for a surf every day. Now, it is entirely different. The road to Uluwatu is a tourist highway these days, and hip villas and large resorts now cater to the crowd of visitors that choose to stay along its famous cliffs. Personally, I think it rivals Canggu as the hippest place in Bali these days!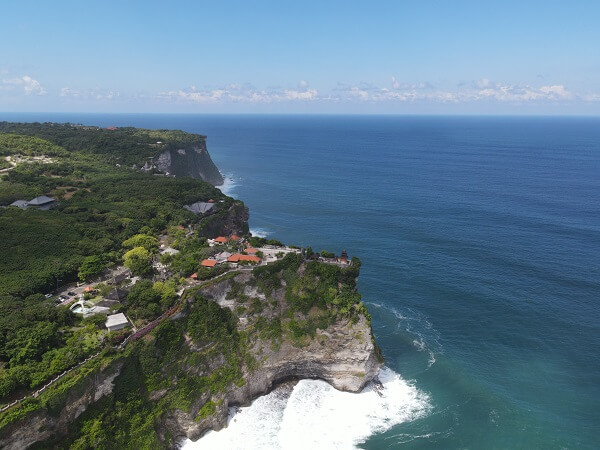 If you want to stay somewhere that has amazing cliff top views, great beaches, amazing sunsets and awesome cafes and restaurants, then this is the place for you. The only downside to Uluwatu is that during peak season there are many, many busses and cars heading there daily to tour its famous temple and visit the beaches, so beware of traffic jams getting in and out of the area.
One of the most popular resorts in Uluwatu is the Anantara, and with good reason. Click below to see why.
For something more Budget Friendly at Uluwatu, try the Inn Possible Cliff House. Located right on one of the most popular surf beaches in Uluwatu, you simply can't go wrong!
Jimbaran
Jimbaran is still on the southern Bukit, but very close to the airport. Located along Jimbaran Bay, it is also traditionally known as the seafood capital of Bali, with restaurants dotting the beachline where you can eat the day's fresh catch while sitting at tables on the sand.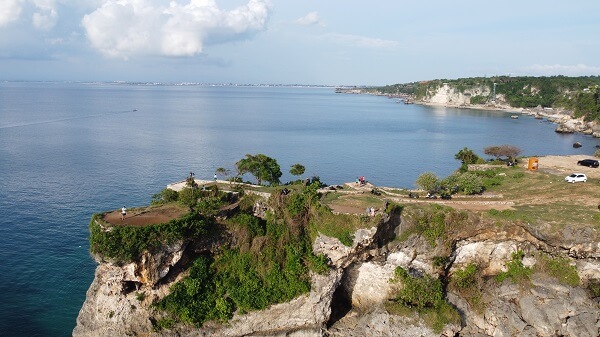 Jimbaran is a good area for families and couples that want to get away from the hustle and bustle of Kuta, but still be close to that area and the airport. There are big resorts, clifftops and very nice beaches close by, and the surf at the local beaches is very beginner friendly.
The most popular resort in Jimbaran is the incredible Ayana Resort and Spa Bali. It is also home to the famous Rock Bar Beach Club.
For a more Budget Friendly option in Jimbaran, try the amazing Villa Prana. This wonderful villa gets rave reviews for its location, as well as the incredible sea views out across Jimbaran Beach.
Other areas of Bali
So that's pretty much the main areas of Bali to stay. There is plenty more to this amazing island, though, and as this is a COMPLETE guide to Bali, I will touch on them here.
Nusa Islands – These amazing islands are actually a part of Bali, and boast some of the best scenery, views and beaches in Indonesia. They are definitely unmissable, and every visitor to Bali should do a trip to the Nusa Islands at least once!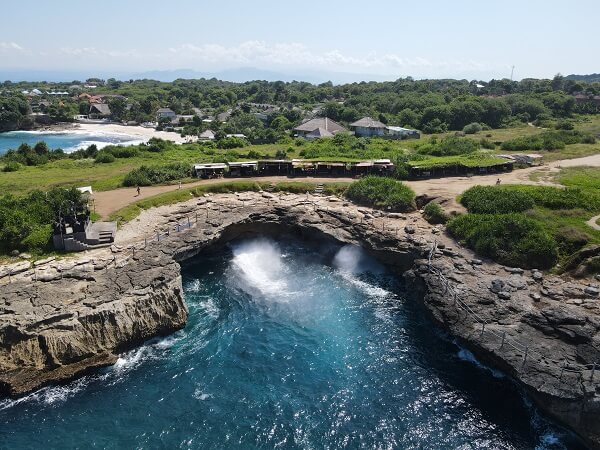 East Bali would have to be next on the list. This is the region of Karangasem, and is very well known as where Mount Agung resides, and places such as Besakih Temple and Heaven's Gate are located. Amed, on the north coastline of East Bali is very popular for diving, with some of the best dives in the world located there.
Munduk. This is a mountainous area of Bali, and if you want spectacular waterfalls, cool nights, great sunsets and a real jungle feel, then head up here for a few nights. Munduk also features two spectacular lakes, hiking, and amazing picturesque temples.
Pemuteran. This is in the far north west of Bali, and is a small place along the northern coastline that is once again a mecca for divers. It is also a great place to find a quiet getaway, with a wonderful national park, world class diving, and easy access to Java and the famous Ijen Volcano.
How to get around in Bali
I have previously written an entire article in relation to this and you can check it out here.
Having said that, I will give you a quick run down now as well, as it wouldn't be a complete guide to Bali without it!
My transport of choice in Bali will always be scooter. You can simply get anywhere in Bali on a scooter. In fact, most of the roads in Bali are actually designed with scooters in mind. This becomes very apparent when you get into some of the outlying areas where you might struggle to drive a car down the narrow streets. Scooters can get everywhere! It is very easy to rent a scooter in Bali, and if you have any doubts then just check out this link for easy and reliable scooter hire.
The other recommended way to get around is with a car and driver. It doesn't cost much to hire a good, reliable car with a driver and guide, then travel around the island in air conditioning. Mostly, you will find one handy right outside your resort, but if you don't want to spend your time bartering over a price, check out this link to hire one from your hotel room.
Getting around locally, if you stay in the right place you can just walk. Otherwise there are plenty of taxi's. Just make certain to catch a Bluebird Taxi, as they are metered and you know you can trust them. Beware that taxi companies know this, though, and several have put a picture similar to a Bluebird on the roof as they try to capture business.
One more option is to download the GoJek App. This is similar to Uber and very reliable and cheap. Mostly you will have to have a local bank account however, so may not be suitable to short term tourists.
Summary
No matter where you stay in Bali, I firmly believe that you will have a great time. Where you stay, however, can determine if you have an AMAZING time. Have a good read through this guide, and I am sure that now you will have a lot better idea of which area is the best for you!
So that's it for now for my Complete Guide to Bali. I will keep this up to date, so you know that you can find all reliable and up to date information here.
Handy Links
Please check out my articles if you want information on any of the following:
DON'T FORGET to leave a comment below. I promise to reply!